Once again, none of this has anything to do with miles & points, so by all means skip this if that's what you're here for.
I wanted to post a quick thank you, a message from my mom, and a recap of my first-ever race of any sort. This is a follow-up to my post from a week ago, about a well-timed race.
I'm writing this from the surgery waiting room, as my mom is currently in the middle of a 10 hour surgery. It has been quite a morning, as we got here at 5AM:
Winston is usually great alone in hotel rooms, but not this morning; he was crying so loud that the hotel called us, so we had to come up with alternative plans
There were two politically like-minded people in the surgery waiting area, who said that all the politicians belonging to one party should be "shot," and that a former presidential candidate should be "executed for treason"; when the guy's wife told him to be quiet, he said "she's just afraid of a _____ hater" (fun times!)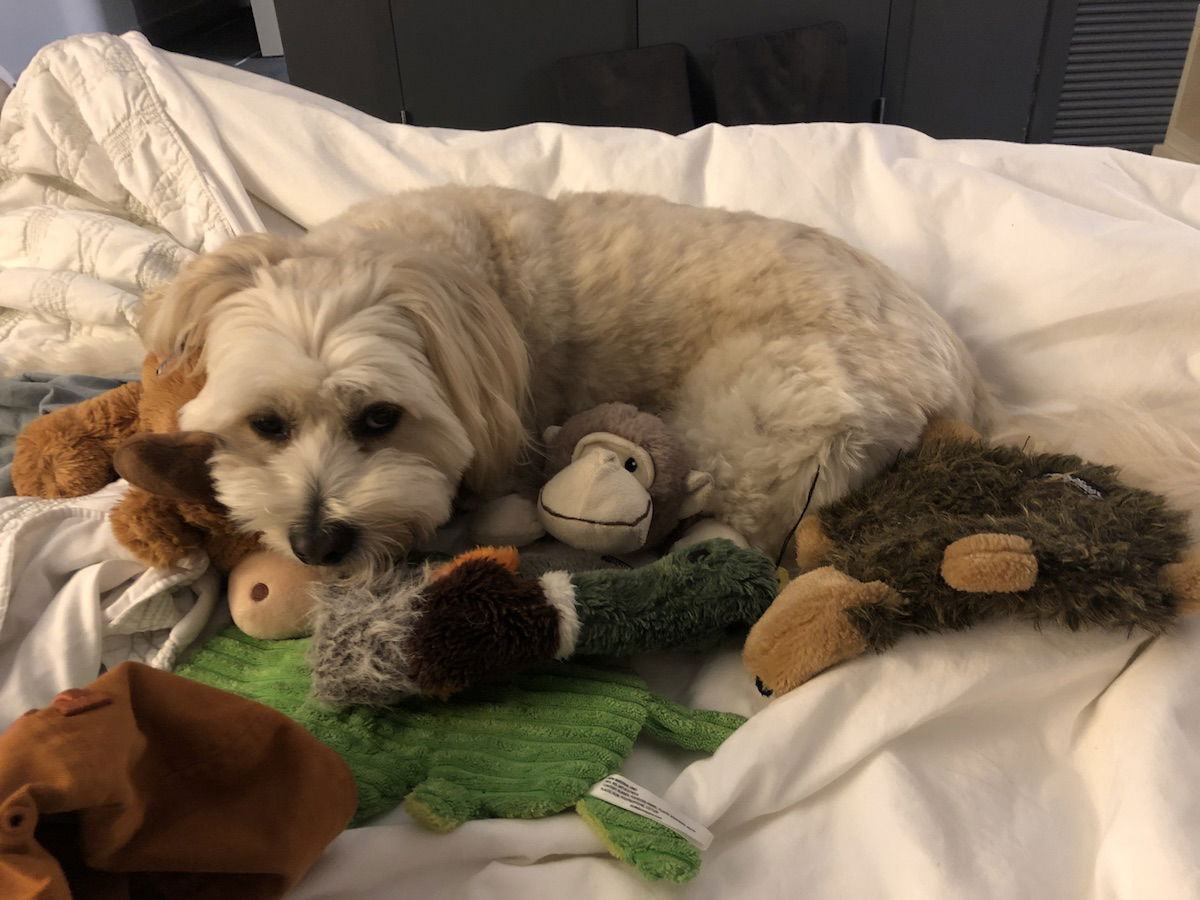 Dads, you're Bonvoying me!
Thank You, Thank You, Thank You!
I wanted to thank all of you for your thoughts and prayers for my mom, I really appreciate it. Also thanks to all who generously donated to the organization behind the race, as we raised over $5,700.
This put a huge smile on my mom's face — this not only helps with ovarian cancer research but also helps those in the Tampa area who are going through this with their financial needs.
I've been so happy that Ford and I (and Winston) have been able to spend so much quality time with her in the past week. She has been in such amazing spirits ahead of this, and it has been inspiring. This morning as she was about to go into the operating room she said with a big smile "I'm excited!"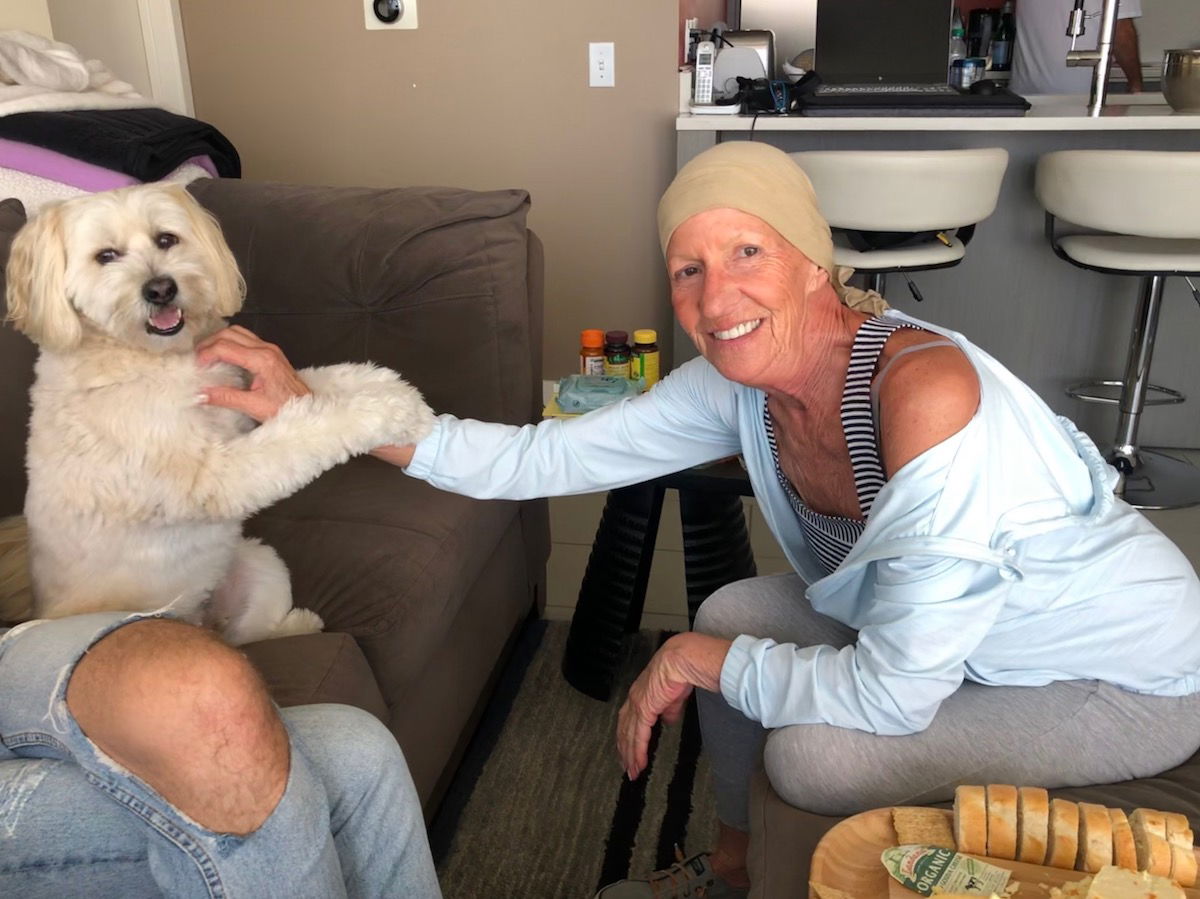 Mom, Winston, and Ford's knee
A Message From My Mom
On the day of the race my mom found out about the blog post, and in the days leading up to her surgery she apparently spent two hours writing the below (which she wanted to post as a comment on the previous post, but she didn't know how to do that, so I'll just post it here):
Hi, my name is Barbara, and I am Benjamin's (Ben) mom. I wish I could write to each one of you, it might be a little time consuming, I also want to spend time with Benjamin and Ford before the operation. Thank you all for your kind words, prayers, and donations towards the Celma Mastry Ovarian Cancer Foundation!

Reading Benjamin's blog about a "well – timed race" which was a surprise to me, brought tears to my eyes. I am so thankful that he is my son and so happy he found Ford. They are both a blessing to me, loving, caring, and always there for me and others, besides taking me to beautiful places in the world. On top of reading your responses on his blog made me feel full of joy but I also found out that some of you are going thru cancer as well or have relatives who did or do!

Wendy, Brian, Steve, Jason, Jared, Robin, and Virgil, I will keep you in my thoughts and prayers.

This weekend Benjamin and Ford participated in the 10 km run for "one step closer to the cure" of ovarian cancer. It was held in downtown St. Petersburg, and hundreds of people participated. It was a beautiful day with sunshine and lower humidity than the days before, perfect for the runners. It made me so happy to see so many people running for his cause.

Thank you again for all your positive thoughts!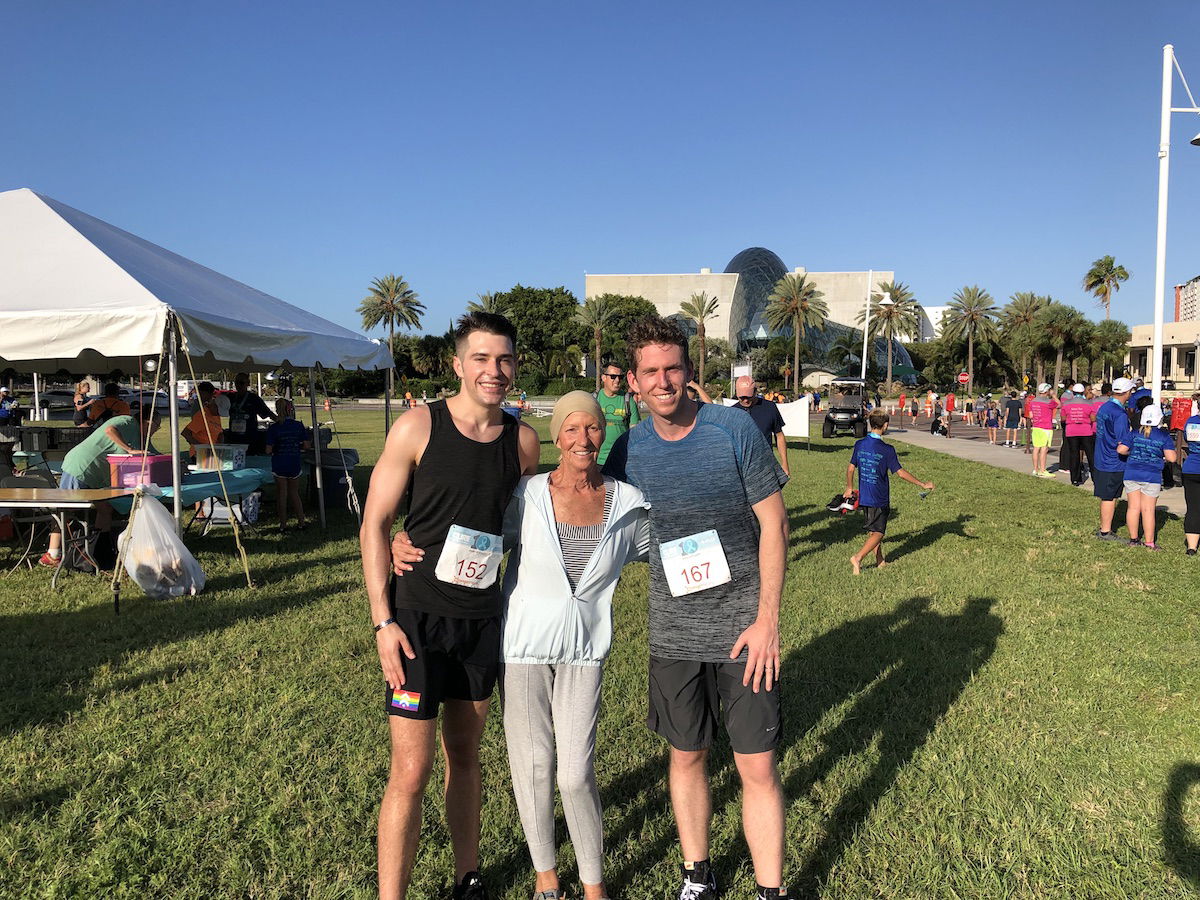 Ford, mom, and I
How Was My First 10K?
Not that my race experience is at all consequential, but in my ongoing effort to overshare, I figured I'd provide an update. With this race you could go either one mile, 5K, or 10K. We figured given what my mom has been through we could do a 10K.
To be honest I was apprehensive. My exercise routine is typically strictly limited to being in the gym indoors, ideally while watching reality TV on the elliptical (I try to do less running, because of how high impact it is).
Ford and I had a bit of a debate about how best to go about this. Ford is basically half cheetah when it comes to running, so I knew he'd be way faster than me:
On the one hand, Ford is incredibly competitive and wants to be the best at whatever he tries, so I knew he'd want to finish quickly
On the other hand, I figured it would be more fun if we ran together, though not really, because I knew he'd basically spend the whole time "encouraging" me to hurry up
So in the end we ran the whole thing together, and I definitely slowed us down. Our time for the 10K? 61 minutes apparently… Ford set the goal of 60 minutes (even accounting for my slowness), so we missed that goal by a minute. As I asked Ford to read over this post, he insisted I add that he would have done it in under 50 minutes if it weren't for me.
All things considered I was pretty proud of that, given the different conditions outdoor — running on concrete is rough, and with it getting increasingly sunny, that made it tougher than being inside.
By the end of it my joints hurt like crazy, but again, I'm so happy I had the chance to do this. Besides, I guess the 61 minutes gives us a chance to beat our current "best" at the race next year.
Thanks again to everyone for your thoughts, and let me know if I should start doing reviews of hospital food — they might give airline food a run for their money!