My boyfriend Ford recently wrote a blog post about his first time in Emirates A380 first class. Before we met he didn't know the first thing about miles & points (like, he thought redeeming transferrable points currencies for cash towards a statement credit was a good deal, which is a cardinal sin around here). And in fairness, before we met I didn't know the first thing about anything other than miles & points/Real Housewives, so the learning here is mutual!
Suffice to say his perspective on points has changed quite a bit. In this installment he's back to share 1o things he has learned about miles & points/our little obsession.
For more from Ford, you can follow him on Instagram.
---
The A380 rules all
Prior to meeting Ben I didn't know what an A380 was. Having now flown one, I can say that it offers by far the most luxurious cabin configuration when it comes to business and first class – from suites to showers to fully flat and wide beds. It's remarkably quiet as well.
That isn't to say there aren't fantastic cabins out there beyond the A380. I recently flew the A321 in first class on American between Los Angeles and New York. I almost forgot I was on a domestic flight!
Not all first class products are created equal
While I did know there were significant distinctions amongst the numerous first class products offered worldwide, I wasn't aware that some cabins made calling others "first class" tantamount to an insult!
For example, this summer I took a weekend trip to rendezvous with friends in Cabo and flew from Los Angeles to Cabo on American. I upgraded to first class and found myself disillusioned by the lack of even an outlet! So I leeched power from my laptop to charge my iPhone. I needed a full battery to get in touch with my hosts upon arrival. Furthermore, I awoke from a nap and found myself wondering, still dazed at this point, if someone was about to light a cigarette in this 1980s (dare I say 70s?) cabin. And, yes, I was born in the early 90s, for those of you already snickering at a reference that is before my time. I was a good history student, though.
Aviation geeks are frequently more excited about the flight itself than the destination
Need I say more? A lot of readers probably can relate to this point.
People collect airplane knick knacks
I admittedly dislike kitsch, so I'm not quick to understand this obsession…
Ben has nearly 50 Lufthansa First Class rubber ducks at his parents' home in Florida, and I now (trying to embrace the trend, give me some props) have 3 in my shower alone.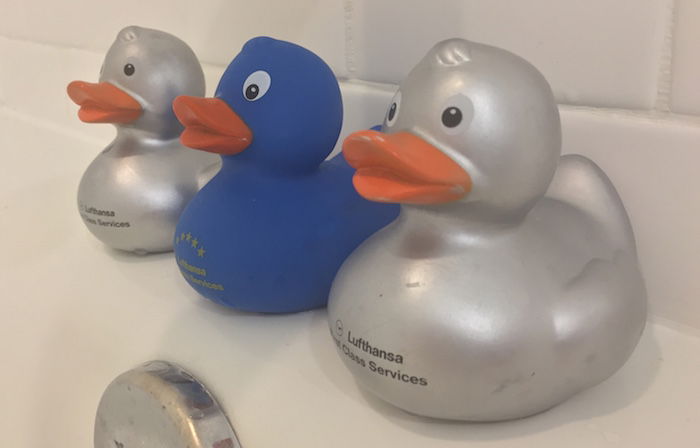 Ben also loves the travel and amenity kits as well as the PJs. The current collection in my closet includes several from American, Lufthansa, and Emirates. I rather like the American Airlines kits that harken back to the days of airlines like Reno Air. That kit, in particular, reminds me of Gwenyth Paltrow's first gig as she ascended the airhostess ladder in the film View from the Top.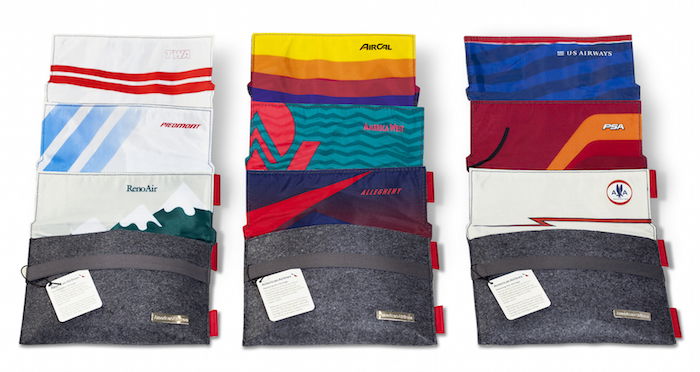 I indulged his love for all things Emirates and let him buy me two Emirates baseball caps whilst shopping at the Dubai Mall. 😉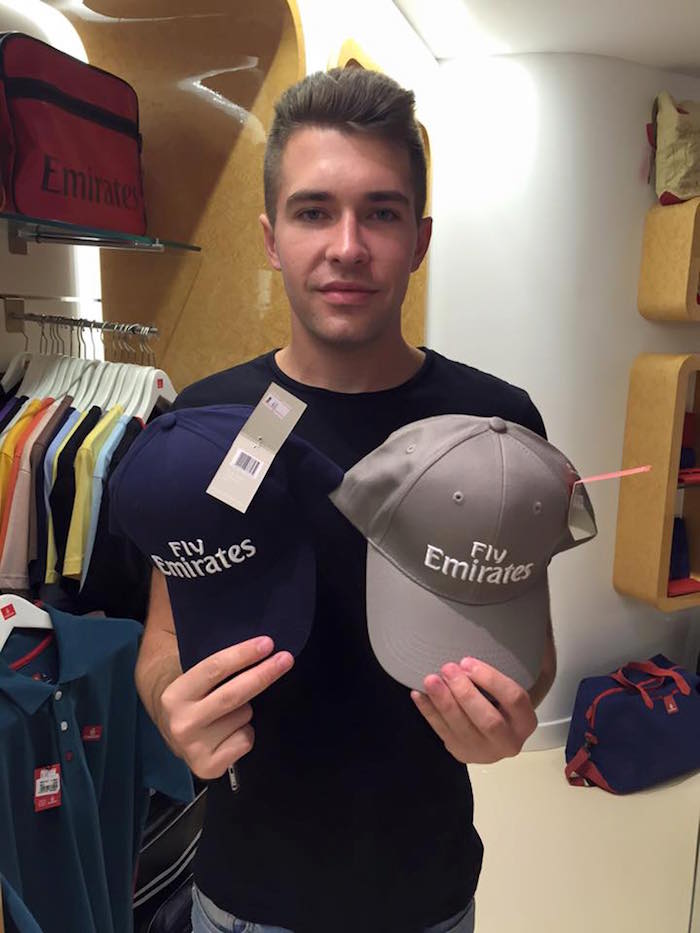 Credit cards matter
Ben asked to see my credit cards on our first date and was pleased to learn that I use a Chase Sapphire Preferred Card, among others. I think it was love at first sight for him! To be honest, it was just a fluke that I happened to be using a card he deems to be great. I really had no idea what I was doing…
Since then, I've added a few more to my wallet thanks to Ben's suggestions, including the:
Citi Premier® Card (earns bonus points on dining and travel)
Starwood Preferred Guest American Express Card (because we love Starwood properties and SPG)
Alaska Airlines Visa Card (need miles for our Emirates journeys)
You can earn Starpoints with Uber
So in addition to the miles (and bonus miles earned from transportation if you have the right card), you can also earn bonus Starpoints!
In summary, a lot of points to be earned here, even for those who aren't frequent travelers. If you didn't know, you do now!
You can buy miles?!
Yeah, this one is kind of cool. I knew miles were a rewards currency, but had no clue you could actually buy them outright.
Airlines and hotels are basically selling miles at deeply discounted rates if you're ready to buy them ahead of time during a sale, and then you can use them at your discretion. Most of you already know this, but it's something I didn't have any knowledge of before.
The fascination extends far beyond points and planes
It encompasses a general interest in the business, marketing, employees, news, and politics.
Case in point: On Saturday we were at The Grove in LA, and Qatar Airways had a display there, with more than a handful of flight attendants manning the display (they are starting flights to Los Angeles next year). We were in a rush, but Ben was like a kid in a candy store, and had to be dragged away.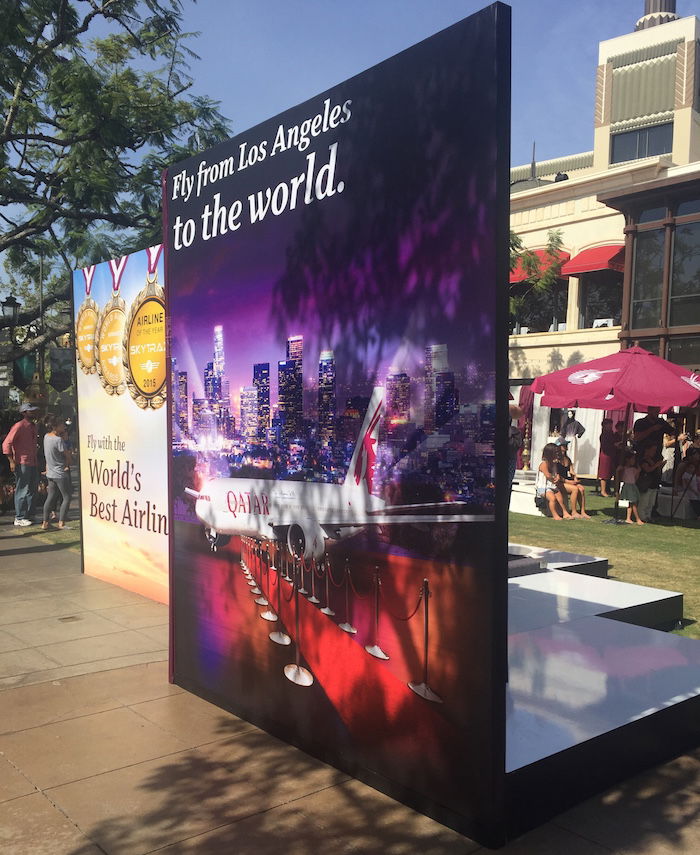 Later this was followed by Ben chasing me across the kitchen with his laptop playing a video interview of His Excellency, Mr. Akbar Al Baker of Qatar Airways, with Richard Quest. He might just be a bit obsessed!
Crew culture is alive and well
I didn't realize that airline crews could total as many as 30,000+ individuals and that entire subcultures exist for each airline.
Take a gander online at the memes for airlines like Emirates, some of which are easier to interpret than others. I would post the funniest ones here directly, but I think some of them are in poor taste, humorous as they are.
Rivalries and adoration exist between airlines! At a dinner in Dubai, one Emirates crewmember mocked Etihad, while another marveled at Etihad's standard uniform.
I may or may become an aviation geek myself
I say "become" rather than "be" because I'm not sure I'm there quite yet, but there are a few telltale signs emerging…
When asked what the highlight of our trip to the Middle East has been, I immediately recall the flight from Dallas to Dubai with Ben, but I seldom say this, since most people, especially those who aren't enthusiasts, wouldn't understand. Instead, I reference something more pedestrian, like watching the sunrise at Zighy Bay in Oman. I guess that isn't pedestrian, though. Hopefully you catch my drift!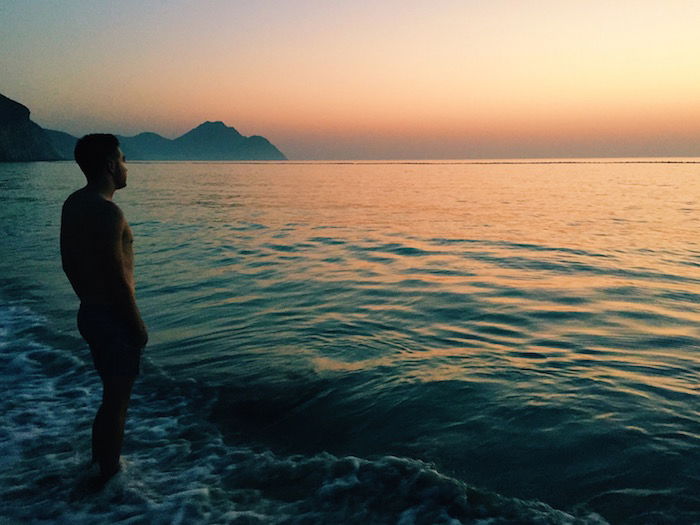 Bottom line
While I've always enjoyed luxury travel, I never thought getting to the destination would actually be part of the fun. Recently when we were planning our trip to London, Ben said we could fly nonstop on British Airways from Los Angeles to London, knowing that's usually my preference.
I asked if there was anything available through Abu Dhabi. After all, having recently flown the Emirates A380, I'm now ready to try the Etihad A380 as well. 😉