Disclaimer
Before I dive into this, let me start by saying I'm going to be talking a lot about 'Western Europe' and 'Eastern Europe' in this article. I know there are differing opinions by experts as to exactly which countries belong in these different zones. And there is particular debate about the concept of a 'Central Europe', and whether certain countries like Hungary, Czech Republic and Slovakia belong in 'Central Europe' or 'Eastern Europe'.
There's of course also concepts of Northern and Southern Europe, which I won't be discussing in this article.
For the simplicity of discussing Wizz Air and their geographical expansion today, I'm simply going to refer to 'Western Europe' and 'Eastern Europe', with most of the countries some commentators place in a 'Central Europe' into the 'Eastern Europe' list. Think of it as if I have drawn a line down the centre of Europe, with Germany, Austria and Italy to the left (in what I will for today class as 'Western Europe'), and Poland, Czech Republic, Hungary and Slovenia to the right (in what I will call, for simplicity sake, 'Eastern Europe').
I mean no offence to anyone who may disagree with my simplistic division, I'm only doing it to be able to discuss Wizz Air in an easy to digest format.
With that out of the way, on to today's topic.
Wizz Air
Wizz Air is a huge Hungarian low cost airline, headquartered in Budapest.
They have a unique business model in the crowded European low cost market, with around two dozen bases in Eastern Europe, primarily connecting Western Europe with Eastern Europe (as well as Eastern Europe with Eastern Europe). They have been operating since 2004, but have been rapidly growing in the last few years.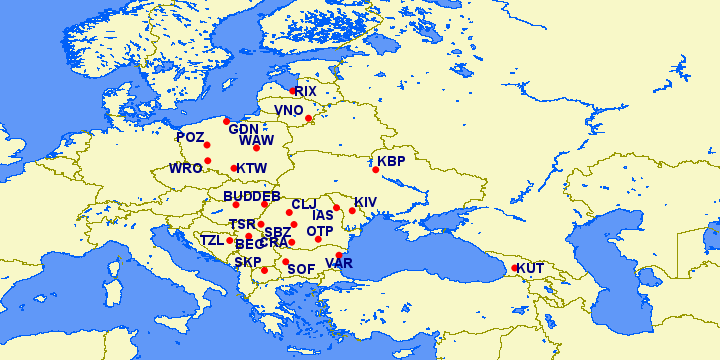 In addition to their current narrow body fleet of 104 aircraft, they have a massive 265 new aircraft on order, and once they receive all these aircraft, they will be one of the largest airlines in Europe.
I've flown Wizz Air several times, and have noted they are unique in the following ways:
They are able to offer some of the lowest airfares of any airline in Europe, even lower than Ryanair
As they are often flying into the depths of Eastern Europe from Western Europe, their flight times are often three or more hours, which is really pushing my limits of tolerance for flying an ultra low cost carrier
I think my European geography is fairly good noting my disclaimer in the introduction above (I've visited almost every country in Europe), but Wizz fly to plenty of cities in Eastern Europe I have never heard of, like Kutaisi, Craiova and Debrecen
They have huge operations at London Luton, which is my least favourite London airport and most of their 'weekend away' flights leave at very undesirable times, like 11:30pm, flying several hours east, meaning they arrive at ungodly times like 4am
I have tended to avoid them previously, both because I've found their legroom to be tighter than any other airline I've flown in Europe, and they used to charge for even a single piece of hand luggage, meaning their advertised fares were misleading as you would always need to add an additional cost to take even a single hand luggage bag; they have since changed this policy and advertised fares include one piece of hand luggage, so they're probably now considered low cost, rather than ultra low cost
Until now, while Wizz did connect people within Eastern Europe, their involvement in Western Europe was almost entirely transporting passengers between the two regions. They base their planes in Eastern Europe, and operate return flights west each day.
Wizz have little competition on many routes that Ryanair and Easyjet don't even serve, yet I've been impressed with how low they've been able to keep their prices. Easyjet never advertises flights from the UK at under EUR/GBP29.99, while I've seen Wizz flights from London to Eastern Europe for under EUR10.
So why am I writing about this airline that many of you may not have previously considered?
Well, Wizz have decided to launch proper bases at both London Luton and Vienna, to fly routes within Western Europe, rather than 'Eastern' Europe, which represents a new direction for them.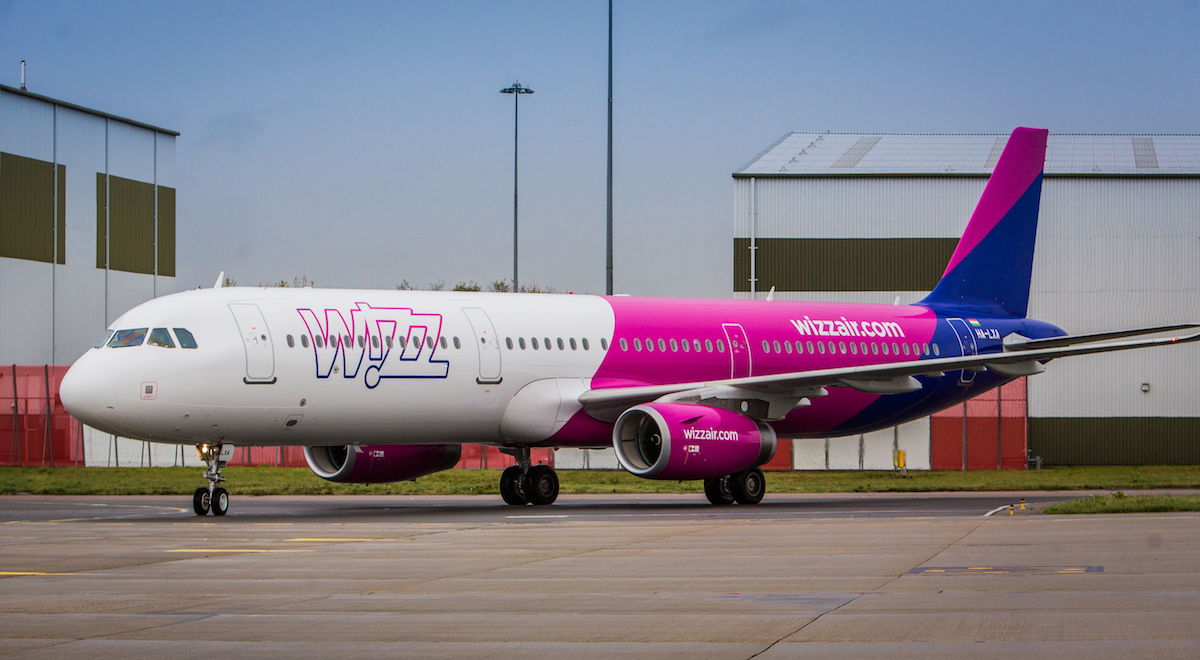 London Luton
I understand Wizz do operate some (seasonal?) routes to a few 'Western' European cities already, although I'm not sure if they currently consider Luton to be an actual base (or how many aircraft they actually base there).
The new operations will fly under the Wizz Air name, with a new airline code, W9. From October of this year there will initially be new Western Europe routes from London Luton to:
Grenoble
Lisbon
Tromso
Verona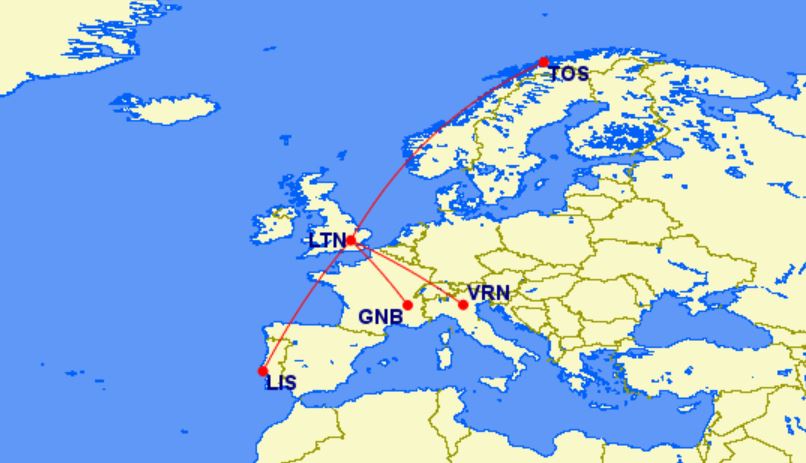 This seems like an odd list huh? The reason this excites me is that I expect Wizz to have cheaper fares than any other carrier on these routes, and there are definitely some routes I actually want to take.
For example, London to Tromso is traditionally a pretty expensive route. For some reason their new London flights aren't yet showing up on Google Flights or ITA Matrix, but as predicted, they are able to offer much cheaper prices than their competition.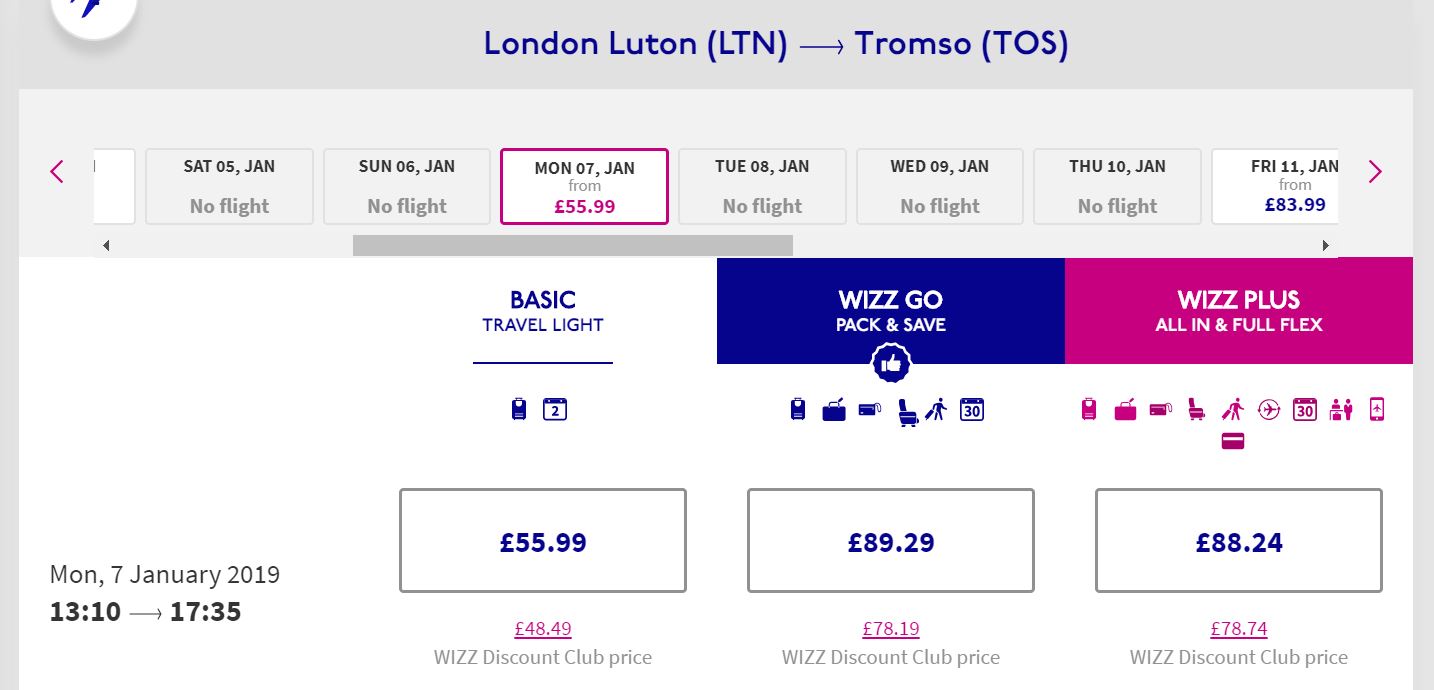 Vienna
From Vienna there will be new services (under the main W6 code) from late this year and early next year to:
Bergen
Billund
Catania
Dortmund
Larnaca
Lisbon
Madrid
Malmo
Milan Malpensa
Nice
Rekjavik
Stockholm Skavsta
Tenerife South
Thessaloniki
Now while you may class Vienna in the same 'region' as existing bases in nearby Hungary, I believe Vienna is geographically the western-most base Wizz operate (excluding the new London base described above) and to me represents an interesting step from an eastern-focused airline, into the west. I expect as Wizz scale their operations, they will gradually open bases more and more west into 'Western Europe'.
It will be very interesting to see if they eventually launch bases in Germany (to Western Europe). I would be particularly interested in seeing a Munich base, as flights from Munich to Western Europe are traditionally expensive.
As expected, Wizz's entrance onto these Western European routes brings with it excellent fares — here's Vienna to Tenerife, a flight of more than five hours in length:

Bottom line
Look, Wizz isn't my first choice of airline to fly. They're a basic, no frills, low cost airline. Compared with Ryanair I would say Wizz is slightly more pleasant, but has slightly tighter leg room.
But they have obviously seen opportunity on routes like London to Norway, where they can come in and provide significantly lower prices. And this really does excite me.
With hundreds of planes on order, I would expect to see many more Western Europe bases open and some dramatically lower prices on some really interesting routes. More competition is always a good thing.
Have you flown Wizz Air?