Well, you've gotta give Wizz Air credit here, though this is probably more of a publicity stunt than anything.
Yesterday there were widespread reports of British Airways not honoring fares that passengers had booked on June 11 and June 12 for travel to Tel Aviv and Dubai. Specifically, some online travel agencies offered fares of 200GBP to Tel Aviv and 220GBP to Dubai. British Airways decided not to honor the fares, and only informed passengers about a week after booking. The airline is issuing a full refund and a 100GBP travel credit to passengers. British Airways called these fares "manifestly incorrect."
While I can appreciate that airlines may try to talk their way out of a $100 first class mistake fare, or something, this seems ridiculous to me. The "mistake fares" that people booked were actually more expensive than what some other airlines charge in these markets. These types of fares really do blur the line between being a "mistake" and not.
Another airline is now capitalizing on British Airways' mistake, and I sort of love it.
Wizz Air, the Hungarian low cost carrier, is offering passengers impacted by this mistake fare rates of just 80GBP in each direction for travel between London Luton and Tel Aviv.
The reason this "offer" is a bit of a gimmick is because it's only valid for bookings through June 25, 2018 (which is fair enough), and for travel through July 21, 2018, while lots of people who booked this fare were traveling later in the year.
As Wizz Air's chief corporate officer describes it:
"Wizz Air is delighted to give new customers who've been left in the lurch following the cancellation of their BA flights to Tel Aviv the opportunity to break with tradition.

"We're confident that our new customers will realise that there's no need to pay high prices to travel to some of the most exciting destinations in Europe and beyond."
So yeah, it would be nice if they actually honored the fare for all passengers (including those traveling beyond July), but for them I guess this is a great marketing opportunity to point out that their fares are usually about as low as British Airways' "mistake fares," which they don't honor.
This doesn't even represent much of a discount over Wizz Air's normal fares. For example, I see "regular" Wizz Air fares of 158GBP roundtrip between London and Tel Aviv. Of course it has to be mentioned that unlike on British Airways, Wizz Air charges for just about everything, including food, drinks, bags, and more.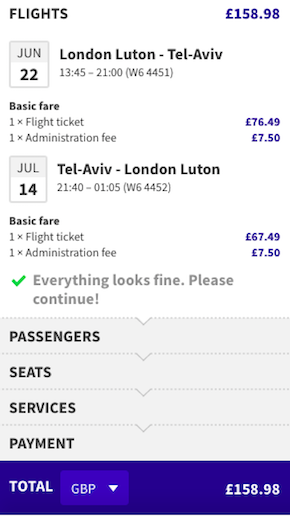 Well played, Wizz Air!
(Tip of the hat to @GeraintLewis)