Hyatt Gold Passport made some changes at the beginning of the year, which were both positive and negative.
First Hyatt announced an award chart devaluation, which was substantial though justifiable, in my opinion. We saw the introduction of Category 7 properties, whereby six of Hyatt's most expensive properties went from costing 22,000 points per night to 30,000 points per night; other levels weren't impacted quite as much.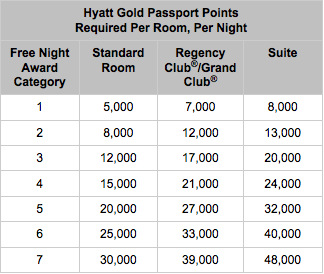 The following week Hyatt announced some positive changes to the Gold Passport program, though, which in my opinion outweighed the devaluation. The two most positive changes were:
The introduction of Points + Cash, whereby you can redeem part points and part cash for an award redemption. The best part is that unlike with free night redemptions, Points + Cash bookings qualify as paid stays for the purposes of elite credit, promotions, and Diamond Suite Upgrade Awards.
The introduction of My Elite Rate, whereby hotels in many cases offer Diamond and Platinum members 20% discounts off the Hyatt Daily Rate. Ultimately it's capacity controlled, and as is the case with anything in the hotel industry, some hotels are more generous with making it available than others.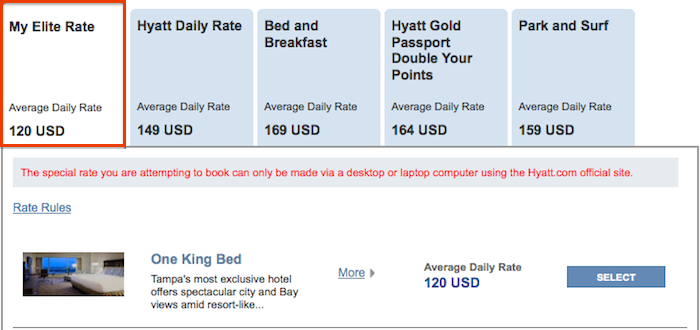 What's especially interesting about My Elite Rate is that it wasn't introduced as a permanent benefit. From the beginning Hyatt said it would be available for 2014, so you won't find it available at hotels in 2015.
With that in mind…
Will Hyatt's My Elite Rate continue into 2015?
I've found the introduction of the My Elite Rate benefit to be fascinating from the beginning. And it's actually kind of a gutsy offering, in my opinion.
Loyalty programs love metrics. But my guess is that it's really tough to quantify whether or not they're making or losing money off of My Elite Rate. In other words, you can see how many guests are booking My Elite Rate, though it's tough to figure out whether they would have made those bookings anyway (and therefore you're just "losing" 20%), or if they wouldn't have stayed with Hyatt otherwise.
Furthermore, let's keep in mind that on a per transaction basis elite members are less profitable than non-elite members, all else being equal. We get free wifi, late check-out, upgrades, club lounge access, breakfast, etc. Don't get me wrong, we're collectively much more valuable customers due to the volume of business we bring them — a Starwood VP recently said that 2% of their customers generate 30% of their profits.
But there is something interesting about offering a discount for being an elite member, on top of all the other regular elite benefits.
Generating incremental business or cannibalizing business?
This is probably the big question that the bean counters at Hyatt are understandably trying to figure out. Is My Elite Rate generating incremental business (are people booking at Hyatt specifically because of this rate), or are they cannibalizing their own business (who doesn't want to pay 20% less than they otherwise would have?).
My experience with My Elite Rate
I've used My Elite Rate a ton since it was introduced earlier in the year. And I can honestly say that in many cases I wouldn't have otherwise stayed at a Hyatt. In many cases a Hyatt property was more expensive than a comparable Starwood property, but by the time you factor in the 20% discount, they were comparable in price, or in some cases Hyatt was even cheaper.
In my case it definitely is generating incremental business.
Bottom line
We don't yet know whether My Elite Rate will return in 2015. It's anyone's guess. If I were a betting man I'd go with no, given how well hotels are doing, with high occupancy and yields.
It's something that certainly adds a lot of value to my stays and does build incremental business, but at the same time if I ran Hyatt I'm not sure how I'd be able to justify offering it.
How about you? What has been your experience with Hyatt's My Elite Rate? Has it caused you to give additional business to Hyatt, or do you just view at as a discount compared to what you'd otherwise pay?