Every so often I get an email from a reader confused about how business class on a flight could be cheaper than economy, and asking if it's an error. For obvious reasons, it seems backwards. For example, take the below flight between Puerto Plata and Frankfurt on Condor, where business class is $729, while premium class is $749: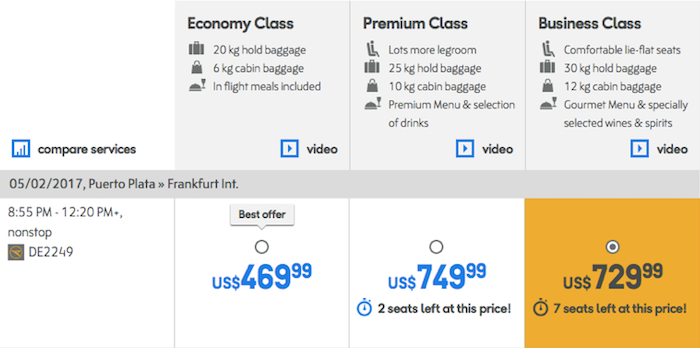 This is only one example, though it's something I notice pretty commonly on domestic flights as well, where first class is cheaper than economy. So, what causes first/business class to sometimes be cheaper than economy?
The simple answer is that this is due to how complicated inventory and revenue management at airlines is.
The slightly more complicated (or perhaps expanded) answer is that airlines are on a never-ending quest to try to segregate their consumer base as much as possible based on consumers' behavior. They do this by having dozens of fare classes, and often filing dozens of fares in a market. The system is so complicated that it sometimes creates situations where business class ends up being cheaper than economy. If you have a plane with 200 people on it, it's entirely possible that every single passenger paid a different fare to be on that flight.
Typically there are two factors that determine how much you pay for your flight.
The first is what fares an airline has filed in the market you're flying. Without getting into too much detail, here are just some of the fares that American files between Chicago and Dallas (this is based on your origin and destination airport for an itinerary, rather than the individual segment):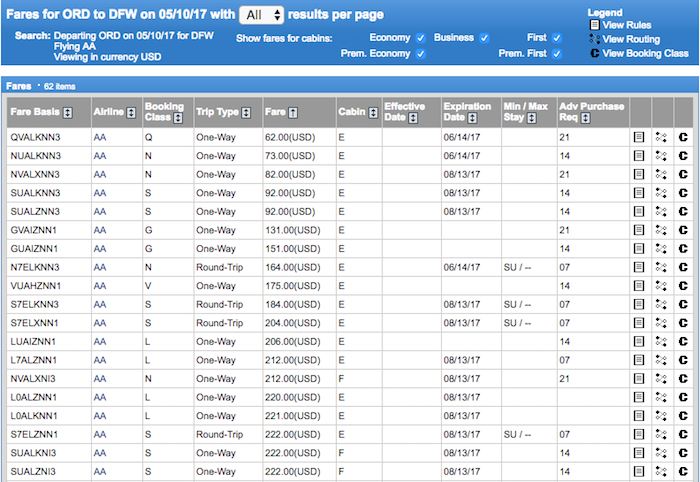 What determines the fare you get is how far in advance you're booking, when you're traveling, whether you're traveling roundtrip or one-way, whether you have a Sunday night minimum stay, etc. The lowest economy fare in the market is $62 one-way, while the most expensive is $901 one-way.
The other thing that determines the fare you get is what booking classes the airline publishes for a particular flight (which you'll see in the "Booking Class" column in the above chart). So not only does your itinerary have to be eligible for one of the above fares, but then the individual booking class codes need to be available for that type of fare, which will determine how much you pay. The codes they make available on a flight constantly changes, and is based on the expected demand for the flight. Obviously they want to sell the highest fares possible.
For example, here are the booking classes available for American flights from Chicago to Dallas in a few days (each flight has 16 different booking classes):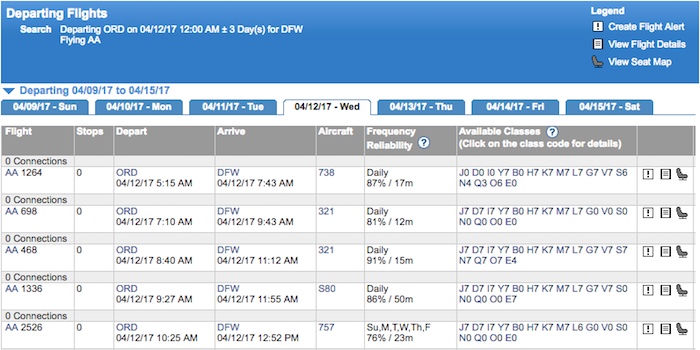 So there are a lot of factors that go into what fares an airline publishes, and also what fare classes an airline makes available on a particular flight.
Using the above example, from Chicago to Dallas, one-way economy fares range from $62 to $901, while one-way first class fares range from $212 to $1,605.
Generally there's some correlation between demand for economy and first class, meaning that usually you're not going to be in a situation where only the highest economy fare is available, but the lowest first class fare is also available.
Keep in mind there are some other factors at play as well. For example, a lot of business travelers can only book economy on certain flights, so it could very well be that they have to book economy even when it's more expensive than first or business class. That would allow a leisure traveler to swoop in and actually score a deal on a premium cabin ticket. There are also corporate contracts at play, where many travelers are paying a negotiated percentage of the full fare ticket cost.
Bottom line
It's not unusual to find that first or business class fares are cheaper than economy. While it doesn't really make sense, this is a product of how complicated airline fares are. Airlines are trying to do everything they can to maximize each consumer's willingness to pay, and at times that leads to oddities like this.
I've had a few domestic flights over the years where I booked first class for less than the price of economy, most commonly when economy was almost totally sold out, while first class was wide open.