I'm not usually one for unnecessary small talk, though when traveling internationally I do my best for two reasons. First, I'm genuinely interested in hearing what locals have to say, and second, I want to seem polite and interested in them.
I just got off a flight from Delhi to Chicago (which was great, by the way, minus the food), and upon departure in Delhi had a pretty funny interaction. My friend and I both went to the first class check-in line where we first had to answer ridiculous security questions (how long have you owned your electronic devices, what kinds do you have, etc.) before seeing an agent.
Once the agent checked us in we filled out our departure cards (India seems to love paperwork as much as the DMV), and as soon as we got in the immigration line we were approached by a lady that said "I will escort you to the lounge." I hadn't recalled seeing her before, and given that India is home to bribes and hidden costs (after all, this is the country where you have to pay to not be flashed by a eunuch), I wanted to figure out if she worked for American or was offering some sort of paid service, as I didn't think Executive Platinum members in business class would get an escort to the lounge.
So I asked her "great, do you work for American?" She said "Of course I do, I just checked you in." FML. We had just finished a five-hour drive, it was late at night, and a porter did most of the check-in process for us, so I wasn't really paying attention.
Once past immigration and security I tried to talk to her a bit and asked if she only worked for American or also other airlines (mainly I was interested if American is contracting workers in India or has their own ground staff given that they only have one flight a day). Maybe she didn't understand my question as I was trying to be nice, though she responded with a smile on her face "do I not sound American enough to work for American?" Again, FML!
She then asked "do you want me to take you to the lounge through the shops or using a shortcut?" I figured a shortcut just meant the less scenic route without a bunch of duty free shops, so we went with that.
Little did I know she was going to take us through some sterile employee hallway. Unfortunately that backfired when we got to the end of the hallway and there was a tree blocking the way. Only in incredible India!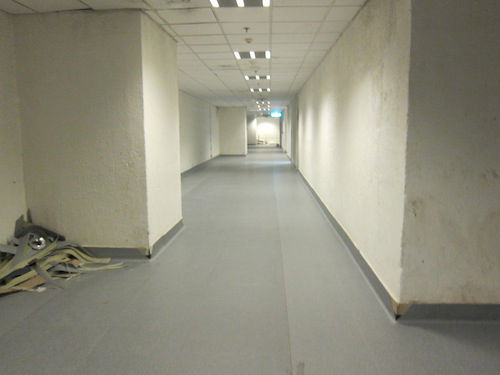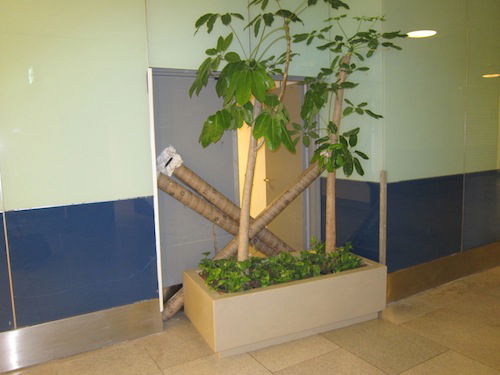 American uses the Kingfisher lounge in Delhi which is really nice, so no complaints there.
The funny conclusion to the story is that we didn't see the escort again until the jet bridge where she stood and said to me "see, I work for American," again with a smile.
I give up on small talk!
On a slightly unrelated note, I had an amazing time in India (it's probably my new favorite destination), though there's something nice about getting on an American flight 8,500 miles from home and being greeted by blonde frizzy haired ladies with a Chicago accent (and I mean that in an entirely positive way!).
When the flight attendant working my aisle took my drink order and I ordered a Diet Coke with lime she asked "with ice?" I said "I've been out of the US for two weeks, what do you think?" Not only did she instinctively fill the glass to the brim with ice, but she proactively said "the soda I have in my cart is all from India, let me see if we have some American Diet Coke leftover from the outbound in coach." She then brought my friend and I each a couple of cans to stash away for later, saying it was probably the last couple they had remaining from the outbound.
My one complaint about the flight was the catering. The flight is 15 hours in the air, though despite that they only serve a "light meal" after takeoff, and not even a real mid-flight snack. It's just odd that they serve two full meals and a hot snack on the outbound, which is shorter, but don't on the return.
The last funny thing is that my friend ordered the butter chicken (a western option on the menu), while I ordered the Indian vegetarian option. Below are pictures of the two meals. Hah.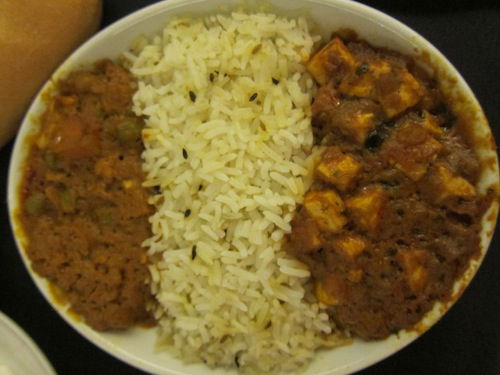 Indian vegetarian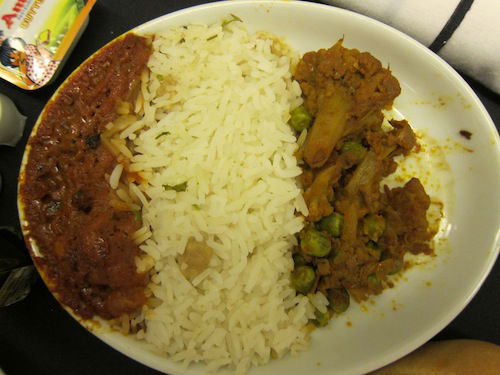 "Butter chicken"