I recently bought a ticket on the Delta Shuttle from DC to the fifth circle of hell LaGuardia. I ended up booking Basic Economy instead of a "regular" economy fare, and I'm pretty ok with my choice. Here's why.
For this fare, the price premium is too much
For an "upgrade" from Basic Economy, Delta seems to tack on ~$15-$25 each way on most round-trip domestic itineraries, including this one. The Basic Economy fare was $127, and an extra $50 would be quite a significant surcharge as a percent of the total fare. Amtrak on these same dates was $100 round trip. The price difference between Amtrak and flying wasn't huge if I booked Basic Economy, but was way greater if I bought a "regular" economy ticket.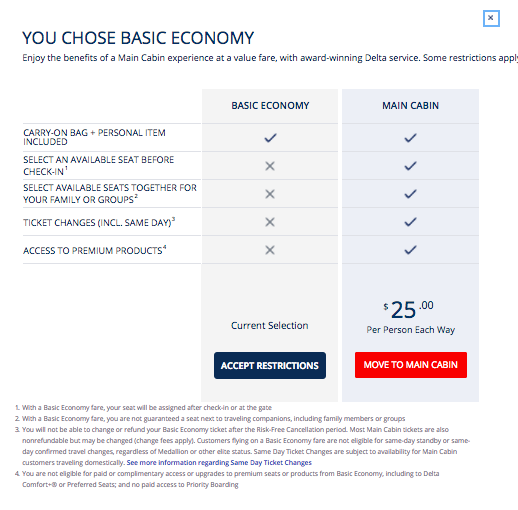 On the other hand, a few weeks ago I flew from DC to Anchorage. For those flights, the $20 each way premium was a no-brainer (and I have no idea why it'd be cheaper to upgrade on that itinerary than on the much shorter flights to NY). As a proportion of the total fare, it was much smaller, and for those long flights upgrade eligibility and advance seat selection was much more important to me.
It's a regional jet
In economy, the Embraer ERJ-170 has a 2×2 seating configuration. That means no middle seats. With a Basic Economy ticket, you aren't able to select a seat until you check in for the flight, but there isn't a huge difference between seats on this plane, so advance seat selection isn't that big of a deal.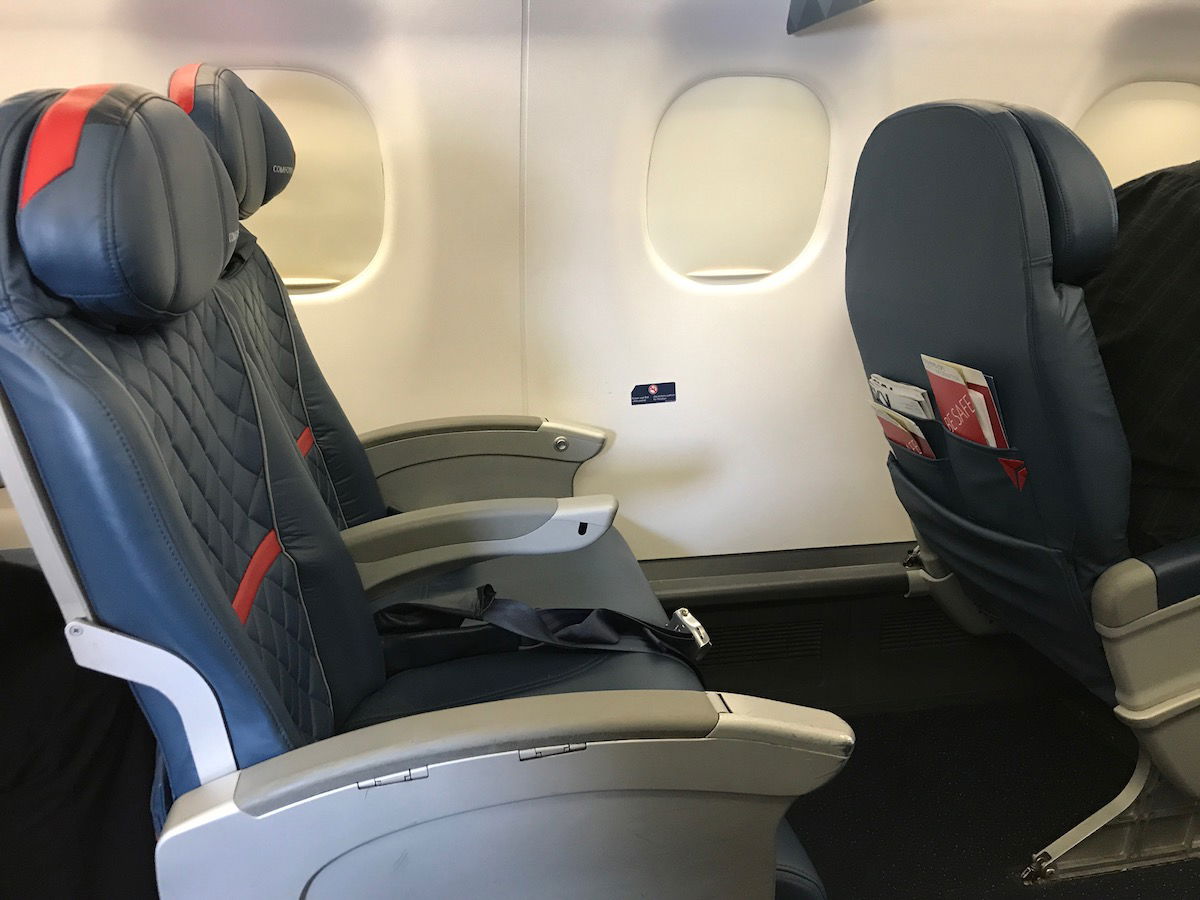 I'm traveling alone
Without advance seat selection, you're less likely to sit next to your travel companions. Since I'm flying solo this time, that's not an issue. Regardless of whether I select a seat in advance, I'm somehow always guaranteed to sit next to the sweatiest, gassiest person on every flight anyway.
I still get some perks
Generally Basic Economy passengers board last. But as a Delta Platinum, I do get some of my Medallion benefits. Specifically, I'm still eligible for priority check-in and, most importantly, priority boarding, so I'll still be able to put my luggage in the overhead compartment. And unlike United's Basic Economy, on Delta you don't have to pay for carry-ons, and you still accrue miles at the same rate as on another discounted economy fare.
It's a short flight
I'll be in the air for less than an hour. A Basic Economy ticket can't be upgraded to first class (which I would normally otherwise be eligible for as a Delta Platinum), but for such a short time the slightly bigger seat and couple inches of extra legroom won't make a big difference.
In addition, not that I'm planning to drink, but the Delta Shuttle offers free beer and wine to all passengers… so one of the advantages of a Comfort+ seat (another "upgrade" for which Basic Economy fares aren't eligible) is irrelevant.
I'm not buying into the airlines' B.S.
Let me be clear: I think basic economy as a concept is insulting and greedy. In a time when airlines are hugely profitable, they're implementing even more customer-unfriendly policies, and then they have the gall to couch an across-the-board fare hike as a way to give passengers more choices. They can all afford to generate some much-needed goodwill among their customer base, and they've chosen not to. And the fact that they all seem to copy each other like mindless parrots actually robs us of meaningful choice.
So in a way, by not paying the extra fee to "upgrade" to what was a couple years ago the cheapest fare option, I feel like I'm sticking it to Delta. Not that it matters to them, of course.
Bottom line
Whether a Basic Economy ticket is right for you is a personal choice. For me, in this particular situation, I think it was the right decision (though Ben "strongly disagrees" with me). Besides, people are always calling me basic… so it just seems to fit.
(Note from Ben: Andrew has made a compelling argument, and in this particular case I think he may have done the right thing, though in just about any other scenario I'd probably feel differently.)
So, tell me…am I completely nuts, or does this make sense?