Admittedly Australia is a bit out of the way, so it's not possible to serve many destinations nonstop. But I think you can get to just about any major city in the world from Sydney with one stop. What I find bizarre is the number of advertisements I've seen revolving around that.
While leaving the airport last night I saw a billboard for Emirates advertising "one stop service to Geneva." Fair enough, I find it a bit strange, but I guess that's accurate. I assume the advertising is more to generate interest as opposed to informing. In other words, it's probably to make people say "oh yeah, I'd love to visit Geneva" as opposed to "oh, I didn't know I could get to Geneva from here with only one stop."
But what's really strange, and unless I'm mistaken, kind of deceiving, is this ad that V Australia has on the parking garage car park (you Australians proud of me yet?;-)) at the airport: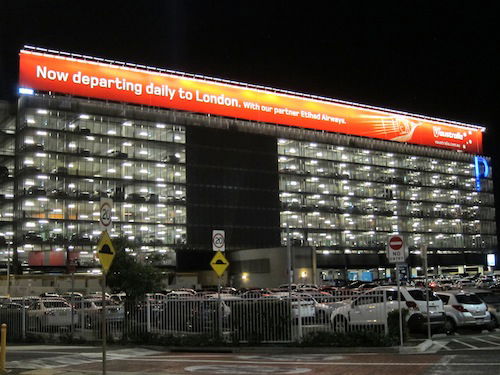 So V Australia is advertising the fact that Etihad Airways has service to London (not even mentioning the stop in Abu Dhabi)? What part of that is new – is it the route (which I don't believe is the case), or is it the partnership with V Australia? To me, that's the equivalent of JetBlue having a billboard in New York advertising Lufthansa's daily service from New York to Singapore.
Anyway, merely an observation from someone that loves marketing…