Here's a trick that can save you a lot of miles, but it also requires a bit of effort.
United MileagePlus lets you waitlist awards
Airline award space is heavily capacity controlled, but there's a trick that can sometimes help you get around that — specifically, waitlisting awards. It's probably easiest to explain this concept in the form of an example.
I was looking at booking a specific United flight from Frankfurt to Denver in the coming weeks:
There was saver level economy award space at the cost of 30,000 miles one-way
There was no saver level business class award space (which would ordinarily cost 60,000 miles one-way more than 30 days in advance), but rather there was only "everyday" award space, at the cost of 155,000 miles one-way

The thing is, transatlantic flights are so empty nowadays due to travel restrictions, and I suspect the flight will have maybe a few dozen passengers on it.

I noticed, however, that United wasn't making any saver level business class award seats available between Frankfurt and Denver, even in the days leading up to flights:
On the one hand, you'd think United would make award seats available, since these flights are empty
On the other hand, United probably assumes that demand for transatlantic travel is fairly inelastic at the moment, so the airline at least wants a decent yield for those who are flying
That's where award waitlisting comes into play. The idea is that:
You pay the saver level business class award cost now, but only get booked in economy (if there's award availability)
You get waitlisted for business class, and as long as a business class seat is available you'll get it (even if there's no saver level award space)
That's right, you're not subjected to award capacity controls, but rather are limited by the actual capacity of the plane. This is a little known trick that many people aren't aware of (and for anyone doubting me, you can see references to it on United's website here).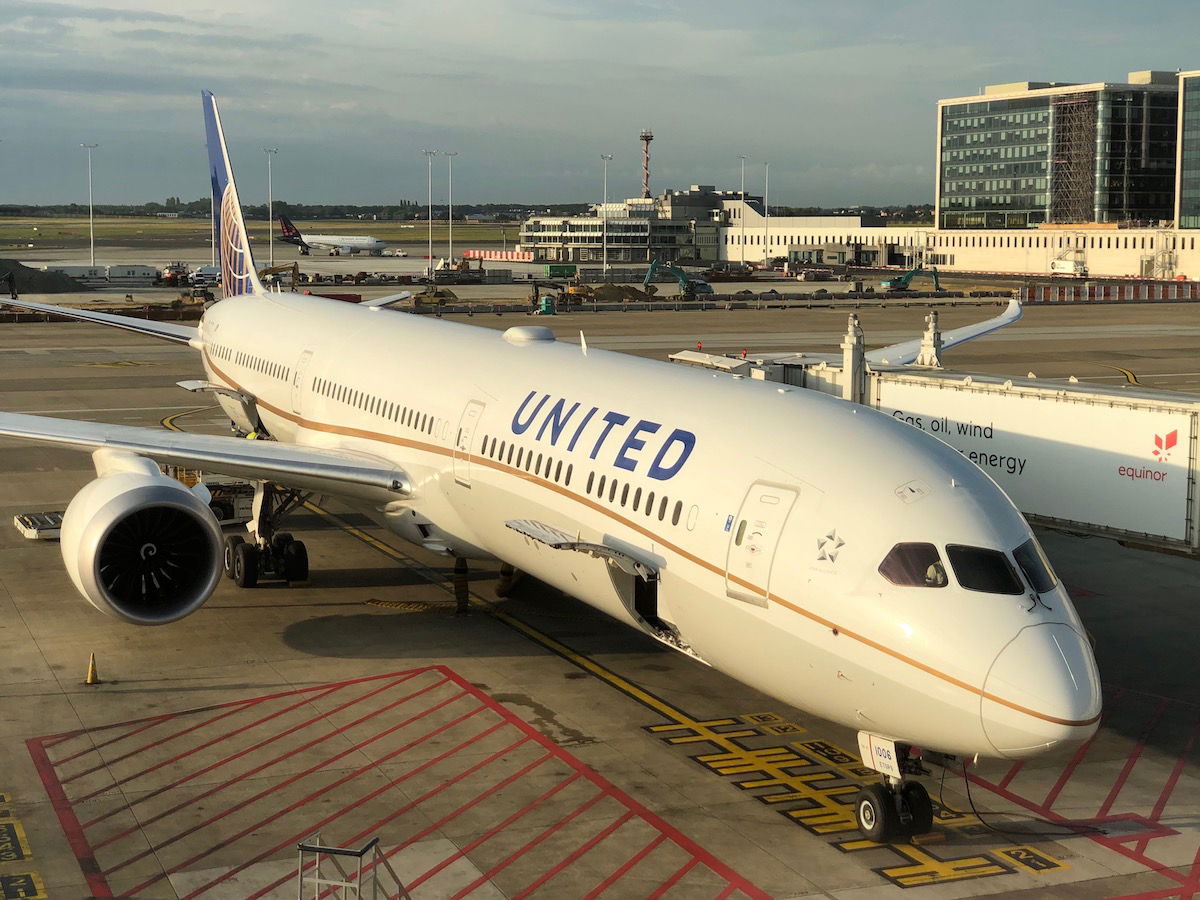 You can save a lot of miles by waitlisting
When can you waitlist MileagePlus award tickets?
In order to waitlist MileagePlus award seats:
You need to have a confirmed award booking for travel on United (for example, you confirm a saver economy award, and waitlist for a saver business class award)
You can waitlist either for the same flight you're confirmed on, or you can waitlist for a different routing (for example, you could confirm a Frankfurt to Chicago to Denver itinerary on United, and waitlist for a nonstop Frankfurt to Denver itinerary)
Only award segments on United can be waitlisted, and not award segments on partner airlines
You need to pay the miles upfront for the award class you're waitlisting for, and then you'll be refunded the difference if your waitlist doesn't clear (in the above case a saver level economy award cost 30,000 miles, but I paid 60,000 miles for the saver level business class award seat, even though it wasn't available)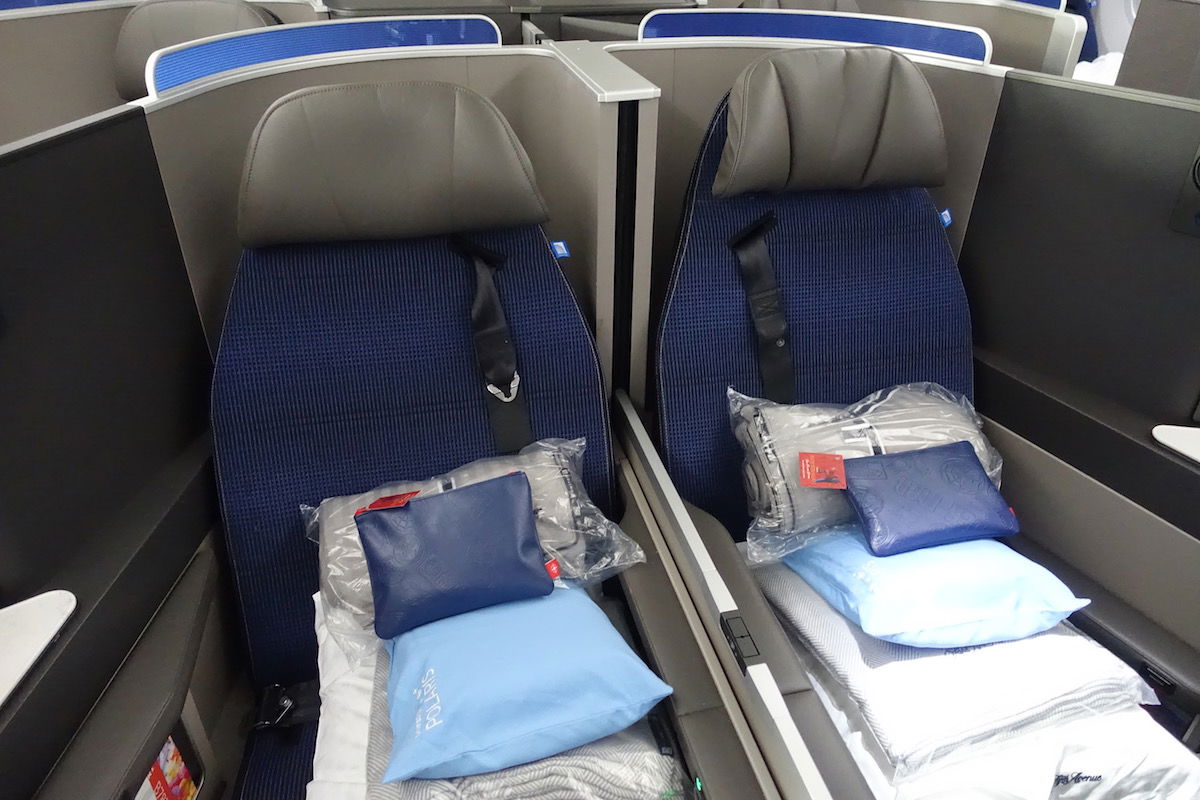 Score business class awards at the saver level by waitlisting
When do waitlisted MileagePlus awards clear?
In the event that you waitlist a MileagePlus award, when will it actually clear? Well, it could clear anytime between when you make the booking and your travel date:
United waitlist requests are reviewed, and they could clear well before departure even if there's not saver level award space
On the day of departure you'd be on the waitlist with a high priority for the cabin you "paid" for, and you'd clear as long as a seat is available
What are the downsides to waitlisting MileagePlus awards?
Before I share my (overall) positive experience, let me note the potential downsides here:
This needs to be done by phone, and most phone agents don't actually know how to do this
If you don't clear your waitlist before the day of departure, some airport agents may not know how to correctly waitlist you on the departure list
This fundamentally relies on the belief that there will be empty seats in the cabin you want on the day of departure; I feel 99% confident about that on transatlantic flights right now, while I wouldn't at all feel confident if I were booking a pre-Christmas flight from Newark to Palm Beach or San Francisco to Honolulu, for example
Right now this is low risk since change fees are waived, but if you're not happy with the results, you could also find yourself in a situation where you have to pay a redeposit fee to cancel your ticket, or end up in coach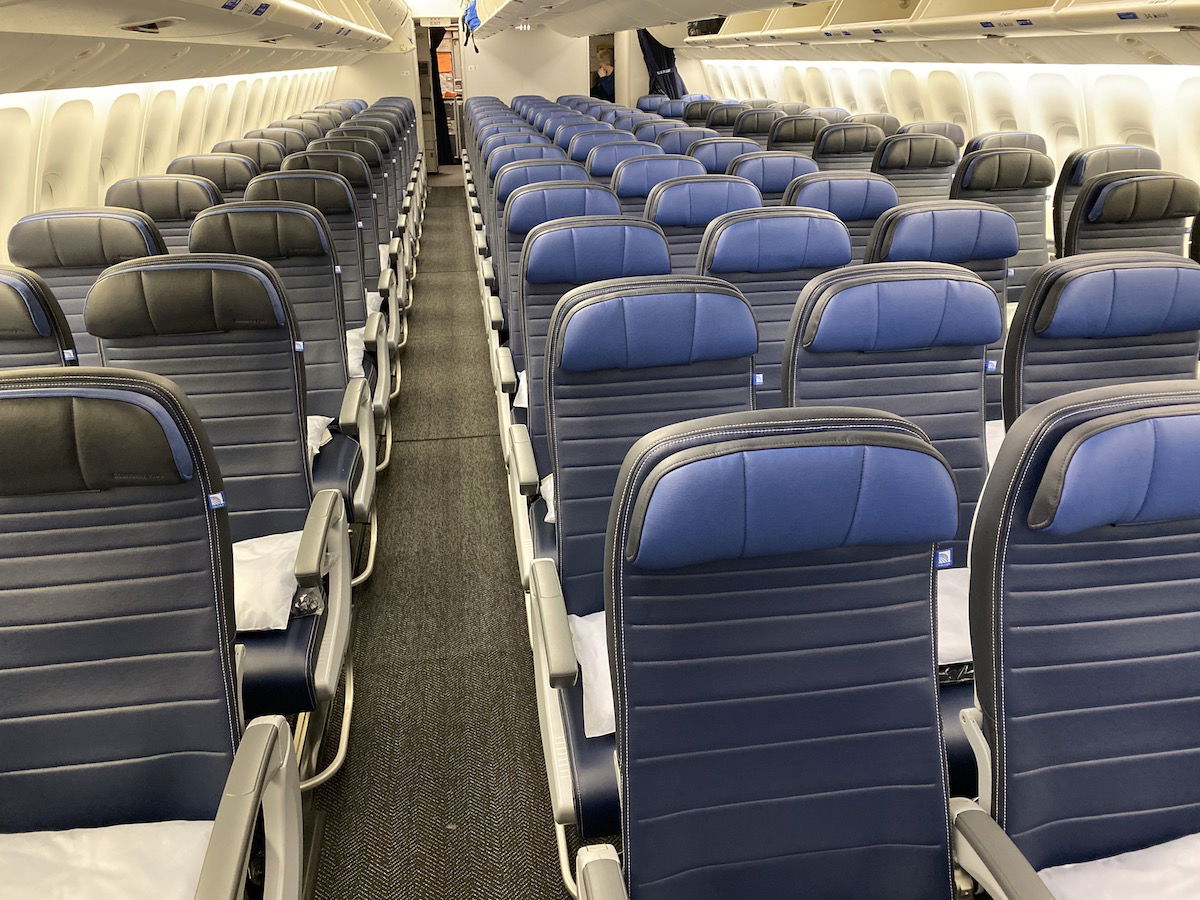 You may end up in economy if a waitlist is unsuccessful
My experience waitlisting a MileagePlus award
I went through the process of trying to waitlist a MileagePlus award from Frankfurt to Denver, confirming economy and then waitlisting for business class. It took three separate interactions with United for this to be done correctly, so here's how that went:
Attempt #1: economy confirmed, but nothing more
I phoned up United MileagePlus, and explained to the agent what I was trying to do. I don't find United's outsourced agents to be particularly well trained, and I could tell this was going to be an issue.
Nonetheless I proceeded with the booking in economy. United has no redeposit fees right now, so there was no downside. The agent claimed the award would be waitlisted, but she was also only deducting the mileage required for economy, when I knew she should be deducting the mileage required for business class.
Oh well, at least I had something to work with.
Attempt #2: business class waitlisted, but not really
United has a texting service for reservations, so I figured I'd give that a try. I hate being on the phone, so at least if I was going to be disappointed again, I wouldn't have to talk to a human. 😉
So I messaged the following:
I just made a MileagePlus award reservation with the confirmation number XXXXXX, though I think it may not have been done correctly. The flight I'm booked on only has "X" award space as of now, but I was trying to waitlist for "I" award space. Is that something you could help with?
The agent responded:
In order to waitlist for Business I will need to contact a supervisor and they will deduct the additional miles from your account for the waitlist. Is this ok?
The agent confirmed the additional amount would be 30,000 miles (as expected), and after waiting for about 30 minutes, it was confirmed that the reservation was all set.
Okay, clearly we were on the track here, and I saw miles had been pulled, redeposited, etc., so that's a good sign.

But then I logged into the reservation summary on united.com, and still didn't see a waitlisted segment.
Attempt #3: Twitter to the rescue
Generally airlines have good customer service on Twitter, so at this point I reached out to United on Twitter via DM:
I just booked a MileagePlus award in "X" class but waitlisted it for "I" class (so I already paid the business class price). Would you be able to confirm it's waitlisted correctly, because I don't see the waitlist reflected in the itinerary online?
The representative checked with the reservations team, and about 30 minutes later claimed it was all set. Sure enough, when I logged in online the award now showed business class as being waitlisted.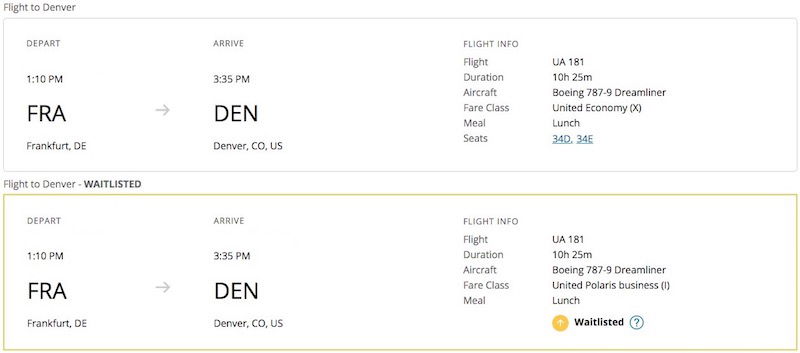 Wow: business class cleared less than 24 hours later
I was fully expecting that the waitlist would only clear at the airport, since I didn't think waitlisting awards actually got you any sort of additional award space.
However, to my surprise less than 24 hours later I received an email confirming that the business class waitlist had cleared.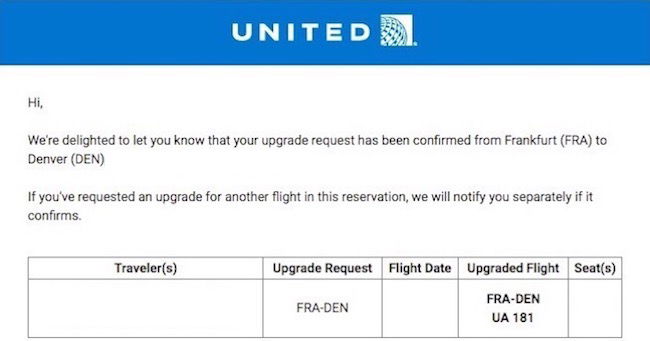 Just to be clear, there were no other award seats available in business class on the flight.
That suggests to me that this really is a way to have a manual review (or some sort of system review) of award space, and then they'll be cleared on a case-by-case basis.
While it took a bit of effort, confirming a seat for nearly 100,000 miles off less than 24 hours after booking is a pretty great opportunity.
Bottom line
United MileagePlus lets you waitlist awards. This can be a great way to score business class award seats at the saver cost on flights that don't have reasonably priced awards.
Waitlisting awards takes some effort and also comes with some risk, but as you can see above, there are situations where it works great.
While the process was a bit of a pain, ultimately I was thrilled with the end result, which was a confirmed business class award at the price I wanted to pay on my preferred flight less than 24 hours after booking. Not bad, eh?
Just make sure you understand the nuances and risks of this before trying something similar.
If you've ever waitlisted an award ticket, what was your experience like?