In the interest of full disclosure, One Mile at a Time earns a referral bonus for anyone that's approved through some of the below links. These are the best publicly available offers that we have found for each card. Opinions expressed here are the author's alone, not those of the bank, credit card issuer, airlines or hotel chain, and have not been reviewed, approved or otherwise endorsed by any of these entities. Please check out my advertiser policy for further details about our partners, including American Express, Capital One, Chase, and Citi, and thanks for your support!
Full disclosure: This experience was in conjunction with the SPG Amex Stars program I'm participating in, courtesy of the Starwood Preferred Guest® Credit Card from American Express. They gave me 70,000 Starpoints for this experience, which I redeemed for my two night stay at the W South Beach.
The Amex Stars Holiday Trip
For the past several years I've been participating in the SPG Amex Stars program, which has taken me to some pretty awesome places. I love the SPG Amex, and it's one of the cards I've had in my wallet for the longest amount of time. It was one of the very first cards I applied for when I was 18, and I've had it ever since.
For the SPG Amex Holiday Challenge, I was given 70,000 Starpoints to redeem for a winter getaway at a Starwood resort in the United States. Now, when most people think "winter getaway" they're probably thinking about snow, but personally I'm more of a fan of warm weather.
Over the years I've stayed at many of the best Starwood properties in the U.S., including the St. Regis Deer Valley, St. Regis Aspen, St. Regis New York, St. Regis Bal Harbour, St. Regis San Francisco, just to name a few.
I wanted to visit a hotel I hadn't stayed at before, and one that is a great use of Starpoints. So I decided on the W South Beach for a few reasons:
I would be in Florida for the holidays anyway visiting my family, so it seemed like a fun way to escape for a couple of days
I've reviewed the St. Regis Bal Harbour and Royal Palm South Beach, which are two other Starwood properties in the area, so I was curious to see how the W South Beach compared
The rates at the W South Beach during our stay were insane, so redeeming points represented an exceptional value compared to paying
Why I love Starpoints & the SPG Amex
My philosophy when it comes to points has long been to earn and burn. However, Starpoints are an exception, as it's one of the points currencies I actively hoard. That's because the points are so valuable and versatile, and I always try to redeem points that I think are ripe for devaluation first.
At a minimum, Starpoints can can be converted into airline miles at a 1:1 ratio, with a 5,000 point bonus for every 20,000 points transferred. I value my favorite mileage currencies at ~1.8 cents each, so factoring in the 25% transfer bonus I need to get at least ~2.3 cents per Starpoint to feel good about my hotel redemptions. Fortunately there are still lots of situations where redeeming points for hotel stays represents a great value.
The SPG Amex comes with a suite of useful benefits, including:
No foreign transaction fees
Complimentary unlimited Boingo wifi
Complimentary in-room premium internet access at Starwood properties
Sheraton club lounge access (for those with the SPG Business Amex)
Redeeming Starpoints at the W South Beach
The W South Beach is a Category 7 property, meaning a free night redemption costs 30,000-35,000 Starpoints. That's a lot, given how valuable the points are.
That being said, when you look at the paid rates at this hotel in season, it's actually a bargain in comparison.
Paid rates at this hotel can be $3,000+ per night including tax. That's insane.
Meanwhile the hotel costs 35,000 Starpoints per night, though with Starwood you get the fifth night free when redeeming points. That means for a five night stay, the average cost is just 28,000 Starpoints per night.
That's an incredible value compared to the paid cost of such a stay, which would be $15,000+.
Now, I'll be the first to say that I don't think this hotel (or any hotel) is worth $3,000 per night, though I also stayed the week between Christmas and New Years, which is one of the busiest weeks of the year in South Beach. So the price more reflected the time of year and location than the hotel as such. Other times this hotel goes for $350 per night, in which case redeeming points for a stay wouldn't be as good of a value.
But ultimately Starpoints enabled us to say here during one of the busiest times of the year, which was very nice. That's what makes Starpoints great. They're useful for airline mileage transfers, for stays at mid-range hotels, and in many cases for stays at their high-end properties as well. Redeeming points for a hotel that would cost $3,000+ per night is quite a value.
With that in mind, let's get into the review.
W South Beach Review
We arrived at the W in the early afternoon. It's located just off Collins Avenue, towards the northern part of South Beach. The building has a gorgeous exterior, with the "W" logo visible at the top.
Outside the hotel is a big Hello Kitty and bunny statue, which seems random, though people love taking pictures with them, based on the number of people I saw tagging themselves on Instagram in front of these.
Just behind that are the bikes, which are available to hotel guests on a first come first serve basis.
The W has a grand rectangular lobby, with a bunch of fresh flowers on a table by the entrance. This is certainly the chicest W lobby I've ever seen, and it reminded me of a hybrid between a W and St. Regis in terms of the styling.
There were tons of comfortable couches and chairs in the lobby area, which surprisingly never seemed to be too full, despite the hotel being fully occupied.
The associate who checked us in was friendly and professional. While I had tried to apply a Platinum Suite Night Award to this reservation, not surprisingly the hotel was full, so we were "only" upgraded to a "Wonderful Ocean View Room," which is a standard room on a slightly higher floor. That worked for me, given that even the standard rooms at this hotel are nearly 600 square feet.
The hallways were stylish, and our room (#723) was about two thirds of the way down the hallway on the left.
The room had a long entryway with a closet on the left and the bathroom to the right.

W South Beach Wonderful Ocean View Room entryway
The room was gorgeous, and I'd describe it more as a junior suite than what I'd typically consider a standard hotel room. The room's design was quirky while still being luxurious.

W South Beach Wonderful Ocean View Room

W South Beach Wonderful Ocean View Room living area

W South Beach Wonderful Ocean View Room bedroom area
The room featured a brand standard king size bed. I love the W Bed, so slept extremely well.

W South Beach Wonderful Ocean View Room bedroom
Across from the bed was a dresser and a wall-mounted TV.

W South Beach Wonderful Ocean View Room bedroom TV
Then past that was the living area, which had an "L" shaped couch. It was separated from the living area by a lights fixture on one side and a black-and-white panel display on the other side.

W South Beach Wonderful Ocean View Room living area
Across from the couch was a desk, along with a TV above it.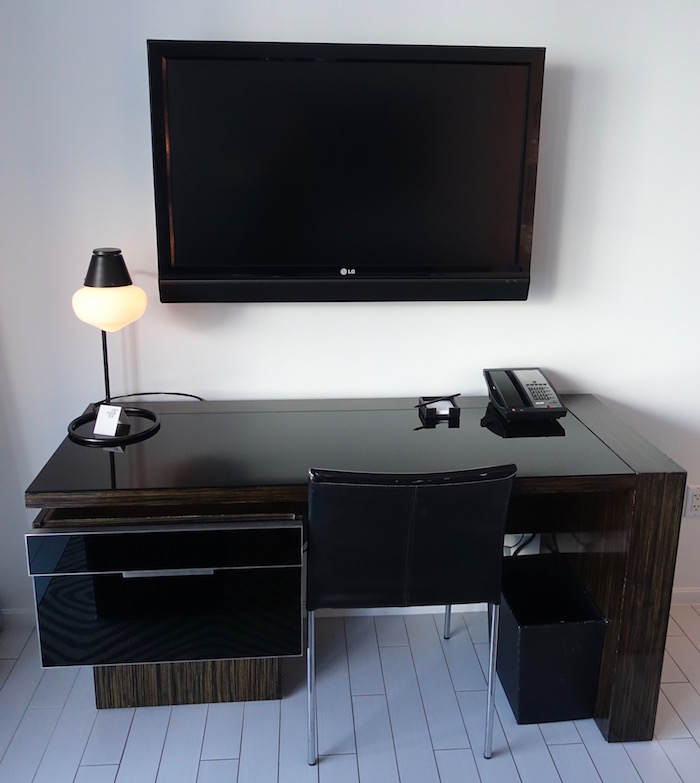 W South Beach Wonderful Ocean View Room desk & TV
Past the living area was the large balcony, with two chairs and an ottoman. The balcony had a great view of the beach and ocean in the distance. The rooms are parallel through staggered, so the great thing is that you have privacy from your neighbors on the balcony.

W South Beach Wonderful Ocean View Room balcony

W South Beach Wonderful Ocean View Room balcony view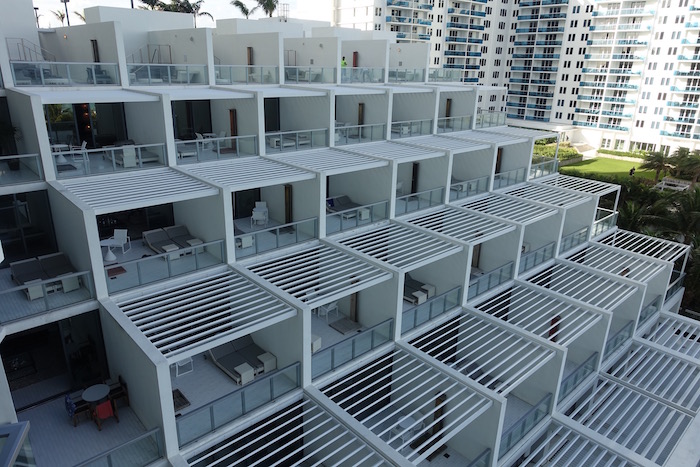 W South Beach Wonderful Ocean View Room balcony view
The W has what's perhaps the most over-the-top minibar setup I've ever seen, as there are minibar contents in three areas. There were some snacks and drinks on the dresser across from the bed.

W South Beach Wonderful Ocean View Room minibar
Then in the living room there were bottles of liquor.

W South Beach Wonderful Ocean View Room minibar
Then back near the entrance was a fridge with more minibar drinks.

W South Beach Wonderful Ocean View Room minibar
Goodness gracious, I don't want to know the sticker price of all the minibar contents!
On top of that fridge was a coffee machine and a wet bar.

W South Beach Wonderful Ocean View Room wet bar
The bathroom was to the right of the entrance, and featured double sinks, a massive walk-in shower, and a partitioned off toilet.

W South Beach Wonderful Ocean View Room bathroom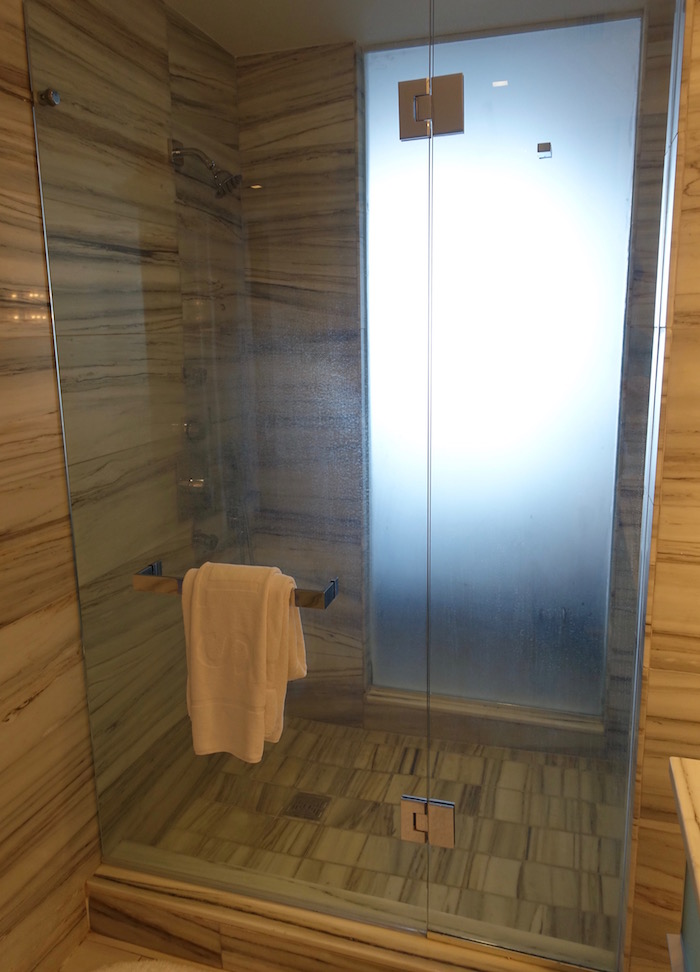 W South Beach Wonderful Ocean View Room shower

W South Beach Wonderful Ocean View Room toilet
The shower was fantastic — it was one of those human car wash showers, where you can get sprayed from every angle.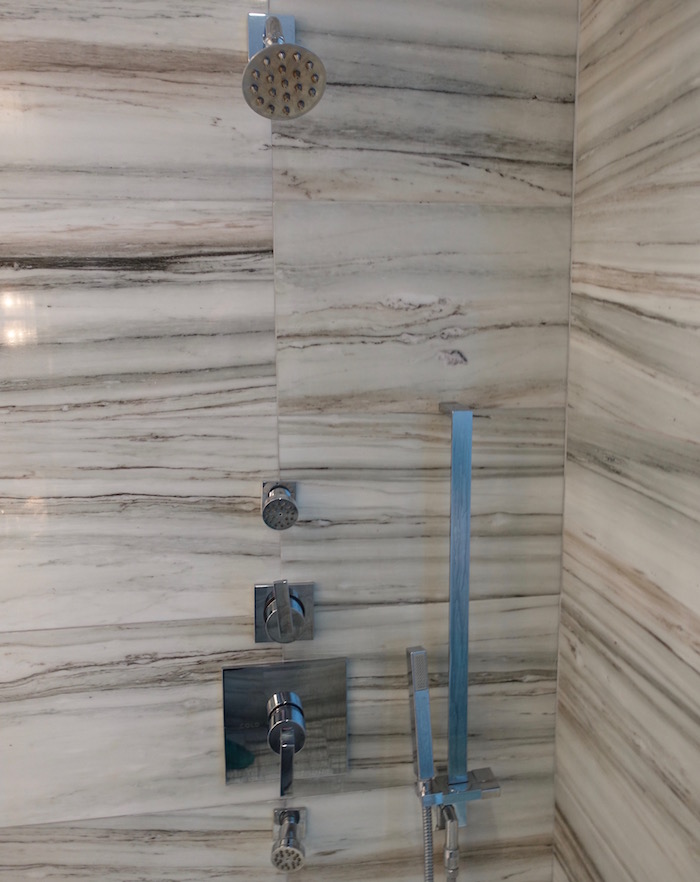 W South Beach Wonderful Ocean View Room shower
As usual, toiletries were provided by Bliss, which I love.

W South Beach Wonderful Ocean View Room Bliss toiletries
The evening of our arrival we got one of the grandest welcome amenities I've ever received at any hotel. My SPG Ambassador is incredible, though I really need to ask him to just start sending a simple fruit plate. 😉

W South Beach Platinum welcome amenity
So I thought the room was lovely, especially when you consider that this is the base level room in terms of size. While the hotel can be pricey in high season, at least you're not being squeezed into a 300 square foot room. Also on the seventh floor were the rooftop tennis and basketball courts, which seemed to be popular with kids.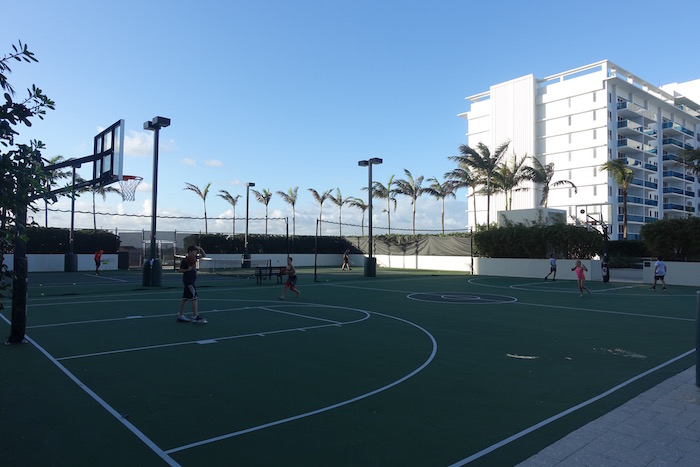 W South Beach basketball and tennis courts
Given that this is South Beach, of course the highlight is what's going on outside your room. The hotel has a very nice pool, which I took pictures of at 7AM, given that during the day it's packed. The pool even has a live DJ starting at noon.
There's also a more private pool behind it, which never seemed to be as full.
Just next to the pool is a restaurant serving breakfast and lunch, which I'll talk more about in a bit.
The hotel also offers direct beach access.
They have attendants on staff there, so when you show up you give them your number, and they'll lead you to some beach chairs. While chairs and towels are free, renting an umbrella costs $25 per day. On one hand that seems cheap, on the other hand that's a pretty standard charge for hotels in the area.
The beach was beautiful, and even as someone who doesn't typically go outside, I enjoyed sitting in the shade for a few hours.
We had lunch both days at the W's pool bar. It was a great way to enjoy the pool atmosphere while trying to make sense of how some people had, like, 10-pack abs.
The menu read as follows:
Presumably they have 10-packs by not ordering the lobster roll with fries, but the server recommended it, and it was really good.

W South Beach pool lunch — lobster roll
The watermelon and arugula salad was great as well.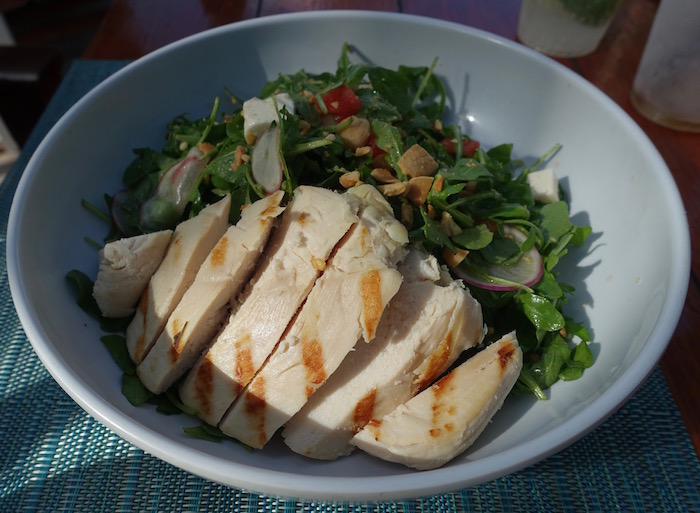 W South Beach pool lunch — watermelon and arugula salad
There's a cool shaded area near the pool where I sat for a couple of hours the second afternoon working.
The hotel's bar is located just off the lobby area, and one evening we had cocktails there, which were excellent.

W South Beach bar outdoor seating
We had breakfast the first morning at The Dutch, which is the hotel's all day dining restaurant. The restaurant actually had complimentary coffee for guests, which I took advantage of both mornings when I woke up.

W South Beach breakfast restaurant
The breakfast menu read as follows:
I had a breakfast burrito, while Ford had the baked eggs.
Unfortunately this hotel takes a very strict interpretation of the SPG Platinum continental breakfast benefit, and only offers Platinum members "The Cosmo" breakfast from the room service menu.

W South Beach Platinum breakfast
This consists of coffee, juice, pastries/croissants, and yogurt. On the plus side, they didn't even make me sign for it. Still, that's not much of a breakfast benefit, if you ask me.

W South Beach Platinum breakfast
Service at the hotel was generally very good. There's an automatic 20% service charge for all food & beverage at the hotel, which is the case at many places in South Beach (presumably due to the number of foreign tourists). The service was friendly and sincere across the board. As you'd expect, given that this is South Beach, service wasn't to the level you'd find in Bali or something, but I wasn't expecting that either.
W South Beach bottom line
Ford and I had a really nice time in South Beach. South Beach as such is probably the furthest from being "my" scene, but sometimes it's fun to try something different. I loved sitting on our balcony and enjoying the views, going to the beach for a bit, sitting by the pool, etc.
This is also the most expensive hotel room (in terms of retail value) that I've ever redeemed points for. One of the things that makes Starpoints so awesome is that there are no blackout dates, so as long as a standard room is available, you can redeem points for it. Of course that's an even better value during the holidays, when the hotel goes for ~$3,000 per night, rather than the $350 in the off season.
The W South Beach is a lovely property, and I'd certainly consider returning. Surprisingly it reminded me a lot of the St. Regis Bal Harbour, and was by far the most luxurious W property I've stayed at in the U.S.
Regarding Comments: The comments on this page have not been provided, reviewed, approved or otherwise endorsed by any advertiser, and it is not an advertiser's responsibility to ensure posts and/or questions are answered.