Virgin Atlantic is an airline that has historically been pretty conservative with their growth. This February the airline announced flights to Tel Aviv, which is their new shortest route. Then in March the airline announced flights to Sao Paulo, which will be their only route to South America.
The Sao Paulo flight only launches in 2020, and in the past few days the airline has put this new route on sale.
Virgin Atlantic's Sao Paulo Flights Launch March 2020
Virgin Atlantic will be launching flights between London Heathrow and Sao Paulo as of March 29, 2020.
The flight will operate with the following schedule:
VS197 London to Sao Paulo departing 10:30PM arriving 6:25AM (+1 day)
VS198 Sao Paulo to London departing 4:25PM arriving 7:50AM (+1 day)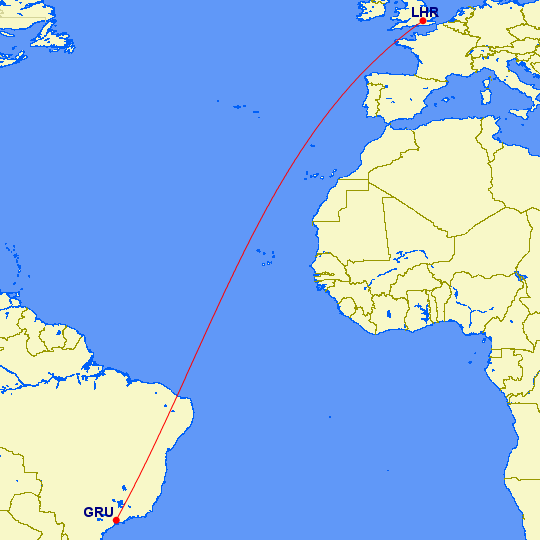 The flight will cover a distance of ~5,900 miles, and is blocked at 11hr55min westbound and 11hr25min eastbound.
The airline will operate the flight with a Boeing 787-9, featuring 258 seats. This includes 31 Upper Class seats, 35 premium economy seats, and 192 economy seats.
Virgin Atlantic will be going head-to-head against both British Airways and LATAM, which also operate the route.
The flight is now on sale in all fare classes, though I don't yet see any award available, I'm sure that will change soon.
What Virgin Atlantic Executives Say About The Route
Virgin Atlantic's EVP of Commercial said the following regarding this route:
"2019 marks the start of a new phase of growth for Virgin Atlantic as we work to become the most loved travel company. São Paulo represents an incredible opportunity for our business, and we're very excited to be flying to a brand new continent for the first time. There are a significant number of corporate customers, and multi-national businesses, located in this Powerhouse of South America who can now enjoy the Virgin Atlantic experience on this busy international route.

But it's not all about business – I'm also thrilled to introduce an exciting new destination to our leisure customers. São Paulo boasts numerous cultural institutions such as the Museu de Arte, has a rich architectural history, and acts as a gateway for leisure travel within the rest of Brazil and beyond. This is a prime opportunity for Virgin Holidays who are busy securing a range of ancillary partners and diverse accommodation options for those customers seeking a full-service holiday offering."
Virgin Atlantic Sao Paulo Summary
Virgin Atlantic will be launching daily flights to Sao Paulo as of March 2020.
It's great to see Virgin Atlantic expand destinations beyond just transatlantic routes they've been focused on where they have a joint venture with Delta (which will also soon include Air France and KLM).
What do you make of Virgin Atlantic's new route to Sao Paulo?