Reader Nick emailed to share an experience he had on yesterday's Virgin Atlantic flight from London to Boston. There are lots of reasons for flights to be delayed and diverted, but this is one of the most unusual I've heard.
Yesterday's flight VS11 from London to Boston made a stop in Manchester in order to drop off a pilot who needed to work a different flight. At check-in, passengers were given a letter outlining the delay, so clearly this was decided on in advance. Per the letter:
Your flight to Boston will be operating via Manchester today. In order for us to ensure our customers are able to fly from Manchester to New York today, we need to fly one of our pilots to Manchester. We have looked at other options to achieve this, but this is the only option available to use. You will remain on board the aircraft during our short stop in Manchester Airport. I apologise for any inconvenience and disruption this may cause to your journey.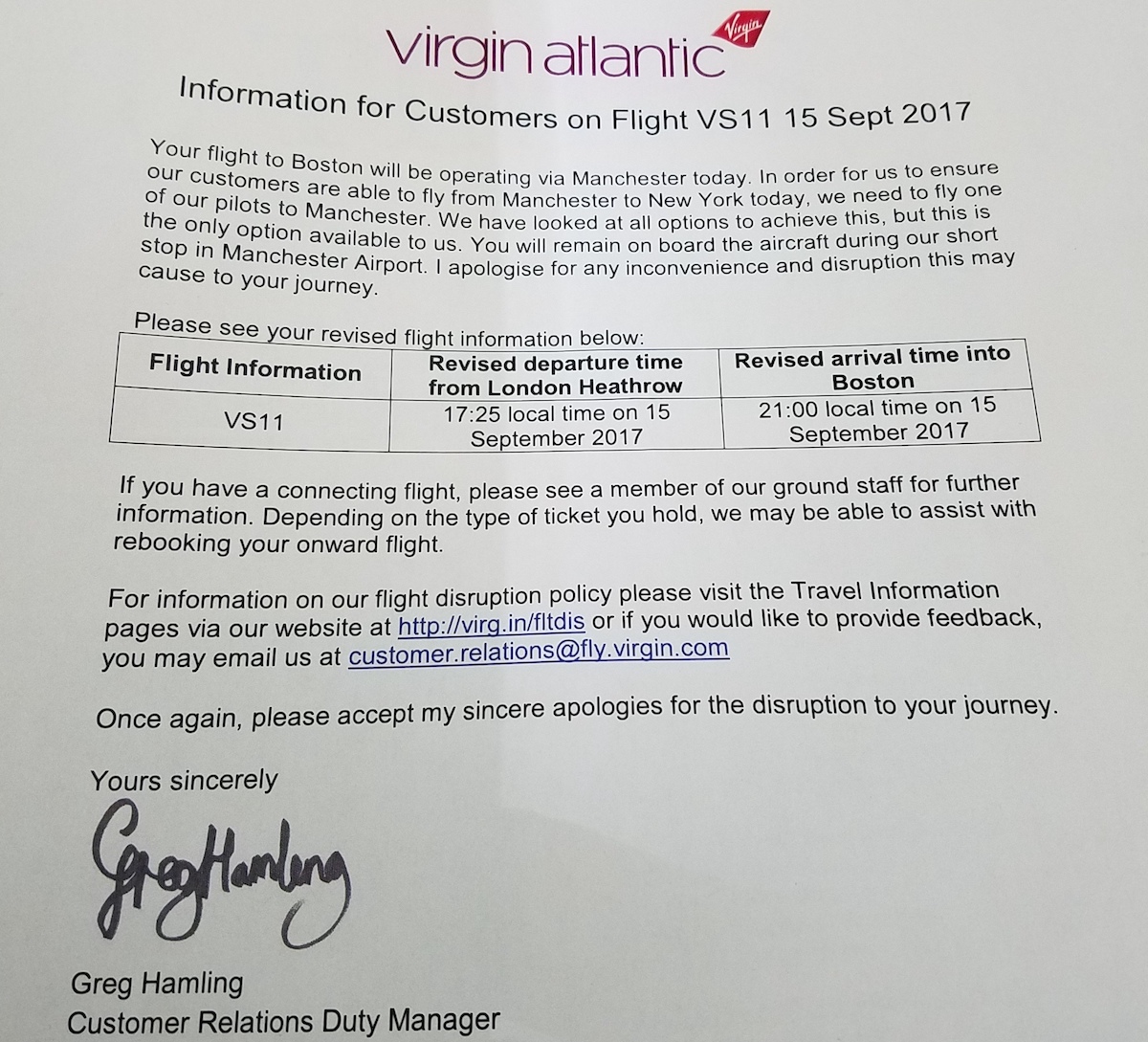 Here's the flight status for yesterday's flight from London to Boston, which reflects the Manchester diversion, and the 1hr36min delay it caused:
Meanwhile the Manchester to New York flight that the pilot needed to work was delayed by several hours. It was scheduled to depart at 1:40PM, but only ended up departing at 7:12PM, so it was delayed by 5hr32min. Here's the status on that:
Now, I'm sure a lot of thought was put into this decision, because diverting a plane isn't cheap. This no doubt cost them thousands and thousands of pounds.
At the same time, what am I missing here? I get that they may not have had any 787 reserve pilots available in Manchester, so they needed to get one from London. But we're talking about a distance of 150 miles, a market that has a good number of flights, and that has trains running between the two cities with a travel time of two hours. While BA doesn't have a ton of flights in the market, they had a couple of flights from Heathrow to Manchester between the time the Manchester to New York flight was delayed, and when the flight ended up leaving.
Like I said, I'm sure Virgin Atlantic had their reasons, I just find this strange. Was the issue really that they couldn't get a pilot any form of transportation to Manchester, or rather that there's something in the pilot contract that ruled out the other options (ie, train travel is not an acceptable way of positioning pilots, a pilot needs a flat bed business class seat if they're deadheading and having to operate a longhaul flight same day, etc.).
Anyone have any guesses?