Virgin Atlantic has just presented a fascinating vision for the future, which could see the airline going from their current 19 destinations to 103 global destinations. That's right, the airline wants to add 84 new routes… allegedly.
Heathrow May Be Getting A Third Runway
Heathrow Airport is more or less at capacity, and for years there have been talks about the possibility of a third runway being built. While this could very well change, currently the plan is that the airport could get a third runway by 2026 (personally I'd be shocked if that timeline sticks).
If this happens, the plan is for the airport to continue to expand capacity in stages, with the goal of having a capacity of 150 million passengers per year by 2050. With a third runway, we could be looking at an extra 700 flights per day to the UK's busiest airport.
British Airways Is Against Heathrow's Third Runway
As you might expect, Heathrow's third runway is incredibly controversial.
Generally speaking, environmentalists and area residents are against the third runway. Similarly, British Airways is against the third runway. IAG (the parent company of British Airways) controls about half of the capacity in & out of Heathrow, and this gives them tons of pricing power. They have the monopoly as London's global airline. Additional slots translates into additional competition and lower fares, something British Airways most definitely doesn't want.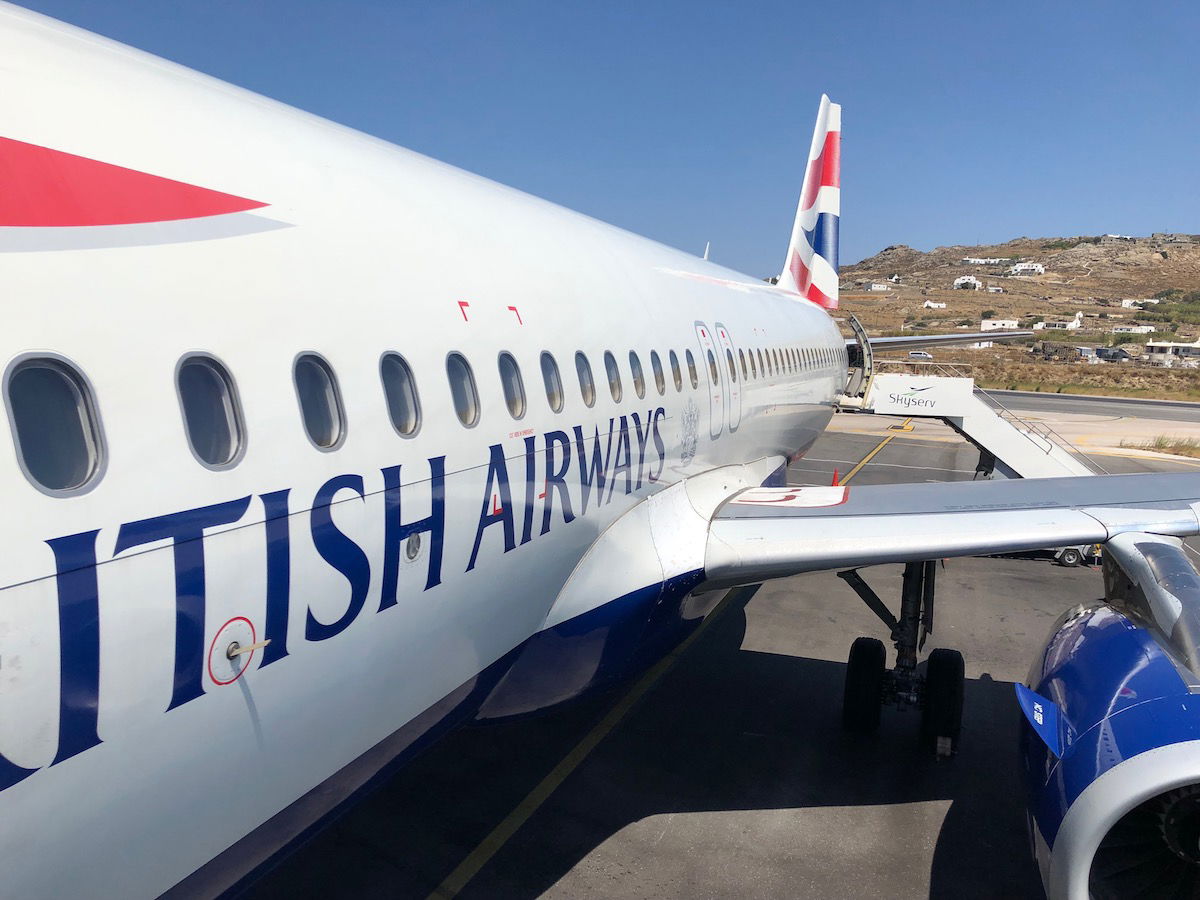 Conversely, most other airlines are in favor of Heathrow expanding, as it would give them a lot more access to the market.
Virgin Atlantic's Huge Expansion Goals
Virgin Atlantic has just shared their bold vision for the future, which would see them giving British Airways competition on a global level.
Obviously Virgin Atlantic is trying to create a compelling case for them to be granted lots of slots with the construction of the third runway, arguing that consumers would benefit from British Airways no longer having what amounts to a monopoly.
As Virgin Atlantic CEO Shai Weiss describes the plans for the airline:
"Never has the need for effective competition and choice at Heathrow Airport been more evident than during this summer of disruption, which has brought misery for tens thousands of travellers. Britain, and those who travel to it, deserve better than this. Air passengers need a choice and Virgin Atlantic is ready to deliver when Heathrow expands.

Heathrow has been dominated by one airline group for far too long. The third runway is a once in a lifetime opportunity to change the status quo and create a second flag carrier. This would lower fares and give real choice to passengers, as well giving Britain a real opportunity to boost its trade and investment links around the world. Changing the way take-off and landing slots are allocated for this unique and vital increase in capacity at the nation's hub airport will create the right conditions for competition and innovation to thrive."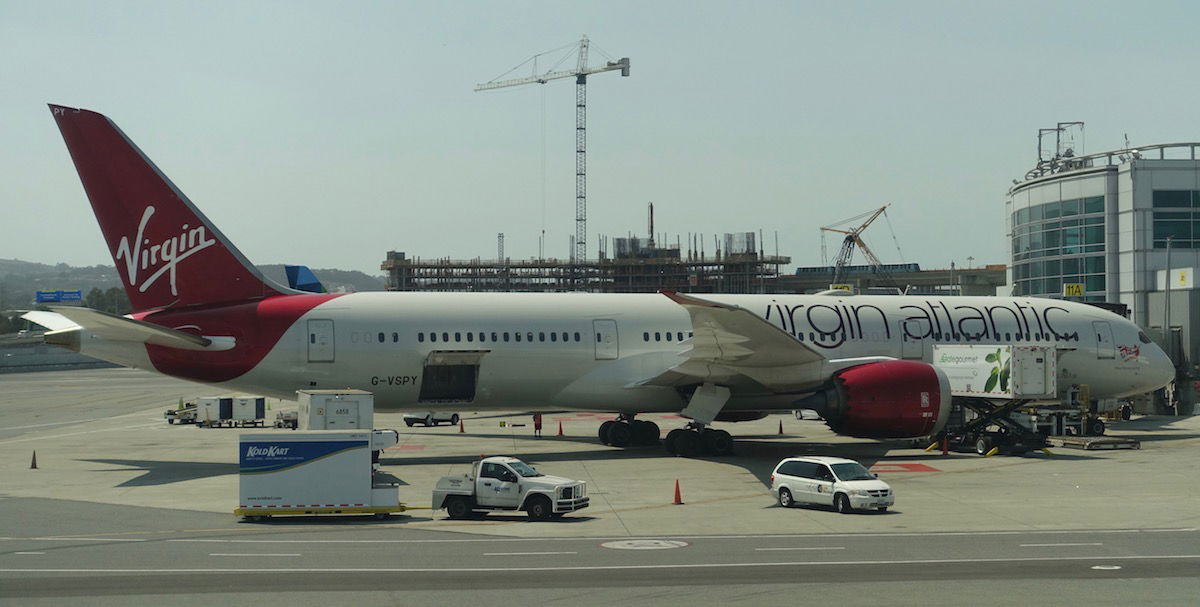 Virgin Atlantic's 84 New Destinations
Virgin Atlantic wants to add 84 new destinations in the UK, Europe, and across the globe, in addition to their current 19 long haul destinations.
How would the 84 proposed Virgin Atlantic routes be distributed?
12 would be domestic, including to Belfast, Glasgow, and Manchester
37 would be European, including to Barcelona, Dublin, and Madrid
35 would be global, including to Buenos Aires, Jakarta, and Kunming
Here are a couple of maps showing the destinations they intend to add service to: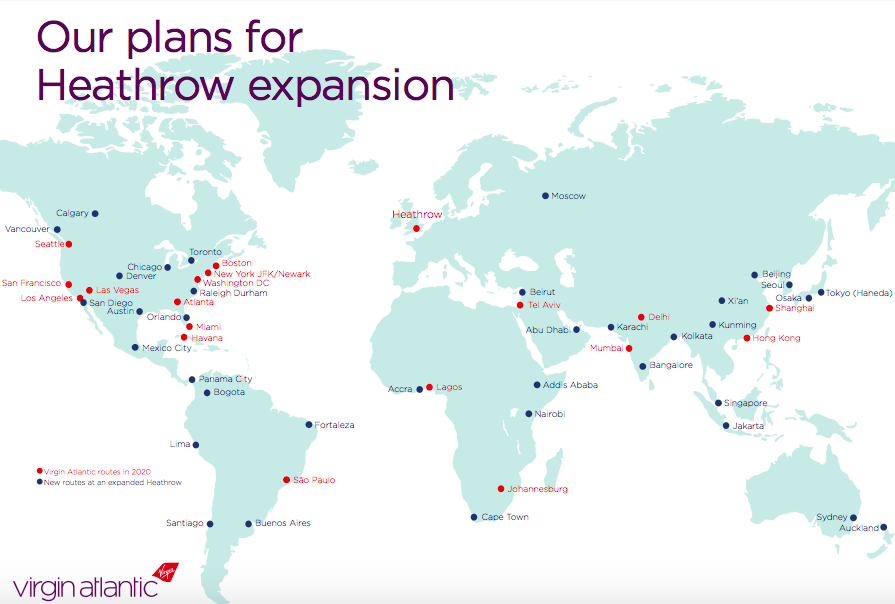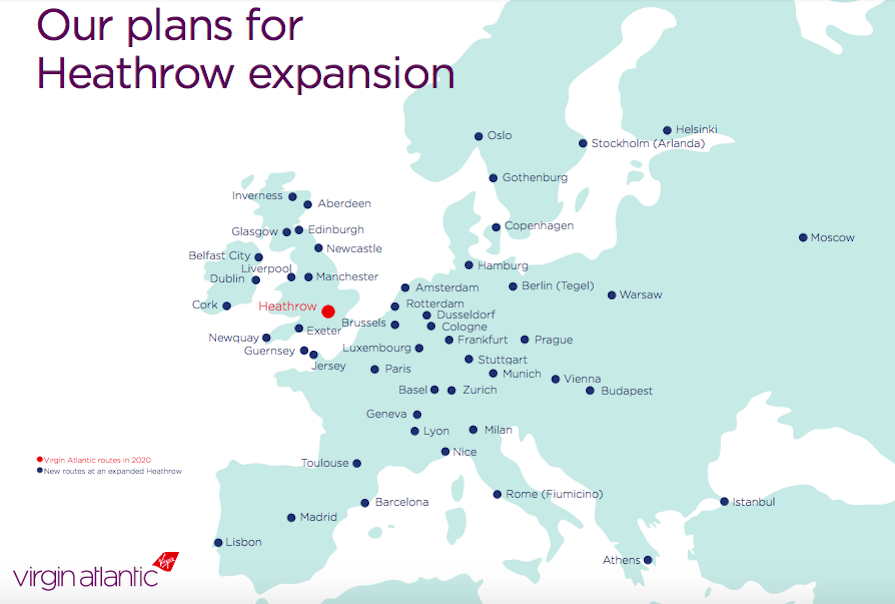 Here's a full list of the destinations they want to fly to, with the bolded ones representing routes they already fly:
| | | |
| --- | --- | --- |
| Aberdeen, Britain | Abu Dhabi, UAE | Accra, Ghana |
| Addis Ababa, Ethiopia | Amsterdam, Netherlands | Athens, Greece |
| Atlanta, USA | Auckland, New Zealand | Austin, USA |
| Bangalore, India | Barcelona, Spain | Basel, Switzerland |
| Beijing, China | Beirut, Lebanon | Belfast City, Britain |
| Berlin (Tegel), Germany | Bogota, Colombia | Boston, USA |
| Brussels, Belgium | Budapest, Hungary | Buenos Aires, Argentina |
| Calgary, Canada | Cape Town, South Africa | Chicago, USA |
| Cologne, Germany | Copenhagen, Denmark | Cork, Ireland |
| Delhi, India | Denver, USA | Dublin, Ireland |
| Dusseldorf, Germany | Edinburgh, Britain | Exeter, Britain |
| Fortaleza, Brazil | Frankfurt, Germany | Geneva, Switzerland |
| Glasgow, Britain | Gothenburg, Sweden | Guernsey, Britain |
| Hamburg, Germany | Havana, Cuba | Helsinki, Finland |
| Hong Kong, China | Inverness, Britain | Istanbul, Turkey |
| Jakarta, Indonesia | Jersey, Britain | Johannesburg, South Africa |
| Karachi, Pakistan | Kolkata, India | Kunming, China |
| Lagos, Nigeria | Las Vegas, USA | Lima, Peru |
| Lisbon, Portugal | Liverpool, Britain | Los Angeles, USA |
| Luxembourg, Luxembourg | Lyon, France | Madrid, Spain |
| Manchester, Britain | Mexico City, Mexico | Miami, USA |
| Milan, Italy | Moscow, Russia | Mumbai, India |
| Munich, Germany | Nairobi, Kenya | Newark, USA |
| New York JFK, USA | Newcastle, Britain | Newquay, Britain |
| Nice, France | Orlando, USA | Osaka, Japan |
| Oslo, Norway | Panama City, Panama | Paris, France |
| Prague, Czech Republic | Raleigh Durham, USA | Rome (Fiumicino), Italy |
| Rotterdam, Holland | San Diego, USA | San Francisco, USA |
| Santiago, Chile | São Paulo, Brazil | Seattle, USA |
| Seoul, South Korea | Shanghai, China | Singapore, Singapore |
| Stockholm (Arlanda), Sweden | Stuttgart, Germany | Sydney, Australia |
| Tel Aviv, Israel | Tokyo (Haneda), Japan | Toronto, Canada |
| Toulouse, France | Vancouver, Canada | Vienna, Austria |
| Warsaw, Poland | Washington DC, USA | Xi'an, China |
| Zurich, Switzerland | | |
Is Virgin Atlantic Serious?
There's certainly an element to all of this that makes you wonder if Virgin Atlantic executives have lost their minds. After all, it's not often that you see an established global airline say "oh yeah, we just want to quadruple in size in seven years."
There are obviously lots of logistics standing in the way:
The airline would have to order dozens and dozens of planes to make these routes work
Some of these routes make me scratch my head, like how they would fly to Auckland or Sydney; would these be tag flights, and if so, do they really think those will be profitable?
Personally my take here is that Virgin Atlantic is somewhat serious. They want to create a case for the value to travelers in having a second "flag" carrier. This announcement certainly proves that point, and paints a picture of what could be.
However, I also think they realize this is highly unlikely. Heathrow is a slot restricted airport, and slots are bloody expensive. While the per slot cost will obviously go down if a third runway is built (simple supply and demand), the cost for Virgin Atlantic to acquire all of these slots will no doubt be prohibitively expensive.
Here's The Catch
Virgin Atlantic's CEO specifically says how he wants the airport to change the way slots are allocated. It sure seems to me like Virgin Atlantic basically wants to be given dozens and dozens of slots for free because they feel it benefits consumers to have a second flag carrier.
I'd say it's highly unlikely this comes to fruition, but that won't stop Virgin Atlantic from dreaming… and I commend them for that, because British Airways sure needs some competition.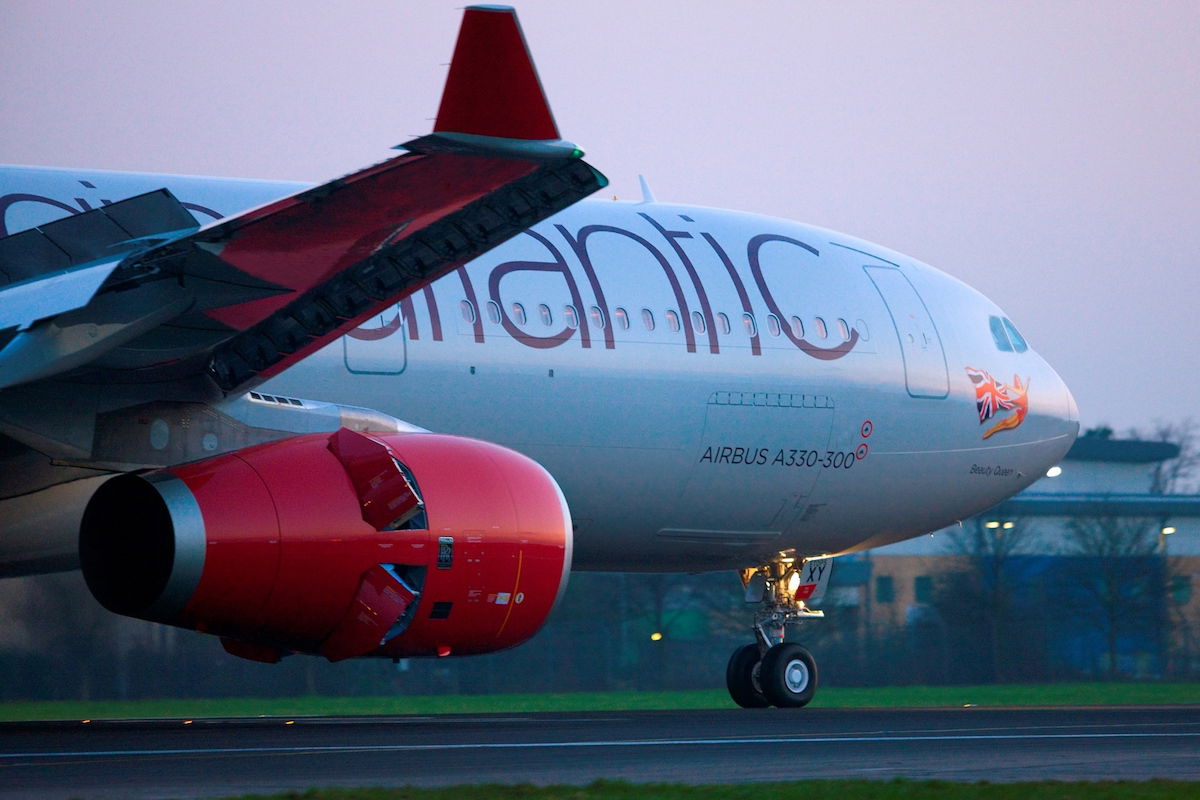 What do you make of Virgin Atlantic's desired massive expansion at Heathrow?