Virgin Atlantic has just announced some changes to their economy experience. Essentially Virgin Atlantic is aligning their products with Delta, given that Delta owns a stake in Virgin Atlantic and also has a transatlantic joint venture with them. Delta introduced basic economy fares on select transatlantic flights last December, so it's only logical that Virgin Atlantic will follow their lead. That's not the only area in which they're aligning their product, though, as Virgin Atlantic is also introducing a bundled option that includes extra legroom economy seating.
Virgin Atlantic is brilliant at marketing, so as you'd expect, they're not just calling this "basic economy" and "extra legroom economy," but rather they're marketing it differently. Virgin Atlantic is claiming that they're "unveiling three new ways to fly," which is perhaps a bit of a stretch. The names of the three "experiences" are "Economy Delight," "Economy Classic," and "Economy Light." They'll debut in spring 2018.
What should you expect from each of these?
"Economy Delight" will be extra legroom economy, featuring 34″ of pitch, free seat assignments in advance, premium check-in, and priority boarding
"Economy Classic" will feature the same experience as before
"Economy Light" will be basic economy, offering hand baggage only, no refunds or changes, and seats only assigned at check-in
Here's a comparison of the three types of economy fares that they'll offer: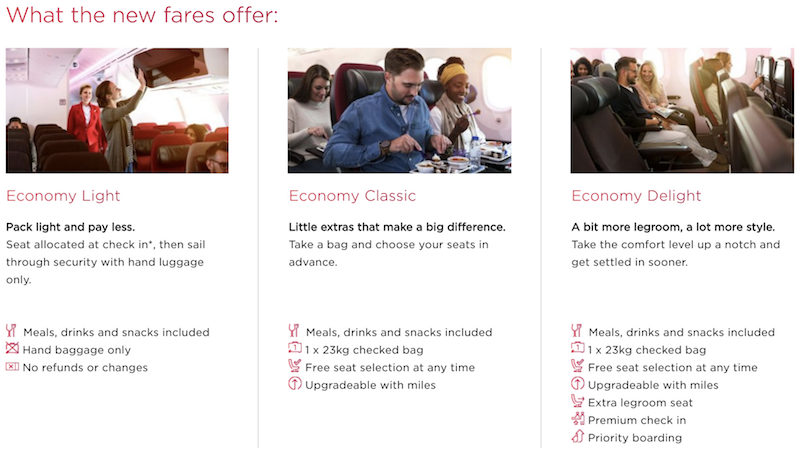 Virgin Atlantic will continue to offer premium economy, featuring wider seats, more legroom, and a different service experience. Virgin Atlantic says that Economy Delight will offer "the UK's leading economy product." I suppose that's true, though it's not saying a whole lot.
Here's what Virgin Atlantic's CEO had to say about this update:
"We're unveiling the biggest change to our Economy cabin in over a decade – launching three new ways to fly, and a host of innovations on the ground and in the air as part of a wider £300 million investment in our customers. We know that one size doesn't fit all, and from spring our customers can afford to be choosy and still travel in the UK's leading economy cabin.

"We always want flying with Virgin Atlantic to be more special than other airlines, and we'll never compromise on excellent service, industry leading food and drink and cutting edge inflight entertainment – regardless of which Economy ticket our customers are traveling on, they'll be able to enjoy all this onboard."
Bottom line
Virgin Atlantic introducing basic economy is most definitely a negative change, as we've seen time and again that it doesn't actually lead to lower airfare. Virgin Atlantic has already offered extra legroom economy, though now they're introducing it as a bundled product.
What this boils down to is that Virgin Atlantic is introducing basic economy and little else, though they're trying to put a positive spin on it.
Are you surprised to see this development from Virgin Atlantic?