Priority Pass is the world's largest network of independent airport lounges, with over 1,300 lounges around the world.
While many of the lounges in their network are contract lounges (meaning they don't belong directly to airlines), there are also some airline lounges belonging to the network. One airline that has added a few of their locations to Priority Pass is Virgin Atlantic, and they've just revealed their latest addition.
Virgin Atlantic Clubhouse SFO Joins Priority Pass
The Virgin Atlantic Clubhouse at San Francisco International Airport is joining Priority Pass as of Monday, December 16, 2019. The lounge is located airside in Concourse A. After security turn left and take the elevator to Level 5, which is where the lounge is located.
The lounge will be open to Priority Pass members daily from 6AM until 12:15PM. Priority Pass members can access the lounge for up to three hours, and guesting privileges are based on the type of membership you have (meaning those with most premium US credit cards will be able to bring two guests).
This is the fourth Virgin Atlantic Clubhouse in the US to join Priority Pass, as the Clubhouses in Los Angeles, Newark, and Washington Dulles, already belong to Priority Pass.
This Clubhouse also just completed a renovation, as it reopened last week after being closed for several weeks.
This will also be the second Priority Pass lounge in Concourse A, as the Air France-KLM Lounge nearby also accepts Priority Pass members over select hours.
Concourse A is used primarily by international airlines, including British Airways, Cathay Pacific, China Eastern, Emirates, Korean Air, Qantas, and many more.
Wait, But Aren't Virgin Atlantic Clubhouses Really Nice?
Virgin Atlantic Clubhouses are known for solid a la carte dining and great cocktails. So are they really opening all of this up to Priority Pass members? Well, not really.
As you can see, the Clubhouse will only be open to Priority Pass members in the mornings, when the lounge would otherwise be closed. They figure they might as well extend the hours and make some extra revenue off Priority Pass.
The catch is that while you get access to the same "physical" space of the lounge, expect the food and drinks to be severely watered down.
For example, when I visited the Clubhouse LAX using Priority Pass, they had a food and drink selection that was even worse than what you'd find in a US airline lounge.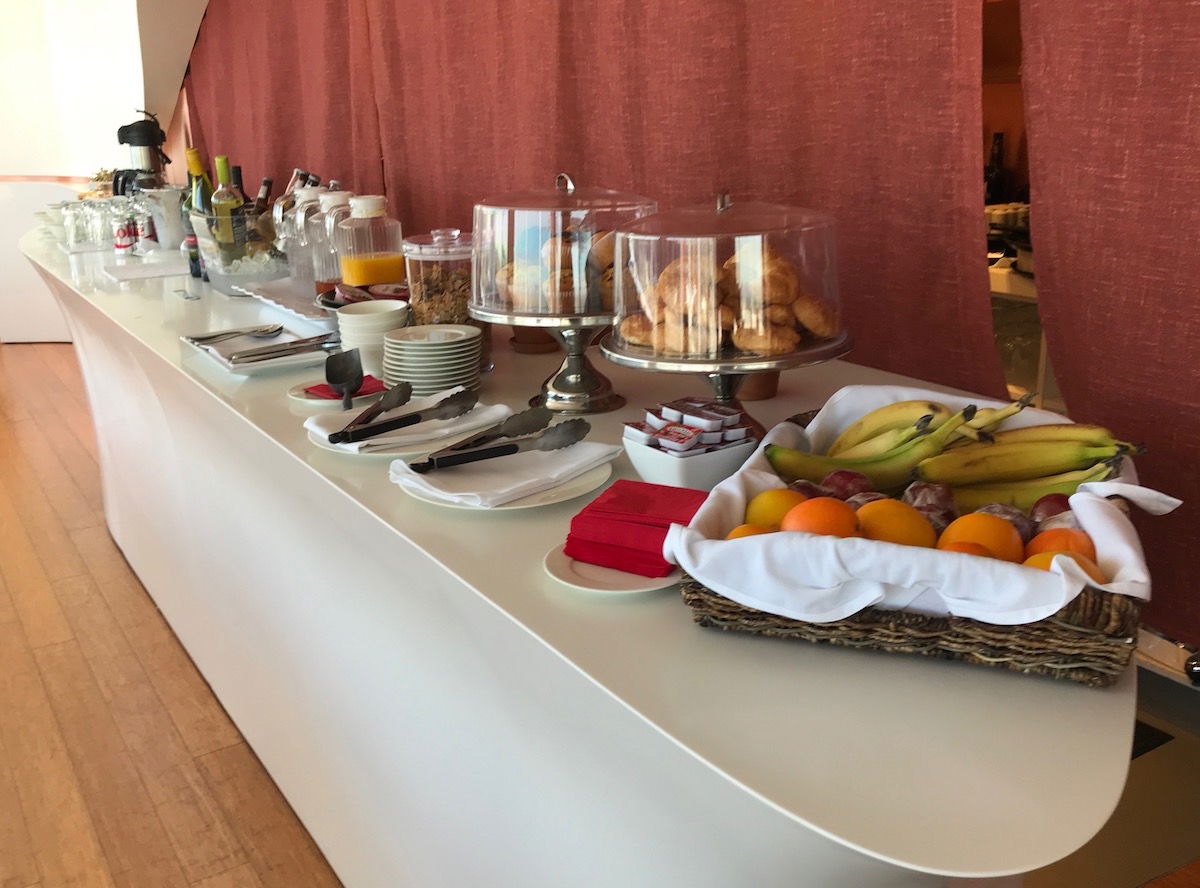 Virgin Atlantic Clubhouse LAX catering for Priority Pass
Still, it was a nice place to sit, and there was free Wi-Fi. So this addition is better than nothing, as it should at least be a nice space physically. But definitely manage your expectations in terms of the food & drink selection.
Bottom Line
The Virgin Atlantic Clubhouse SFO will be joining Priority Pass tomorrow, though only in the mornings when it would otherwise be empty. This is a nice addition, though don't expect much in terms of the food & drinks that will be on offer.
Do you plan on using the Virgin Atlantic Clubhouse SFO with Priority Pass?
(Tip of the hat to Jim)