Virgin Atlantic has historically been pretty conservative with their growth. For example, within the past year the airline has announced flights to Tel Aviv and Sao Paulo, and by their standards that's some pretty strong growth.
Last week the airline announced a new route that I'd consider to be pretty awesome, and as of today that flight is bookable (below I'll talk about the opportunities to redeem miles for it).
Virgin Atlantic launching London to Cape Town flights
Virgin Atlantic is launching a new seasonal Boeing 787-9 service between London Heathrow and Cape Town as of October 25, 2020. The new flight will be operated daily with the following schedule:
VS478 London to Cape Town departing 4:20PM arriving 5:55AM (+1 day)
VS479 Cape Town to London departing 8:00AM arriving 6:00PM
The flight will cover a distance of ~6,000 miles in each direction, and is blocked at 11hr35min southbound and 12hr northbound.
It's interesting to see that Virgin Atlantic will operate a daytime flight from Cape Town to London. Most European airlines offering South Africa flights operate a redeye back, meaning that the plane sits on the ground all day. Their flight times are much better in terms of aircraft utilization, but worse in terms of connectivity back to the US.
We don't yet know when the season for this flight will end, though as of now it shows as being bookable daily through the end of the schedule (which extends as far as mid-January 2021 as of now).
This complements Virgin Atlantic's existing daily service to Johannesburg.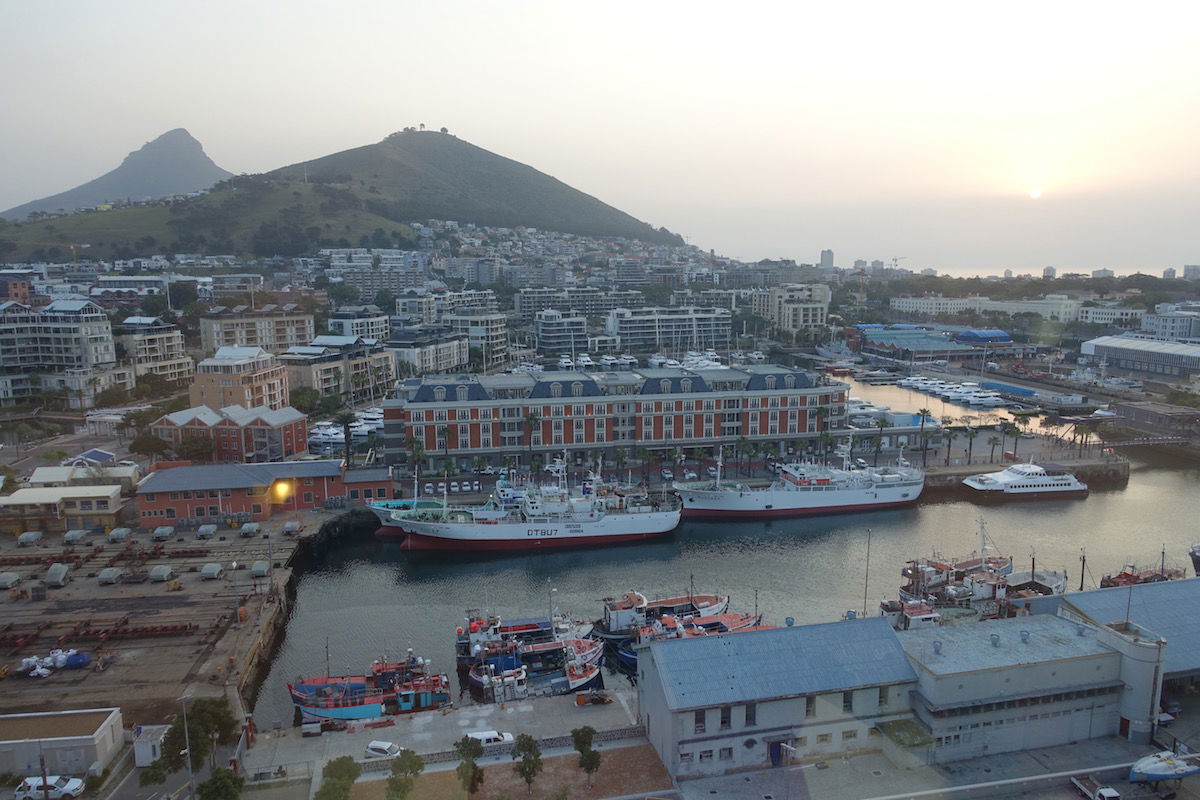 Cape Town, South Africa
As Juha Jarvinen, Virgin Atlantic's Chief Commercial Officer, describes the route:
"2020 is an extremely exciting year of continued growth for Virgin Atlantic. Not only are we launching a new service to Sao Paulo in March but we're delighted to announce a new seasonal service to Cape Town offering more choice for our customers than ever before.

We're delighted to be flying to Cape Town again – we're expecting a high proportion of leisure travellers on this route taking advantage of the winter sun, the safaris and of course, the world-famous wine region."
Virgin Atlantic's 787-9
Virgin Atlantic will use a Boeing 787-9 for this new route, featuring a total of 248 seats. That includes:
31 business class seats
35 premium economy seats
192 economy seats
The Upper Class seats are herringbone seats. The cabin looks pretty, but I don't find these seats to be particularly comfortable. You can find my recent review of Virgin Atlantic's 787-9 business class here.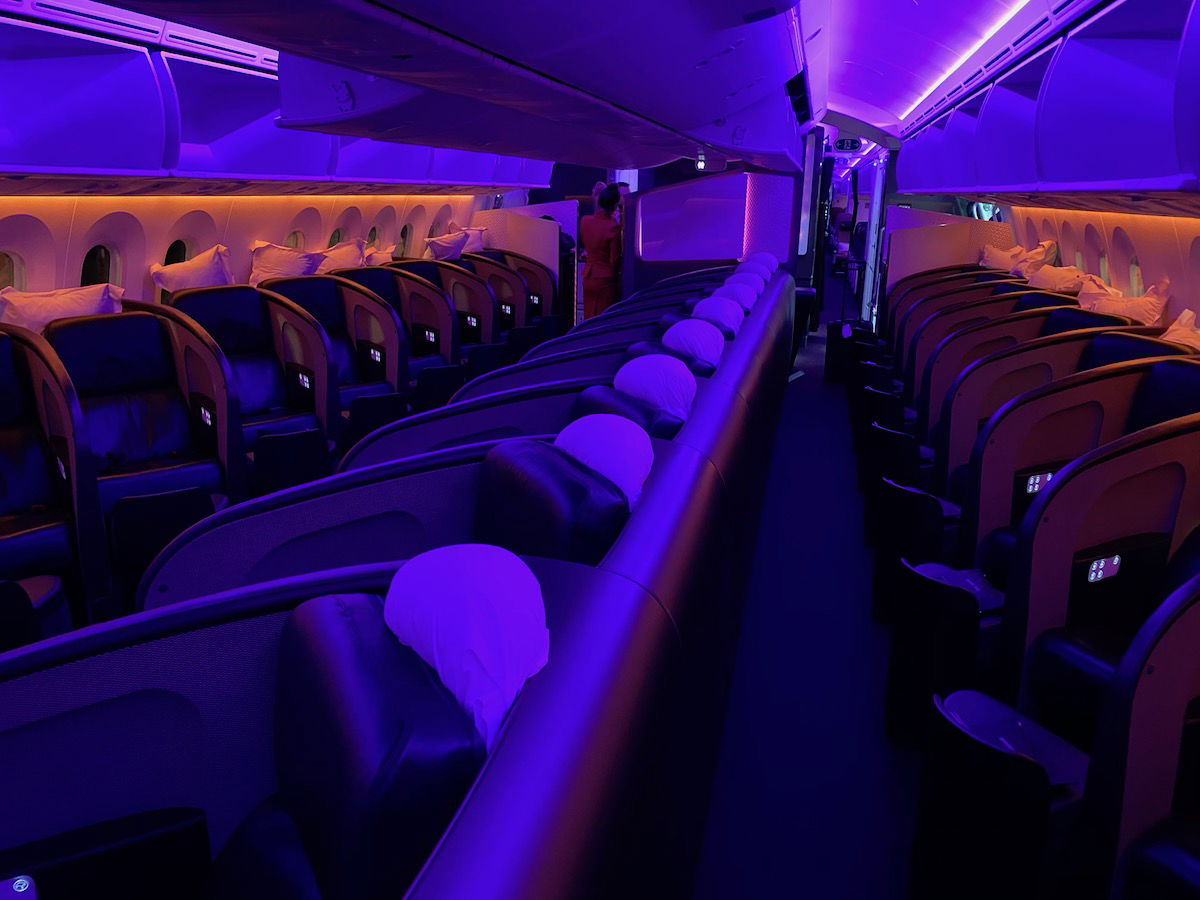 Virgin Atlantic's 787-9 business class
This route won't feature Virgin Atlantic's new Upper Class, as that's available exclusively on the A350.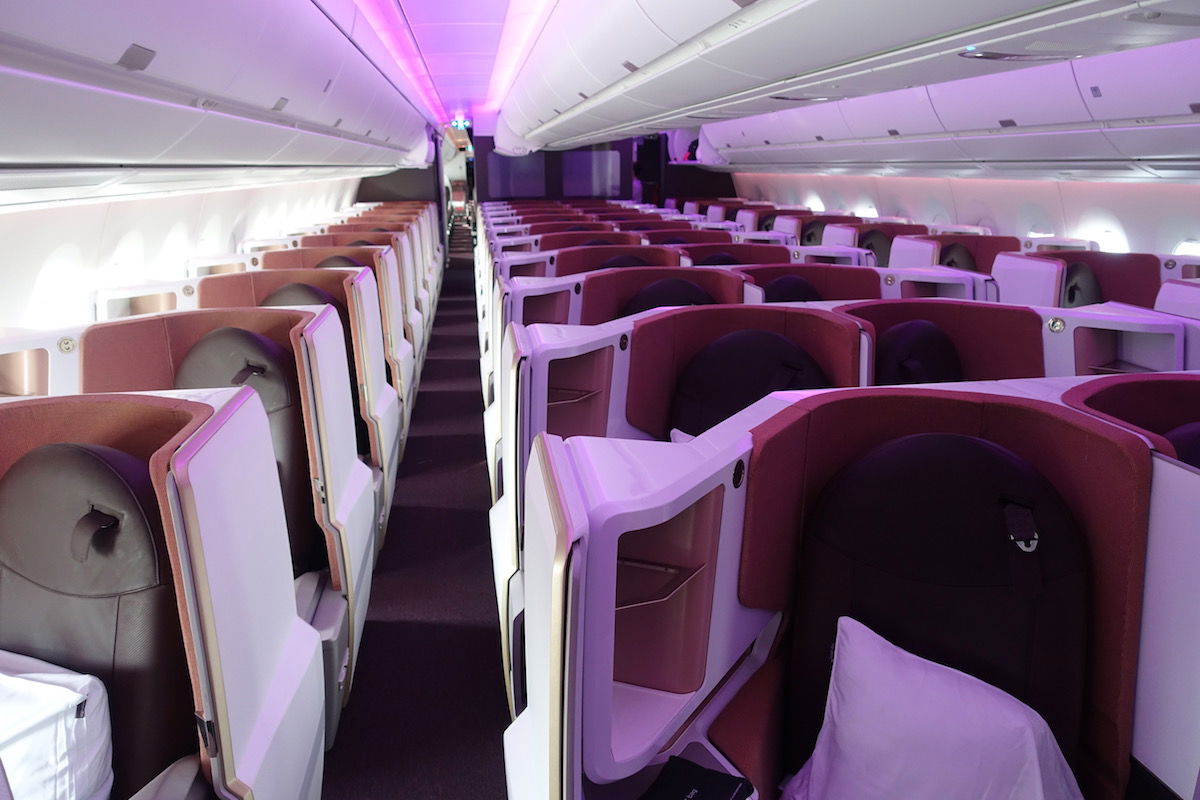 Virgin Atlantic's A350 business class
Redeem miles for Virgin Atlantic Upper Class
Since this flight just became bookable, Virgin Atlantic has really good award availability on most dates, including for multiple seats in business class.
These award seats can be useful whether you're looking to just travel direct between the UK and South Africa, or whether you're looking to fly from the US to Cape Town via London.
If booking the London to Cape Town flight in Upper Class through Virgin Atlantic Flying Club, you can expect to pay:
42,500 Flying Club miles one-way during "standard" season
67,500 Flying Club miles one-way during "peak" season
Over the period where this flight operates, peak dates include December 12, 2020, through January 5, 2021. The above mileage amounts don't include taxes, fees, and carrier imposed surcharges.
Alternatively you could also redeem miles to travel between the US and South Africa. For example, while Delta SkyMiles doesn't publish award charts, you can redeem 115,000 miles for a one-way Upper Class ticket from Boston to London to Cape Town with no carrier imposed surcharges.

That's a much better value than booking the same itinerary through Virgin Atlantic Flying Club, as they'd charge 105,000 miles plus over $1,000 in surcharges.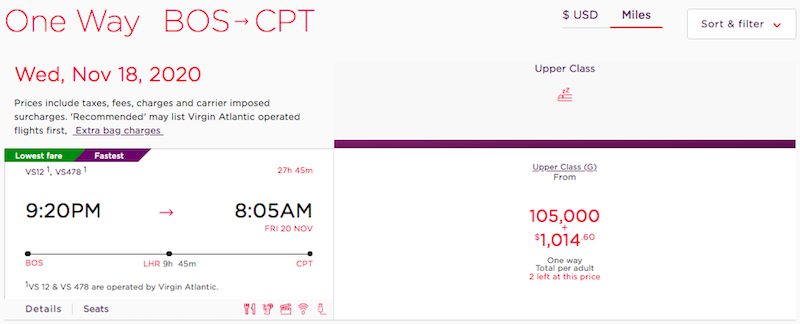 Bottom line
It's cool to see another airline offering direct long haul flights to Cape Town, given that it's the destination in South Africa that many people want to travel to, even though a majority of flights go to Johannesburg.
If you're interested in redeeming miles for this flight, it's now bookable and there are plenty of award seats.
What do you make of Virgin Atlantic's new flight to Cape Town?