Virgin America has announced that they will be introducing two elite tiers to their Elevate frequent flyer program, which will go into effect starting August 8, 2012.

The tiers are Silver, which requires 20,000 status points per year (the equivalent of $4,000 worth of spend), and Gold, which requires 50,000 status points per year (the equivalent of $10,000 worth of spend).
If you have the Virgin America Visa credit card, spending $25,000 on the card annually will get you 10,000 points towards status, which is half way to Silver status. Additional spend doesn't get you any closer to status, though.
The benefits are as follows: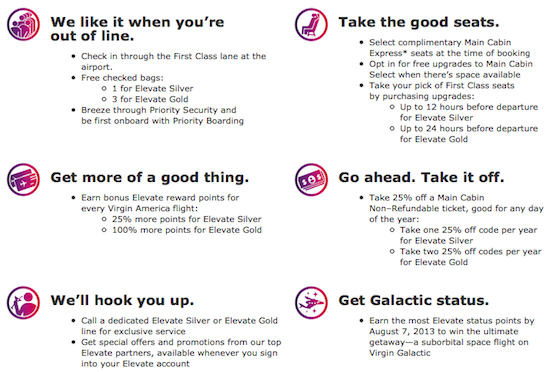 I always find it interesting when a low cost carrier introduces an elite program, since it's tough for them to be quite as rewarding as legacy carriers can due to their lack of a global route network and alliances in many cases. It's especially tough for an airline like Virgin America since they have an especially limited route network, and don't have any North American partner airlines.
But as far as low cost carrier elite programs go, I'd say this is a pretty generous one — priority check-in, priority security, priority boarding, free checked bags, priority seating, "upgrades" to Main Cabin Select 12/24 hours before departure, a points bonus, and a discount on 1-2 tickets annually.
So given what they have to work with, I'm impressed. Still, these thresholds seem really high to me. $4,000-10,000 a year is a lot of spend on a carrier that has such a limited route network. For around $4,000 (and definitely under $10,000) you can get top tier status with a legacy airline, which gets you substantially more benefits.
I feel like this is a nice "rewards" program for someone that flies Virgin America anyway, though I can't imagine many people will be switching business to Virgin America because of the program, since I'm convinced benefits are still better with the legacies. So I can't imagine the program itself will generate much loyalty.
The thing to keep in mind is that since the program is revenue based, it heavily favors those that already purchase Main Cabin Select or First Class seats. Those passengers would already be getting most of the above benefits, so the only real added value of this program is the bonus points and discount on 1-2 tickets annually. I can't imagine there are that many people that drop $10,000+ on them per year and usually book coach (which is where the greatest benefit would be).
The other interesting thing is that this is a silent devaluation for those that are paying for Main Cabin Select. For those of you not familiar with the product, it's basically the first row of coach and exit row (meaning you get lots of legroom) and you get free drinks/snacks and priority boarding. One of the other potential benefits is that it's less likely someone will be in the middle seat since there's a hefty premium for the seats, and I think now we'll see the opposite — Main Cabin Select will be less likely to have an empty middle seat than coach, which makes you rethink the whole benefit.
Anyway, it's not often I say this, but kudos to Virgin America. While it won't get me to fly them, I commend them on at least trying to launch an elite program.