Virgin America has just sent out emails to Elevate members about some positive changes they're making to the program. These changes almost exclusively impact elite members, both when it comes to earning status and how many points they earn.
Here's a simple chart which explains the changes (though the bottom right box should read 140% and not 120%):
Here are the details of the changes:
Elevate Silver & Gold members will earn more bonus points
Elevate elite members will earn more bonus points for their revenue flights, as follows:
Elevate Silver members will have their points bonus increased from 25% to 50% (meaning Silver members go from earning 6.25 points per dollar to 7.5 points per dollar)
Elevate Gold members will have their points bonus increased from 100% to 140% (meaning Gold members go from earning 10 points per dollar to 12 points per dollar)
Virgin America Elevate is a revenue based program, and each point can be redeemed for ~2.2 cents towards the cost of a ticket on Virgin America. Earning ~12 points per dollar spent translates to a refund of over 25% on Virgin America spend. That's really good.
There are more ways to earn Elevate Silver & Gold status
Previously the way to qualify for Virgin America Elevate status was through spend. You needed to earn 20,000 base points for Silver status (which translates to $4,000 of spend), or 50,000 base points for Gold status (which translates to $10,000 of spend).

Now you can also earn Silver or Gold status by flying 15 or 30 segments, respectively, without the revenue requirement. That's great for people who frequently take short and cheap flights.
Furthermore, reward flights now count towards the number of segments needed for status. In other words, taking 15 award flights would earn you Elevate Silver status. They're also backdating this to all flights taken since January 1, 2016.
Virgin America is expanding their status match offer
Virgin America offers a pretty good formal status challenge program, where they'll provide elite members with other programs status in Elevate for a period of 90 days, and then you can qualify for the entire year by doing a minimal amount of flying.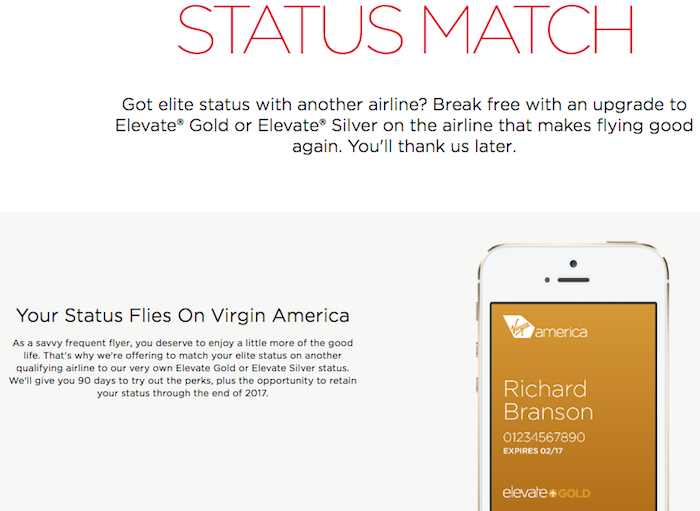 Previously this was only available to elite members of American, Delta, Southwest, and United.
Virgin America's status match program has now been extended to JetBlue Mosaic members. This is hardly surprising, given Alaska's takeover of Virgin America, which JetBlue isn't happy about. JetBlue has been running promotions to poach Virgin America flyers, so it's no surprise that Virgin America is fighting back.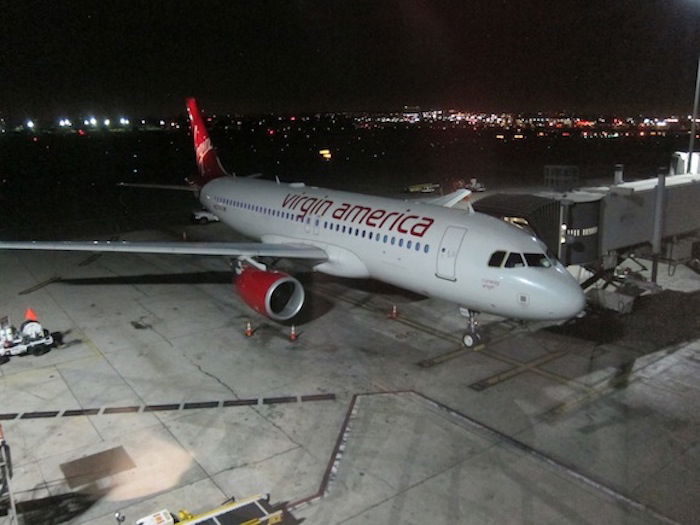 Bottom line
Who doesn't love seeing positive changes without anything being taken away? These changes make it more rewarding to be an elite member, and also make it easier to earn elite status. Admittedly Virgin America status isn't the most valuable in the world, but it comes with some solid perks.
I'm not really surprised to see these positive changes. Most Virgin America flyers aren't happy about the takeover by Alaska Airlines, so Virgin America wants to do what they can to keep their loyal flyers. I suspect we'll see some major changes once Virgin America Elevate is folded into Alaska Mileage Plan, but for the time being this is great news for Virgin America Elevate members.
I also think it's worth noting that by my math, Virgin America now offers their top tier elite members the greatest rewards for their airfare spend of any US carrier. The US legacy carriers offer 11 miles per dollar spent, while Virgin America is offering 12 points per dollar spent. That doesn't even factor in the fact that one Elevate point is worth considerably more than one airline mile.
What do you make of these changes to Virgin America Elevate?