This won't come as a surprise, but I'm a skeptic. When anyone approaches me who I don't know, the first thing I think about is what their motive is. In general I think if something sounds too good to be true, it probably is.
I know there are good people out there, so it's a shame I feel that way, but when you're a tourist, the reality is that a vast majority of people who approach you have some ulterior motive — to ask for money, to scam you, or something else.
Yesterday we took a day trip from Tashkent to Samarkand, and on our return train ride we were seated across from two guys who lived in Tashkent. They started interacting with us right away — one guy was trying to communicate with us, while the other guy was giggling uncontrollably.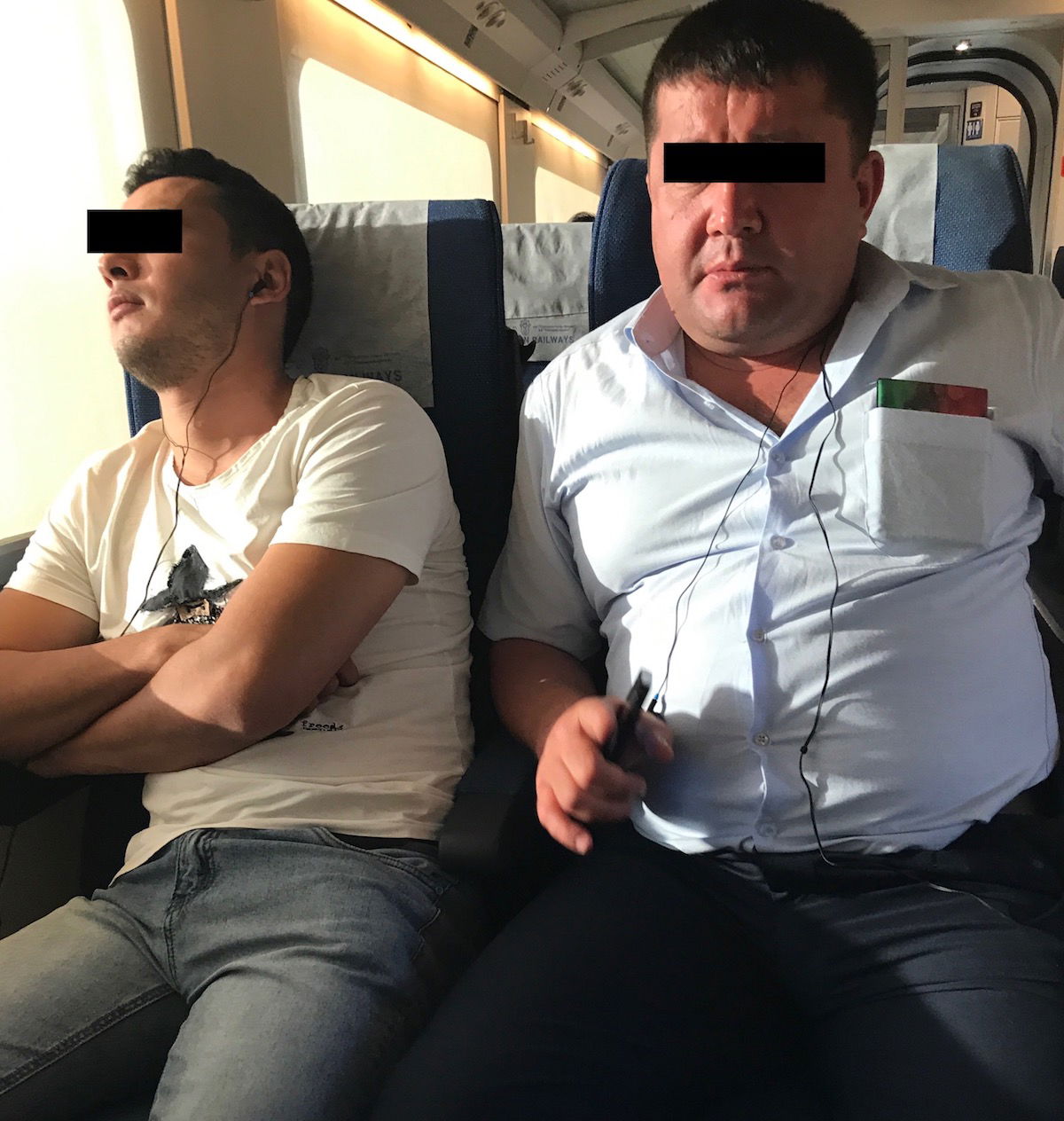 The only problem was that he didn't speak any English. Like not a word. The closest thing he did to speaking English was saying "Trump" and then putting his thumb up, "Obama" and then putting his thumb up, and "Bush" and then putting his thumb down. Alrighty then.
Even though we were trying to work on our laptops, the guy kept trying to engage with us. We tried to listen, but he really didn't speak any English at all. But that didn't stop him from trying over and over and over.
Eventually he called someone up on his phone, said "USA," handed the phone to Matthew, and that person spoke more English, which is to say that he could say "hello." But he still didn't really make it clear what was going on. That happened twice.
Then the guy tried to find a translator. Eventually he got the train attendant, who he sort of held against his will.
"He is saying he wants you to go home with him and have food."
We said we already had plans for the night, and he said "then he will go with you and you can go clubbing and have wodka." I could tell the train attendant was really embarrassed by having to be translator here, but the guy wouldn't relent.
I'm torn here. On one hand a lot of people said that Uzbekistan is better if you have a local showing you around (though I think that's true of just about anywhere). Maybe he was just truly nice and had good intentions. On the other hand, the guy really didn't speak a word of English, so while the concept of going out with someone might be somewhat appealing if there was a chance to have a conversation with them, learn about their life, etc., that wasn't an opportunity here.
While we weren't trying to be rude, there wasn't really an opportunity for us to communicate, so we tried to deflect the situation given that it was going nowhere. We were working on our laptops and he'd keep touching our knees to get our attention, and then would make the gesture for having shots, and then also the gesture for eating (at least I assume that's what he was going for, though it looked more like what many might consider the gesture for snorting coke, since he was basically running his finger underneath his nose).
After about 30 minutes he finally quit, at least for a while. Then for the last 10 minutes of the train ride he started up again.
What should we have done? Is this some well known scam in Uzbekistan, or was the guy just genuinely nice? And if he was being genuinely nice, is there really any value in spending a night with someone you have no shot of communicating with?
I'm curious to hear what you guys think (especially resident Uzbekistan expert, Imperator).