Ben shared the details of Alaska's new baggage self-tag process back in April when it was first introduced.
I recently had a chance to try it out and can say I'm impressed by how seamless it was.
This YouTube video from Alaska accurately depicts how the whole thing is incorporated into the online check-in process.
If you aren't traveling in the next 5 business days, you can order the self-tag sleeves in advance. We didn't plan that far ahead, so we just picked the sleeves up from the Alaska agent at the bag drop.
I was unsure of how durable these would be and worried our luggage would end up lost and untagged after the sleeve ripped off. But, as soon as I felt one of them, it was clear these are well designed and made from a flexible but strong plastic.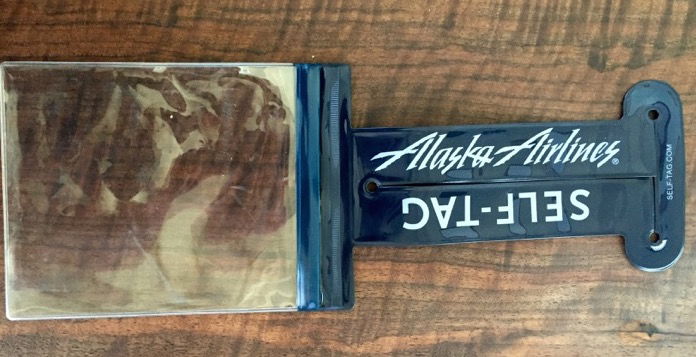 It easily loops through itself and then lays flat on your luggage. And because of how the printed luggage tag is folded, the barcoded information shows through on either side of the sleeve.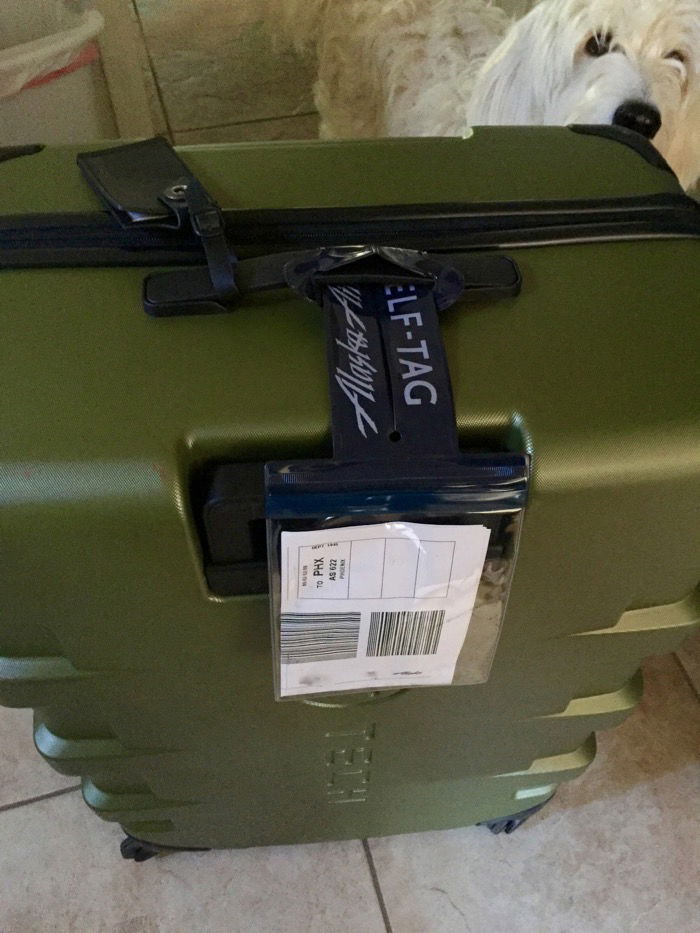 Our luggage arrived safely in Seattle and the tag was still intact when we collected our luggage less than 20 minutes after arriving at our gate.
The best part about all of this is Alaska is offering 1,000 miles for each time you self-check at least one bag (up to 5,000 miles per Mileage Plan account). Unfortunately, this promo is only scheduled to run for another couple of weeks. It ends October 20, 2015.
For us, the miles posted almost immediately and it's worth noting we were flying on a ticket booked using Avios. So, it appears award tickets are eligible for the bonus miles.

This is a great promo for Alaska elites and Alaska Visa cardholders who also get free checked bags. The whole thing was so simple, I regretted not checking a bag for my daylong business trip earlier in the month. It would have been nice to maximize the promotion.
For our return trip, I printed one more tag for our daughter's car seat. I was happy to get another 1,000 miles but kicked myself for not thinking of it on the way to Seattle.
As we dropped our bags off, I saw several stands in the check-in area in with sleeves available. I would have taken a picture but we were managing little ones, lots of bags, strollers, etc. So, you'll have to take my word for it.
The agent at the bag drop zip tied the sleeve to the thick plastic bag used to protect the car seat. I love how proactive and helpful Alaska employees are. But, I couldn't help but think this was a case where the self-tag process probably created more work for the agent than a traditional sticky tag.
The one cautionary note I'd include is the fact self-tag isn't available for all cities Alaska flies to/from. So, if you plan on using the system, it's worth double checking their list of eligible cities.
Bottom line
The self-tag system is so simple, I'd highly suggest using it if you need to check a bag. Even if you don't need to check a bag, if you're flying in the next couple of weeks and can check a bag for free, it's probably worth self-checking a bag for the bonus miles alone. After all, I've done crazier things for 1,000 miles.
Have any of you used the self-tag process? What did you think? For those of you flying Alaska in the next few weeks, would you unnecessarily check a bag for the bonus miles?