If you've read my blog for more than a week, hopefully you've picked up on the core philosophy I preach when it comes to this hobby: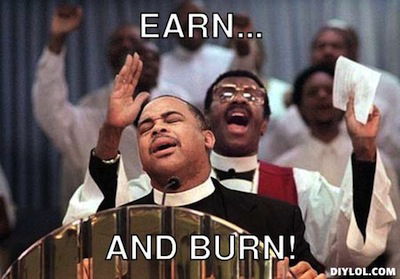 And usually I'm pretty good at following my own advice when it comes to that. My one exception, however, is Starpoints. Starpoints are one of the few points currencies I don't mind hoarding, because I tend to think their value is pretty safe. And in a way a lot of the value of the points comes from their flexibility.
I value Starpoints at a minimum of 2.2 cents each. That's because Starpoints convert at a 1:1 ratio to over a dozen airline programs, and for every 20,000 points transferred you get a 5,000 point bonus. So each Starpoint is basically worth 1.25 airline miles, and at a valuation of 2.2 cents per Starpoint, that's a valuation of ~1.76 cents per airline mile. That's about as low as I want to go on my valuation, since Starpoints can be transferred to Japan Airlines, for example, which has a ridiculously lucrative award chart for redemptions on Emirates.
With that in mind, I rarely find a hotel that I want to redeem my Starpoints at. Not because it can't be a good value, but because I interpret "value" differently than others. To me the value I'm getting out of a redemption isn't the retail cost of it, but rather what I'd otherwise be willing to pay in cash for that redemption.
For example, I'm going to Florida over Christmas, and my parents want to go somewhere. So naturally I've been looking at options using points. The W South Beach is 35,000 Starpoints per night, and if you redeem for four nights then the fifth night is free, so let's call is 28,000 Starpoints per night. Meanwhile the paid rate with tax is nearly $1,500 per night, so that's over five cents per Starpoint compared to the revenue cost.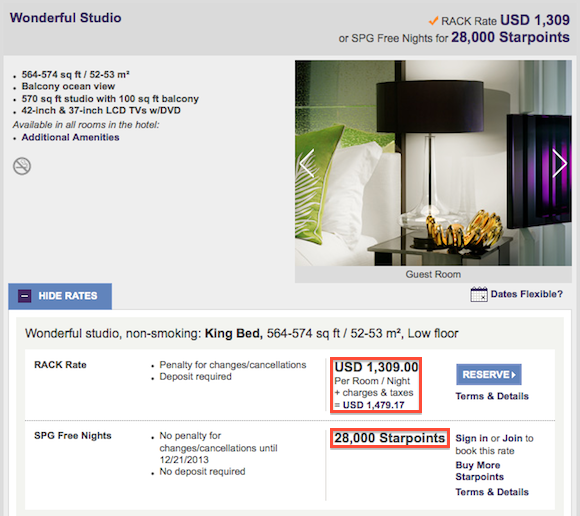 That's objectively an amazing value, and I was going to pull the trigger on it, but then I did the reverse math — I value Starpoints at 2.2 cents each, so I'm still "spending" over $600 per night "worth" of points. Do I value the stay at that much? It certainly makes me think twice!
I actually had a similar math "challenge" on Friday. I wanted to stay at the SLS Beverly Hills for one night, because I was meeting a friend for dinner there and also wanted to review the hotel, and figured a one night stay was the perfect opportunity to do so.
The Cash & Points rate was $208.04 including tax plus 10,000 Starpoints. That's certainly not a cheap rate, but at least out of pocket it's not totally horrible. Still, that's $220 worth of Starpoints, valuing them at 2.2 cents each, for a total of $428.04.

Meanwhile the AAA rate was $401.81 including tax, so was objectively a better deal.

And then on top of that, the American Express Fine Hotels & Resorts rate was $472.72 including tax, which included a $100 hotel credit and complimentary breakfast (meaning I wouldn't have to give up 500 Starpoints for breakfast), so was an even better deal.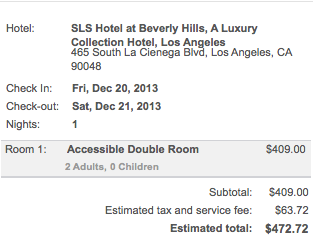 But that's also the point at which I say to myself "wait a second, why would I spend almost $500 when I can spend $200?"
In the above two circumstances I actually probably objectively made the wrong decision in both cases. I didn't feel like spending 140,000 Starpoints for a five night stay even though compared to the retail cost it was an amazing deal, but at the same time did end up booking Cash & Points at the SLS Hotel, because it just "felt" better to spend $200 rather than $400-$500.
As crazy as it sounds, I think the reason I struggle so much with Starpoints is that they're too valuable for their own good, and that's thanks to the ability to convert them into airline miles at a (more or less) 1:1.25 ratio. Most points currencies can't be converted so efficiently, so their value is tougher to quantify, or more accurately the opportunity cost of the points isn't quite as clear.
At the same time, points are only as valuable as the experiences you get out of them. Whether it's points or money, it makes sense to make rational decisions most of the time where the numbers "add up," but there's also a middle ground where non-efficient spending is fine, in my opinion. For example, there are very well off people that still manage to blow all their money by living day-to-day, while there are very well off people that never spend a dime if they can avoid it, and miss out on experiences as a result. I think it's the same thing with points — there's a middle ground between the two that can be tough to find, but sometimes it can lead to irrational decisions that are still justifiable.
Anyone else have similar (first world) struggles when it comes to redeeming points? Am I off base? What would you do in the above two circumstances?