Back in July Japan Airlines announced some changes to their MileageBank program, which opens up some great opportunities for mileage redemptions on Emirates. With this change Japan Airlines' award chart will be distance based for travel on partner airlines, with the following costs:
For me the best value on the award chart is the one for distances of 12,001 miles to 14,000 miles, which covers roundtrip travel between either New York or Toronto and Dubai.
That means you can fly Emirates business class roundtrip between New York/Toronto and Dubai for just 85,000 MileageBank miles, or first class for just 135,000 MileageBank miles.
How to get Japan Airlines MileageBank miles
Unfortunately Japan Airlines doesn't partner with American Express Membership Rewards or Chase Ultimate Rewards, so your best bet for collecting MileageBank miles is to transfer them from Starwood Preferred Guest.
The transfer ratio is 1:1, and for every 20,000 points you transfer you get a 5,000 point bonus. This means that in order to get 85,000 MileageBank miles (enough for a roundtrip in business class) you'd need to transfer 70,000 Starpoints, and to get 135,000 MileageBank miles (enough for a roundtrip in first class) you'd need to transfer 110,000 Starpoints.
It's worth keeping in mind that it takes about a week on average to transfer points from Starwood to Japan Airlines, so if you want to book around October 1 you'll want to make the transfer well in advance. Starwood will let you transfer a maximum of 79,999 Starpoints per day, though you'll want to make transfers in increments of 20,000 Starpoints as much as possible, so you qualify for that 5,000 point bonus. You can transfer Starpoints here, though be sure you first sign up for a Japan Airlines MileageBank account if you don't have one already.
How to find Emirates award space
The best way to find Emirates award space is using ExpertFlyer. Simply click on "Award & Upgrades" and entered your desired origin and destination. Then select "Emirates" in the drop down menu, and then the cabin you prefer. Make sure you select "Saver Award & Upgrade" and not "Flex Award" when searching for space. I should also mention that you can also fly out of one of Emirates' other North American gateways if you prefer, though that would put you into the next tier on the distance based award chart, and raise the cost to 100,000 miles in business class or 155,000 miles in first class.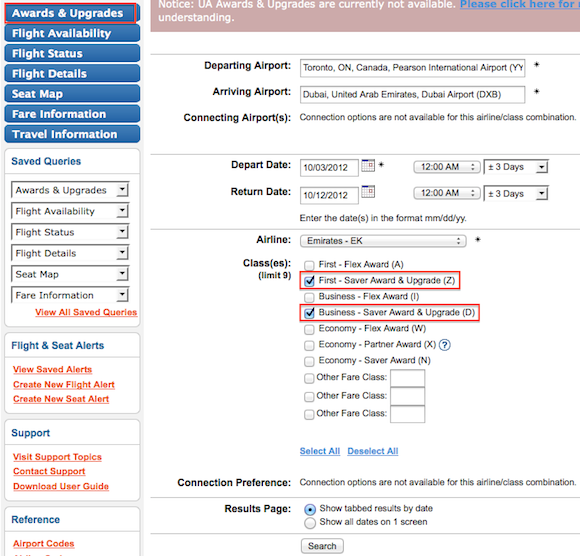 After clicking "Search," the next page will return the results, and if there's any award space it will appear next to your desired flight.
The other great news is that when you go to book (which needs to be done by phone) you won't be charged any fuel surcharges, as Emirates doesn't even impose those on revenue tickets. Taxes for a first class ticket should total under $100 (all the fees below minus the $10,070.50 base fare each way for first class).
The bottom line is that this is a fantastic deal for one of the most aspirational products in the world. Emirates' Airbus 380s are the only commercial planes with onboard showers, so if you book first class this is your chance to shower at 38,000 feet!