As Marriott Rewards, Ritz-Carlton Rewards, and Starwood Preferred Guest continue their integration plans, new co-branded credit cards are being issued with both Chase and American Express. The Marriott Rewards® Premier Plus Credit Card has just been introduced, and has a big 100,000 point sign-up bonus.
Those with the previous Marriott Rewards Premier Card are also receiving customized offers to upgrade to the new card.
Check your upgrade offer
If you currently have the Marriott Rewards Premier Card, you can see your upgrade offer by following this link, and entering some basic information.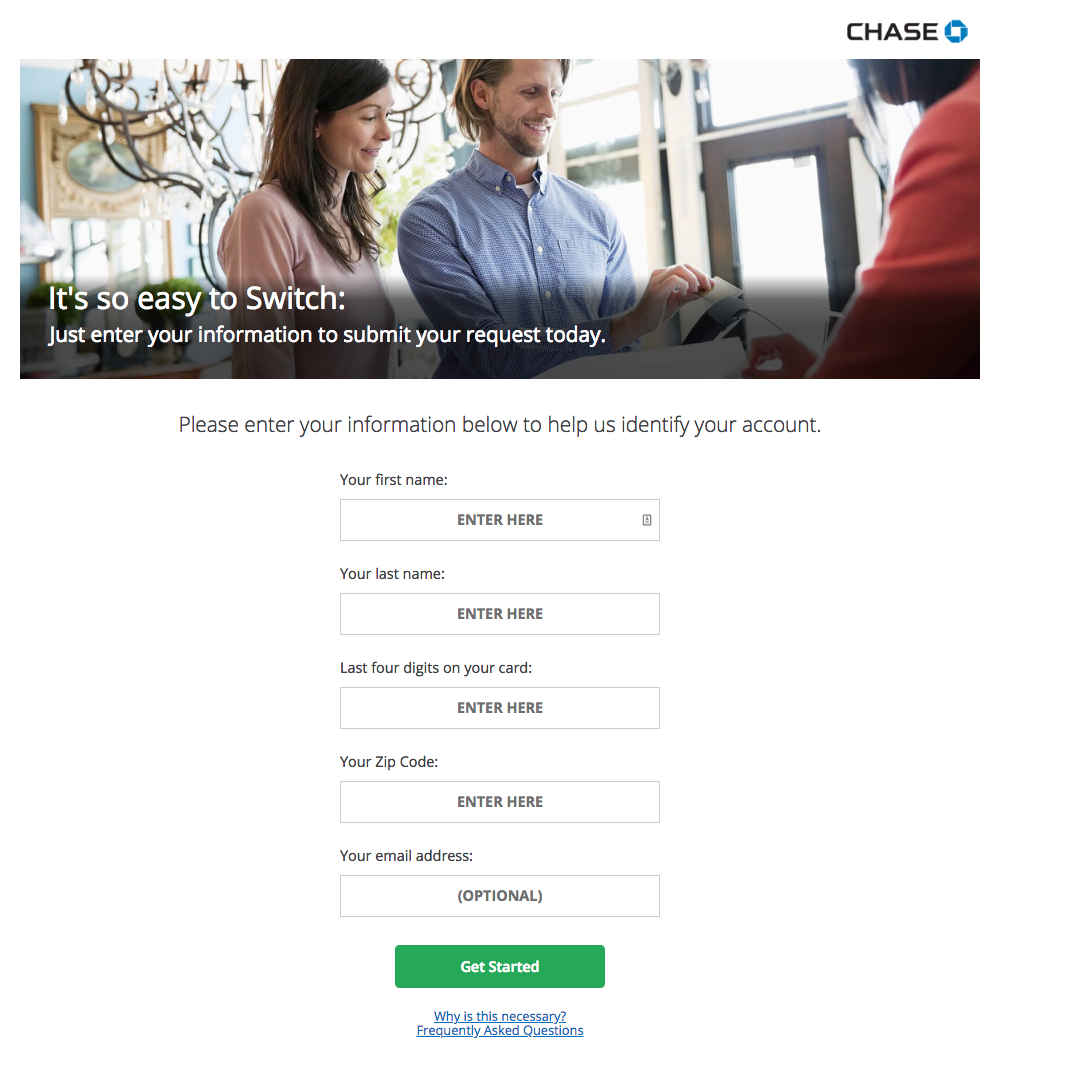 I don't have the Marriott card, but my cousin Heather does, so I entered her info. Her offer is for 30,000 Marriott Reward points after making a single purchase through the end of the year.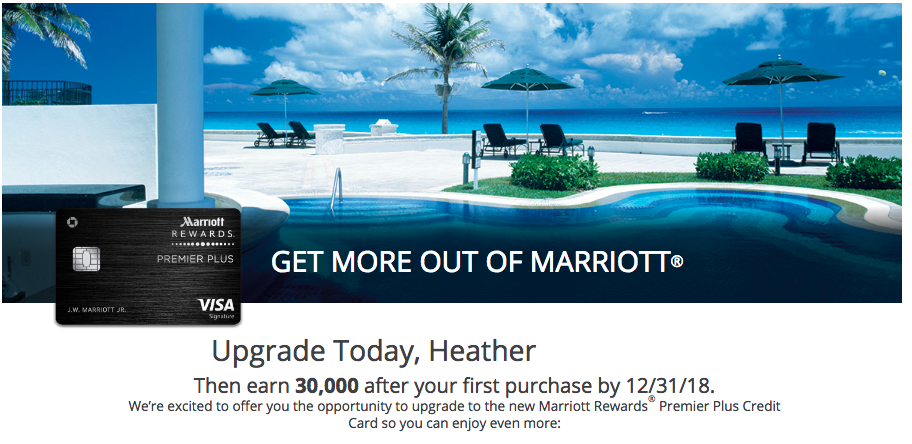 It's likely that these offers are based on how much a customer spends or uses the card. To give a few data points:
Heather's daughter plays Club and Varsity soccer, and living in Spokane, many games are out of town, requiring overnight stays at Marriott hotels
She only uses this card at Marriott properties, but with two or three weekends a month at hotels during the season(s), she's probably at least considered a moderate user
She's had the card for three years (there are rumors that you'll be offered 10k points per year you've had the card, but I can't confirm that yet)
I'd expect that if you use the card more frequently or for higher spend amounts, your offer will likely be higher, whereas if you've sock-drawered the card and just used the anniversary night certificate you may not be offered anything to upgrade. But please share your data points in the comments!
What are the differences between the old and new Marriott cards?
These are both cards that have a decent return at Marriott/SPG properties, but aren't great for everyday spend. The free anniversary nights more than justify the annual fees on both cards (more on those anniversary nights in a bit), and both effectively offer Silver Elite status.
The Marriott Rewards® Premier Plus Credit Card has a slightly higher annual fee, at $95 rather than $85, which corresponds to a higher earnings rate and a more valuable anniversary night award.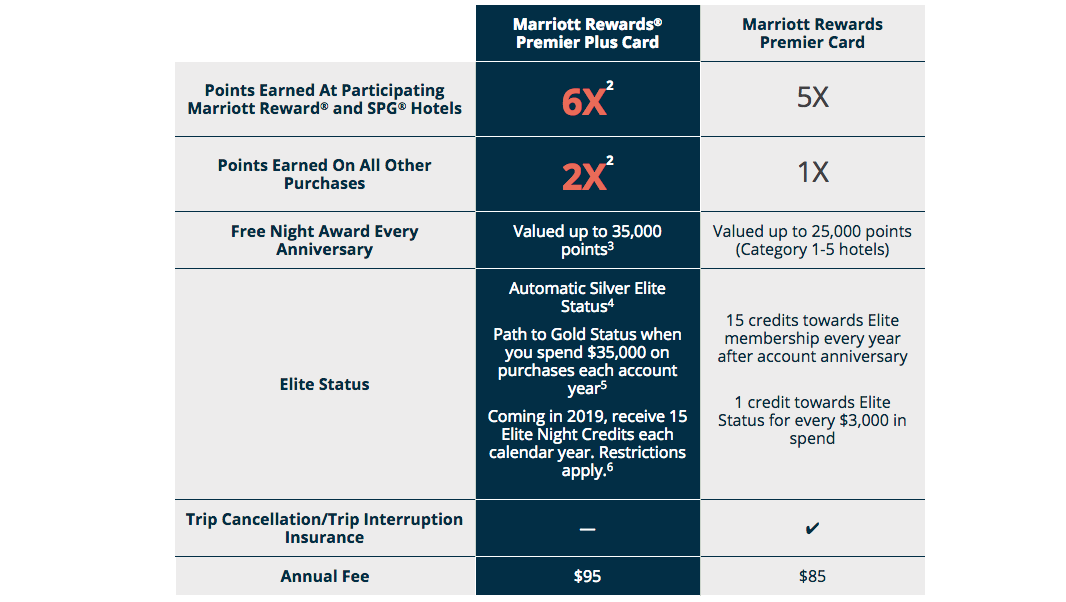 One of the biggest differences here is in how the cards can be used as leverage towards elite status. Both cards give you 15 credits towards Elite membership every year, but while the Marriott Rewards Premier Card awards these on your account anniversary, the Marriott Rewards® Premier Plus Credit Card will allocate Elite credits by calendar year, starting in 2019.
Starting next year that difference won't matter as much, but could certainly be a factor for folks counting on those 15 night credits this year. We'll go over that choice more below.
The Marriott Rewards® Premier Plus Credit Card also offers a "path to Gold Status" by spending $35,000 on the card in a year. I hope very few of you choose to do so, however, given that can earn Marriott Gold status through RewardsPlus if you're a United MileagePlus Gold member or above, or by having an Amex Platinum Card.
The existing Marriott Rewards Premier Card takes a different approach, offering one Elite status credit for every $3,000 in spend. While this isn't something that makes sense on a large scale, it can be helpful for those who are maybe two or three nights short of a higher status tier.
Can I have both Marriott cards?
In a word, no. Chase is implementing similar "acquisition eligibility rules" to the Marriott consumer products as they have on the Sapphire and Southwest products — namely, you can only have one card at a time.
So Marriott Rewards Premier cardholders have two vehicles to get the new Marriott Rewards® Premier Plus Credit Card:
Upgrade your account (either now or at a future date)
Cancel your Marriott Rewards Premier, and reapply for the Marriott Rewards® Premier Plus Credit Card
You don't have to do anything right away, as no one will be automatically converted at this time, so you have a bit to decide.
It's worth noting that the "product family" restrictions don't include the Marriott Rewards Premier Business Credit Card or The Ritz-Carlton Rewards Credit Card — if you have either of those cards you are still potentially eligible for the new Marriott personal card.
Should I take the upgrade or apply for the new offer?
Keep in mind that the Marriott Rewards Premier Plus Credit Card is subject to 5/24, so if you're over that limit you likely wouldn't be approved for the new card.
As this is a personal card, an approval for this product will still count towards 5/24, so that's something else to consider if you're trying to stay below that count. If you upgrade, you'll maintain your account history and card number (though you'll be sent a new card with an updated expiration date and security code). So the product change won't report to the credit bureaus as a new account, and shouldn't impact your 5/24 status.
Who should upgrade, and who should wait?
Given the better earnings rates and the improved Anniversary night, most people will probably be better off with the new Marriott Rewards Premier Plus Credit Card. There are a few exceptions, however, and some timing elements to consider. In general, if you haven't reached your account anniversary year yet, you may be better off waiting until some questions are answered by Marriott.
Do you care about receiving elite credits in 2018?
Remember that the Marriott Rewards Premier Plus Credit Card awards elite credits based on the calendar year, so no one will receive any until January, regardless of how or when you acquire the card.
Meanwhile, the Marriott Rewards Premier awards those elite credits on your account anniversary, which could be at any point in 2018, depending on when you originally applied for the card. If, like Heather, your account anniversary has already occurred (hers was in March), then your 15 elite credits will have already posted.
Doing a product change or upgrading shouldn't impact the status of those elite credits, so if they're already in your Marriott account you should be set. Otherwise, you may want to wait until after your account anniversary to switch.
Of course, you may or may not care about those elite credits, so it will depend on your situation.
Are you close to your account anniversary?
If so, and given the rumors that the number of points offered when you upgrade is determined by how long you've had the card, it might make sense to wait until you hit your account anniversary.
You could potentially get 10,000 more points that way (but this is just a suspicion!), and if your anniversary is in the next month or two there's no rush to upgrade.
What about those Anniversary Free Night Awards?
This is another big question, and no one at Marriott seems to have a consistent answer. The current Marriott Rewards Premier awards an Anniversary night award that is good at a Category 1-5 property, with no specification as to the number of points that should correspond to that award.

Going "forward," the Marriott Rewards Premier anniversary night will be capped to properties at 25,000 points or less, while the Marriott Rewards Premier Plus Credit Card will offer a free anniversary night at properties up to 35,000 points.
However, we don't know exactly when "forward" is going to happen here. Nor do we know how existing Category 1-5 certificates will be handled when the new award chart takes effect in August.
If (and it's a big if that I suspect is a "no" but hasn't been officially confirmed) these can be used at up to a Category 5 property (making them effectively worth 35,000 points), then that will be a nice perk for those with anniversaries in the first half of the year. I predict — though have nothing official to base this on — that free anniversary night awards issued in August or later will have the 25,000 point limitation language on them.
Either way, upgrading will likely change your account anniversary date. So if you haven't received your free night award for 2018, accepting a product change might mean you don't get one at all this year. We're seeking clarification on this, but in the meantime, if you have the Marriott Rewards Premier and your account anniversary is later this year, I'd hold off on upgrading for now. A certificate that can be used for an up to 25,000 point night is better than none at all!
Bottom line
With a handful of exceptions, the new Marriott Rewards® Premier Plus Credit Card is likely going to be the better card for most folks in the long run.
Whether or not you should accept the upgrade offer, however, depends on a variety of factors, so be sure to consider the benefits and timing carefully.
What was your upgrade offer? Are you going to take it?