Through March 9, 2018, you can earn 1,000 United MileagePlus bonus miles for $1, by signing up for a two month Wall Street Journal trial subscription. In order to be eligible, the trial subscription has to be initiated by 11:59PM ET on Friday, March 9, 2018, and must remain active for at least 45 days.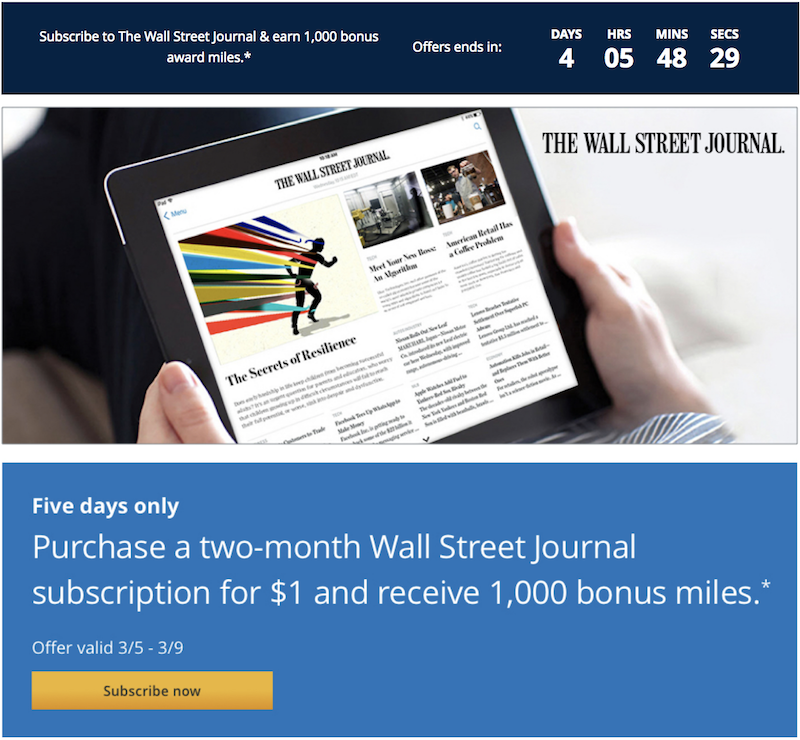 If the member doesn't cancel the trial subscription by the end of the two month period, it will automatically convert into a monthly subscription, and the member's credit card will be charged on the terms of the agreement. Each MileagePlus member can only take advantage of this promotion once.
Personally I value United miles at ~1.2 cents each, so you're getting $12 worth of miles for $1, which is a good deal. If you would actually appreciate having a two month Wall Street Journal subscription, then you can get even more value out of this.
As you might expect, the reason they have this promotion is because they hope you'll like your subscription, and/or will forget to cancel it, since you only have a 15 day period in which you're allowed to do so (days 46-60). Nowadays it's easier than it used to be to set specific alerts for things using a computer, so I'd feel pretty comfortable doing this and know that I'd be able to remember to cancel in that roughly two week window.
This isn't a hugely profitable deal. Getting 1,000 miles for $1 is a no brainer, but only if you won't forget to cancel. If you'd get value out of the Wall Street Journal subscription, then this is even more worthwhile.
Do you plan on taking advantage of this United & Wall Street Journal offer?
(Tip of the hat to @BlueberryRex)