No, United hasn't suddenly changed their fares, or even changed how their fares are structured on the back-end. However, they have changed how they display their fares through united.com.
Specifically, up until recently when you did a search for a roundtrip cash booking on united.com, you'd get the pricing for each direction of the trip as you searched. In other words, United would first show you the outbound segment, and the price displayed would only be for that segment. After you selected an outbound you'd be presented the pricing for the return. Only after selecting your preferred outbound and return would you see the total roundtrip price.
That has now changed. United.com now shows roundtrip per person fares when doing online searches. In other words, take the below trip between Tampa and Newark. Even though the first page only shows you the outbound flights, the pricing shown is for the roundtrip (and yes, let's not even talk about how United still can't figure out their basic economy pricing… unbelievable).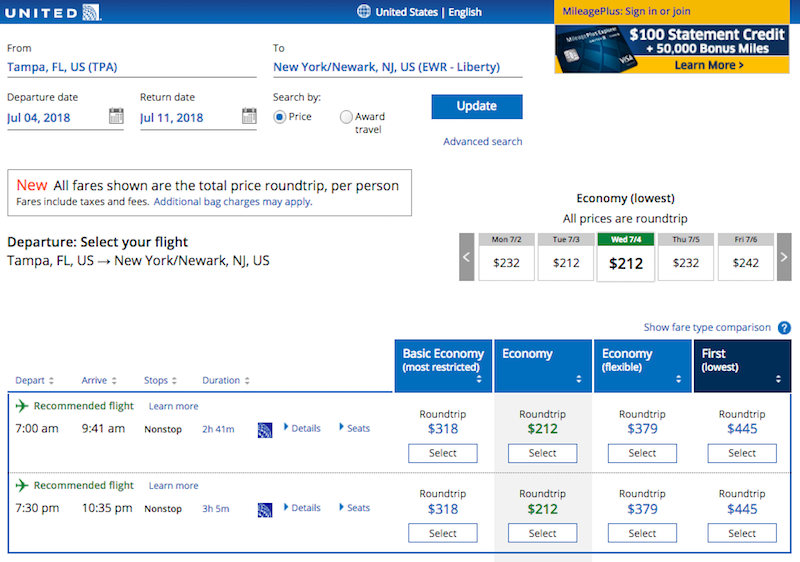 After you select the outbound you'll be presented with the return options. The cheapest fare should be the same as you saw on the first page (well, other than how horrible united.com is, as it's glitching and showing a flexible fare of $901 rather than $379 — what the heck?). Some flights may be more expensive, and that can drive up the price even further.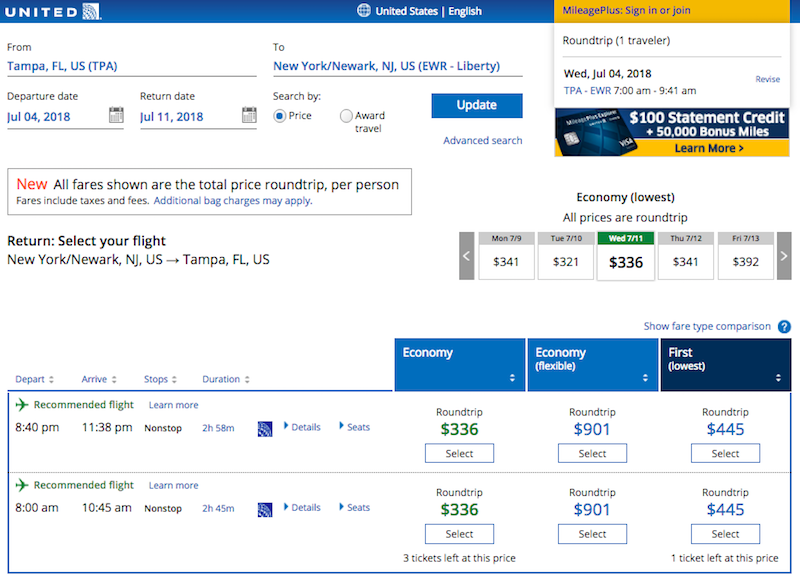 United is matching both American and Delta here, as both airlines show roundtrip pricing on revenue tickets at all stages of the booking process.
Which we all have different preferences as to how we like airlines to display fares, I imagine airlines have reasons they want to display roundtrip pricing.
Personally I prefer one-way pricing. That's because in the event that one direction is significantly more expensive than the other (which you'd clearly see when pricing is displayed on a per direction basis), I'd be more likely to search with another airline for the more expensive direction. However, that's also precisely why I imagine airlines prefer to display roundtrip pricing — people see less of a breakdown of the airfare, and that's probably a good thing for the airlines.
You can circumvent the roundtrip pricing by searching for one-way tickets instead. In a vast majority of cases, domestic airfare is priced on a per-direction basis nowadays, meaning the fare won't be lower if booking a roundtrip rather than two one-ways.
If you are a frequent user of united.com, this change is something to be aware of. Award pricing continues to be on a per direction basis, though for revenue tickets, don't be shocked if the fare you initially see is now twice as much as before.
Do you prefer airlines displaying roundtrip pricing, or do you prefer to see the cost of each segment individually?