The 747 has long been the queen of the skies. It's one of the most majestic aircraft of all time and is so iconic that most people can identify it at a glance, even if they've never flown on one. United has operated the Boeing 747 since 1970 and currently has 22 of them in their fleet.
The end of the road is near for these old birds, however. United announced a while ago that they were not part of their long term plans and wouldn't be getting the new Polaris seats. They first said they'd phase them out in 2018, but that recently got moved up to the second half of this year.
And now we might know what the final flights will be.
The Final Flights Of The United 747
Here is their final schedule, per Routes Online:
Oct 04, 2017
San Francisco – Shanghai Pu Dong

Oct 27, 2017
San Francisco – Beijing
San Francisco – Frankfurt
San Francisco – Taipei Taoyuan
San Francisco – Tokyo Narita

Oct 28, 2017
San Francisco – Seoul Incheon
In each case, the plane will turn around to San Francisco right away. With the date change, that means the final flight of a United 747 is currently scheduled to depart Seoul Incheon for San Francisco on October 29, 2017.
If you want to fly the final flight, you pretty much have your choice of seats. There aren't any saver awards available, however. (Though there was 1K inventory for saver economy earlier this week, shortly after the schedule became public.)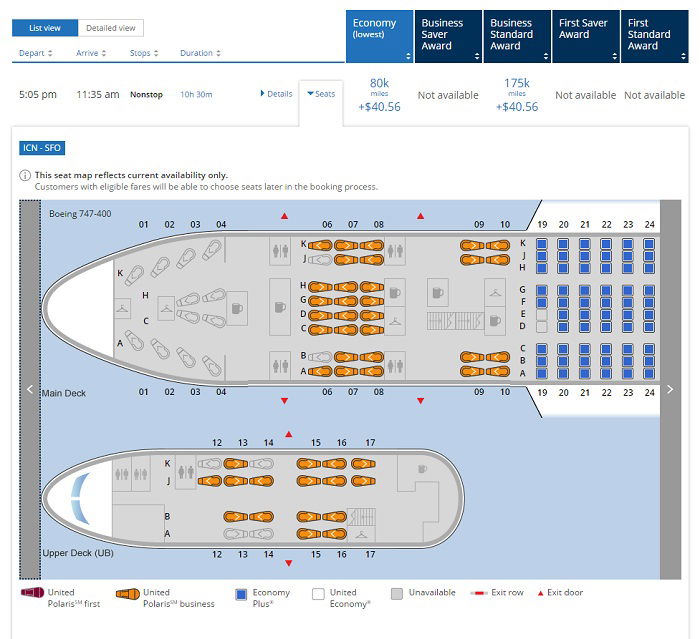 I'm not sure why the first class seats all show occupied. Maybe Scott and Oscar are blocking the cabin for their own private party?
United 747 — Love Them Or Loathe Them
I have mixed feelings about the end of the 747 era at United.
It's easily both my favorite and least favorite plane in the United fleet and perhaps the only one that I've flown in all three cabins. I love flying in the upper deck business class cabin which feels like flying private, or at least what I imagine flying private must feel like. We've also enjoyed flying in the pointy end of the plane where the first class cabin is located.
But the economy cabin on the United 747 is basically miserable.
Economy Plus always seems like it has about an inch or so less legroom as compared to other United planes. And then there was the decision to remove the overhead movie projector and replace it with…. nothing. I realize most adults have some sort of device capable of streaming these days, but that isn't always the case for kids. And even if they do, it's nice to watch it on a bigger screen and maybe play some different games they don't have at home. Of course, none of that is the fault of the plane per se, but rather the way it was configured.
So flying it is a mixed bag. Gazing it at from the terminal on the other hand is something I'll never get tired of…..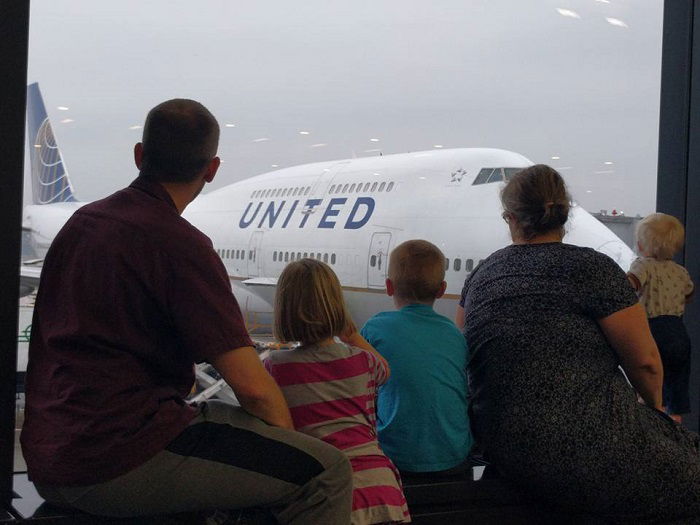 Bottom Line
We think we now know the final schedule for United's 747s. I don't plan to be on any of these flights, but I did parlay a recent schedule change into one last opportunity for our family to fly business class on the 747 one last time.
Hopefully that will let me wish it farewell on a positive note.
Anyone planning to take the final United 747 flight this October?