Here's a cool opportunity to earn 1,150+ United MileagePlus miles for booking a $300+ ticket on virtually any airline.
I've often in the past written about online shopping portals, which let you earn bonus points for online purchases you'd make anyway.
One thing that makes United MileagePlus Shopping unique is that they partner with Expedia (the only other US airline to have an online travel agency in their shopping portal is Spirit, and you don't want Spirit miles), meaning you can earn bonus miles for booking airline tickets.
There are two parts to this promotion:
Earn 0.5 United miles per dollar with Expedia
You can earn 0.5 MileagePlus miles per dollar spent with Expedia just by going through United MileagePlus Shopping.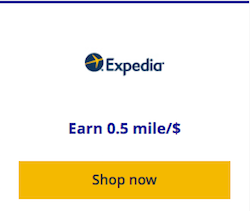 Here are the terms associated with that:
Please note these terms & conditions: Eligible when travel is completed and reservation has been fulfilled. Not eligible on any rental car transaction exceeding a purchase price of $5,000 USD. Itinerary changes may void eligibility. Not eligible on Port Charges for Cruises or on Travel Insurance. Not eligible on event tickets. Not eligible on 3PP vacation packages or cruises sold through Expedia.ca. Not eligible on purchase of Expedia.ca pre-packaged vacations. Not eligible on Groupon Getaways purchases. Not eligible on taxes and fees. Not eligible on purchases made with coupon or discount codes that are not found on this site.
So as you can see, even flights are eligible for earning bonus miles, which is pretty awesome. But it gets better than earning 0.5 United miles per dollar spent.
Earn 1,000 bonus United miles for a $300+ purchase
Through May 19, 2019, MileagePlus Shopping is offering 500 bonus miles after spending $150, or 1,000 bonus miles after spending $300.
What this means is that buying a $300 airline ticket through Expedia would earn you 1,150 bonus United miles (1,000 bonus miles through this promotion, plus 150 miles at the rate of 0.5 cents per dollar on $300).

Reader Brian (who made me aware of this promotion — thanks!) notes that taxes and fees on airline tickets don't qualify towards this, so only the base fare (and carrier imposed surcharges, if there are any) would count towards this minimum.
Bottom line
If you're booking an airline ticket in the coming days, it could pay to go through the MileagePlus Shopping portal for Expedia to earn 0.5 United miles per dollar spent, plus 1,000 bonus miles if you spend $300 pre-tax.