Let me start by acknowledging that this is a travel blog, and I don't usually cover missing people stories. However, this is something I wrote about early on (given the airline industry connection). In the weeks and months following the incident, it's something I checked on almost daily, and lately it's something I've looked at every few weeks.
I know a lot of readers have taken interest in this story as well, and every so often I get a message from a reader asking if there's an update on the case. It has now been a year since this happened, so I wanted to share the latest, especially as there's some new information that was made public since the last time I wrote about this.
A United Airlines executive has now been missing for one year, and there's still no sign of him. While details have progressively been released about the case, they've only made things more confusing, rather than clearing things up.
Before we get into the latest, if you have any information about the case, contact the Elmhurst Police Department at (630) 530-3050.
The basics of missing United executive
49-year-old Jake Cefolia was United Airlines' Senior Vice President of Worldwide Sales (he was removed from United's company leadership page in early October 2020). He had worked at the airline since 2007, and led a team of up to 725 people.
Unfortunately Cefolia was last seen on Thursday, August 6, 2020, and was reported missing on Saturday, August 8, 2020. His car was found at the Waterfall Glen Forest Preserve, not far from his home in Elmhurst. Police and volunteers searched that area, but didn't find any clues.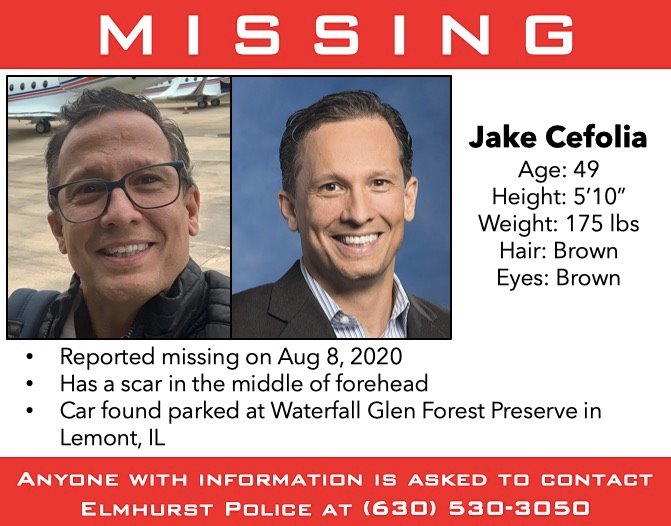 Details of Cefolia's disappearance
Since it has been about a year, let me try to recap some of the highlights of what the investigation has found (or at least what has been made public).
Here's my understanding of the timeline of what we know, which has been made public through a combination of statements from the police, and details obtained through FOIA requests:
Cefolia flew to San Francisco on August 4 to spend time with his girlfriend for her birthday, and the girlfriend claims she recently broke up with Cefolia, but he wanted to get back together; she said he didn't make any concerning comments, but was drinking more than usual
Cefolia was allegedly seeing a second woman, who he communicated with on August 6; she didn't hear from him on August 7, and he missed the dinner they were supposed to have together on August 8
On August 6, Cefolia returned from California, and had dinner with family at home, where he was allegedly intoxicated
On August 7, Cefolia missed a corporate event; however, he was seen on video getting gas at around 9:15AM (his last credit card transaction), and was also seen on video entering Waterfall Glen Forest Preserve (where he would often jog), wearing hiking boots and khakis
His car was parked in a gravel parking lot, and a search didn't reveal anything suspicious — the car had golf clubs, a first aid kit, a sweatshirt, and a face mask
He didn't take any traceable devices with him, as his cell phone and Apple Watch were both found at home
On August 8, Cefolia was reported missing
On August 10, Cefolia's family hired a private investigator
Police and volunteers have carried out several searches of Waterfall Glen Forest Preserve, and while some articles of clothing have been found, none of them were linked to Cefolia
A few more things to note:
Cefolia's ex-wife claimed he had previously fantasized about "getting off the grid"
Cefolia was trying to sell his Elmhurst home, and it hit the market on June 16, had a price reduction on July 16, and had a further price reduction on August 4 (two days before he went missing); it ended up finally selling on November 5
There's video surveillance of Cefolia getting gas before going to Waterfall Glen Forest Preserve, where his car was found; he spent $59.50 on gas, which suggests he was filling up the tank, rather than just topping off the tank to get somewhere nearby (his car is the Range Rover Sport that can be seen in the distance for the second half of the video)
Cefolia was under criminal investigation
More details have emerged about this in recent months, and it adds quite a different element to the story. We knew from the beginning that Cefolia was allegedly being criminally investigated. In recent months it has been revealed that police executed a search warrant on Cefolia's home the day before he vanished, the same day he had dinner with his family and appeared intoxicated. Allegedly the warrant was to "search and collect/package evidence."
We don't know what the criminal investigation was for, and if it was at all related to his work.
Bottom line
A United Airlines executive has been missing for a year now. He hasn't been seen in person since August 6, 2020, though was caught on video getting gas, and then also entering Waterfall Glen Forest Reserve.
The updates that have been provided since his disappearance only make the situation even more confusing, given that they point to opposite conclusions. My thoughts are with Cefolia's family and friends, especially as he has kids. I can't imagine how tough it must be to deal with this uncertainty…