Hello from Kiev! I just flew Ukraine International Airlines on their brand new (used) 777-200 on the 8hr15min flight from New York, and wanted to share my initial thoughts on the experience.
As some of you may remember, I flew UIA's 767 business class a couple of years ago from Kiev to New York, and it was awful — the seats were bad, there were no power ports, there were no personal televisions, etc.
UIA has just taken delivery of their first Boeing 777 (the plane used to fly for Asiana, but was reconfigured), so I wanted to see how the experience on the new plane compared. Keep in mind that UIA consistently has great business class fares (I booked a sub-$1,000 one-way business class fare from New York to Brussels via Kiev). On the 767 I thought it wasn't worth it even at that price, so does my verdict change with the new cabin? Yes, very much so.
UIA's new 777 business class cabin consists of a total of 21 seats, spread across three rows in a 2-3-2 configuration. It's not ideal that they have a center seat in each row, but this is such a massive improvement over their old product that I really can't complain. Most importantly they have (mostly) flat beds, which they didn't have on the 767.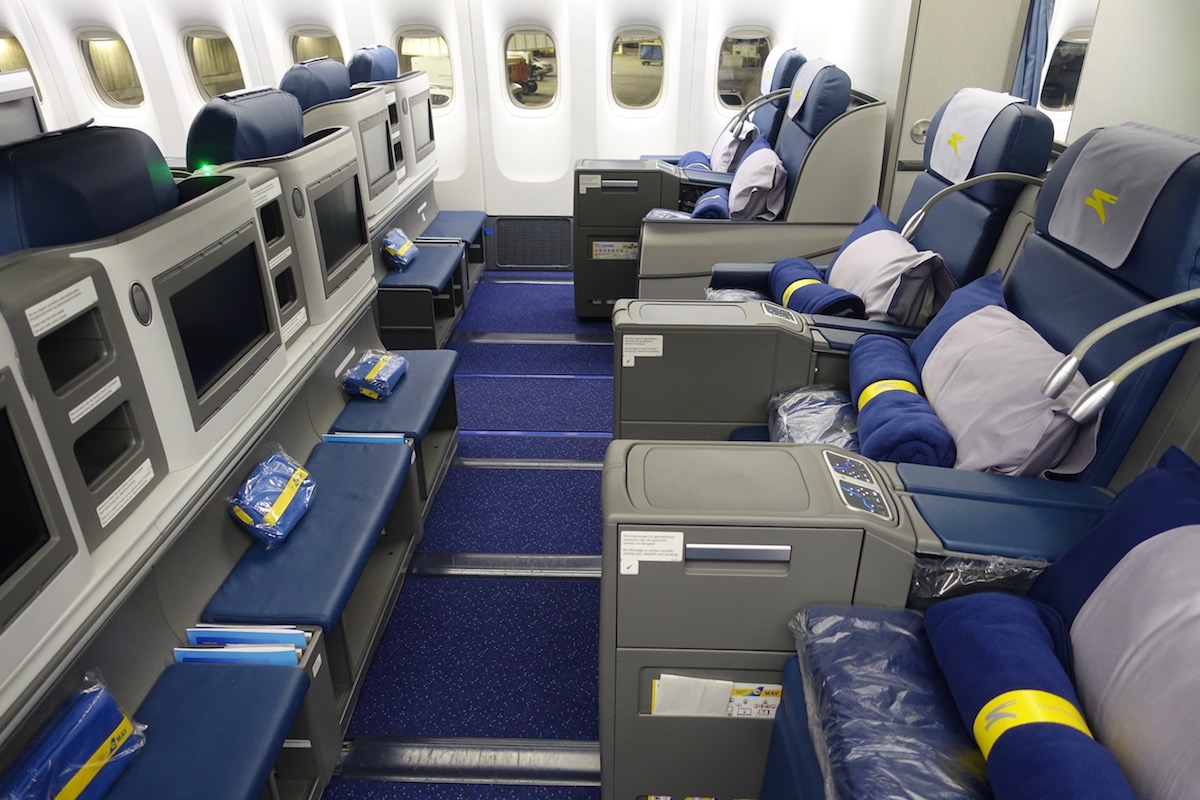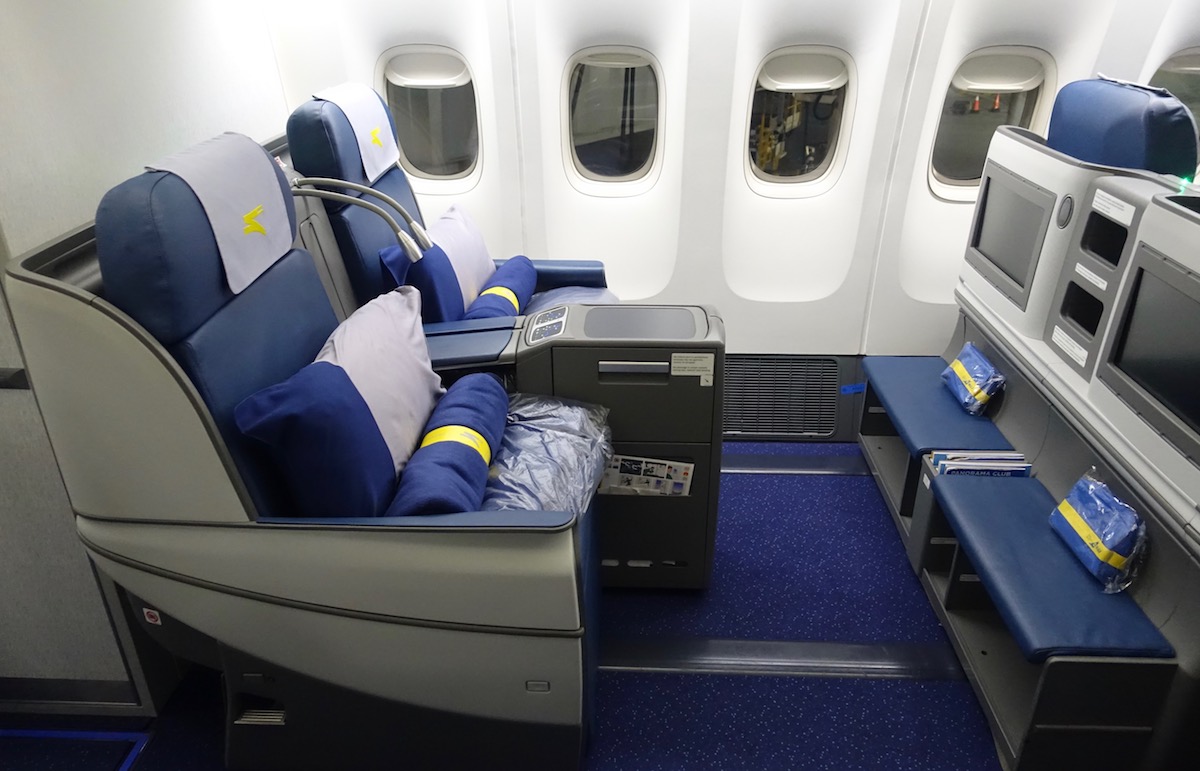 I'm happy that UIA not only upgraded the seats themselves, but also some of the amenities. Specifically, the bedding was excellent — there was a thick pillow, a mattress sheet, and two blankets. I'm impressed that they introduced these improved amenities so quickly after introducing the plane.
The amenity kit was the same as before, however.
The plane features built-in entertainment at each seat. The movie selection wasn't great, but was better than the previous option (nothing). There were a total of 100 movies, though there were some very random titles among them — only a dozen movies were in their "new releases" category.
UIA advertises that their 777s have wifi, but the flight attendant told me that it's not turned on yet, and that they hope to have a contract by July. Each seat had a 110v and USB power outlet, which is a huge improvement over the 767, which didn't even have functioning power.
This flight departs out of JFK very late at night — it's scheduled to depart at 12:30AM, and we took off about an hour later (which was infuriating, because best I could tell the plane had sat on the ground for many hours, and it's just that they had the most inefficient boarding process imaginable). Given the late departure, I was thrilled by the pace of the meal service, as the meal was done just over an hour after takeoff, despite a full cabin.
Service began with some sort of a nut mix as well as drinks and packaged towels.
For the appetizer there was the choice between tomatoes and mozzarella amd smoked fish with salad (that's how it was described — there were no menus, which is something they need to change). I selected the former, and that was served with a side salad. It was excellent.
For the main course the choice was between rice with chicken, beef with potatoes, and cheese ravioli. I chose the rice with chicken, which ended up being a good curry dish — it's not what I was expecting on UIA, though!
For dessert the option was between a fruit plate and a fruit tart, and I selected the latter.
I found the meal before landing a bit odd as they couldn't seem to decide whether it was breakfast or lunch — the choice was between an omelet and pasta, and the accompaniments were a beef starter and dessert. More on that with the actual trip report.
I got some solid sleep on this flight. These seats don't have much privacy, as you can just lift the armrest between seats. I'd also note that the seatback isn't quite flat. While the legrest and ottoman make a fully flat surface for your seat, I'd say the seatback was angled a few degrees. As someone who is extremely sensitive to angles, I didn't find this to be an issue at all, and it's actually how I'd choose to have my seat anyway.
One other thing that really impressed me was the crew. The entire crew consisted of young and stunningly beautiful ladies (not that they should be hired based on that, I'm just pointing out that it really stood out to me), and they couldn't have been more professional.
The cabin was full, and most of the business class passengers were total jerks. I'm not sure what it is about UIA, but I've never seen so many people boss around flight attendants in such a rude manner. The flight attendants handled it in stride and provided great service despite that.
Is UIA's new 777 business class industry leading? No. Is UIA's business class perhaps the single biggest improvement we've seen in a business class product in many years? Yes, I think so.
Would I now recommend flying UIA on a cheap paid business class fare? Of course I'd first try to redeem miles for a great airline, but I think flying UIA on a cheap business class fare is now an excellent option, as this is a perfectly comfortable way to cross the Atlantic.
Well done, UIA!