Tiffany and I are soon taking our crazy trip on Aeroflot, Air Serbia, AZAL Azerbaijan, and Ukraine Airlines. I'm not sure which segment I'm most excited about. With a list like that, how do you even choose?
Our Ukraine Airlines itinerary has been interesting before the trip even started, as a few weeks ago the airline sent us a schedule change notice from some weird email address suggesting that the date of our flight was moved by a day. However, the airline doesn't even operate a flight on the date they suggest we're flying. My follow-up emails haven't received a response.
So in the process of trying to pull up our reservations on Ukraine's pretty crappy website, Tiffany noticed they now list their buy on board food options, which you can pre-order. The selection is extensive and looks pretty decent, though that's not why I'm pointing out the page.
The description of the food is the real show-stopper. Some of the descriptions are incredible. For example, does this sound like the most delicious yogurt with granola, or what?
Tender yogurt with crunchy granola on top is a real waterfall of taste and emotions.
Or if you're more in the mood for cottage cheese, how about this?
Fresh aromatic cottage cheese is baked until golden brown and raisins with the sun taste.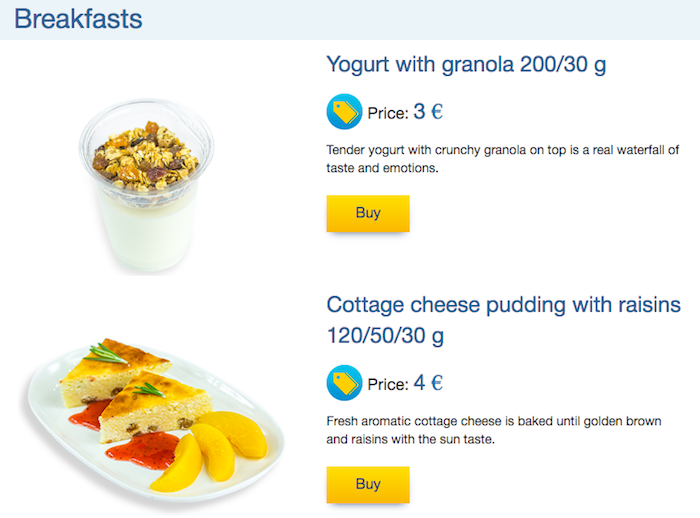 There are dozens of options, and many of them have amazing descriptions.
What I can't quite figure out is whether these descriptions were written in another language and they simply used Google Translate to write those in English, or if they hired someone who actually thought those descriptions make sense.
Regardless, I'm not even trying to pick on UIA here, but rather the descriptions had me laughing out loud. The world needs more laughter, so hopefully others get as much enjoyment out of them as I do.
Even though we're in business class, maybe we should still pre-order some of the above. After all, how can you turn down tender yogurt that's a real waterfall of emotions?