Uber has just announced some improvements to their Uber Black experience, which I guess is their push to encourage more people to use Uber's premium ride sharing option. Most people use UberX, though aside from the cars there's not much differentiation in terms of the service otherwise. It looks like that will be changing.
These adjustments are based on feedback from Uber Black riders, who said they wanted high-quality service and premium comfort.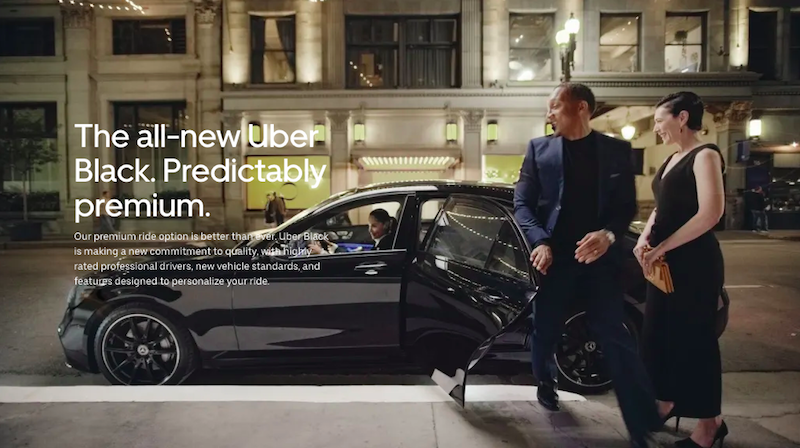 Here are some of the new features that Uber is rolling out, and how they describe them:
Quiet Mode: if you need to respond to emails or are in the mood for a nap, make your trip a quieter one with just one tap. If you're in the mood to chat, that's an option too.
Help with Luggage: let your driver know an extra pair of hands is needed for your luggage.
Temperature Control: communicate your optimal temperature before entering a vehicle.
Extended Pickup Period: riders will have a little extra time to get to the car when unexpected delays pop up.
Premium Support: access premium phone support with live agents if you need something to be made right.
https://www.youtube.com/watch?v=4TIMK1sGxWo
https://www.youtube.com/watch?v=yBJ9rY7KRW0
These new features have been available on 100% of US Uber Black rides since yesterday, and I'd say these are great developments.
Most concretely, the waiting period being increased from two minutes to five minutes is great, in my opinion.
While the other additions sound great, do keep in mind that they're just given as "preferences," and I wouldn't expect they'll be honored 100% of the time.
For example, when you order your ride you'll be given the option to select some preferences, including "quiet preferred" or "happy to chat."
As someone who is an introvert and who works almost 100% of the time I'm in Ubers, I love when a driver is quiet. However, I'd still feel rude basically selecting that as a "preference." Maybe that's wrong, but that just seems… awkward.
Even as someone who doesn't like to talk, I also think it's very much an "it depends" situation. In other words, there are some drivers I have great conversations with. Then there are other drivers who talk the entire time but don't get the hint. So it seems difficult to balance that fully.
Still, in general I'm a fan of this as long as it doesn't annoy the driver. It nicely counteracts the fact that Uber loves tagging certain drivers as being "known for great conversation." That's not a selling point, in my opinion!
I'm curious, what do you guys make of Uber's new "quiet mode" option, whether you're a rider and/or driver?