I'm a huge fan of Uber, and it has really changed every aspect of how I approach ground transportation. Given how reasonably priced it is, and how good the overall experience is, it's an unbeatable way to get around.
I spend a lot of time in LA, which is a city where Uber is especially useful, given that public transportation is abysmal. And fortunately Uber has a huge presence in LA, ranging all the way from UberPOOL to UberLUX.

I've heard about UberEATS quite often, but never actually bothered looking into it. And I didn't actually realize they had it in LA until a friend pointed it out to me the other day. I guess I'm so "trained" with how I use Uber, that I hadn't actually paid attention to the top of the screen, where there's an icon with a plate.

What is UberEATS?
Before ordering I did some research on UberEATS. It's basically an on demand meal delivery service. They publish a different menu every day, and you typically have about a handful of options available.
Now, there are plenty of meal delivery services, like Postmates. With services like that you can order from a huge selection, and then it takes a reasonable amount of time to be delivered.
With UberEATS, on the other hand, you have fewer options, but your food is delivered literally within minutes, since there are drivers with the food in their possession who are ready to deliver. The menu changes every day, and the options are typically from popular, local dining establishments, so it's not crap.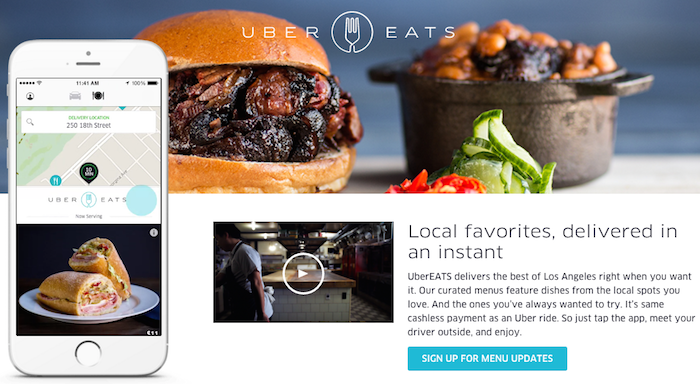 Which cities have UberEATS?
As of now, UberEATS is available in the following cities:
Atlanta
Austin
Barcelona
Chicago
Los Angeles
New York
Paris
San Francisco
Seattle
Toronto
Washington DC
UberEATS Los Angeles hours & menu
Just to give an example of how it works, here's the UberEATS LA website. It not only shows the menu for the same day, but also for the subsequent few days.
In LA, UberEATS is available during the following hours:
Lunch (Monday through Friday): 11AM-2PM
Dinner (Monday through Friday): 5:00PM-8:30PM
Brunch (Saturday and Sunday): 10AM-2PM

As you can see, they're not trying to be everything to everyone. They have limited hours, which makes perfect sense since the food is ready to go, and you want it to be "fresh." They're trying to hit when demand is highest.
Here's the coverage map for LA UberEATS:
My experience ordering UberEATS
I gave UberEATS a try yesterday for lunch, so fired up the app. There were several vehicles just minutes away.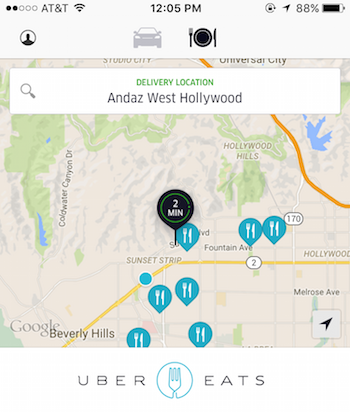 I browsed the menu, which matched what showed online. The food menu included the following:
Turkey sandwich lunchbox / Bottega Louie / $10
Chinese chicken salad / Feast From The East / $10
Chicken special sandwich / Il Tramezzino / $10
Grilled salmon plate / Z Garden Mediterranean / $10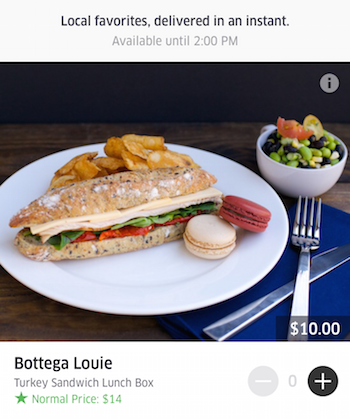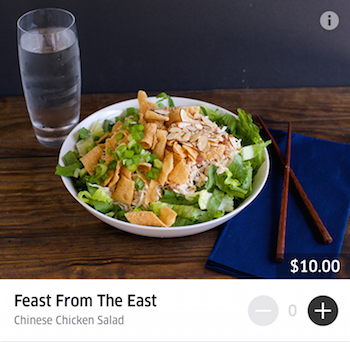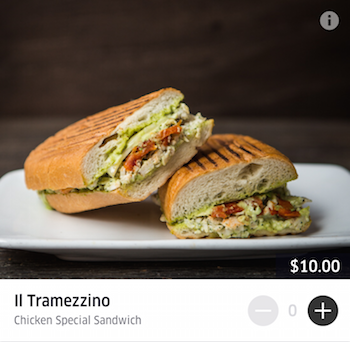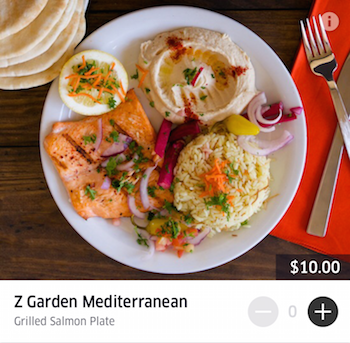 And then the following desserts and drinks were available:
Caramel pretzel chocolate chunk cookie / Cookie Good / $2
San Pellegrino limonita / $2
Cold brew coffee/ Stumptown Coffee Roasters / $5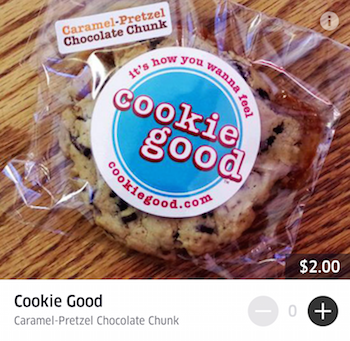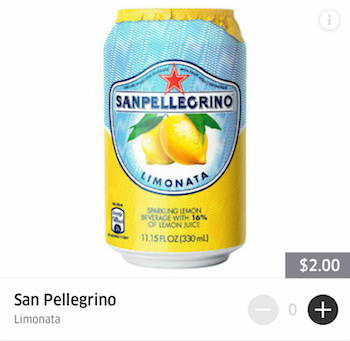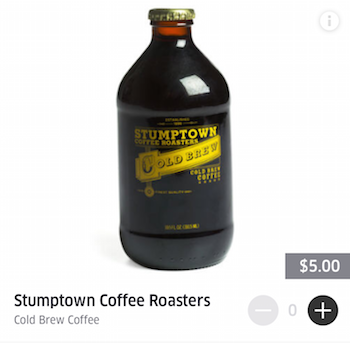 I ordered the turkey sandwich lunchbox, which seemed like a good deal to me. I also ordered a cold brew coffee. Stumptown coffee isn't cheap no matter where you go (for what it's worth, Tender Greens also charges $5 for Stumptown cold brew).
UberEATS adds a $3 delivery charge, so altogether the cost came to $19.35 including tax.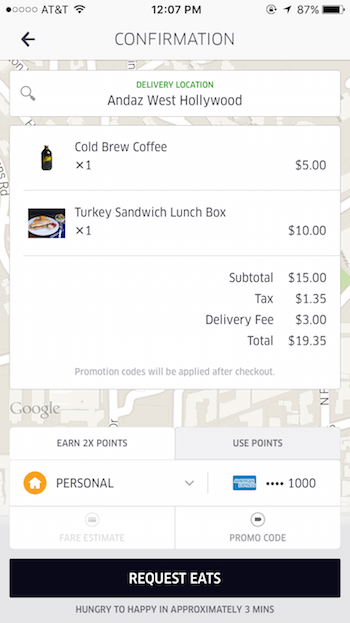 Less than five minutes later the UberEATS car pulled up outside (it was a Prius), and he handed me the order. UberEATS always offers curbside delivery (in other words, they won't bring it to your door/into your office), and tipping isn't expected.
The turkey sandwich came in a pretty snazzy looking box.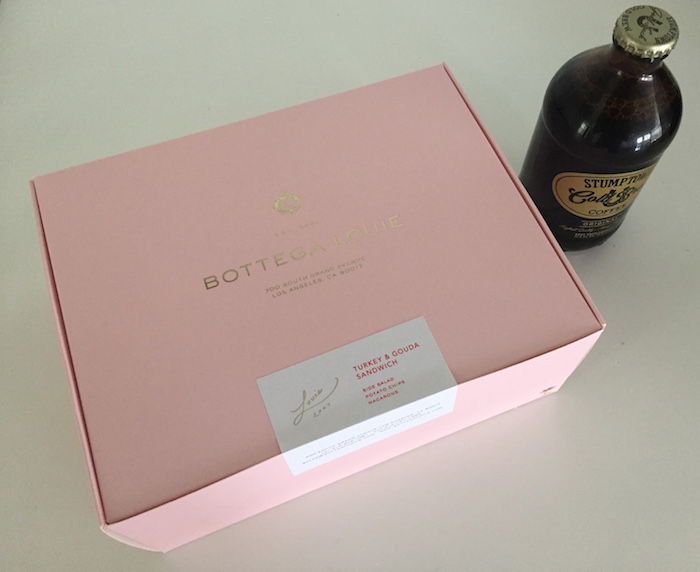 It consisted of a turkey sandwich, potato chips, an edamame side salad, and two macarons. Everything was every bit as good as I'd expect if I went directly to Bottega Louie.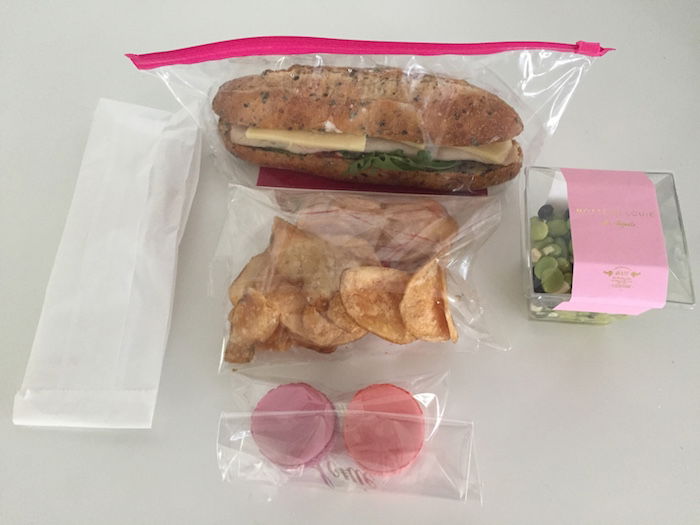 How to get your first UberEATS free
This part sort of caught me off guard.
Uber has a lucrative referral program, whereby you can get a free ride of up to $20 by being referred (and the person referring gets the same). I assumed that this only worked on rides, though as it turns out it also works on UberEATS. I had a "free ride" referral available, and that wiped out the cost of my lunch!
So if you haven't yet signed up for Uber, you can use your $20 free ride towards an UberEATS, if you'd like. So Uber won't just give you a free ride, but if you prefer they'll buy you a free lunch or dinner instead. 😉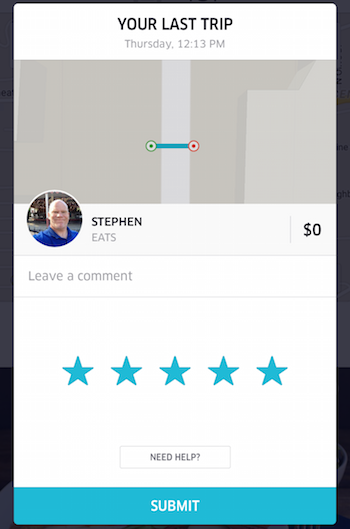 Bottom line
I thought UberEATS was a great value, and will definitely be using it again. I can't believe it took me so long to look into it. Admittedly it's very different than other delivery services, in the sense that hours and selection are limited. The flip side of that, though, is that what you order is at your door within minutes.
While Stumptown cold brew coffee isn't cheap, it would have been under $14 including the delivery charge for the turkey sandwich lunchbox, which is a good value, if you ask me. It arrived literally less than five minutes after ordering, so it saved me a considerable amount of time.
And even better is that if you sign-up for Uber, the $20 free ride credit can even be applied towards UberEATS!
Have you used UberEATS? What was your experience like? Do you have another preferred food delivery service?