Update: It appears as if signing up to receive Amazon Clothing Store emails may no longer net the 20% discount coupon unfortunately.
My luggage conundrum began over the weekend, when I was trying to decide between eventually buying the Tumi Alpha International (20″) or the Tumi Alpha Frequent Traveler (22″). Based on the feedback you guys left I decided I'd get the Tumi Alpha International, because I don't want to have to check the bag when traveling internationally. On Monday I wrote about a Rue La La sale on Tumi luggage, though what I didn't realize is that many of the items they were selling weren't the latest models.
Anyway, through November 17 Tumi seems to be offering 20% off all their products when using a coupon code, and most of their online retail partners seem to be matching that sale.
But it gets better than that. Here's an opportunity to stack that 20% discount with a further 20% discount, for a total of 36% off anything from Tumi.
First of all, sign-up to receive Amazon Clothing Store emails. By signing up for these emails you'll immediately receive a coupon via email for 20% off your next purchase which is valid for 30 days. While the terms state it's only valid for clothing items, in practice the coupon also works on luggage.
Once you have the coupon, shop for the Tumi items you want.
Here's the Tumi Alpha International 20″ Zippered Expandable Carry On I'm looking at.
And here's the Tumi Alpha Frequent Traveler 22″ Zippered Expandable Carry-on that's 22″, if you'd like a bigger bag.
As you can see, both bags are the latest versions as they have the classic monogram rectangle.
The laptop bag I have — the Tumi Alpha Expandable Organizer Computer Brief
— is also on sale.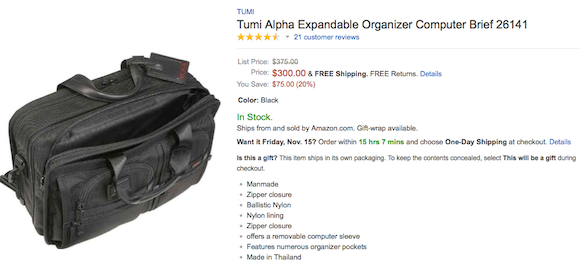 Also, while not cheap, I've heard good things about the Tumi Alpha Classic Garment Bag
.
While usually way overpriced, this also makes the cost of the Tumi Luggage Large Packing Cubes pretty reasonable:
Those are just a few examples of the things on sale.
After you add the product you want to your cart, go to the check-out page and add in the promotional code you received via email under the "gift cards & promotional codes" section:
Once you enter the code you should see the updated price reflecting the initial 20% discount and then 20% discount on top of that, for a total of a 36% discount.
$387 for a brand new Tumi Alpha International that usually retails for $600 is the lowest price I've seen on the latest generation versions of these bags.
It's anyone's guess how long this promotion (especially being able to use the additional 20% off code on luggage) will last, so if you're interested in a Tumi bag I'd suggesting ordering it ASAP.