Reader Jason left an interesting question on the "Ask Lucky" page of the blog:
Hi Ben…

I love to travel and have been fortunate to accumulate a huge number of miles/points over the past decade. In addition, I'm working in a job that gives me plenty of time to travel. The issue is that I've been single for some time (with married friends), and the thought of exploring the world alone doesn't excite me. I feel like it would be much more satisfying to share these experiences with someone. I know that you travel alone quite a bit, and would be interested in hearing your thoughts. Do you derive more pleasure from traveling with a partner?

I realize you're not a therapist, but your insight would be valuable.
That's kind of the story of my life, so I'll chime in to the best of my ability. It goes without saying I'm far from an expert on relationships, anything having to do with being social, etc., but that won't stop me from chiming in.
The grass isn't always greener on the other side
I can totally relate to travel alone not seeming as much fun. Sunsets in Bali are better when shared, and when you arrive in a foreign city and hop in a taxi with a Taylor Swift song playing, it's easy to think "hmmm, I wish I weren't alone."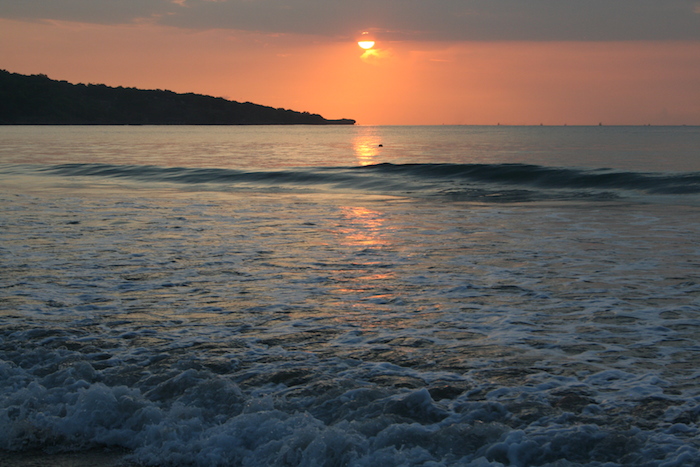 But I think that's largely just the grass always being greener on the other side. People traveling as a couple may wish they could travel along instead, people traveling with a family may wish they didn't have their kids along, etc.
And I'm not judging here one way or another, but are you ever in a foreign city and see a family with young kids bickering and generally looking miserable? Because I see it every single day. I'm not saying that reflects what it's like to travel with a family, but you certainly see that a lot more with people traveling with someone than with people traveling alone.
Ultimately I do think traveling with others you have more highs and lows, while traveling along it's a more consistent experience.
Travel can be stressful… and is easier alone
Again, not saying any of this is necessarily the case, but I am trying to look at the positives of traveling alone. For a lot of people, jetlag is a killer. I think as much as we romanticize foreign travel, in reality people are tired, grouchy, hangry (hungry angry), etc.
I find I'm a lot more "productive" with my sightseeing when alone vs. with others. That's because when you're traveling with someone everything has to be coordinated. The stresses of travel and jetlag only add to the challenges of that. I've had great trips with others, but I've also had trips with others where I spend half my time doing things I really don't want to do, either because I'm tired and they're not, they're tired and I'm not, I'm hungry and they're not, they're hungry and I'm not, etc.
So I do love being able to do what I want when I want when traveling alone.
A watched pot never boils
With the question I'm not sure if you're talking about traveling alone as opposed to traveling with a friend, or traveling with a significant other (since you mention you're single and your friends are married). Perhaps this is more of a general philosophy I have on life than specific to travel, but…
The fact that you have schedule flexibility is a blessing, but at the same time even if you were in a relationship, chances are the other person wouldn't have nearly as much flexibility as you do. You'd probably still end up traveling alone most of the time, if at all.
And that brings me to "a watched pot never boils." Your situation is what it is. I feel ya, same here. There's no recipe for creating someone you can travel with, be it platonic or non-platonic.
You can certainly attend more frequent flyer/travel events and see if there's someone you can develop a friendship with that has similar schedule flexibility. But if it's a significant other you're looking to travel with (like what your friends have), there's no way to force that. All you can do is make the best of your amazing travel flexibility, have fun, and maybe you'll meet someone along the way, when you least expect it.
Maybe it's easier for me as an introvert
We're all self conscious on some level, and I think it's natural to feel "weird" going somewhere alone. It's natural to worry about how other people perceive that. And for a long time it's something I struggled with.
But once you get over the mental hurdle, I think it's actually quite easy and enjoyable. I've gotten to the point where I'm perfectly happy having lunch or dinner alone in a busy restaurant. And it's quite enjoyable, since you really get to observe the scene when you're not caught up in conversation with someone. If you're not comfortable getting a table alone, sit at a bar, and you might meet some interesting locals.
Are people judging you? Maybe. But I'm sitting there and judging them right back. 😉
A couple of nights ago I was at an Indian restaurant in Reykjavik. There was this young couple seated across from me (it was all a bit puzzling, they were German and looked about 15 and were holding hands, so I don't know how they ended up in Iceland). They sat down after me, and based on how I was seated I was basically awkwardly positioned directly facing their table. Yes, I admit it, I was judging them. When the server brought water, he poured himself a glass and then poured her a glass. C'mon, that's not how it's done! When I'm sitting there judging your smoothness/dating etiquette, you know you got problems!
In turn, there was an older German couple seated in a such a way that they were basically overlooking my table, and yes, they were judging me. They assumed I was American and couldn't understand them, and were commenting on how it was weird I was eating alone. Lets just my table wasn't the only one that was awkwardly silent after I turned around and said "Ich kann auch Deutsch sprechen." 😉
In case you're really struggling with getting over the mental hurdle of dining or doing touristy things alone, understand it's not unusual at all. There are plenty of people that do it all the time. You have flight attendants and pilots that eat meals alone all the time, and plenty of business travelers that are in a foreign city and are just exhausted and just want a good meal in silence.
Bottom line
Don't get me wrong, married folks. You shouldn't dump your spouse because it's that much more fun to travel alone. 😉
But having traveled with family, friends, significant others, etc., there is something about traveling alone that's incredibly peaceful and enjoyable. And I can't say for sure that I enjoy it more or less than any other "type" of travel.
Anyone have any tips for Jason, or for traveling along in general? Do you enjoy traveling alone, or is it not for you?