The demand for air travel from China has been through the roof lately, in particular for longhaul travel. So we've seen Chinese airlines add an endless number of flights, and that's great news for consumers. In many ways they're capacity dumping, and that's why $500-600 roundtrip tickets between the US and Asia seem to be the new normal.
One of the reasons we've seen this overnight growth is because historically China has had a "One Route, One Chinese Airline" policy. Under this rule, only one Chinese airline can operate each longhaul route. There are a few exceptions, but in a vast majority of longhaul markets that policy exists. This policy generally encourages airlines to start routes a bit prematurely so they can "claim" them. Apparently the country is thinking of abolishing the rule, but it hasn't happened yet.
There's no US airport where this growth from Chinese airlines is more evident than LAX. There are now nonstop flights from LAX to a dozen cities in China. Here's a map showing the nonstop flights to China out of LAX as of now: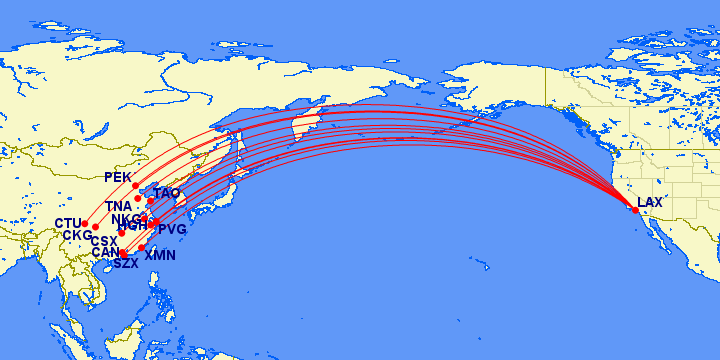 It looks like before the end of the year LAX could get their 13th and 14th routes to China, thanks to an airline that doesn't presently fly to the US. As noted by @airlineroute, Tianjin Airlines has filed with China's CAAC to request 6x weekly flights to Los Angeles — 3x weekly flights from Xi'an, and 3x weekly flights from Zhengzhou. The routes would launch in December 2018, and would be operated using A330 and A350 aircraft. We'll have to wait and see if that timeline sticks, though that seems like a lot of notice.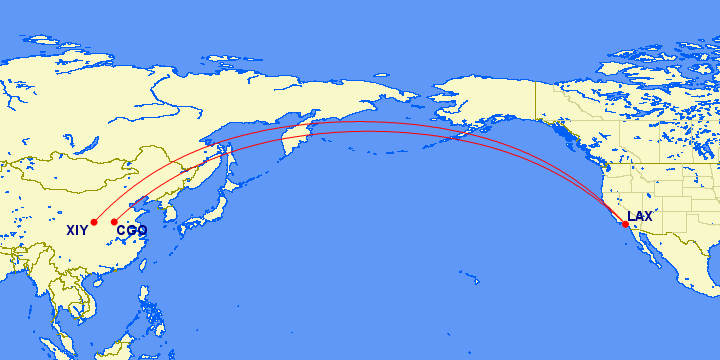 For those of you not familiar with Tianjin Airlines, they used to primarily operate domestic flights, though recently added longhaul flights as well. They're owned by HNA Group, the same parent company as Hainan Airlines. Tianjin Airlines presently has a longhaul fleet consisting of four A330s, though they plan on taking delivery of more A330s as well as A350s over the coming years, to help support their longhaul growth.
Best I can tell, Tianjin Airlines has fully flat beds in business class on their A330s, so they should be very similar to what Hainan has on most of their longhaul aircraft. Maybe their A350s will even feature an upgraded business class cabin.
Here's to hoping Tianjin Airlines follows through on these new routes, as I'm sure they'd have attractive fares. Unfortunately Tianjin doesn't have any major US airline partners, so these flights wouldn't be great for earning or redeeming miles.
Has anyone flown with Tianjin Airlines before?
(Featured image courtesy of Papas Dos)