Reader Oops asked an interesting question on a post I wrote yesterday comparing Cathay Pacific's first & business class products:
Do you have a sort of procedure or mental thought process for ordering airplane food? I know this depends on the airline and route, but you always mention how you don't usually end up liking your American first class food, for example. Do you think that what you order is the best option given your knowledge of the airline? Or do you just hope for the best? Thanks.
As someone who eats about half of their food on planes, I do indeed have a "process" for ordering meals. And it's actually quite straightforward.
My food "likes"
Something a lot of people don't know about me is that I was a vegetarian for eight years. I was just kind of grossed out when I thought about what "meat" really is.
I'm not a vegetarian anymore, though I am still a bit grossed out by meat in general. Make fun of me all you will, but my general approach to food is:
I think of myself mostly as a lazy pescetarian; I far prefer fish to steak/chicken, so whenever there's a decent sounding fish option on the menu, I'll go for it (it's usually healthier as well)
Certainly people will make fun of me for this, but I don't eat "cute" animals — this includes pork, lamb, duck, veal, etc.
When I eat meat I like it to be good "quality" — in other words, I'll avoid a bad steak at almost all costs, while I do love a good (lean) filet; it's also why I rarely eat burgers
My airplane meal ordering process
So when it comes time to order food on planes, what's my process?
Always go with the airline's signature dish first
All else being equal, I'll always order an airline's signature dish. In premium cabins these are typically the best, and will rarely disappoint.
On Singapore Airlines that's the lobster thermidor (though I will say the one they cater out of New York isn't very good).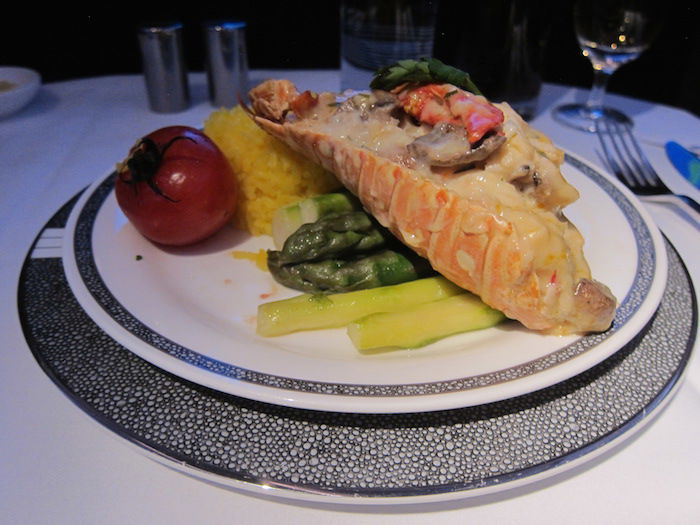 Singapore Airlines first class lobster thermidor
On Asiana and Korean Air that's the bibimbap.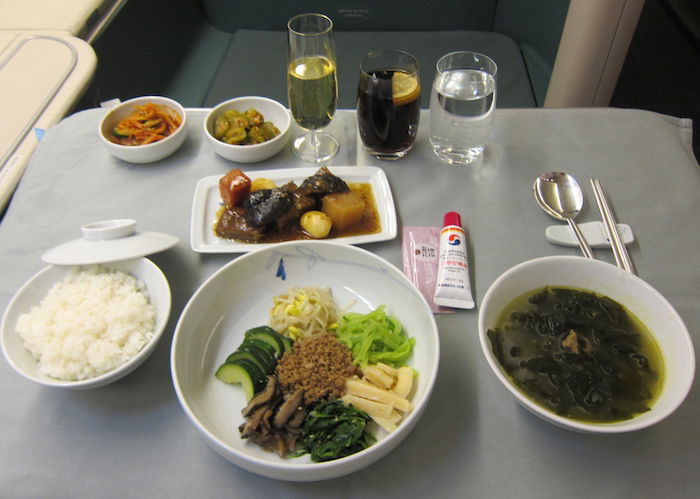 Korean Air first class bibimbap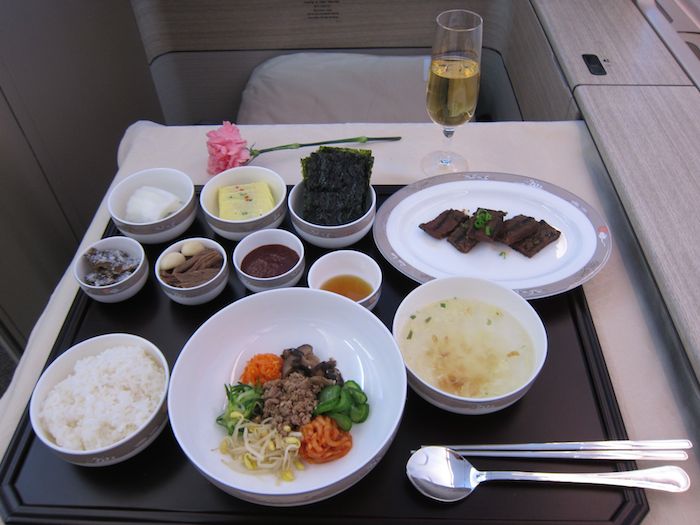 Asiana first class bibimbap
On Malaysia Airlines that's the satay.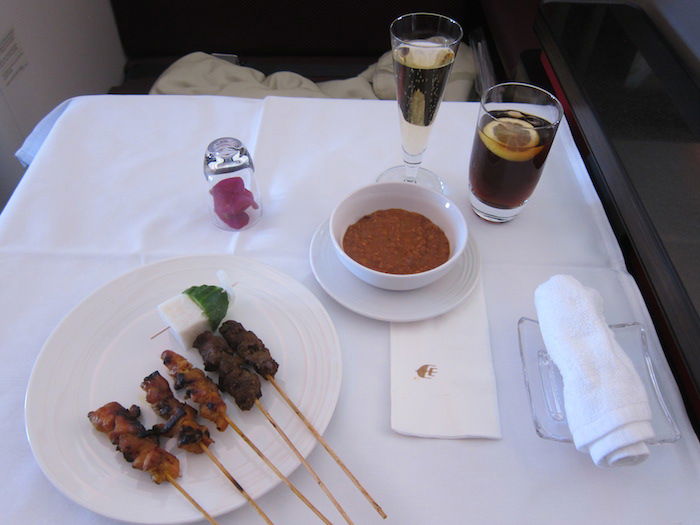 Malaysia first class satay
On Emirates that's the mezze.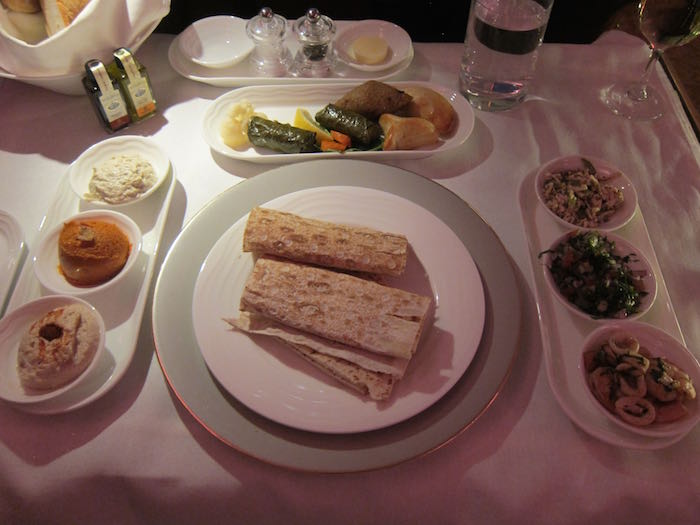 Emirates first class mezze
Main courses are typically the most underwhelming
I have a tendency to eat way too much on planes. Combine a six course meal with a bottle or two of champagne, and it makes for a very bad stomach ache.
With that in mind, I actually find that in most cases the main courses are the most underwhelming part of a premium cabin meal service. That's why on many airlines I'll just order the appetizer, soup, salad, and then dessert. That way I get to try more dishes without being quite as stuffed.
Fish is always my first choice
As explained above, if I'm not going to be a vegetarian then my preference is to eat fish. So as long as it sounds decent, that will always be my meal of choice, after the "signature" dish.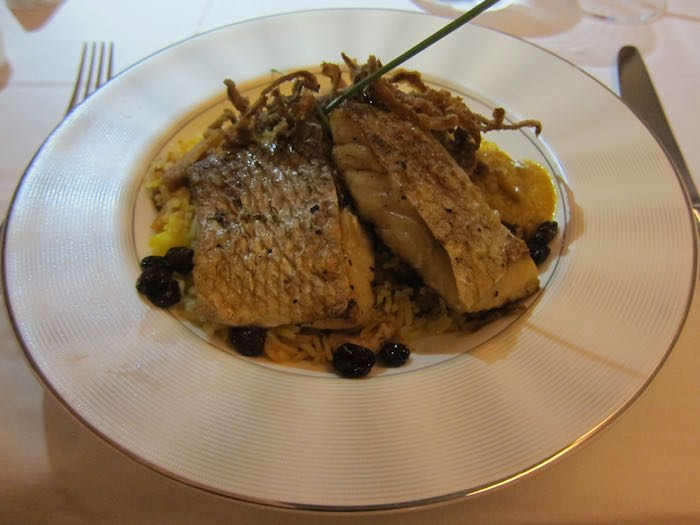 Etihad first class fish biryani
If there isn't a fish dish or it doesn't sound good, I'll go with the chicken/steak option only if it's a good airline and they're known for good meat dishes. For example, while I like Cathay Pacific's catering on the whole, I've never had a good steak on them. Generally speaking you can count on a steak being good on a plane when they asked you how you want it prepared.
I've had some great steak on Etihad, for example.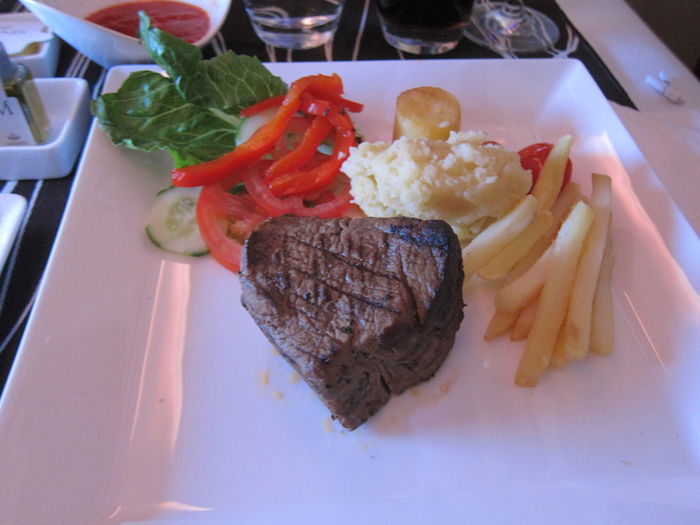 Etihad first class steak
If none of the above sound good and I'm still hungry, then I go with the pasta.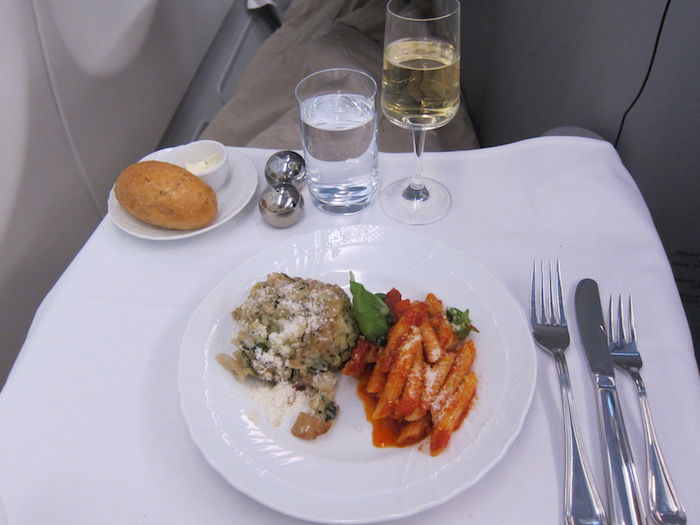 Alitalia business class pasta
Which I think answers Oops' question as to why I often order pasta on domestic American flights. 😉
Bottom line
While perhaps not that exciting, it's all signature dishes and fish for me, whenever possible. However, sometimes on non-premium airlines there's not a fish option and the meat dishes are so bad that I figure I'm best off just going with the pasta. After all, you can't go that wrong with a pasta dish.
How about you — what's your strategy when it comes to ordering airplane food?