I majored in marketing in college… mostly by chance. I don't know why. I guess I wasn't smart enough for accounting. Or graphs pissed me off too much to major in economics. And the basket weaving major was full, so…
I was at some fancy thing in New York a while back filled with people that have more degrees than a triangle, and a lady asked me what I studied in school, and I said marketing. Her response was "oh, so you did that just to say you studied something?"
As much as I didn't really intentionally end up majoring in marketing (and wanted to punch her), in retrospect I think it's one of the most fascinating fields out there.
Which tangentially brings me to the point of this post — the connections I build to brands based on promotional videos or music is almost scary at times. On one hand it makes me feel naive for even associating a brand with something a PR agancy can put together, but at the same time… the struggle is real!
For example, the second someone mentions Air France to me, this song and video immediately start playing in my head:
https://www.youtube.com/watch?v=nBDdzG8HcD0
There are days where I play "Adjust Glasses" by Kisses on repeat while working:
Similarly, earlier I wrote a review of the Park Hyatt Washington DC, and I mentioned there was a promotional video on the TV when I entered the room, which I just couldn't turn off or get out of my head. I asked if anyone had a link to the video, and the Park Hyatt DC was nice enough to Tweet me a link:
Along the same lines, I used to be obsessed with InterContinental Hotels (though that may have more to do with their never ending Royal Ambassador conga than anything else), and I swear half my motivation for visiting the InterContinental Malta was the song they had on their website, which is also in this YouTube video:
While not directly based on advertising, branding has caused me to make equally arbitrary decisions. My mom and I went to New Zealand and Australia after I graduated high school. Everyone I spoke with beforehand said "oh, you have to go to Christchurch and Wellington," yet oddly no one recommended Queenstown.
But we still went there. Why? For the sole reason that there was a Crowne Plaza (one of four IHG hotels in New Zealand at the time) and I was loyal to IHG. Has anyone ever gone out of their way to stay at a Crowne Plaza? Like, ever?
Yet I'm so happy I did, because Queenstown was one of my favorite places in the world.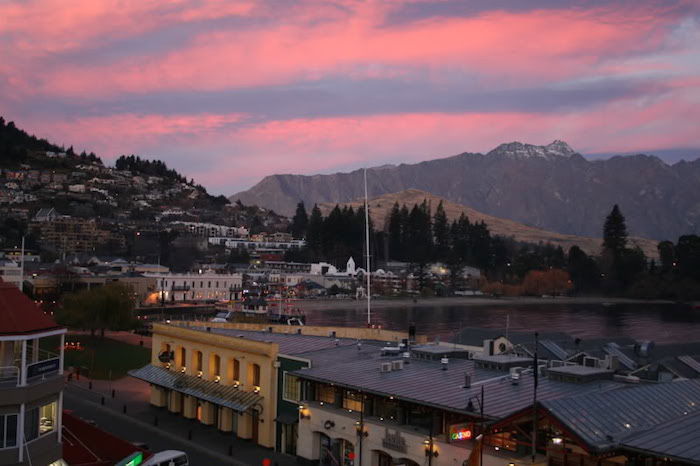 View from the Crowne Plaza Queenstown, New Zealand
As much as this all sounds arbitrary and like a crazy basis for making decisions, I wouldn't have had a lot of the most amazing experiences in my life if it weren't for ridiculous decision making based on how easily I'm drawn into good marketing and advertising.
Is it just me? What are some of your favorite advertisements/branding that draw you to an airline, hotel chain, etc.?