Yesterday I wrote a post entitled "Apparently Being A Douchebag *Can* Score You An Upgrade!"
It was about my Delta flight from Los Angeles to London on Friday, whereby someone was trying every trick in the book to get upgraded… and it worked… somehow!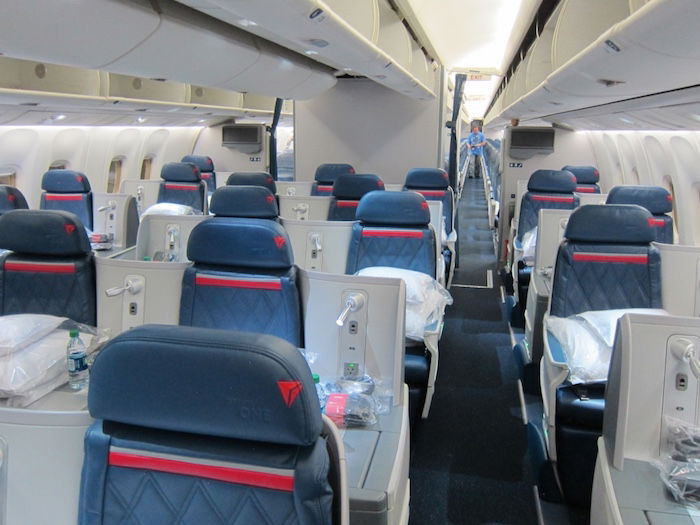 As I explained, it started at the gate when he took out his Delta Platinum Medallion card, a "Job Well Done" certificate (which can be used to recognize employees who go above and beyond), and his boarding pass for a Comfort+ seat. With a complete $hit-grin on his face, he said to the gate agent "so, how do I exchange these for seat 9A?" Clearly he had done his research, because that was a business class seat that was still showing as unoccupied on the seatmap.
Anyway, I won't rehash it all here, so check out the previous post to see the entire series of events.
I guess I shouldn't be surprised, but it seems like the guy is a blog reader, because he left the following comment on that post:
Ben,

Well you got my story *mostly* right. But you did make one erroneous assumption. The gate agent actually *did* come onto the plane, back to C+ section, and handed me this upgraded boarding pass:

Yes, I did originally smile and grovel. But I'm guessing that in the end, they probably had some standbys to accommodate, and I may very well have been handed that new boarding card even if I'd been totally silent. I'm not sure. I'm actually curious about that myself.
Interesting situation, and thanks for chiming in! Rather than trying to hide the comment, I think it's actually worth drawing attention to.
First of all, it seems like I was wrong on one front, in that I was watching pretty closely and never saw the gate agent come aboard to bring the new boarding pass. So I'm sorry about that. Clearly the guy didn't upgrade himself, but rather his methods actually worked quite well! And kudos to the level-headed approach he's taking in commenting here.
I do want to be clear about one thing, as I think it may have sounded otherwise when I wrote the first post. I do think there are ways to increase your odds of getting an operational upgrade. I don't think there's anything wrong with:
Asking the gate agent if they're oversold and need volunteers
Telling the gate agent you'd be happy to help out if someone needed a seat swap
Asking the gate agent if they have any sort of upgrades available for sale
So while I don't typically use any of the above techniques nowadays, I see the merit to them, and think they don't cross any lines.
In my opinion it slightly crosses the line when you approach the gate agent with a bribe the second you get to the counter. But maybe I'm off base there, because it worked for Mr. 9A. Now, we'll never know if that was the reason for the upgrade or something else, but ultimately he was the one who scored the upgrade for free, so he deserves credit for that.
Anyway, I just wanted to share the update and correct my assertion that I didn't think he ever got a boarding pass for 9A. I never saw the gate agent come aboard, but clearly he got the boarding pass for 9A.
I'm still not sure that actually modifies my conclusion/the title of the previous post, though. 😉