Sometimes credit card companies will offer targeted bonuses to existing card members to encourage them to put spending on their card. This goes beyond the initial welcome bonuses offered by the cards, and even goes bonus categories.
These bonuses are targeted and are usually either emailed or mailed to members. Personally I rarely find them worthwhile. For example, sometimes I'll get a targeted promotion on an airline credit card offering double points on dining for some period of time, but that's not worth it to me when other cards offer up to 5x points on dining.
Yesterday Bank of America sent out some targeted spending bonuses that I wanted to talk about in this post. I'm writing about this because:
The offer is actually lucrative
It seems to be pretty widely targeted, because I received the offer, Ford received the offer, and I've gotten no fewer than a dozen messages from people who received the offer
If you want to see if you're eligible, check your email inbox for the following subject line:
Account update – bonus cash offer now available
With this offer you can earn up to $100 in bonus cash through December 31, 2019. This seems to be a bonus for those who haven't been using their card a lot, because that's noted in the email.
Basically you'll earn 2% bonus cash back, up to a total of $100 cash back, for spending through December 31, 2019. Best of all, that's in addition to your normal rewards. In other words, you could maximize this by spending $5,000.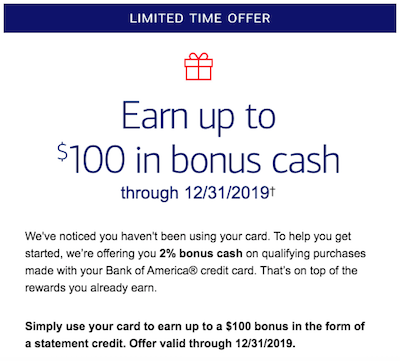 Personally, I see the offer on my Alaska Airlines Card, meaning that for the first $5,000 spent I'd be earning 2% cash back plus one Alaska mile per dollar spent. I value Alaska miles at close to two cents each, so that's just about a 4% return on non-bonused credit card spending, which is better than anything else you'll find for everyday spending.
The terms state that it could take up to 12 weeks for the statement credit to post. I'd also note that the terms suggest "you may be issued an Internal Revenue Service Form 1099 (or other appropriate form) that reflects the value of such reward." However, as far as I know that really shouldn't happen, since rewards earned through credit card spending shouldn't be taxable.
Bottom Line
Usually I don't write about these kinds of targeted credit card spending offers, but in this case it seems to be pretty widely targeted, and also is an excellent deal. If you have any Bank of America cards on which you haven't spent money in a while, check your email to see if you were targeted for this offer.
I'll gladly spend $5,000 on my Alaska Card to earn 5,000 Alaska miles plus $100 cash back.
Were you targeted for this offer, and if so, do you plan on taking advantage of it?