As noted by LoyaltyLobby, it appears as if Starwood has increased the category of the Four Points by Sheraton LAX from a category two property to a category three property. This means the hotel has gone from costing 3,000-4,000 Starpoints per night, to costing 7,000 Starpoints (or 25,000 Marriott points) per night on a free night redemption. Using cash & points the property is going from costing 2,000 Starpoints plus $35 per night to costing 3,500 Starpoints plus $55 per night.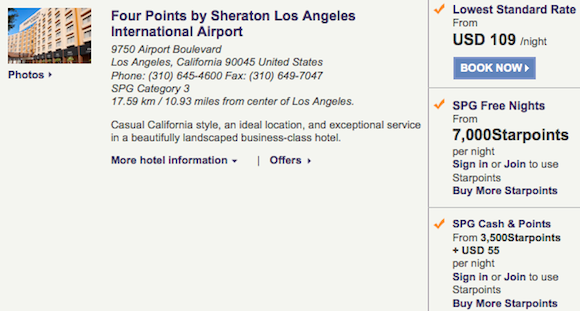 Now there's nothing wrong with Starwood deciding to change hotel categories. They actually do it annually, and just a couple of months ago in March, 25% of hotels went up in category, meaning more points were required for a free night. The difference is that they disclose they're going to make the change and give advance notice.
So not only is it really poor form to change a hotel category without any advance notice or even an announcement for that matter, but it really makes me wonder what the point is of the "annual" adjustment, when they make it seem like those are the only changes that will happen to categories for the year. And the sad thing is that this isn't even the first hotel to have an unannounced category change since the March devaluation.
I really love Starwood, but c'mon guys, what's going on here? The way these changes are being made sure seem Lifemiles-esque. Would love if a Starwood rep could comment on this.
And what do you guys think — is it okay for Starwood to raise hotel categories with advance notice or even an announcement?