I don't envy the job of working in the hotel industry, especially working at a luxury hotel. Every guest has different expectations, and even individual guests' preferences may differ from interaction to interaction.
Sometimes I arrive at check-in after having traveled for 24 hours, and just want a hot shower and bed, and wish the front office associate wouldn't say a single word. Other times I'm more refreshed, and am surprised by how little information the front office associate shares. Of course most of the time I'm somewhere in the middle, but my point is that tailoring hotel experiences isn't easy.
However, there's one problem I've consistently had with luxury hotels in the US, which I summed up in a post last year — "Dear Luxury Hotels: Stop Trying So Hard." Here's the crux of my issue from the last post, where I was using the St. Regis Monarch Beach as an example:
For example, as I approached the check-in desk I was asked for my last name, and said it to the associate as I got out my credit card and ID. In the roughly three minute check-in process, he repeated my name 16 times… and pronounced it incorrectly every single time.

Even if he had pronounced it correctly, I'd rather every sentence not start with my name. It just seems so painfully insincere and forced. For that matter, the only time I'm impressed by someone addressing me by name is when they do so from memory, as it shows some effort. If someone is just reading off a sheet of paper or regurgitating what I just told them, I don't see the point.

While this property has some great employees, many of the staff here seem to be so rigid in how they talk to guests, and I'm guessing that's simply a function of how they're trained.

Given the check-in experience, I decided to continue counting how often I was addressed by name. I stopped counting at 100. How many times was my name pronounced correctly? Once.

It would be one thing if an employee actually knew my name, but in this case it was simply the employees using every guest's name after they gave their room number and name, be it at the pool, bar, restaurant, etc.

On top of the forced over-the-top name calling, I also noticed the other forced vocabulary. The only word most staff members seemed to know when it came to acknowledging a request was "certainly." Which is a good term, except when it's clearly forced.
All of this is simply to say that at US luxury hotels I've come to expect painfully forced service, rather than authentic, from-the-heart service. I think formal training sometimes gets in the way of remembering that the core of the hospitality industry is to just make people feel welcome, rather than uncomfortable.
Yesterday I checked into the St. Regis San Francisco for a one night stay, and the experience was incredible. It's funny, because within 10 minutes of checking in I was in love with the service at the hotel. Let me start by saying that my SPG Ambassador, Mike, is incredible. He goes above and beyond all the time, and always asks that I enter my arrival and departure time in a reservation whenever possible, so that hotels know when I'm arriving and can allocate rooms accordingly.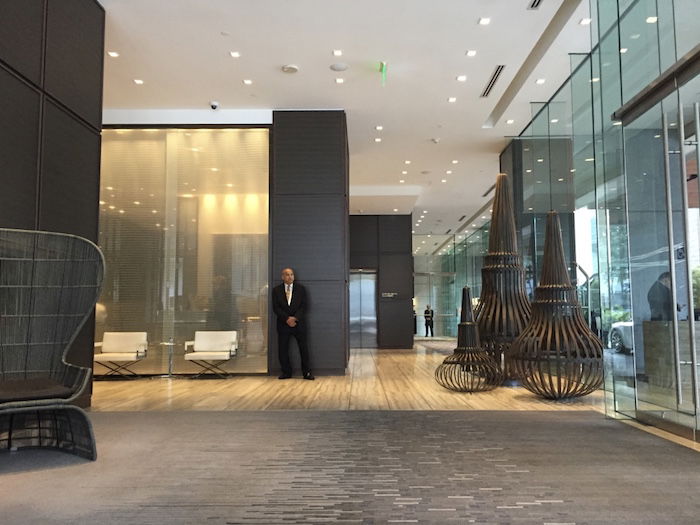 As Ford and I walked into the hotel, the bellman said "and you're…. Mr. Schlappig? Let me show you to check-in." I was super impressed — this is something that has never happened before at a US property, but seems easy enough to execute, given that we arrived exactly when we said we would.
He brought us over to check-in, where the front office associate addressed me by name, and it was also the only time she addressed me by name. That's because she spent the rest of the time talking to us like humans rather than reading off a script. The director of rooms came over to say hello and told us to let him know if we need anything.
I know everyone is different here, but I loved that the front office associate said "since you're in a suite you receive butler service. Would you like a butler to show you up to your room?" This is the ultimate first world preference, but I wish all hotels with butler service would simply ask, because my answer 99% of the time is "no thank you." Why? Because I find that initial interaction to usually be something like this scene from Curb Your Enthusiasm:
She said "great. Just remember that you get complimentary coffee or tea 24/7, and if you need help with anything else just dial the butler service."
Ford and I quickly dropped off our bags in the room, and then we returned downstairs to sightsee (Ford hasn't been to San Francisco since he was a little kid). I had a rough idea of what we wanted to see, so as we walked outside the bellman Louie said "is there anything I can help arranging?" I said "nope, we're just sightseeing a bit," and he said "great, let me just give you a map and some bottled water."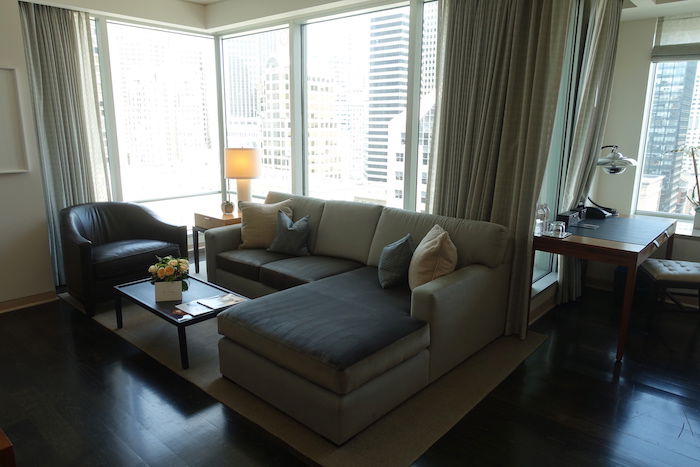 What's my point with this post? Sometimes less is more, and it's something a lot of hotels could learn from, in my opinion. Within the first 10 minutes of having checked in at the St. Regis I had already decided that the service was flawless ,because they were attentive, professional, and warm, without being over the top.
They realized that not everyone wants to be walked to their room by a butler and have him/her explain how the light switches work, not everyone wants to be addressed by name in every sentence, etc.
What's funny is that all of the above seems very minor and simple — and it is. But in the US I find service like that at luxury hotels to be oh-so-rare.
So kudos to the St. Regis San Francisco on their employees, as this might just be my favorite US property in terms of service.
What "style" of service do you prefer at luxury hotels?