Southwest Airlines recently launched flights to Hawaii, which got a lot of people excited. The airline has been talking about launching flights to Hawaii for years. Initially I felt like they were dragging it out, and then they launched flights with just a couple of weeks notice, which sure is an interesting strategy.
Fortunately they created quite a splash by launching $49 one-way fares to Hawaii, which is even better when you consider that this includes two free checked bags.

The airline does intend to expand service to Hawaii. Maybe it's just me, but when Southwest announced they were launching Hawaii flights, I figured they intended to operate a moderate amount of service, but not quite operate as many flights as Alaska and Hawaiian.
Their flights to Hawaii will likely just be from the West Coast (just like Alaska), and the airline also has the disadvantage of not operating any redeyes, and of also not properly selling connections to & from Hawaii, though I imagine that could change over time.
Southwest gave us a glimpse of their Hawaii ambitions with some wall art that appeared in the ETOPS center at Oakland Airport.
Here are the pictures being shared on social media: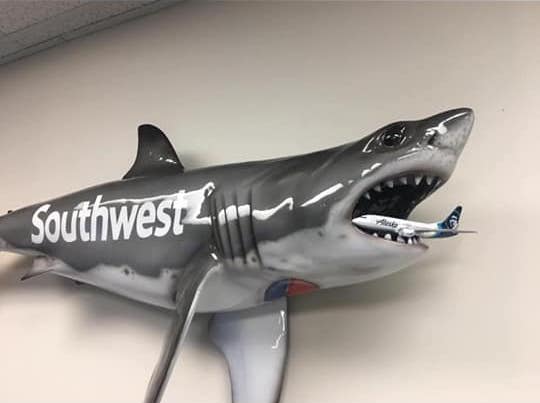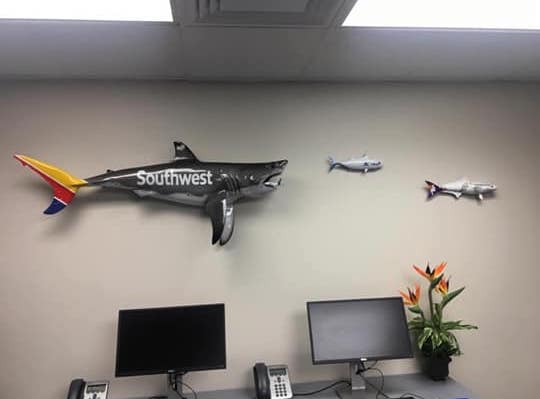 As you can see, you have a much bigger Southwest "shark" chasing Alaska and Hawaiian sharks, and then you also have the Southwest "shark" eating an Alaska plane.
I'm told this has since been taken down. I'm also not quite sure on what level the decision was made to put this up to begin with. On one hand, I doubt the CEO is behind it, though on the other hand I also doubt it was a rogue employee, or anything, since someone had to order these airline-themed sharks.
Personally I think Southwest is showing bad sportsmanship here. A shark gobbling up another shark isn't friendly competition.
But it does give us a glimpse of just how ambitious Southwest apparently is with Hawaii. Based on this, I suppose we can expect that they'll be adding a lot of flights to Hawaii.
To be perfectly honest, I'm surprised they see that much demand for the market. With how much competition there already is, it's not unusual to see $300-400 roundtrip fares from the West Coast to Hawaii. Add in the lack of last minute, high revenue business demand and general seasonality of Hawaii, and I'm a bit surprised. You can also expect that as Southwest adds more capacity, fares across the board will decrease.
What do you make of Southwest's Hawaii ambitions, and in particular their "sharks?"