Mexico City is an incredibly interesting aviation market to me. Mexico City is the largest city in North America, yet some airlines can't quite make it work.
Securing slots for Mexico City can be difficult. For example, in 2017 Alaska Airlines began flying to Mexico City from Los Angeles, San Diego, and San Francisco.
The airline started all routes between August and November of 2017, and then ended up canceling the routes between May and November of 2018. So the routes lasted at most a year, and at this point Alaska Airlines has completely pulled out of Mexico City.
Well, today there's news that another US airline is pulling out of Mexico City altogether.
Southwest Airlines canceling Mexico City flights
Southwest Airlines has announced that they'll stop flying to Mexico City as of March 30, 2019.
Southwest has been flying to Mexico City for over four years, and says that the route has been performing poorly. Southwest says that they plan to "reallocate these resources to better opportunities within our existing route network."
Southwest Airlines currently operates twice daily flights between Houston and Mexico City. They're one of the largest airlines in the US in terms of the number of passengers carried, Houston is one of their biggest hubs, and Mexico City is the biggest city in North America.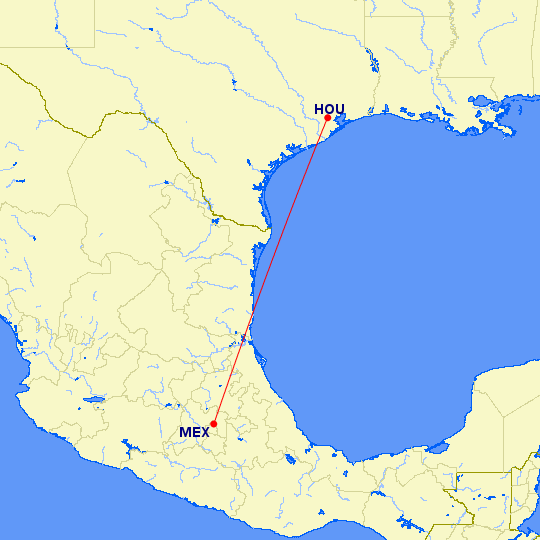 So, what went wrong?
Obviously they're up against a lot of competition in the US to Mexico market in general. Delta owns a stake in Aeromexico, and they dominate the US to Mexico market.
American and United both also have a good presence in Mexico City, and on top of that Mexican carriers Volaris and Interjet have picked up a ton of traffic between the US and Mexico.
I suspect the biggest issue comes down to a majority of the demand for travel between the US and Mexico being on the Mexico side. Consumers in Mexico City are much more likely to choose a Mexican carrier.
Then Southwest has an even bigger disadvantage compared to other airlines, since they don't sell tickets through online travel agencies. So people have to know to specifically search on Southwest's website.
Some might think that even the demand from the US alone would be enough to sustain a route like this, given how big Southwest is… but I guess not.
Bottom line
I'm sure Southwest's decision to pull out of Mexico City is the right one, and I'm sure they did everything they could. However, that doesn't stop me from being surprised that Southwest Airlines can't make any flights to Mexico City work.
I suspect this is one of the few international markets in which Southwest competes where a majority of the demand comes from the international side. With Southwest not selling tickets through online travel agencies, they were at a real disadvantage.
Are you surprised to see Southwest pull out of Mexico City altogether?