Links:
I've written a few times in the past about SoFi's generous referral program. Over time the bank has made some changes to the program, including the perks and the bonuses for new members, so I wanted to provide an update for both SoFi Money and SoFi Invest.
The good news is that SoFi Money is offering one of the best account bonuses we've seen for new members, so this is something that many people could benefit from. It's not unusual to see some sort of a bonus when signing up for a checking or savings accounts and completing some activity. However, SoFi has been especially generous.
For those of you not familiar with SoFi, it's essentially an online personal finance company offering savings accounts, investment opportunities, and more. Here's what you need to know about how these two SoFi referral bonus opportunities work:
Get $25 with new SoFi Money account
You can earn $25 when you sign up for a SoFi Money account and deposit at least $100 within five days. Once you're a member, you can also earn a $50 bonus for every friend or family member you refer, who does the same.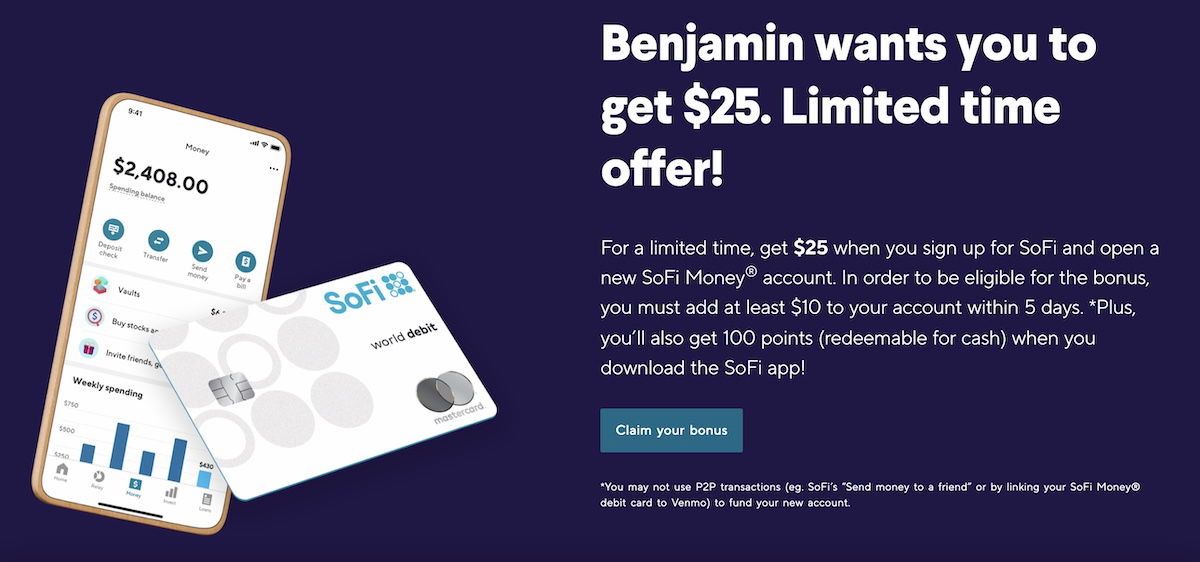 As far as the bonuses go:
Your bonus should post within ten business days of when eligible activity is completed
To be eligible the person you refer needs to open the account and fund it with $10 within five days
You can earn up to $10,000 per year for referring people
To find your referral code you'll need to download SoFi's app and click on the top left of the page, where you'll see a link to "Invite friends"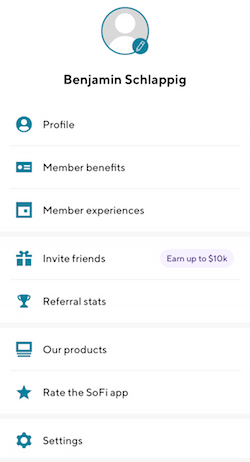 Signing up for a SoFi account is easy
Signing up for a SoFi account couldn't be easier. It literally took me three minutes. You just have to enter some personal details across a few pages, including your name, SSN, address, and more.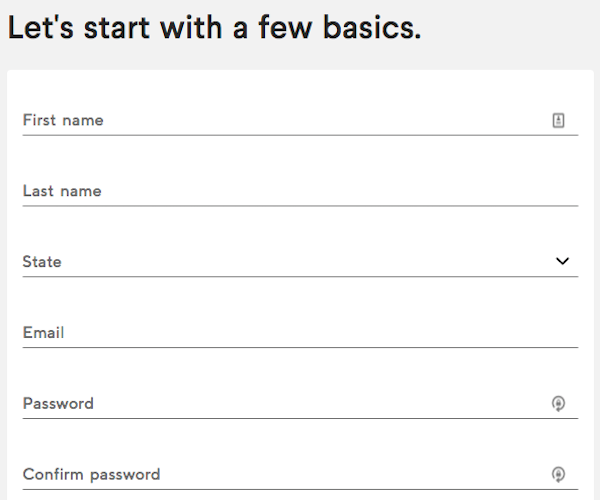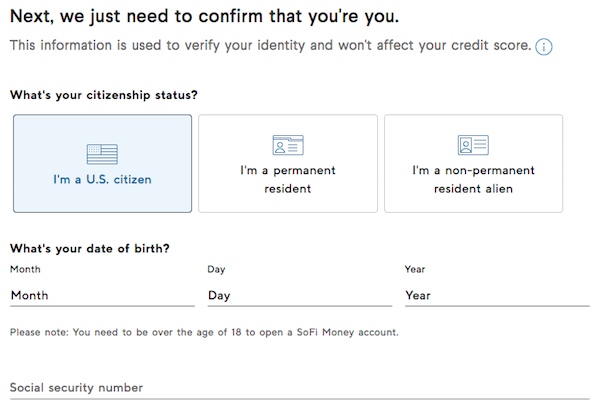 Then you'll have the option of easily linking your SoFi account to a bank account, so that you can fund the account (or you can do that at a later point if you want).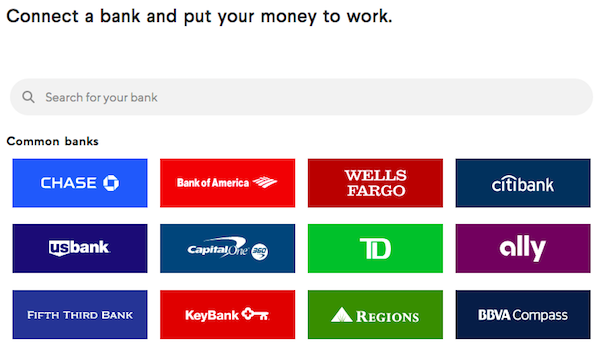 Benefits of a SoFi Money account
Why would you want to keep a SoFi Money account long term?
There are no account fees
You pay no ATM fees at 55,000 locations around the world, so this is great for international travelers
SoFi consistently has cash back promotions for certain spending categories, which can save you money
For many a SoFi Money account will be well worth leaving open. Getting a no fee account with no ATM fees at so many locations is awesome. On top of that, the SoFi Money debit card is issued as a Mastercard, and that comes with a bunch of additional benefits, including:
Mastercard Airport Concierge: Available 24/7/365 at over 450 destinations worldwide, cardholders get 15% off personal Meet and Greet agents to escort them through the airport on departure, arrival and/or any connecting flights and expedite them through the security and/or the immigration process (at participating airports).
Cell phone protection: When you pay your cell phone bill with SoFi Mastercard, receive up to $200 per claim, $25 deductible, up to 2 claims per year. Unlimited lines associated with the cell phone bill.
Mastercard golf: ​Provides discounted access to golf courses, complimentary grounds passes for PGA Tournaments, access to domestic and international golf travel packages, and more.
Additional SoFi member experiences: On top of SoFi member experiences, SoFi Money Mastercard cardholders will have the opportunity to engage in bonus exclusive, once-in-a-lifetime experiences with the people they love in the cities where they live and travel.
Enhanced security with credit monitoring, alerts for suspicious activity, and white-glove service to help you resolve issues with Mastercard ID Theft Protection
Purchase Assurance: ​Provides coverage for most new items purchased with your SoFi Money card that are damaged or stolen within 90 days of the date of purchase, up to $1,000 per claim.
Extended Warranty: Doubles the original manufacturer's (or store brand) warranty. Coverage is for eligible items purchased with your Mastercard.
Get $25 with new SoFi Invest account
In addition to the standard SoFi Money account, there's also SoFi Invest, which is SoFi's stock trading platform. With this, the person being referred can receive $25 in free stocks when they fund an Active Invest account with at least $100. On top of that, the person being referred can get up to $50 in free stocks, so you can start referring people as soon as you have an account.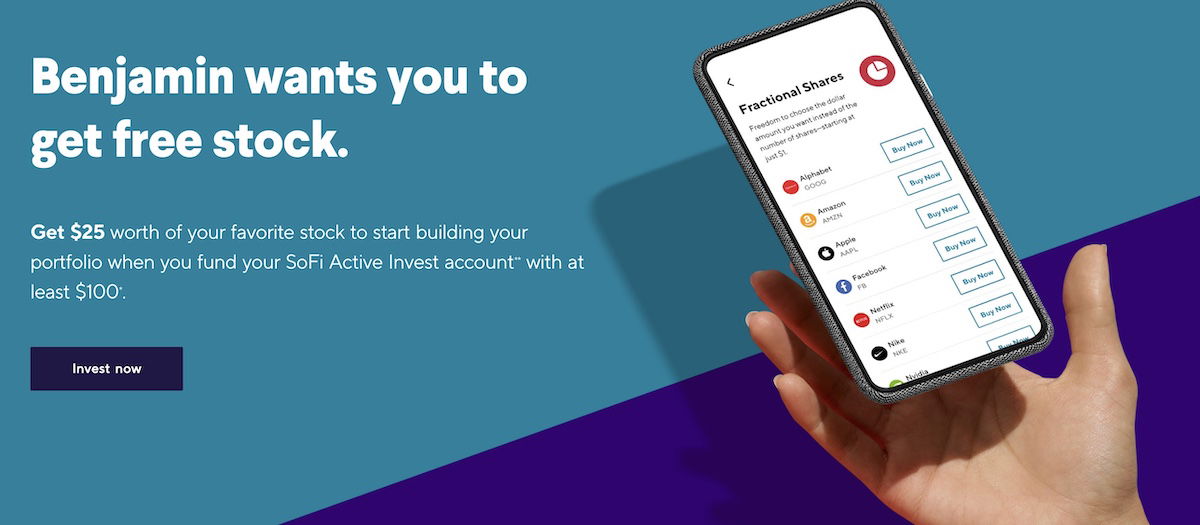 The process of signing up for an account is easy, especially if you've already set up a SoFi Money account, as most of the information transfers over.
Here you're not getting cash, but rather you're getting $25 in stocks both for referring and for being referred. You can choose from a wide array of popular stocks.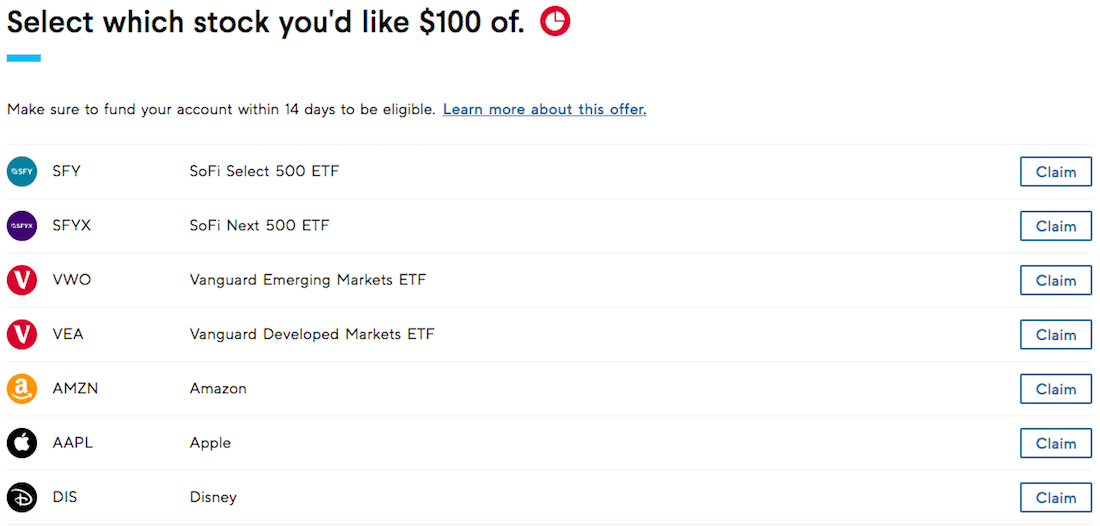 Keep in mind that you can always liquidate the stocks after opening your account, if you'd like.
Bottom line
Back in December 2019 it took me about five minutes to set up both a SoFi Money and SoFi Invest account, and to earn the awesome bonuses. While the bonuses have changed over time, they continue to be compelling for many.
The $25 new member bonus for SoFi Money is particularly compelling, given how little you have to put into an account to activate that. Not only that, but there's long-term value in a SoFi Money account, especially when you look at the benefit of getting a no fee ATM card that you can use globally.