There seems to be a common misconception among some of my readers that I actually enjoy flying. Or eating. Or drinking Diet Coke with nuts. All of this couldn't be further from the truth. The only reason I eat 12 course meals when flying is for you guys, so I can take pictures and report back.
Okay, maybe that's not entirely true, though it makes me feel a bit better about myself. Secretly I've always admired the person that flies international first class, has a glass of water pre-departure, and sleeps from takeoff to touchdown. Of course when thinking rationally I realize they're the ones that are being responsible — their companies are often paying for them to fly first class so they arrive well rested and ready to work, as opposed to stuffed and exhausted. Well, yesterday, just once, I was that person.
I flew from Frankfurt to Orlando in Lufthansa first class, which is a daytime flight, though that didn't stop me from getting 8.5 hours of sleep.
You see, I had flown Lufthansa Airbus 380 first class for the previous two flights, so my "high" had died down a bit by that point, given that I found myself in Lufthansa's old 747 first class.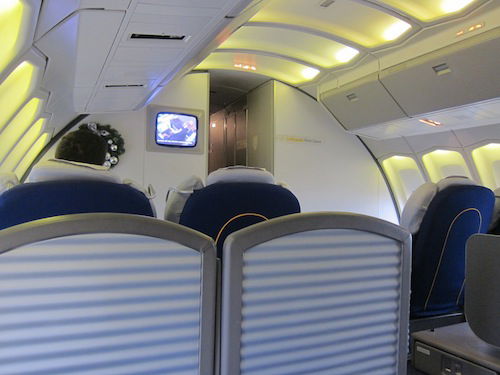 It's still a perfectly nice product, though by comparison not exciting.
I had a glass of water pre-departure and asked the exceedingly friendly flight attendant if he could make my bed, which he gladly did. He also asked me to already take a peak at the menu to see what I would want later, so he put my selection aside for me. "Mr. Lucky, shall I wake you for your meal in a couple of hours?" I responded with "yes, please wake me in eight hours." His eyes widened and he said "wow, you must have had a late New Years Eve."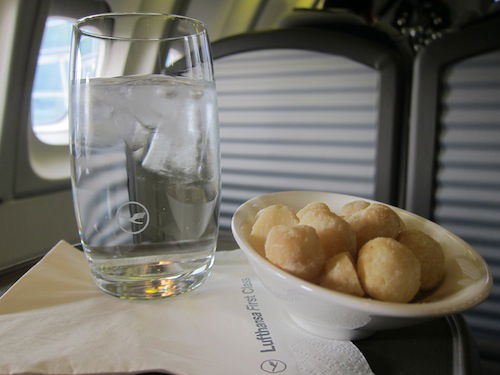 Sure enough I slept. And slept. And slept. I woke up just over Washington as they started serving the pre-arrival meal. And I felt fantastic.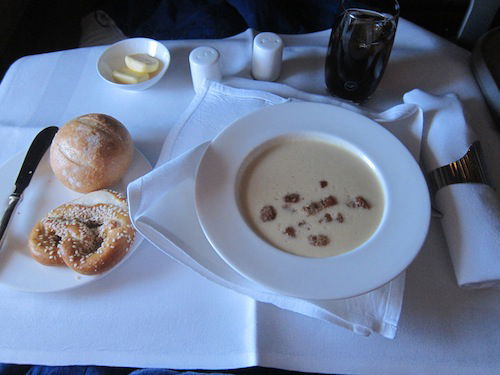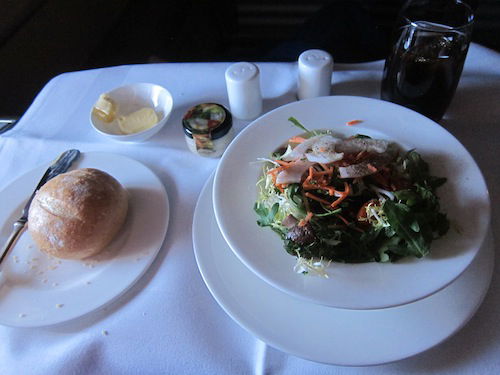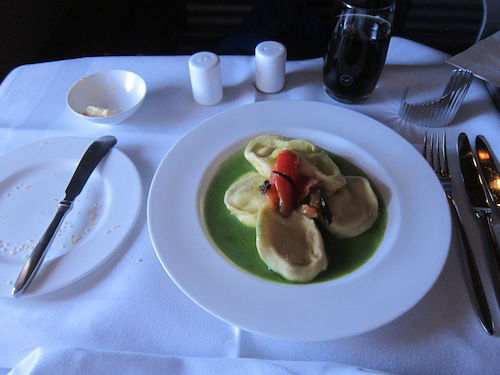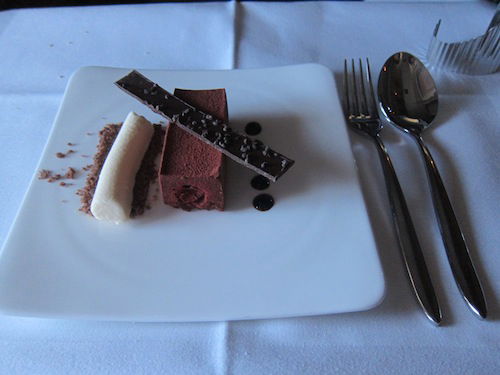 So the next time you fly international first class, don't hesitate to eat your main meal just before landing. It's a lot easier to sleep when you don't have a full stomach, and I sure arrived a lot more well rested than usual.
Lastly, I just have to say how much Lufthansa has grown on me over the past year. They've become my favorite airline in the world, bar none… at least in first class.