Many airlines have rewards programs for businesses. These programs allow you to double dip, as you can accrue points in your personal frequent flyer account, and also in the business account (though you earn points in the business account at a slower rate). For example, on the blog we've extensively covered American's Business Extra program, which I'm a member of and love.
Delta has a similar business program called SkyBonus, and the way the former employee of a company used it has landed her in jail. NH1 has the story of a 36 year old New Hampshire woman who worked for Brookstone until 2013, when she was fired.
She used to be an executive assistant for the company in charge of administrating many functions, including controlling miles. After she was fired she used over 2,000,000 SkyBonus points to travel around the world, including to France, Italy, and Greece. The company only found out years later after launching an investigation. Now the woman has been arrested, and she will appear in court on December 7.
The police claims that these points are worth more than $300,000, which is complete hogwash. While she may be guilty of something, claiming that 2,000,000 SkyBonus points are worth $300,000+ is insane.
Here's the SkyBonus rewards chart, just to give you a sense of some of the redemption rates: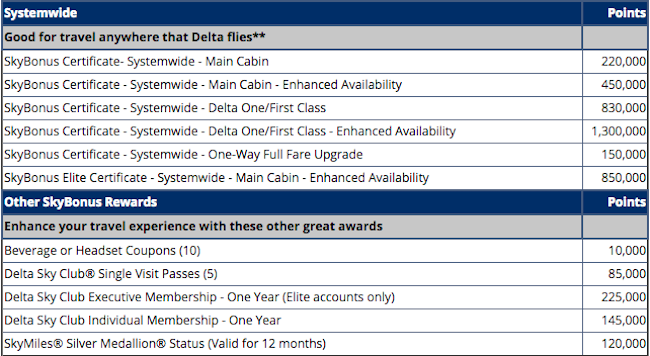 Just to give a concrete example, five Delta SkyClub single visit passes would retail for $295 ($59 each), and they're charging 85,000 points for that. That means each point is worth ~0.0035 cents. Using that valuation, 2,000,000 points would be worth ~$7,000.
One could certainly argue that there are better uses of SkyBonus points, like a Delta One roundtrip ticket to anywhere Delta flies for 830,000 points. However, I don't think that could realistically be valued at more than a couple of thousand dollars, given the capacity constraints. The way I see it, no matter how you slice it, 2,000,000 points aren't worth more than $10,000, which is a far cry from $300,000.
So while she may be guilty, I think investigators need to work on their cent per mile math, or otherwise teach me the best ways to use SkyBonus points, because I must be missing something. 😉
Perhaps they mean 20 million points, or 200 million points, or something, as that's the only way the value would start to get that high. For what it's worth, companies enrolled in SkyBonus earn anywhere between one and 30 points per dollar spent, depending on the fare class, the city they're flying out of, etc.
(Tip of the hat to @MattSoleyn)