Update: Read my full Sichuan Airlines Business Class A330 Chengdu To Jinan review.
Hello from Los Angeles! Yesterday I spent 16 hours in Sichuan Airlines' A330 business class, and boy, it's sure nice to be on the ground again. Sichuan Airlines started flying to Los Angeles late last year, and has reasonable business class fares. I booked my one way ticket from Chengdu to Los Angeles for ~$1,000, which is a great deal (at least on the surface, though you get what you pay for).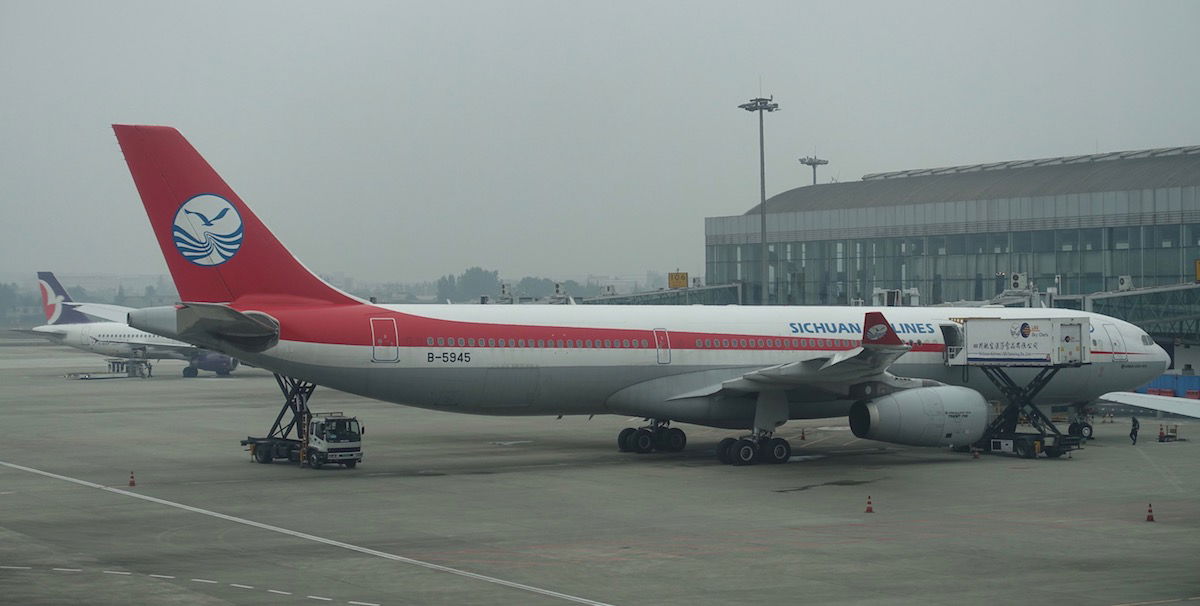 The route is operated by an A330, so while Sichuan would love to fly nonstop, the plane doesn't have the range. So instead they operate the route via Jinan and Hangzhou on alternating days.
While I'll have a full review soon, in this post I wanted to share my initial thoughts.
Given that Chengdu is Sichuan's hub, I was expecting they might have a nice lounge. Nope, instead they only open check-in two hours before departure (stupidly I arrived earlier than that), and have a special gate for this flight, due to the unique nature of it being both domestic and international. So you can't access the rest of the terminal, though they do have a little makeshift lounge.
There's only one problem — the lounge has only 13 seats, while there are 36 business class seats. Below you'll see the lounge attendant bringing out plastic chairs for people to sit on. The crazy part? The same thing was true in Jinan. The lounge had 14 seats, so most business class passengers had nowhere to sit.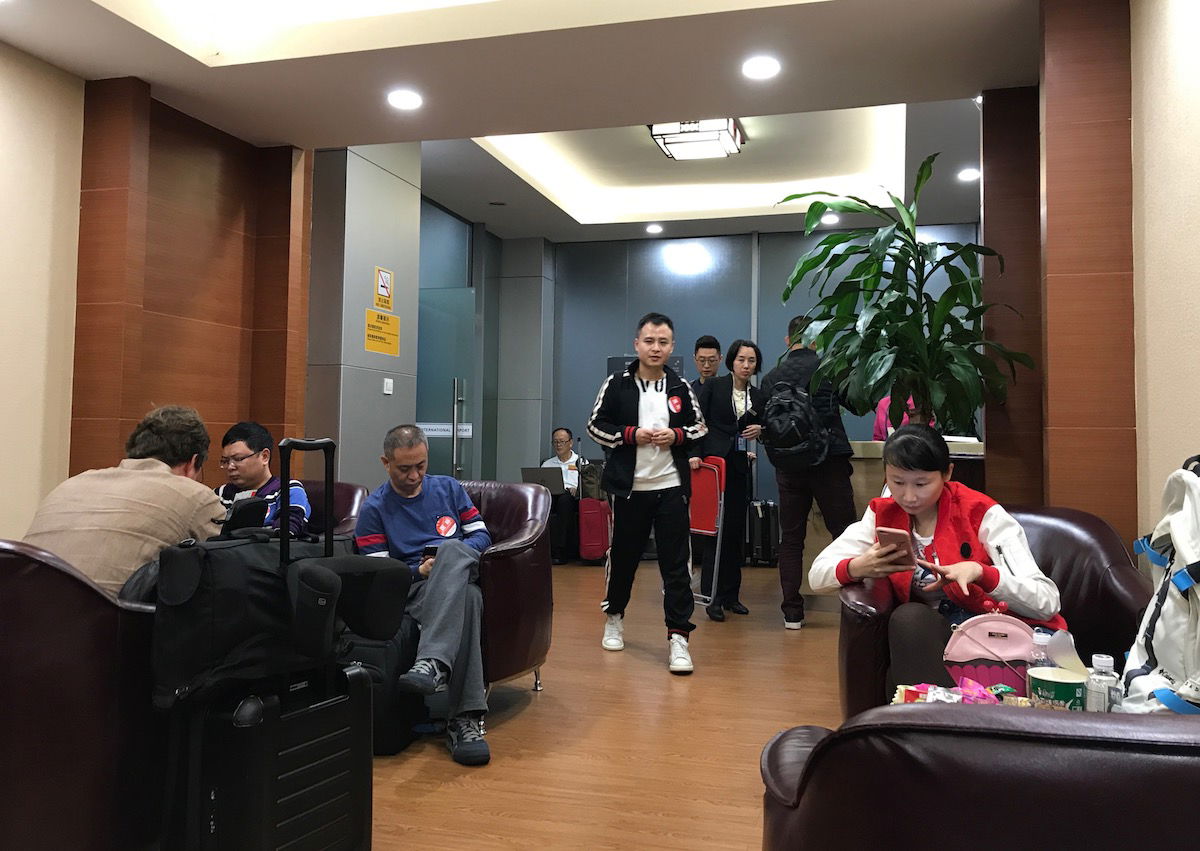 The hard product was exactly what I was expecting. Sichuan Airlines has angled seats on the A330. I knew that going in, though I'd note that they're one of only a few Chinese airlines not offering flat beds on longhaul flights.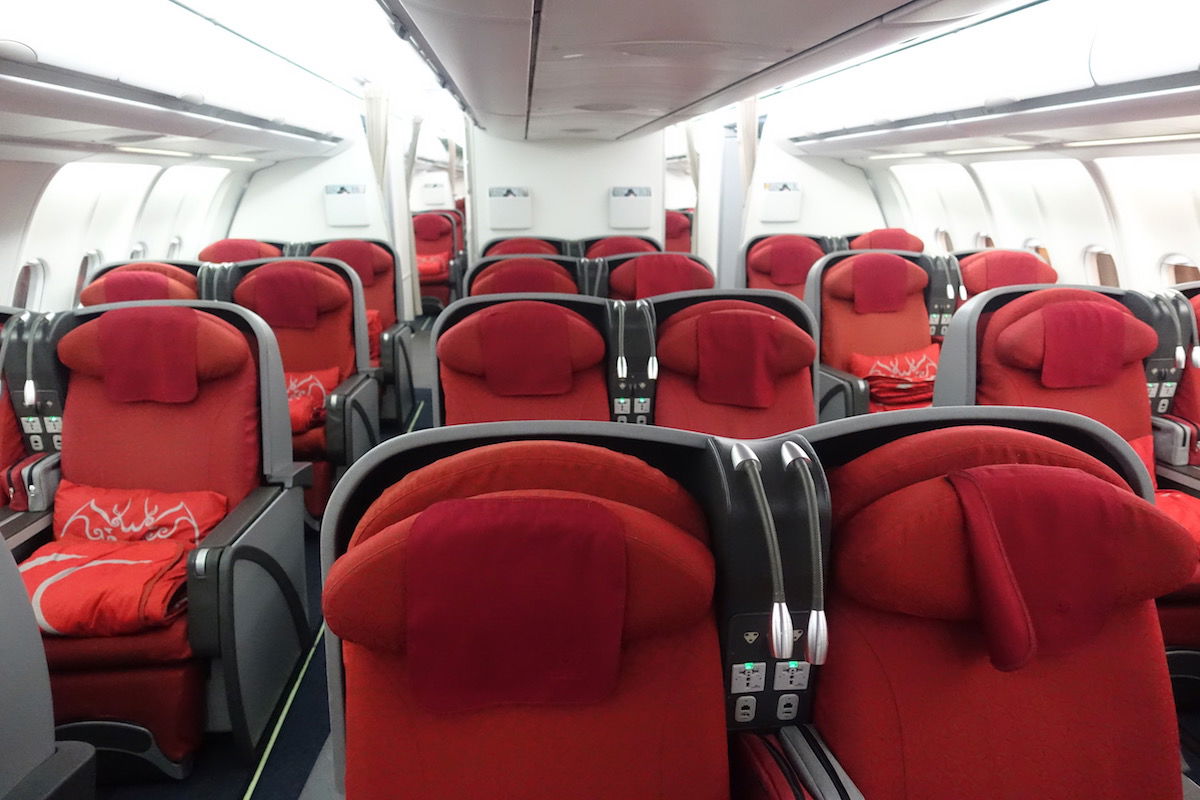 Personally I find angled seats to be incredibly uncomfortable and would prefer a previous generation recliner seat over them. On the plus side, the power ports worked. There wasn't any Wi-Fi, and the entertainment selection was pretty terrible. On the longhaul flight from Jinan to Los Angeles the pillow & blanket were at least plush, but they didn't smell or look like they had been washed in quite a while (at least I'm guessing based on the long strands of black hair I found in the blanket).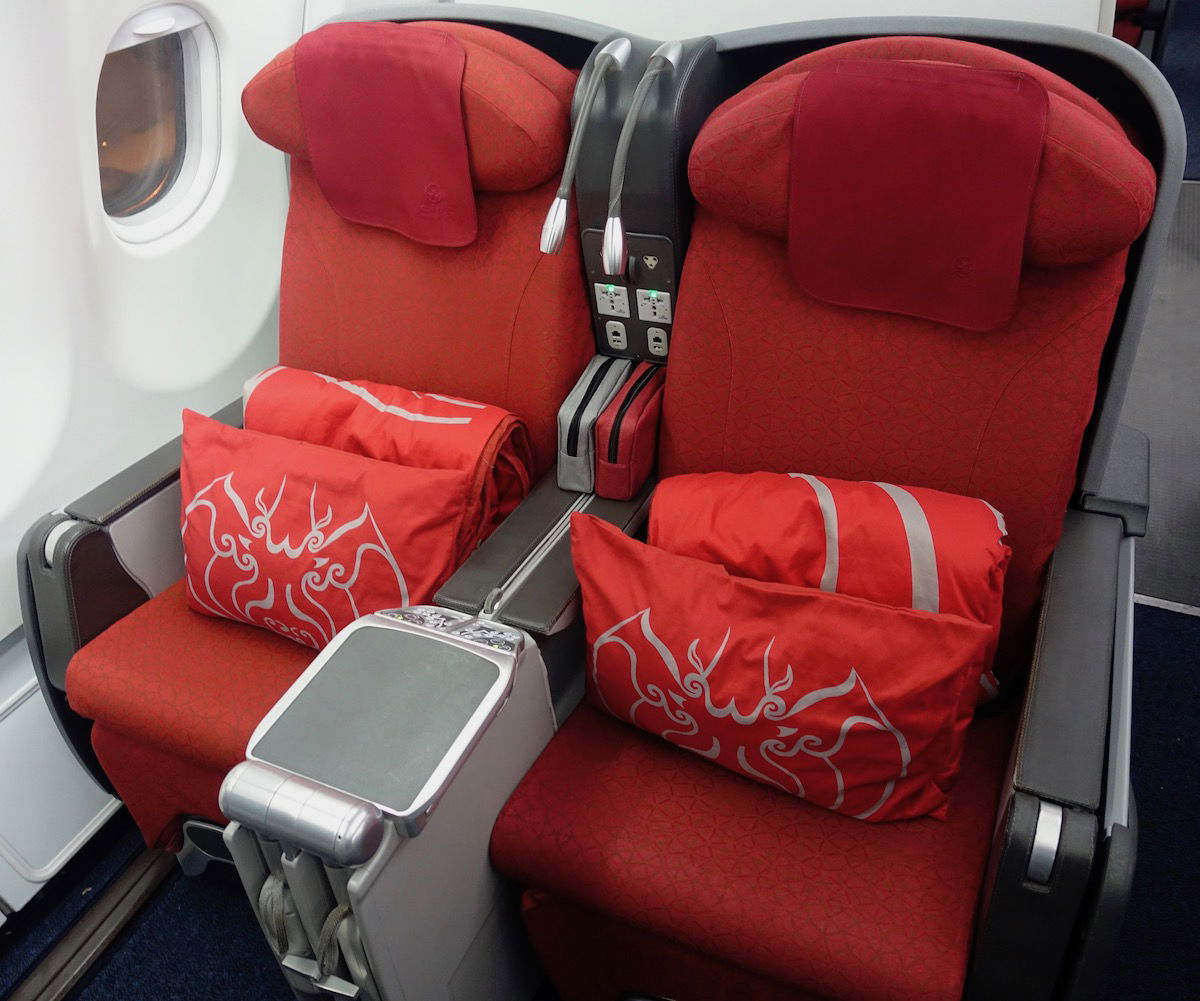 The amenity kit was basic, and had Aigner hand and face cream, mouthwash, a toothbrush and toothpaste, earplugs, and an eye mask.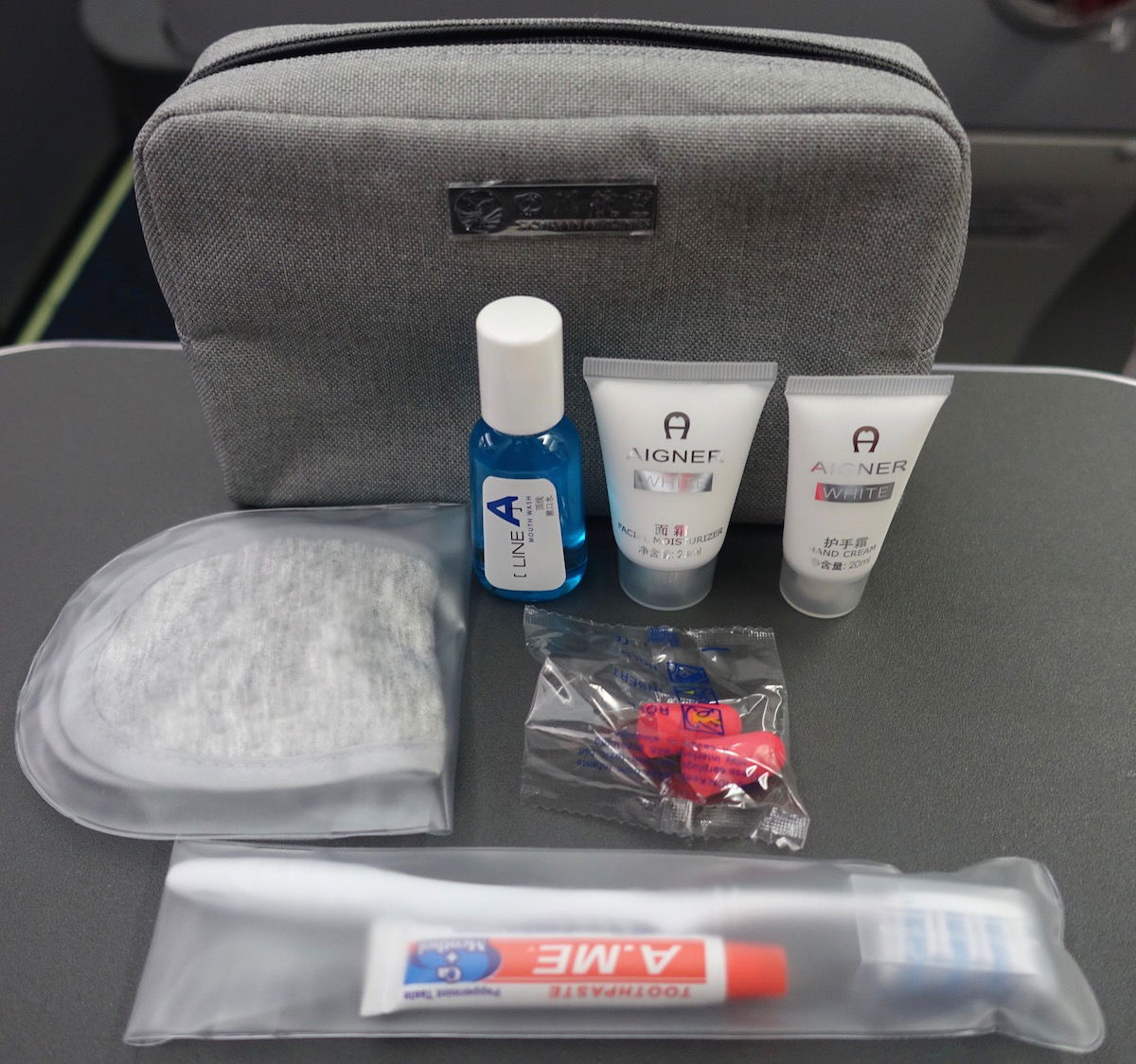 The crew was well intentioned, so I have nothing but nice things to say about them. They executed the service to the best of their ability, and they exceeded my expectations.
Unfortunately this is where Sichuan business class breaks down. On the Chengdu to Jinan flight there was no choice of meals and no menus. When I asked what certain things on the dish were, the response was "I'm not sure." There also wasn't any alcohol, other than beer (oddly on the little drink card they show you as they ask what you want, there's a picture of a wine glass next to it).
The Jinan to Los Angeles flight left at 11:35PM, and right after takeoff they served breakfast. Huh? Again, there was no choice of meal and no menu.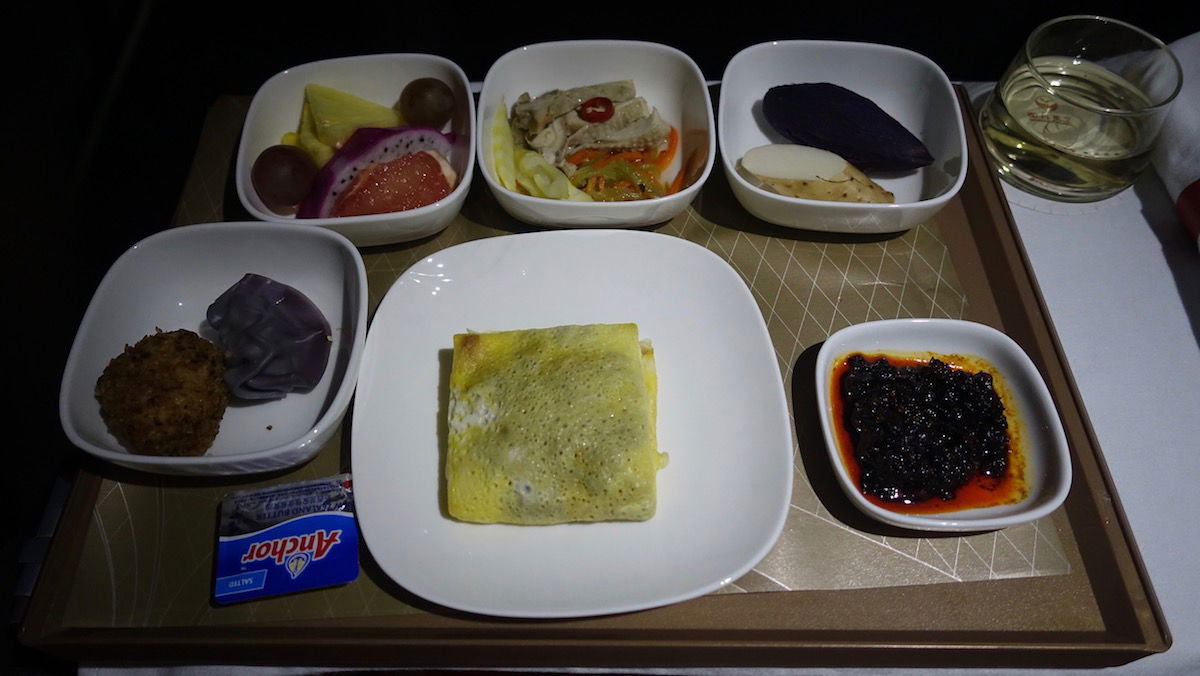 As far as drinks go, there was no champagne, but instead they had one red and one white. I asked the flight attendant what kind of white wine it was, and she responded "the white kind." They might as well not have had wine, because what it was possibly the most vile chardonnay I've had in my life. I had to find out the brand, which meant I needed to get a second glass ("Could I have another glass of that please? And could you please bring the bottle, because I like it so much and want to see what it is so I can buy it.").
This was a 12 hour flight, and there were no midflight snacks of any sort. When I asked about eight hours in if they had pretzels or anything as a snack, she offered me the dessert for the second meal.
Finally for the last meal there was a choice of options, and this time I selected the western option. This included nuts and tomato soup, with the latter being mostly tasteless and sour (I almost like it may have just been tomato juice heated up?).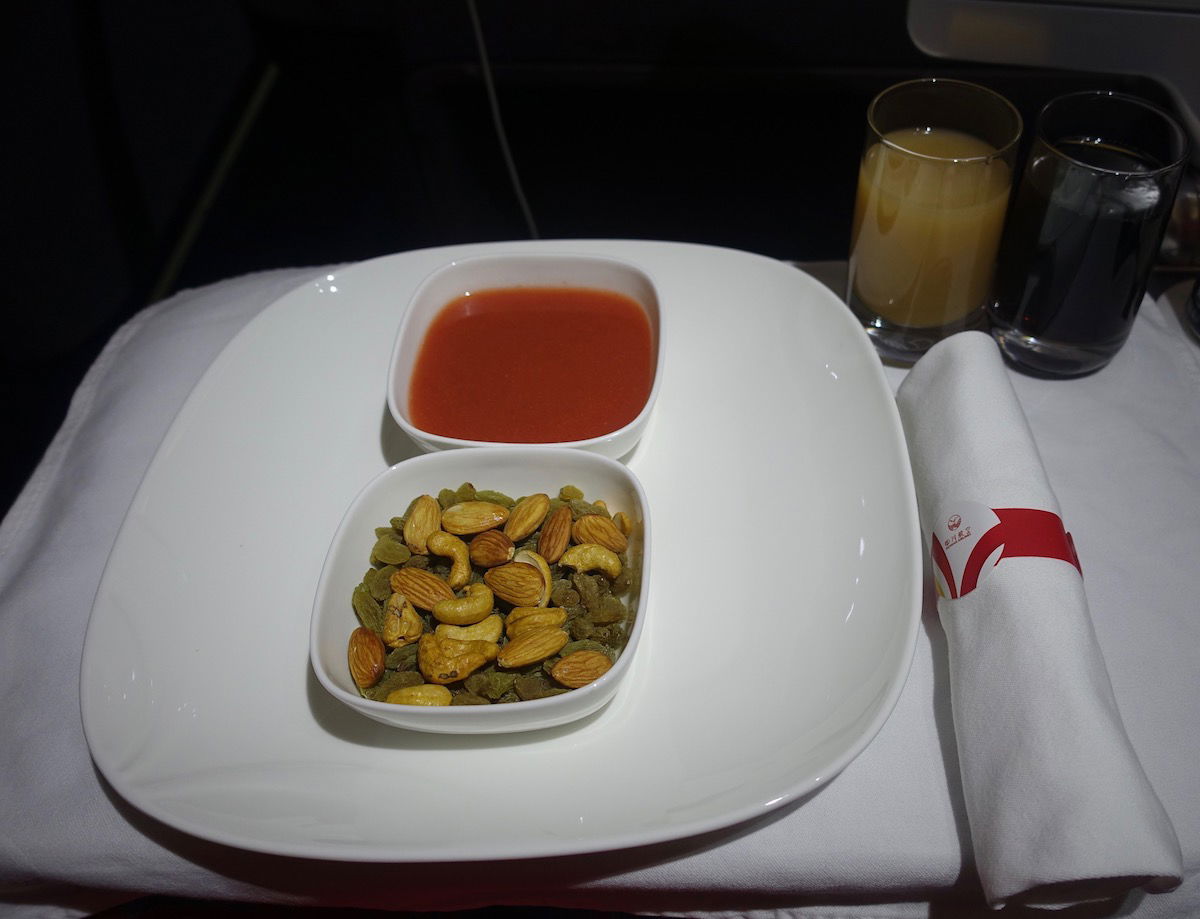 Everyone still got the same Chinese appetizer, which was quite good.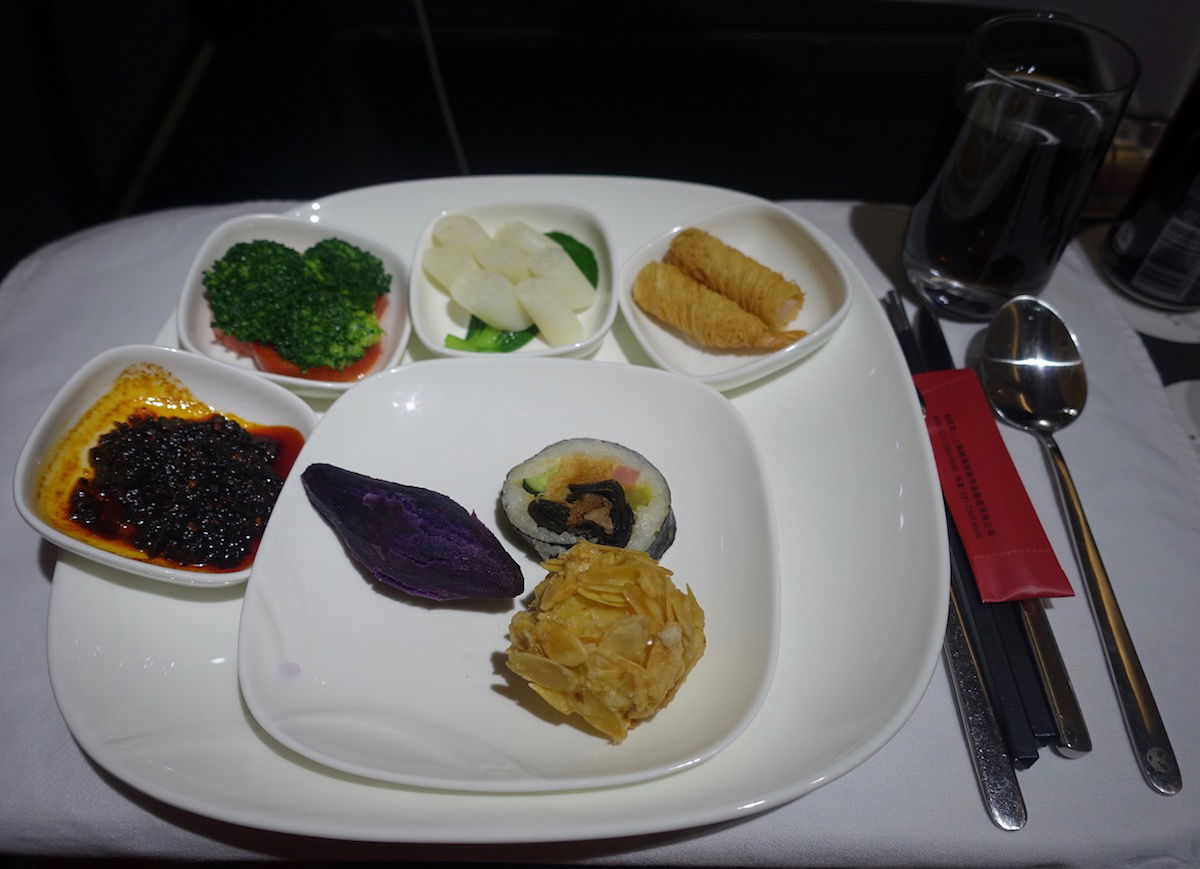 And then I had the western main course, which was pasta. I had really low expectations, like, I was expecting Lean Cuisine levels of quality. What I got was much worse, possibly the worst dish I've ever been served on a plane. I don't even want to say what the sauce looked (and tasted) like, and my only takeaway from the meal was that I felt very bad for what precipitated in the fish's life for it to taste so bad.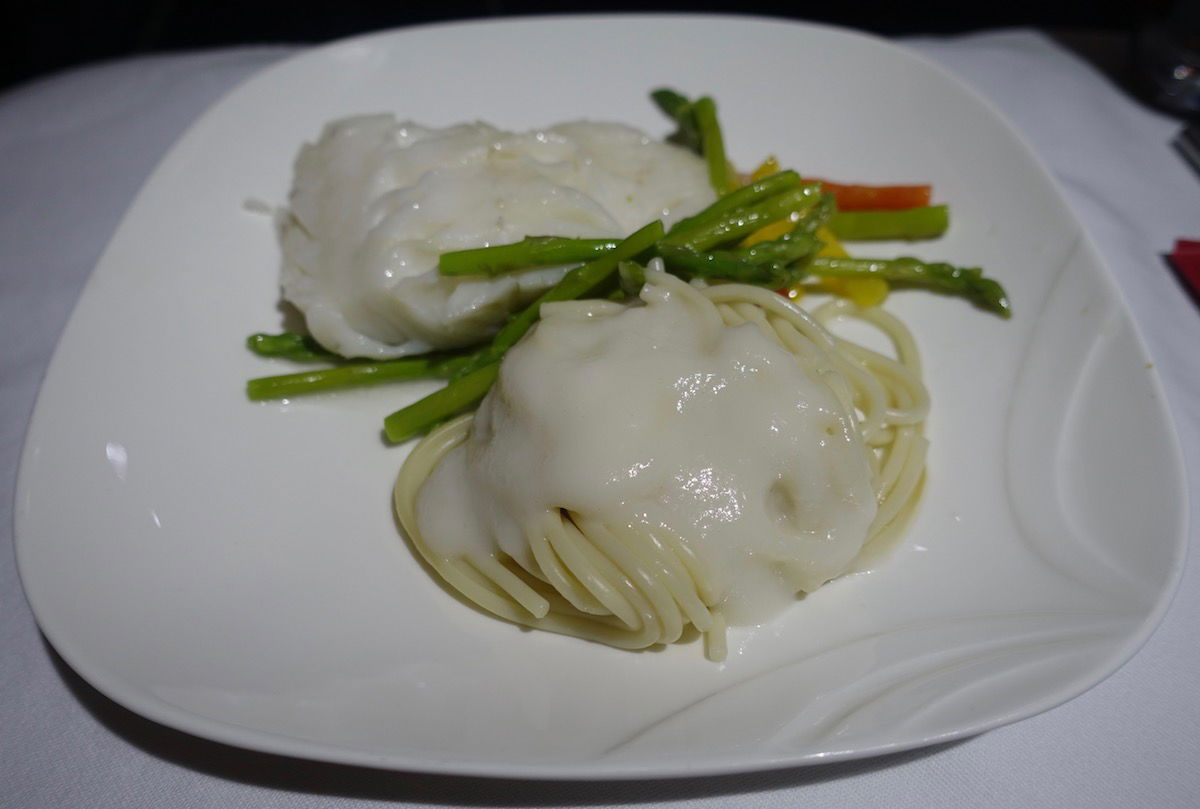 I'm guessing the Chinese main wasn't good either. While I couldn't understand what she was saying, the lady next to me ordered that, had one look at it and sent it back, had a conversation with a flight attendant, and she returned a few minutes later with a plastic cup of ramen.
By the way, this is a perfectly normal place to start storing trash halfway through the flight, right?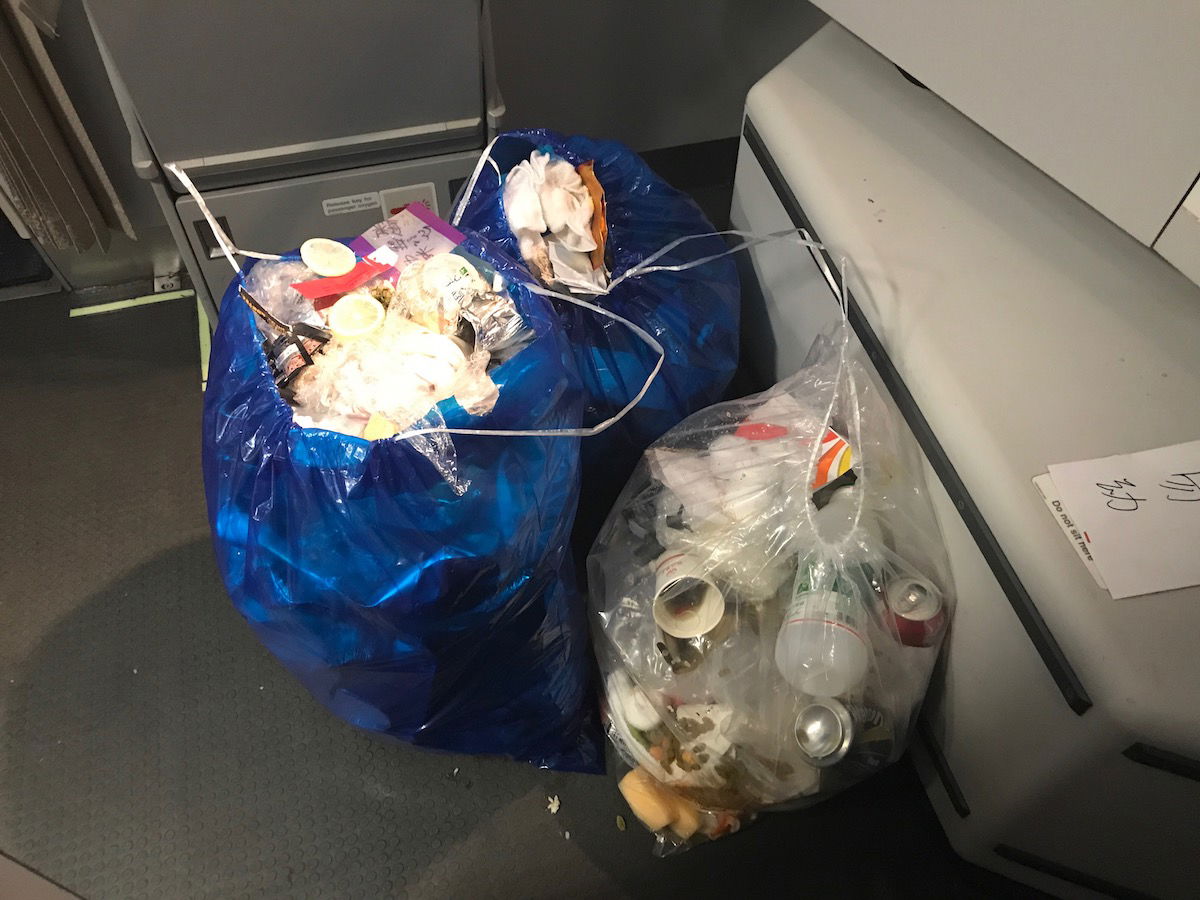 Bottom line
I'll have an extensive review soon, but unfortunately Sichuan Airlines is going on my "no fly list." The airline will get you from point A to point B, and the flight attendants were friendly. However, both the ground and in-flight experience were otherwise pathetic. On the ground, both lounges had half as many seats as passengers.
In the air they had no menus, no alcohol other than beer on the short-haul flight, no choice of meals except the last meals, no snacks, etc.
It's crazy to think that this airline will soon be getting A350s…