While it's rare to see this happen to major chain hotels, the Sheraton Brussels Hotel has gone bankrupt and closed their doors as of this week. Per a message on the hotel's Facebook page:
Following the bankruptcy of SBH SPRL, the operator of the Sheraton Brussels Hotel, the property has been forced to close. The closure will be effective Wednesday December 14, 2016 from noon.

The forced closure of the hotel is due to the financial situation of the operating company and is not related to the Sheraton brand.

Sheraton has successfully managed the hotel from the day of opening in 1973. In 2009 Sheraton signed a long-term management contract with SBH SPRL. Hotel management are now working with all current and future clients to secure alternative accommodation in the city. We understand the impact on our valued and loyal guests and sincerely apologise for the inconvenience caused.
The hotel is one of the biggest in the entire country with over 500 rooms, and has apparently been doing especially poorly since last year's attacks in Brussels. The hotel is also desperately in need of a renovation, and that's money that the hotel's owners don't have.
So the hotel filed for bankruptcy this week, and closed its doors just days later.
Interestingly enough, a reader emailed me last night about his experience trying to check in at this hotel yesterday. Reader Rob had a reservation at this hotel last night, though showed up to find locked doors and the following sign posted on the door: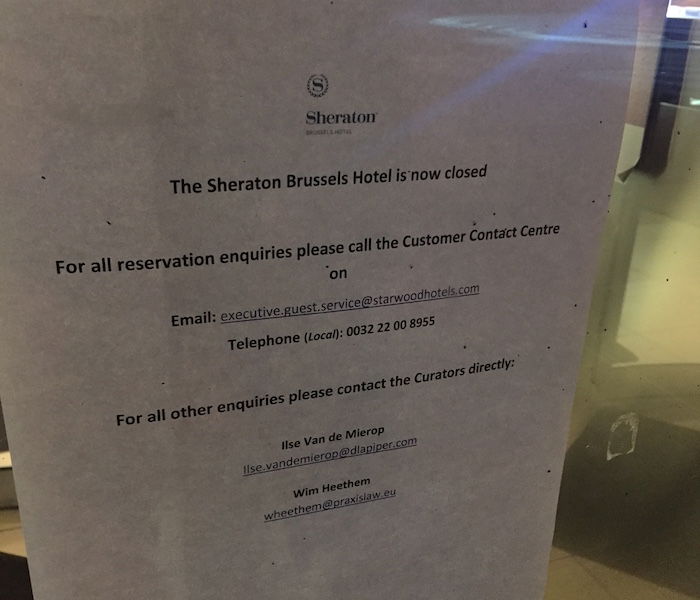 That's an unpleasant surprise for a hotel you're expecting to be able to check into! Here's what Rob had to say about his experience:
Tonight we arrived at the hotel at 6.30pm local, and found the sign on the door – with the doors locked.

We called Starwood who couldn't find our reservation. They told us that they had emailed customers in advance and that the hotel had gone bankrupt yesterday. However, I'm not sure how true that was. Perhaps we didn't get an update as we were booked through a 3rd party. Anyway, Starwood couldn't be more unhelpful as they didn't offer us a refund or alternative accommodation.

We then called booking.com who were good. They cancelled the booking and arranged a refund. We have had to book another hotel ourselves but booking.com have promised to refund us the difference in price considering it's last minute. They have also offered to reimburse any other minimal costs. It's not their fault so totally happy with their response.
Eeek, what an experience! While hotels rebrand or close all the time, this is the first such bankruptcy I've heard of in a while, where a hotel went bankrupt and closed from one day to the next.
So if you happen to have a reservation at the Sheraton Brussels, you'll probably want to look at alternative accommodations. 😉