During my recent trip to Oman, I stayed at three different hotels, which I will be reviewing on OMAAT. This is the first of the three reviews. In addition to visiting some interesting hotels, I interviewed the Oman Air CEO at their HQ. He does a great job introducing the country if you're interested in learning more. 🙂
---
After a 45-minute, 15 OMR ride from Muscat Airport, I arrived at the Shangri-La. Hidden behind a towering mountain range, the resort was built in the middle of nowhere. Turning to the left at the hotel roundabout, we entered the driveway to Al Husn, the most exclusive of the three Shangri-La resorts on the grounds.
Al Husn is an adult-only hotel, featuring a private beach and pool area. While Al Husn guests are allowed to use the general hotel beach and pool facilities, Al Bandar and Al Waha guests cannot use those belonging to Al Husn.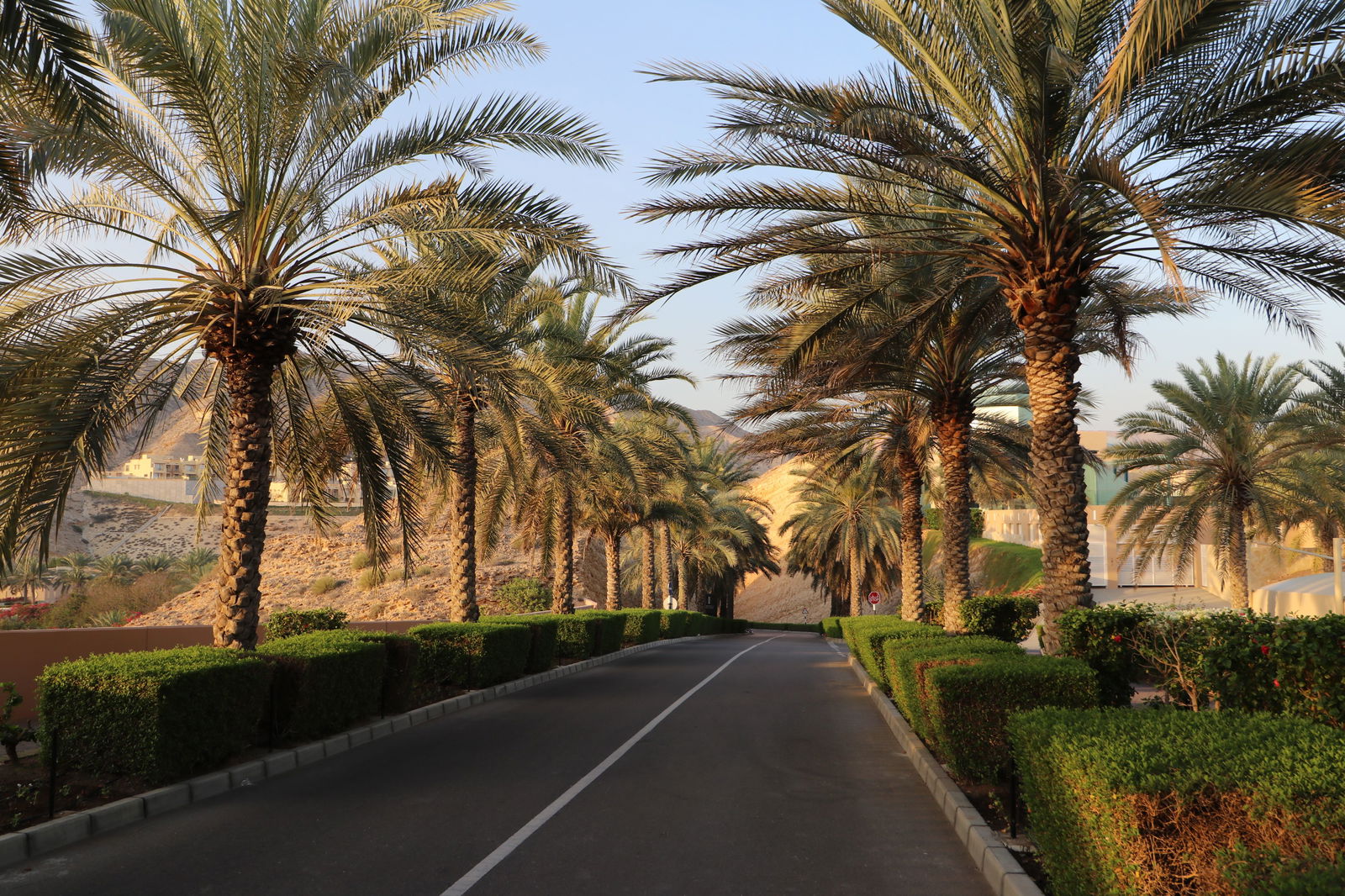 Pulling up to the entrance, we were greeted by a porter who escorted us to the lobby.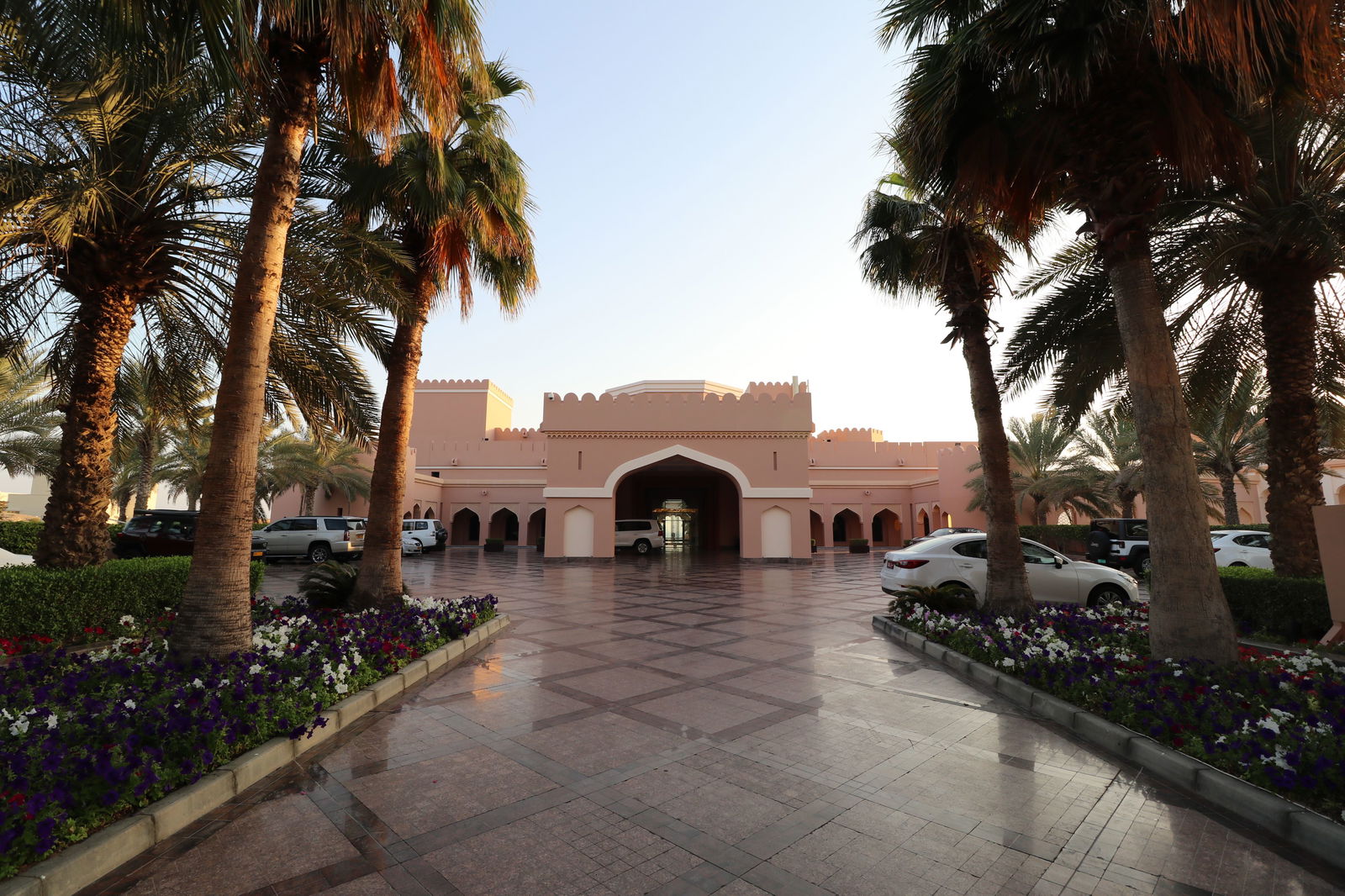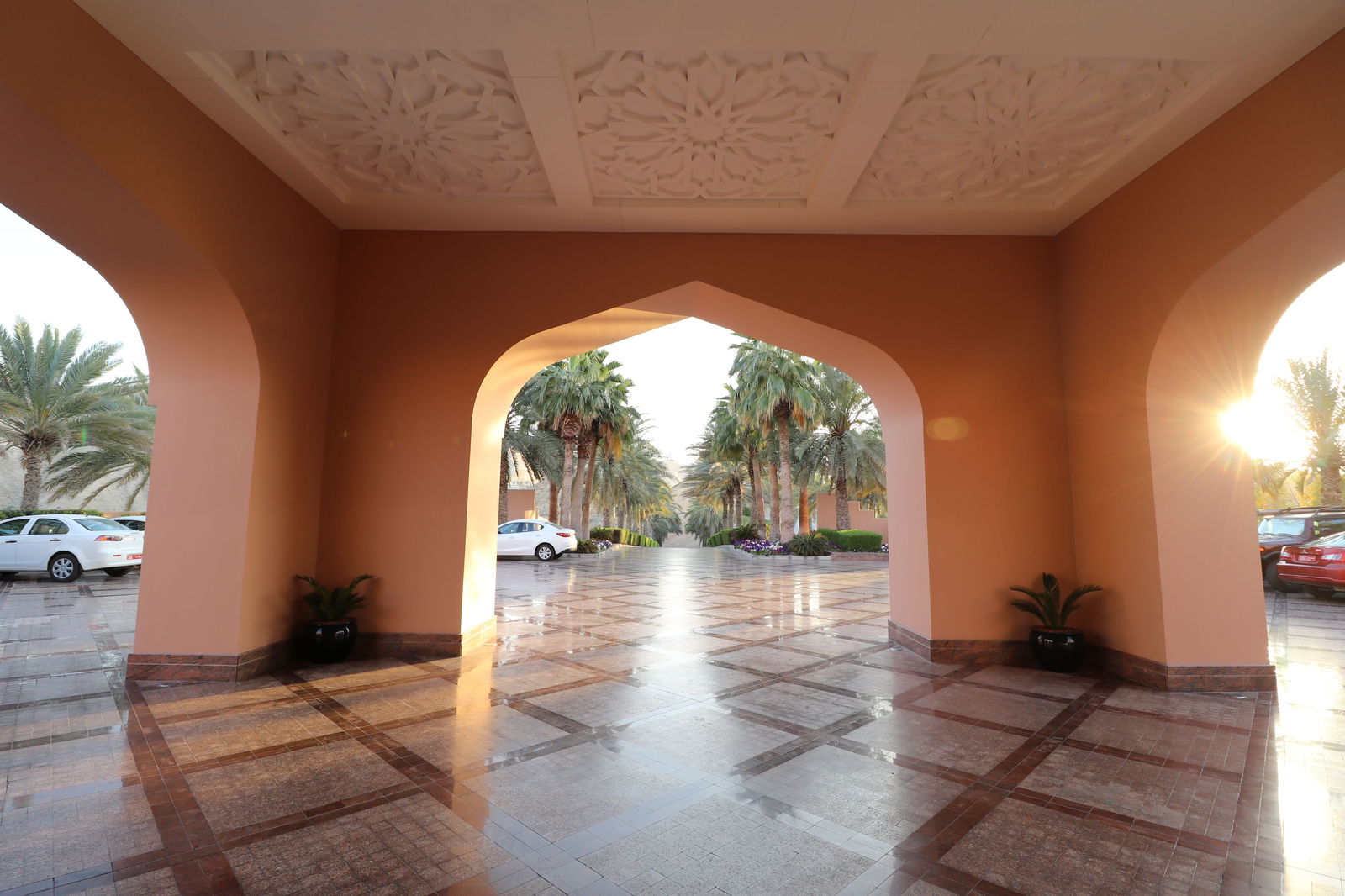 The entryway, reception and waiting areas were my favorite parts of the hotel. The Arabian design was stunning, both during the day and night.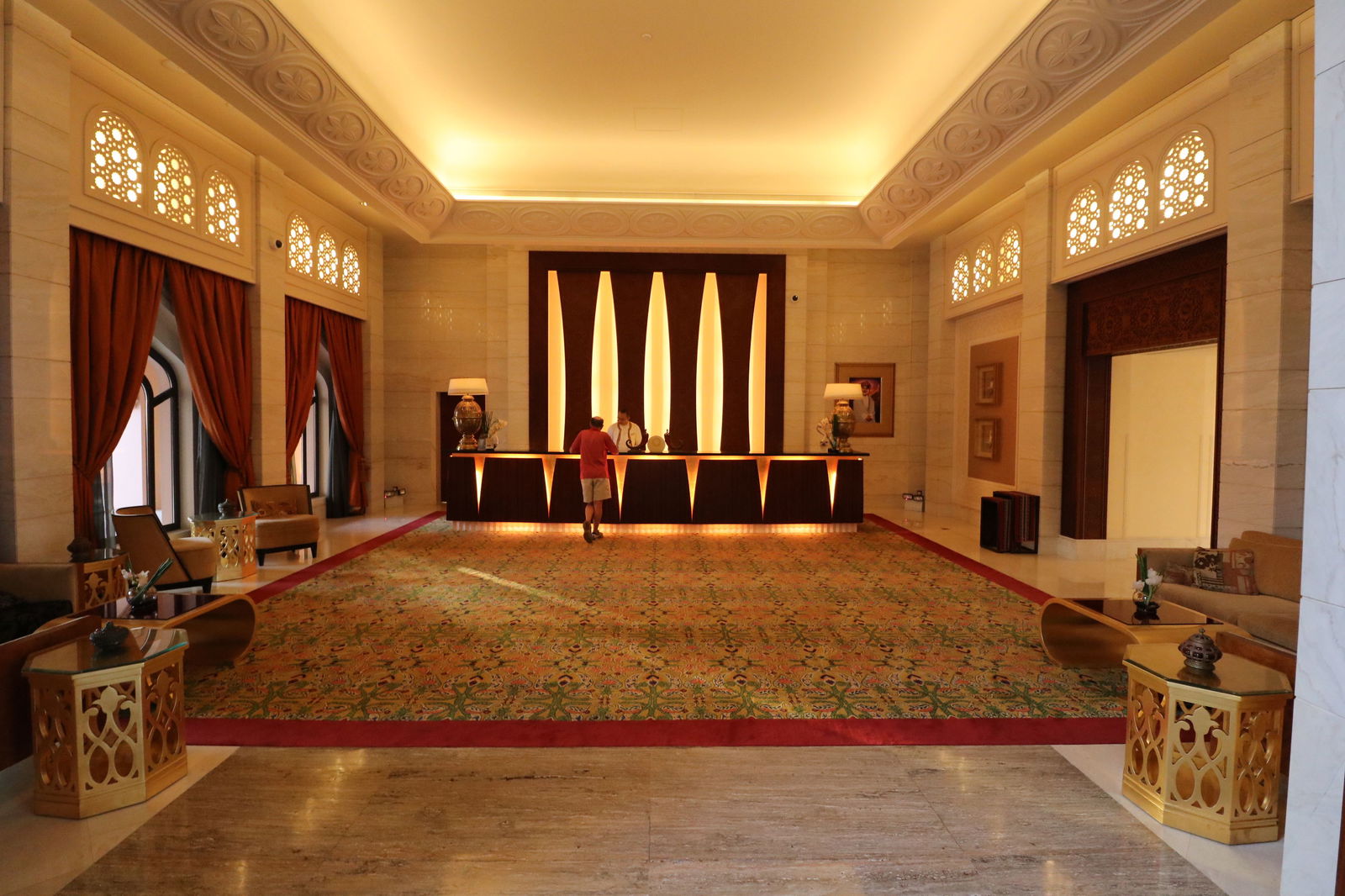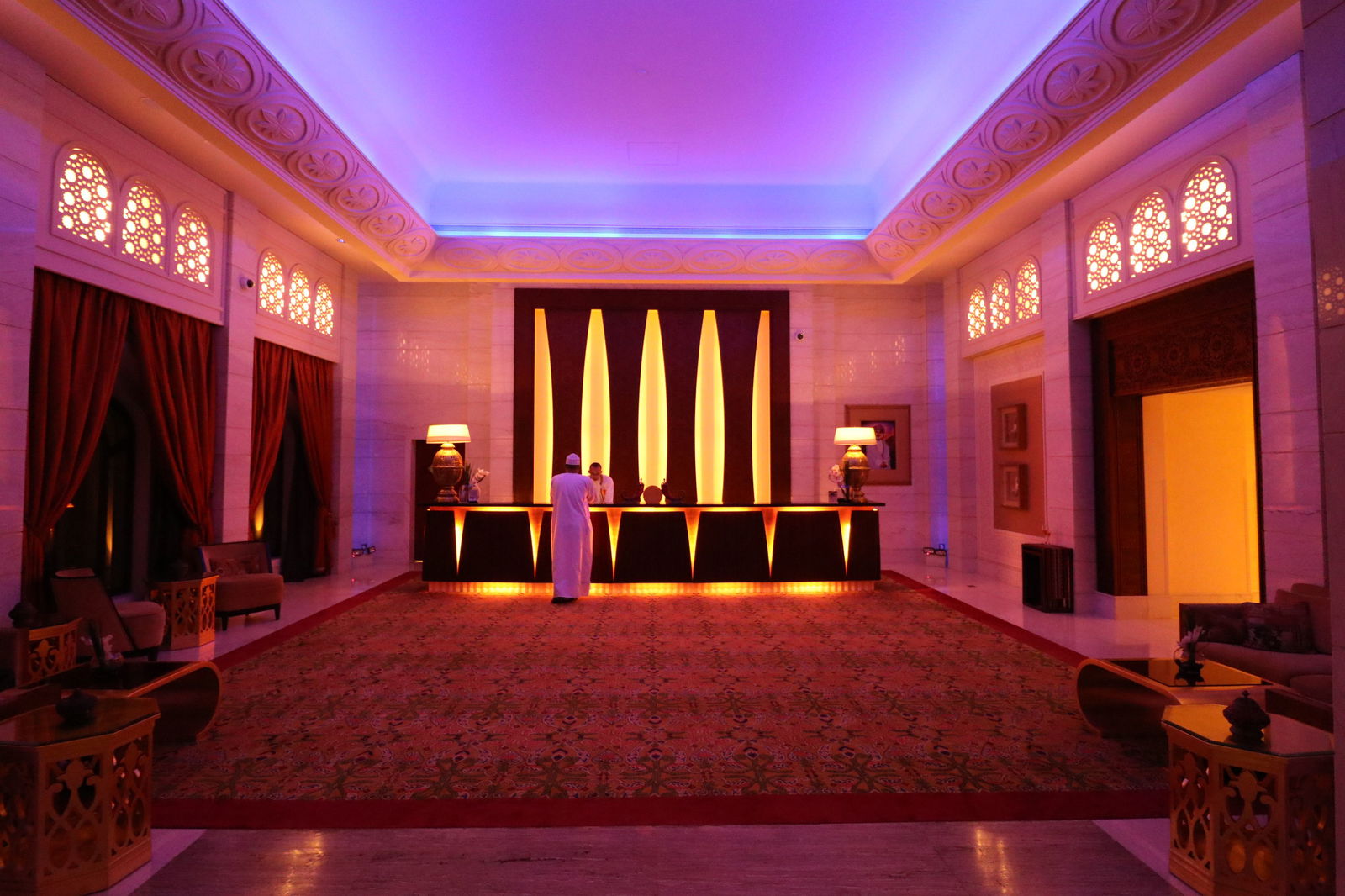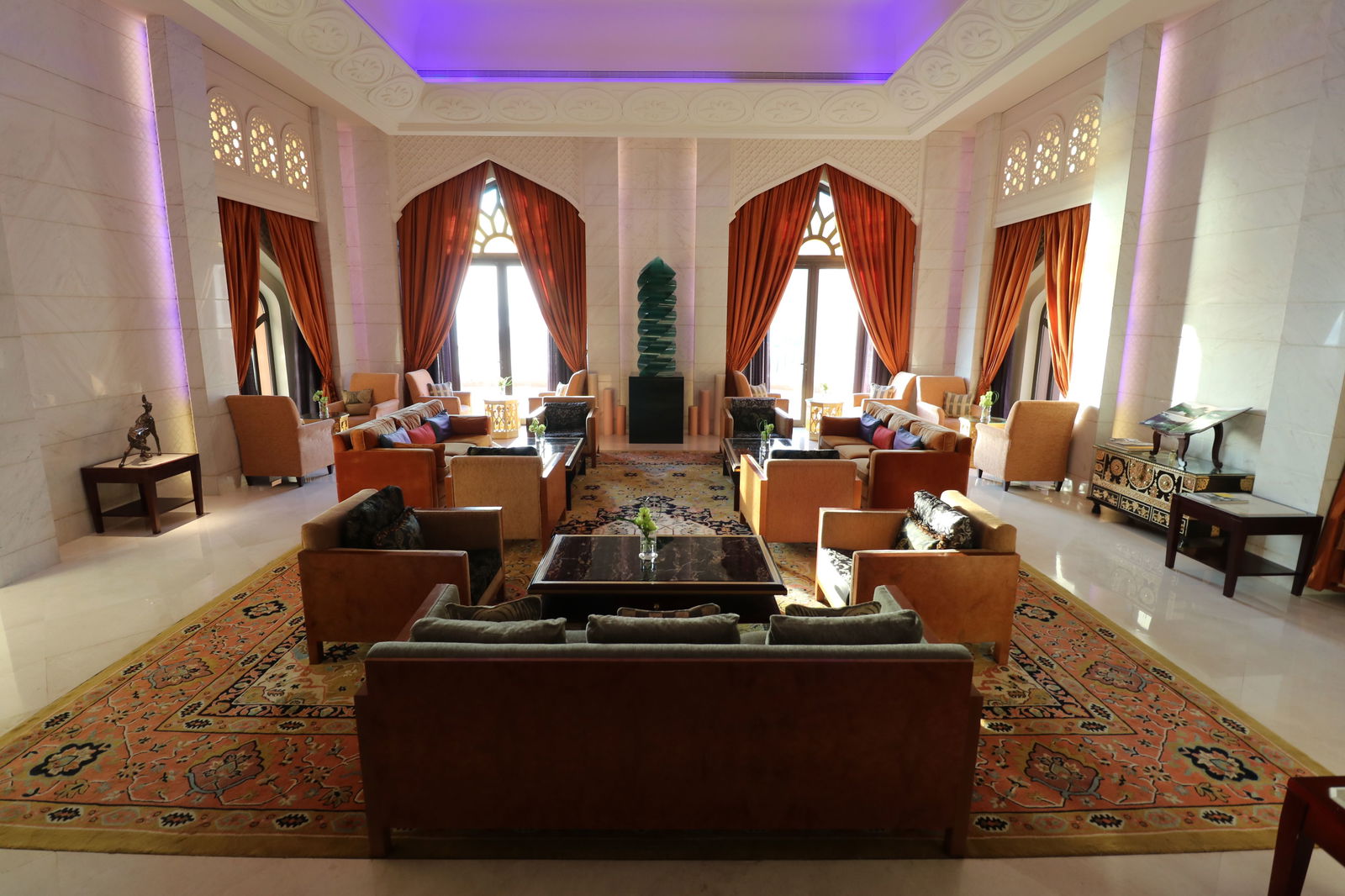 The most striking part was the ceiling.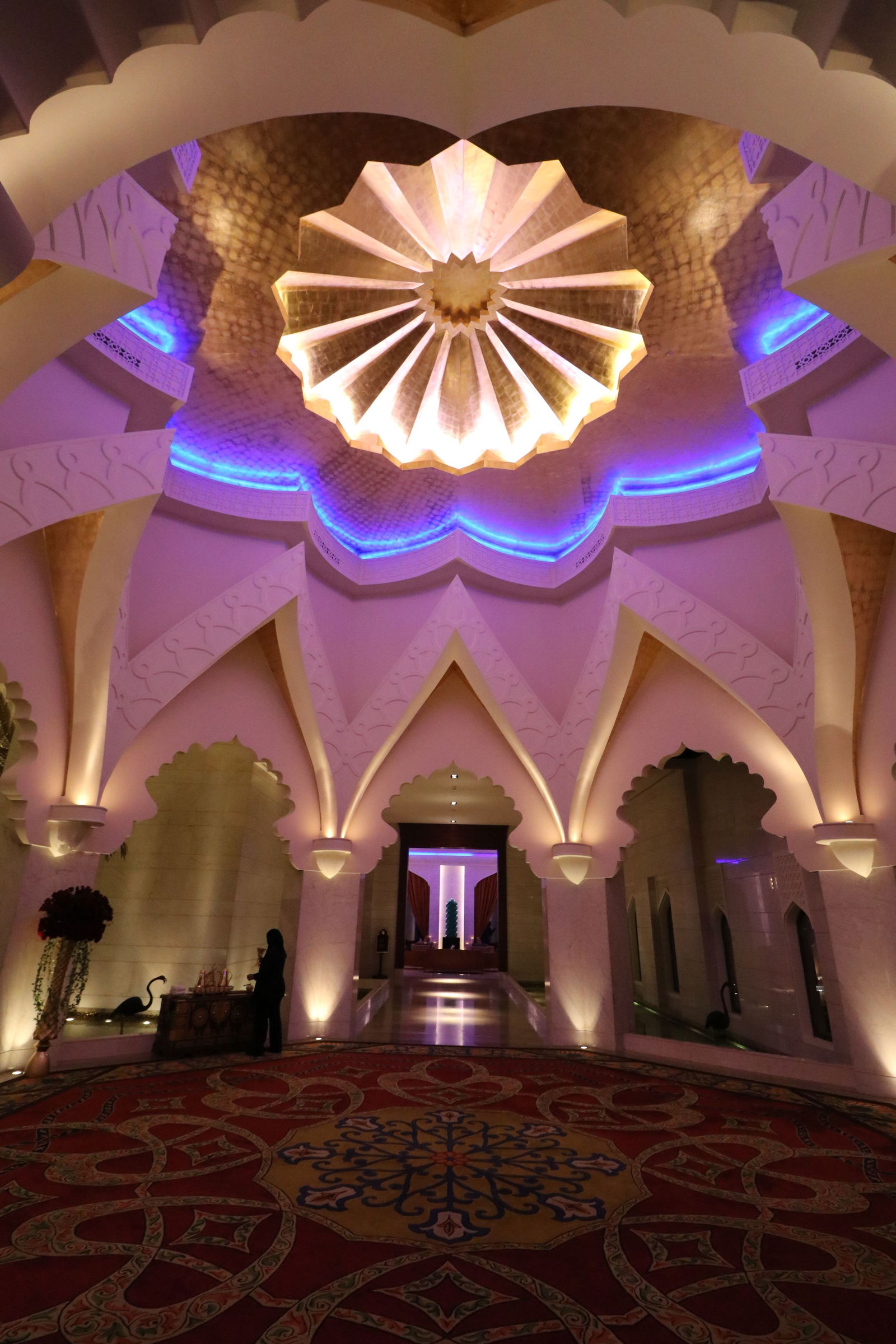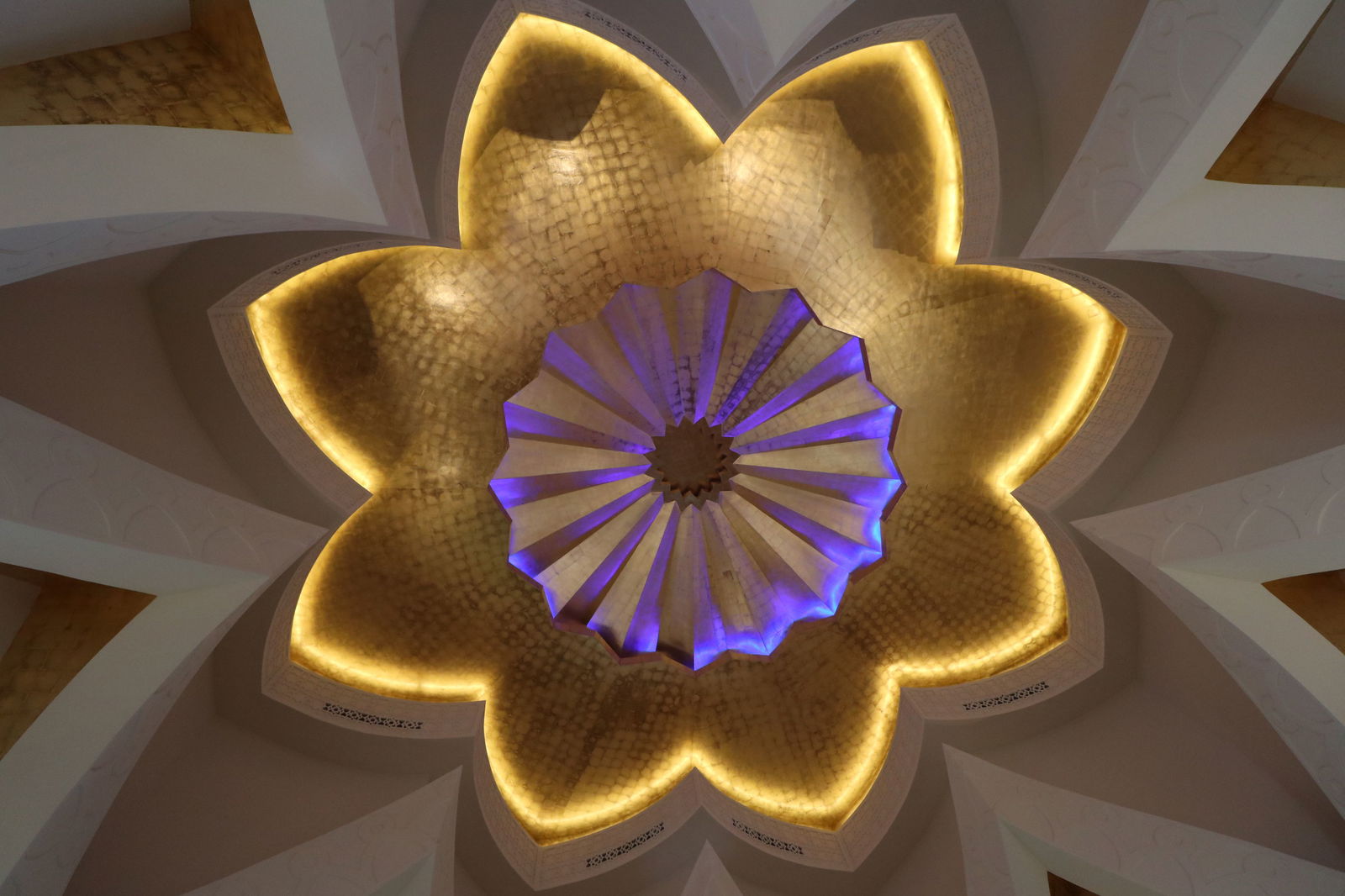 On either side of the entrance were shallow pools with palm tress and metal flamingos.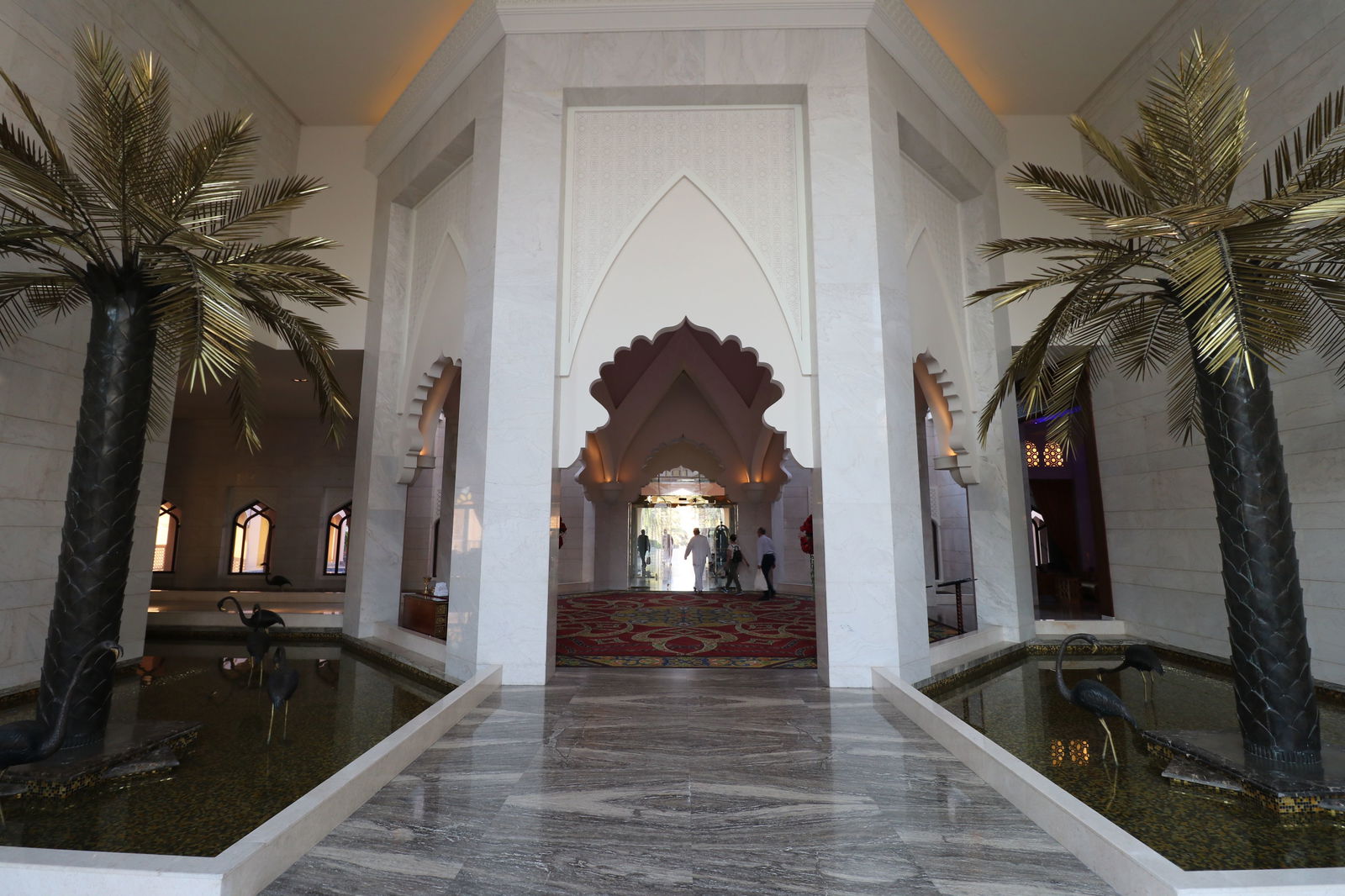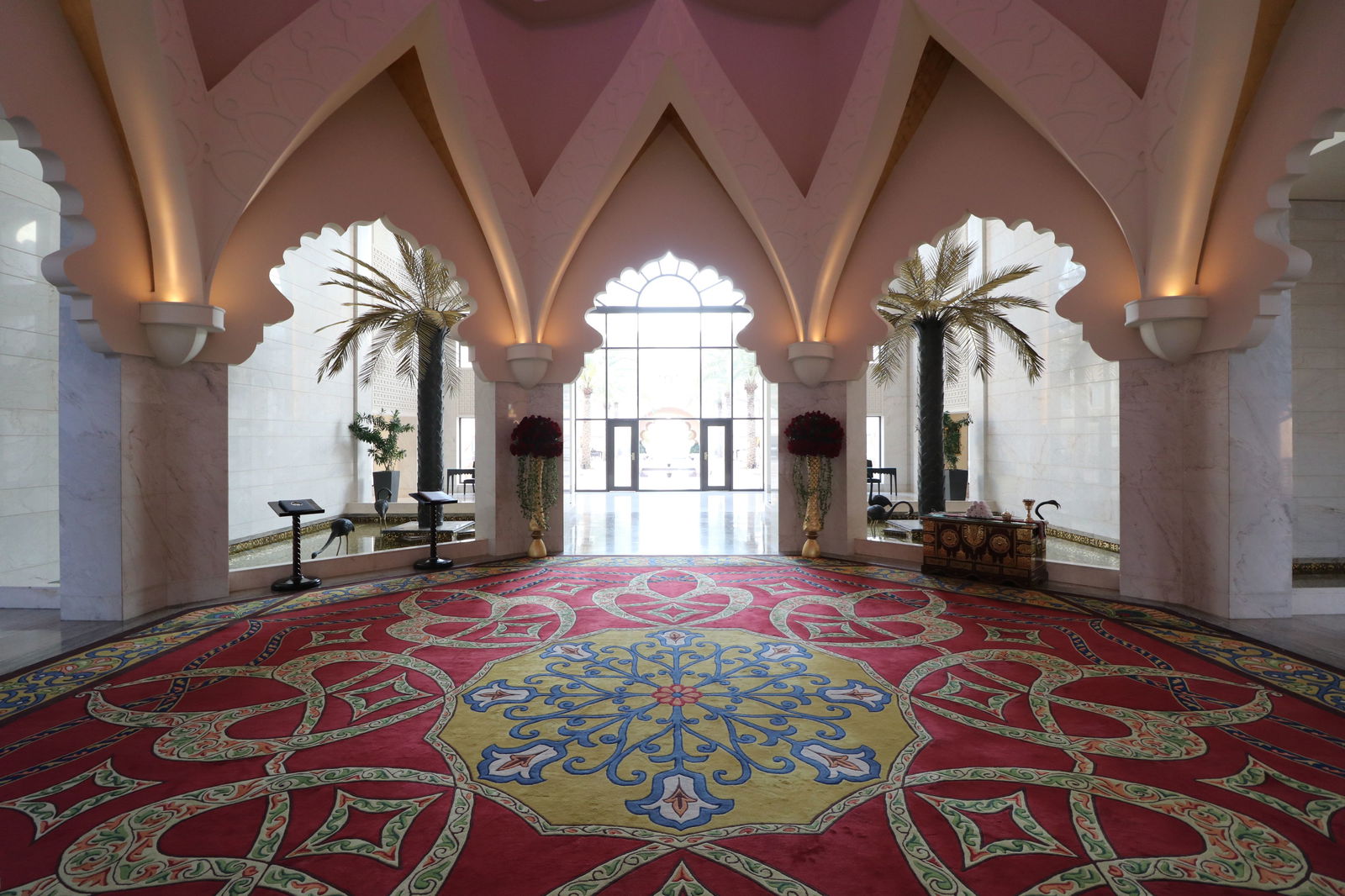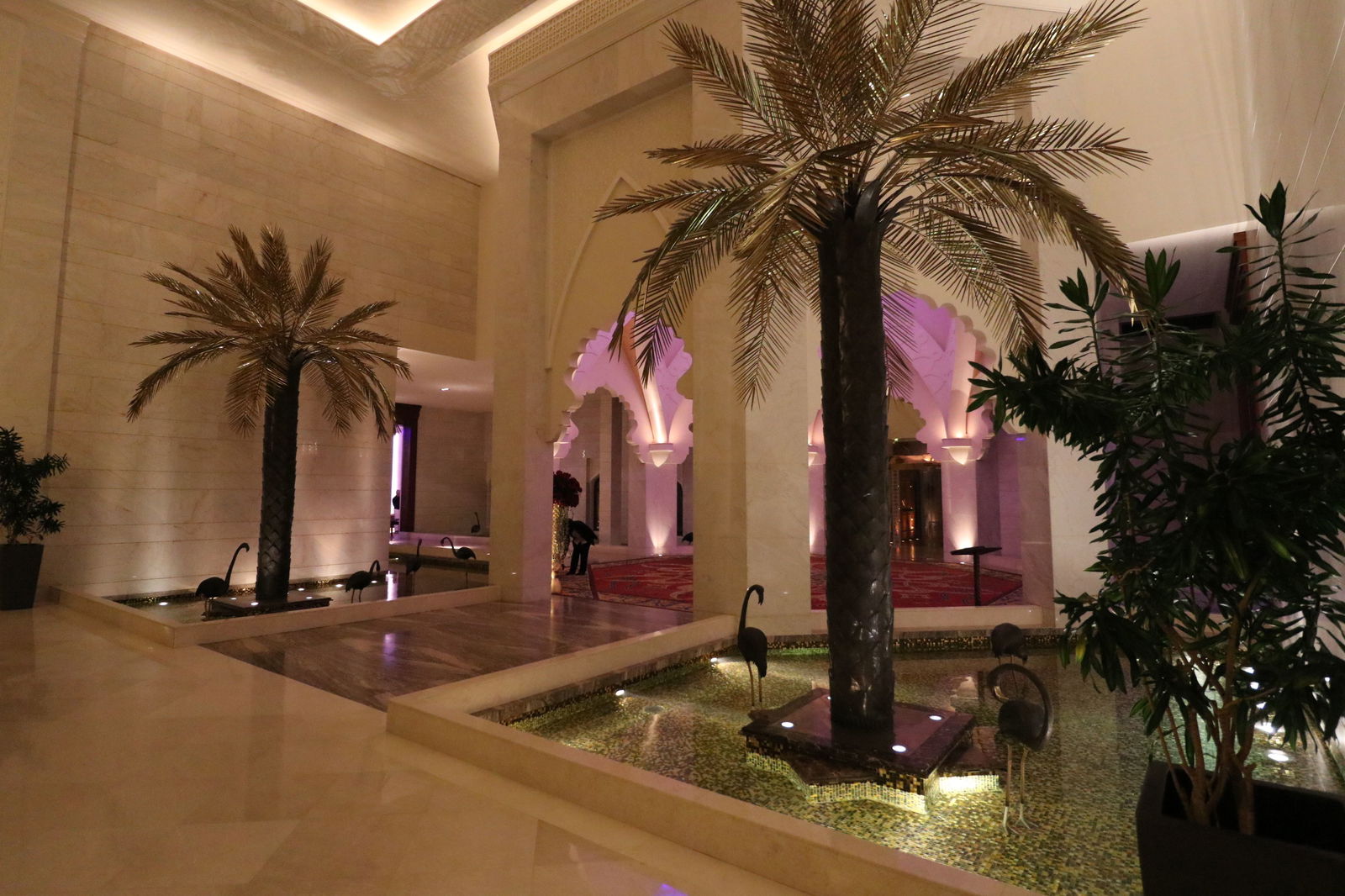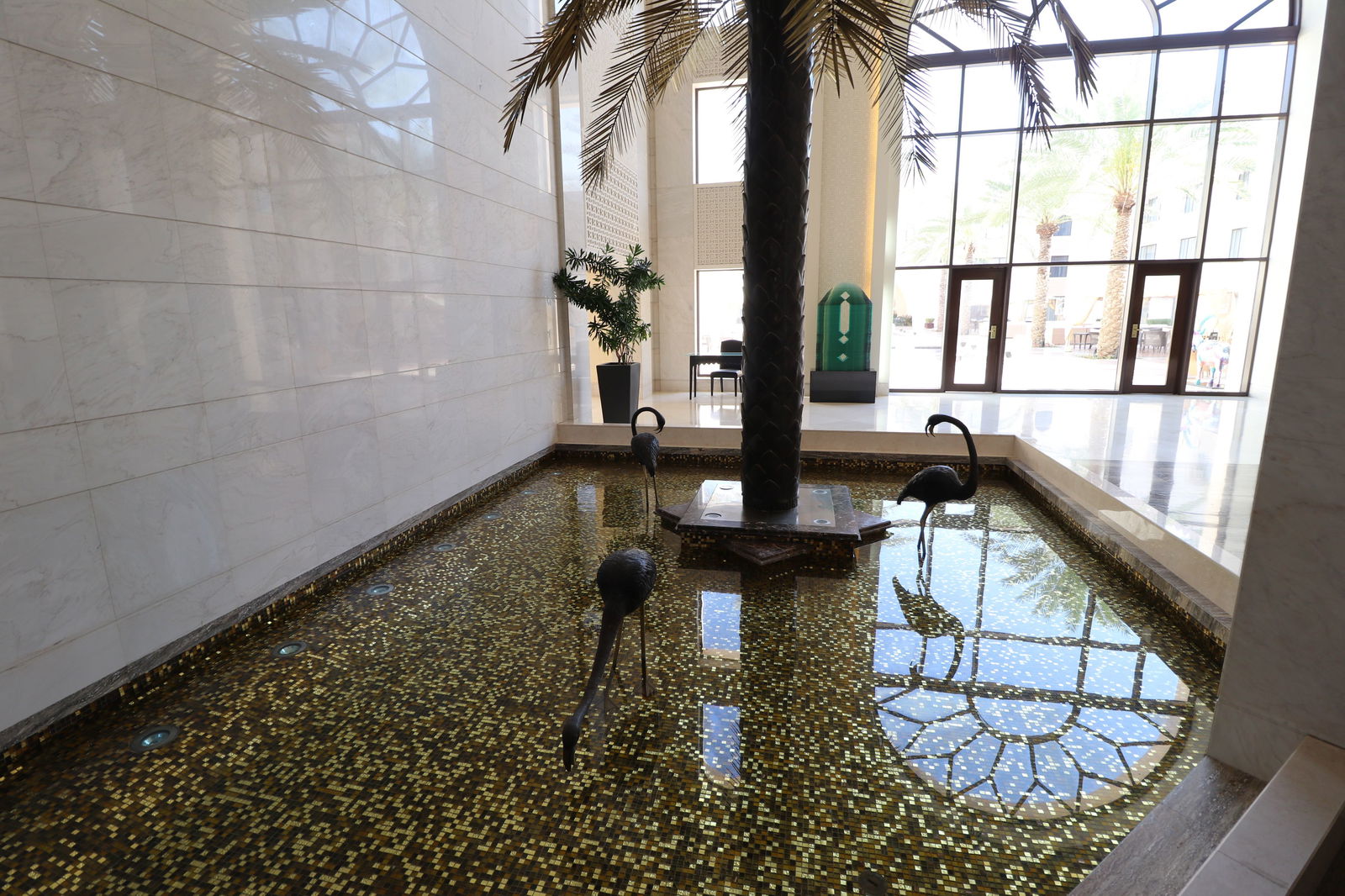 To the right, there was self-serve Arabic coffee with dates.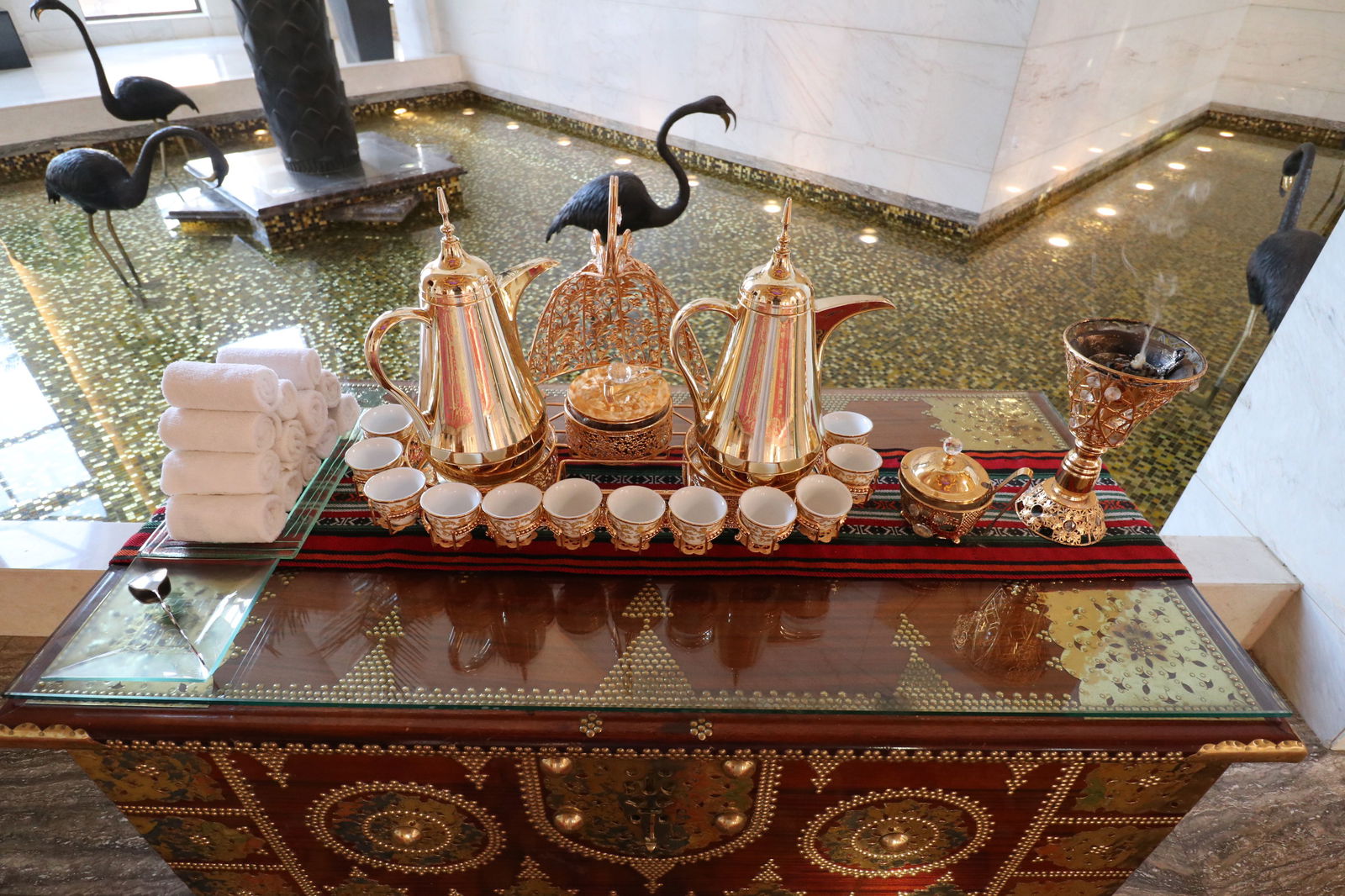 I sat down in the reception as check-in was handled at the desk. While I waited, a Shangri-La employee brought me a welcome drink and an early check-in card, enabling me to use all the hotel facilities while my room was being prepared. There was a similar policy after check-out, whereby I could leave my room at 12:00pm, but stay at the hotel all day and freshen up in a private room before departing in the evening. Talk about maximizing your hotel stay!
Once check-in was sorted, I headed through the hotel courtyard past the infinity pool to one of two lunch restaurants at Al Husn. On my way there, I saw some Omani art and traditional dress on the walls, which I loved.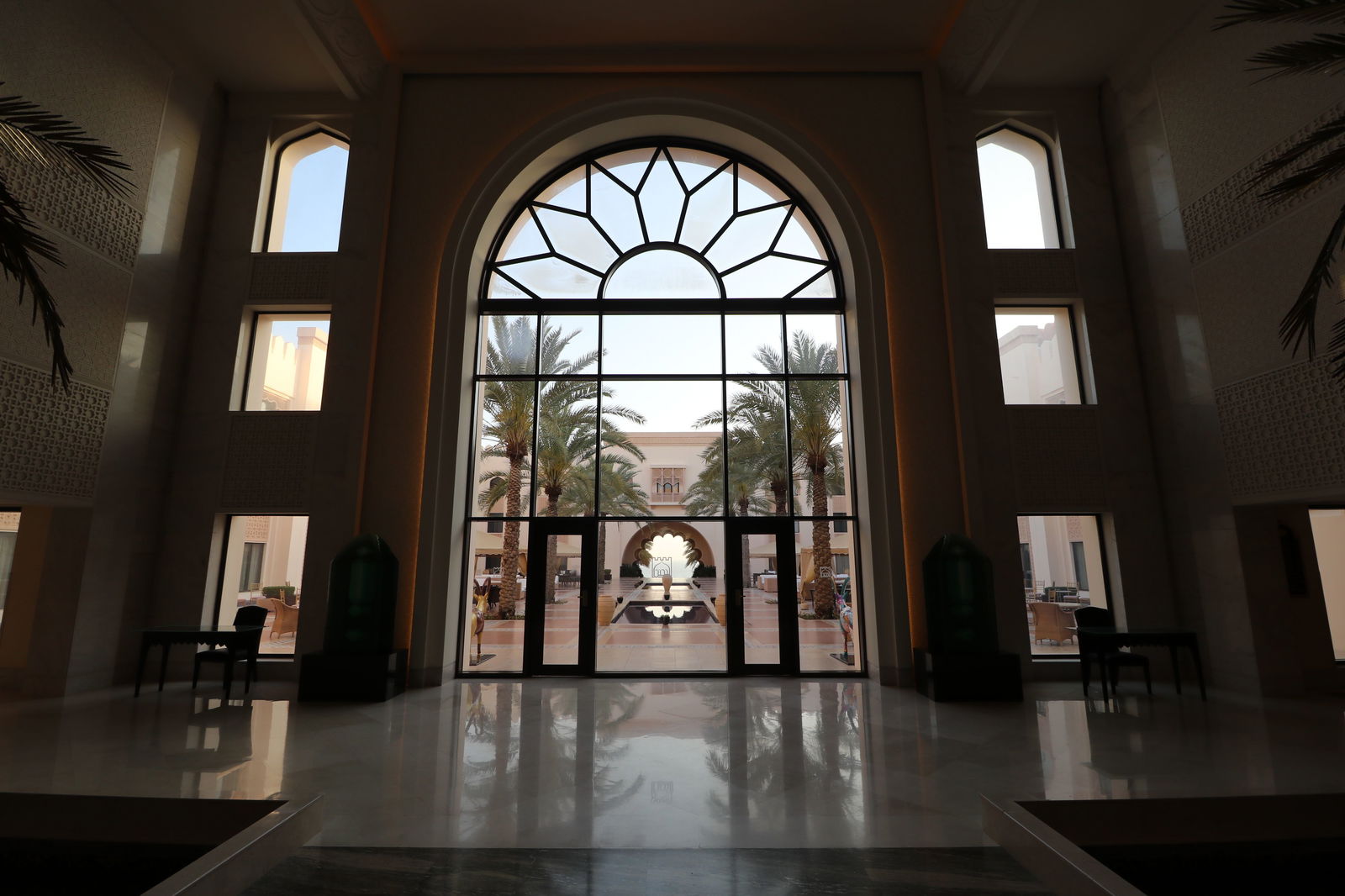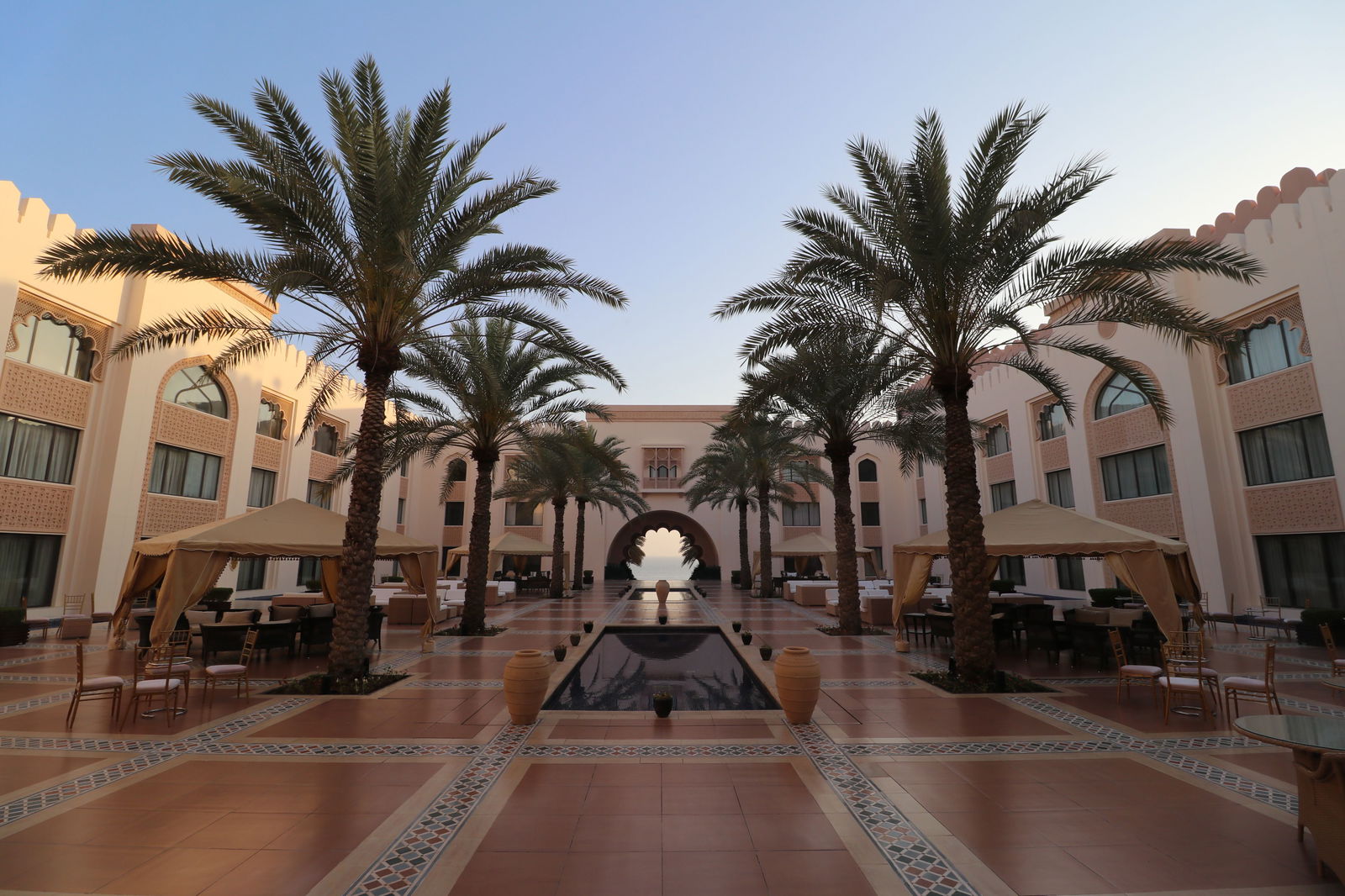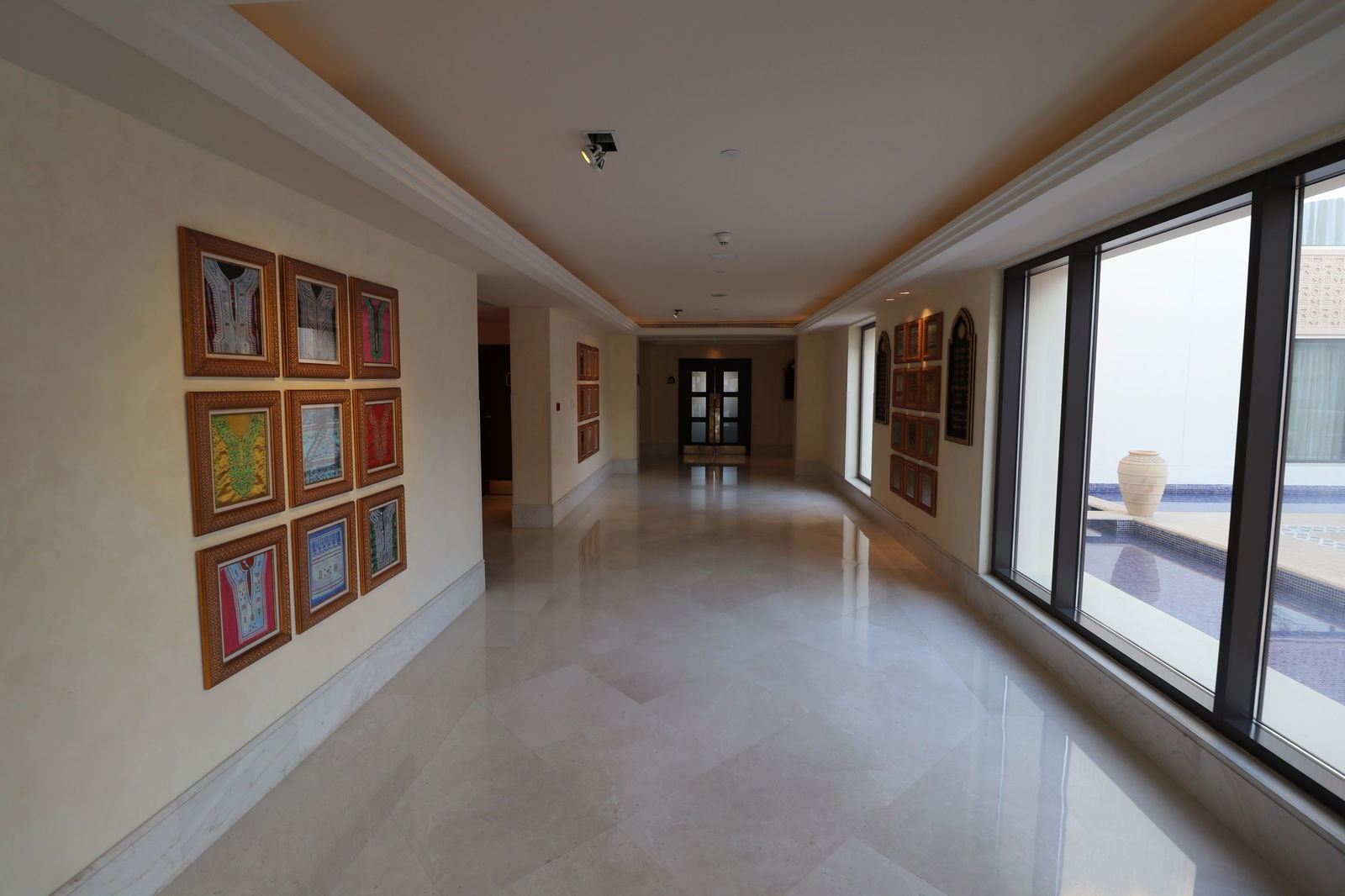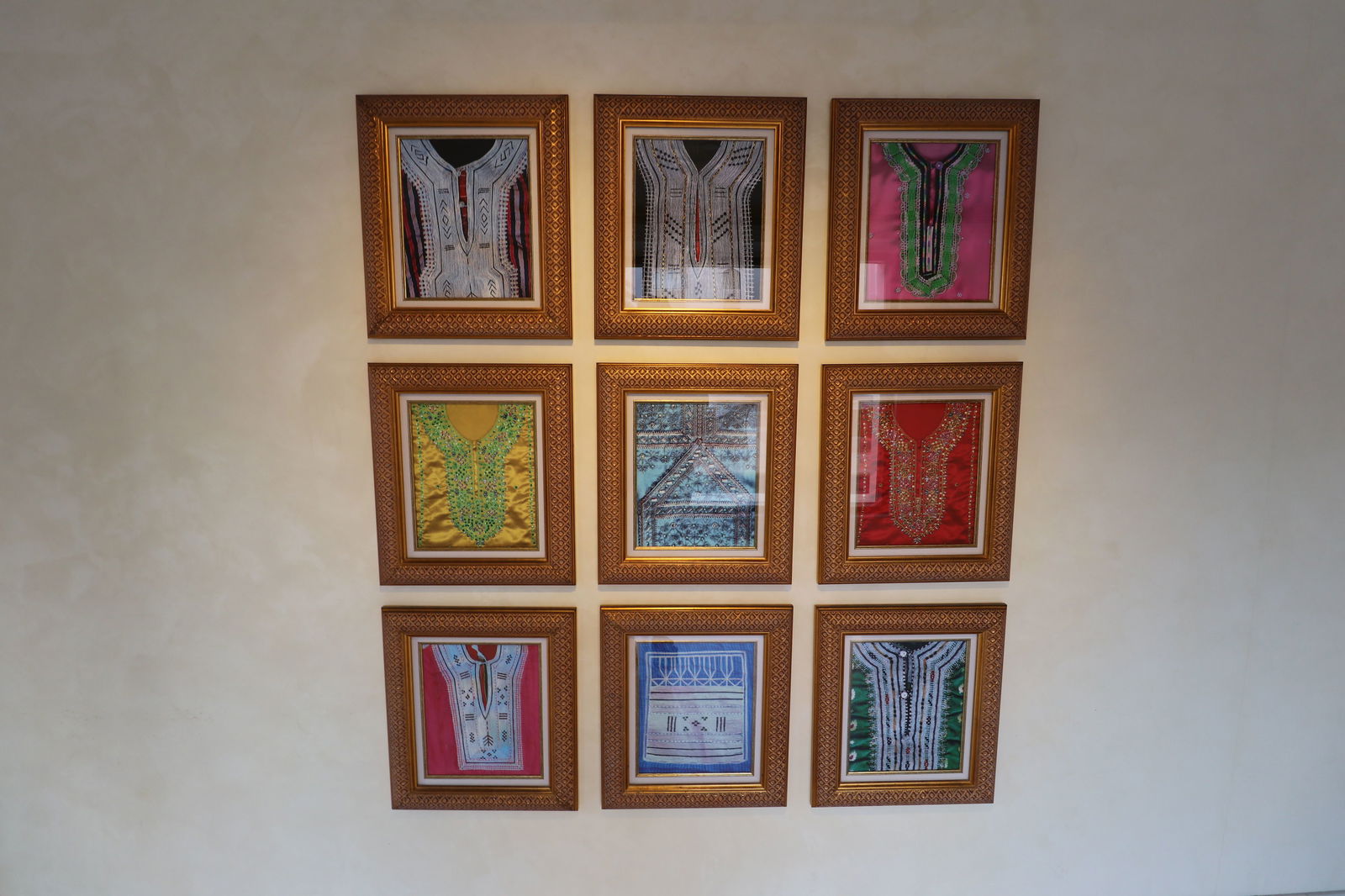 During the night, the courtyard looked even more palatial.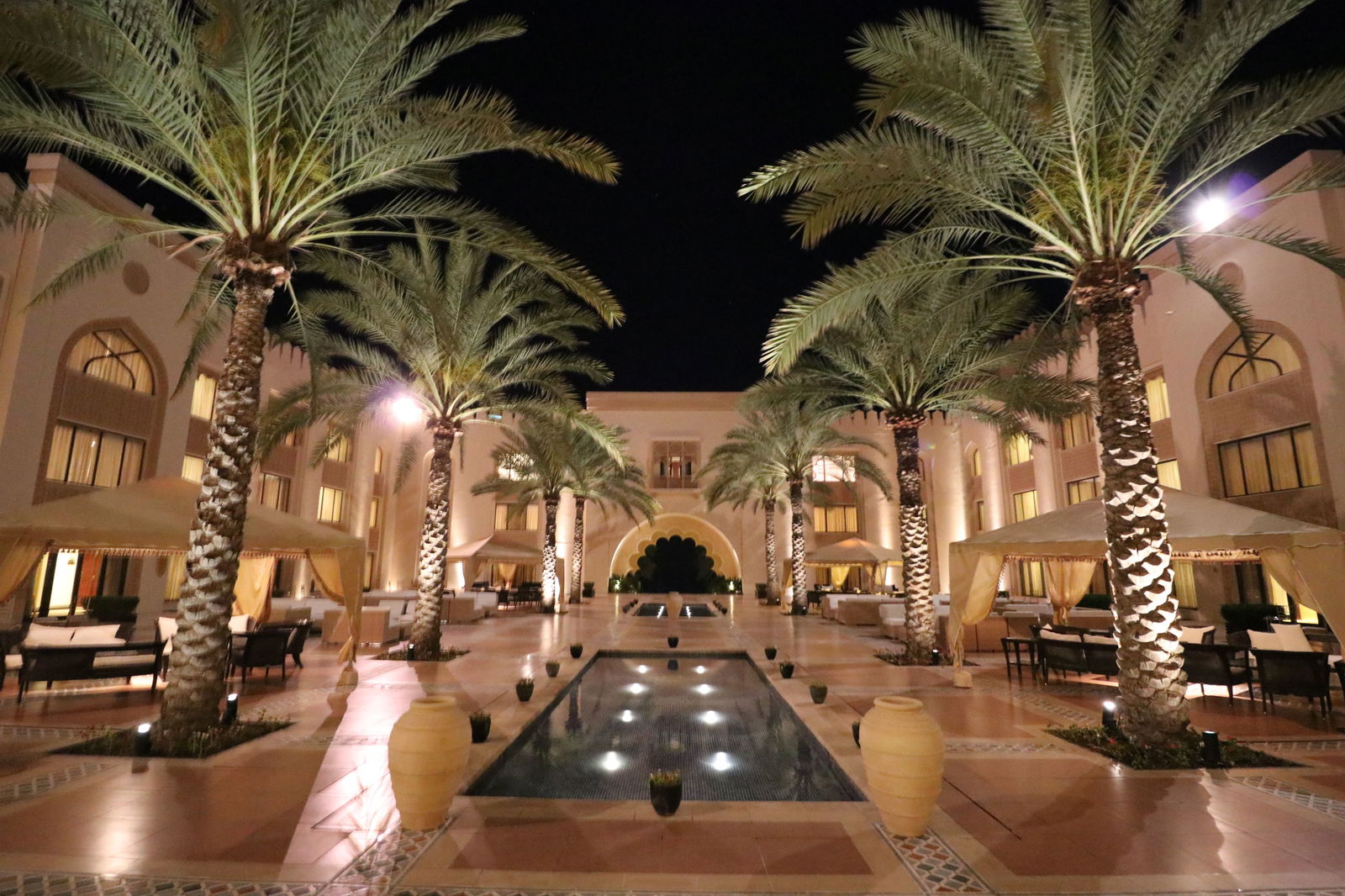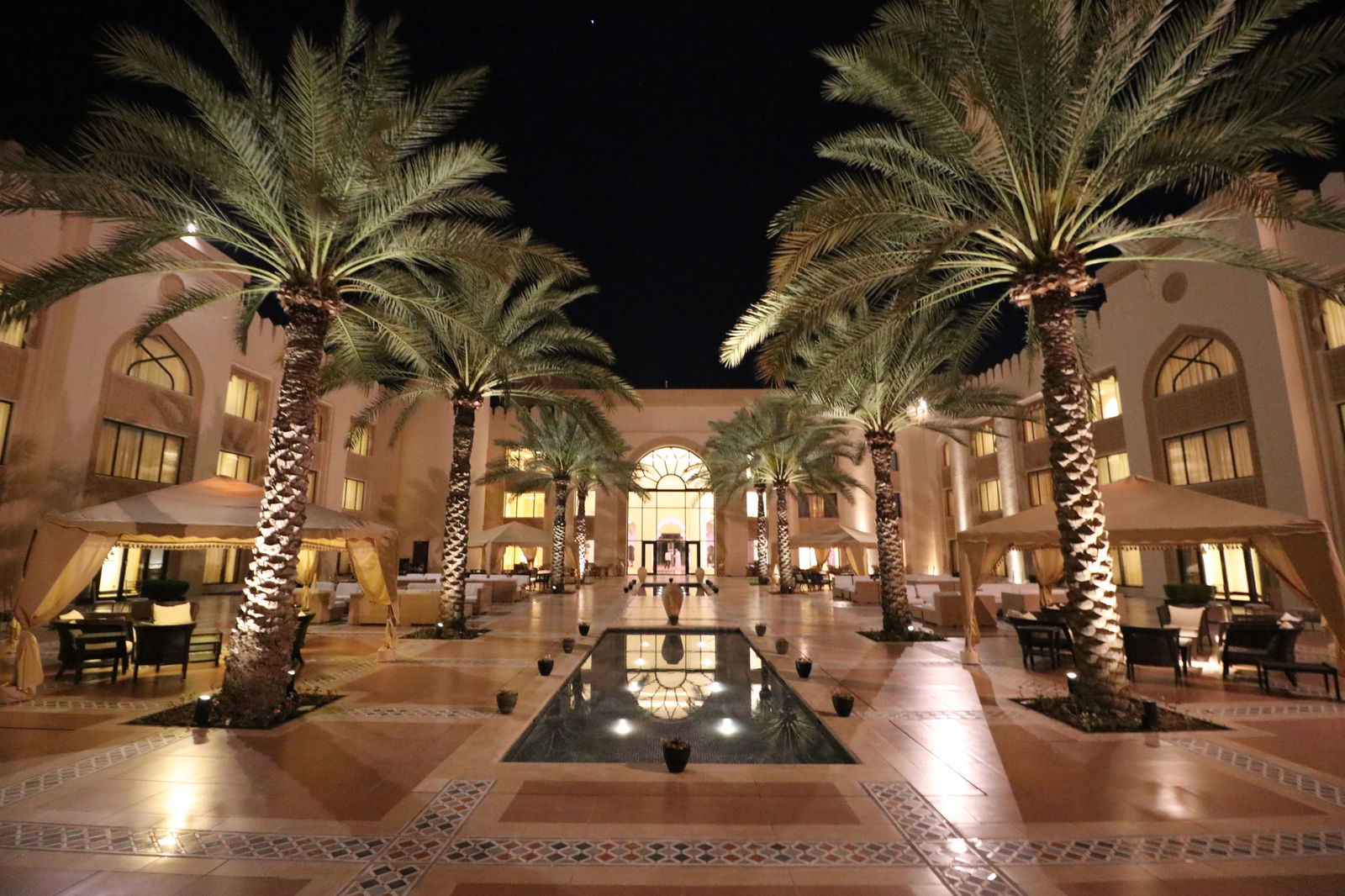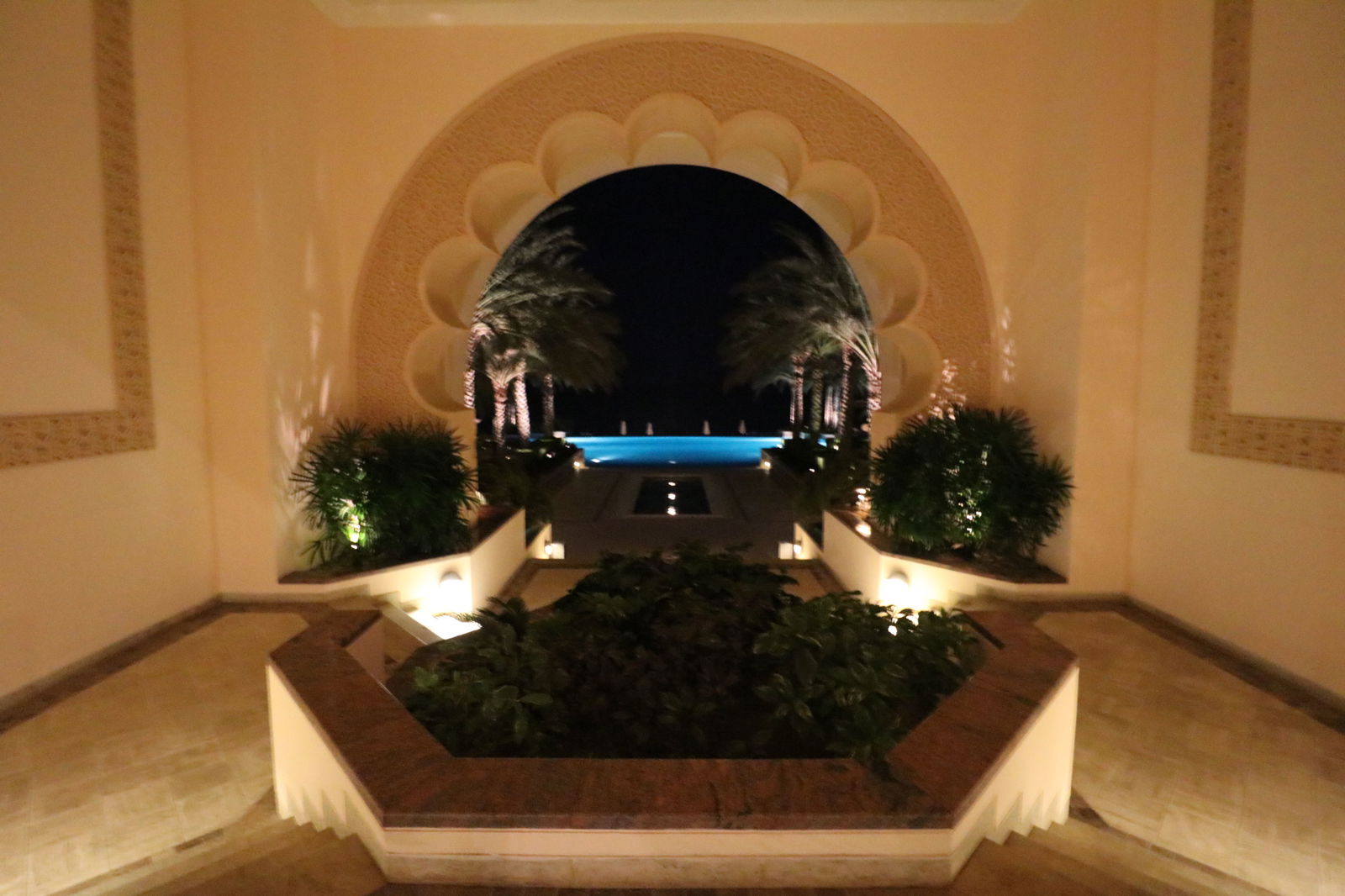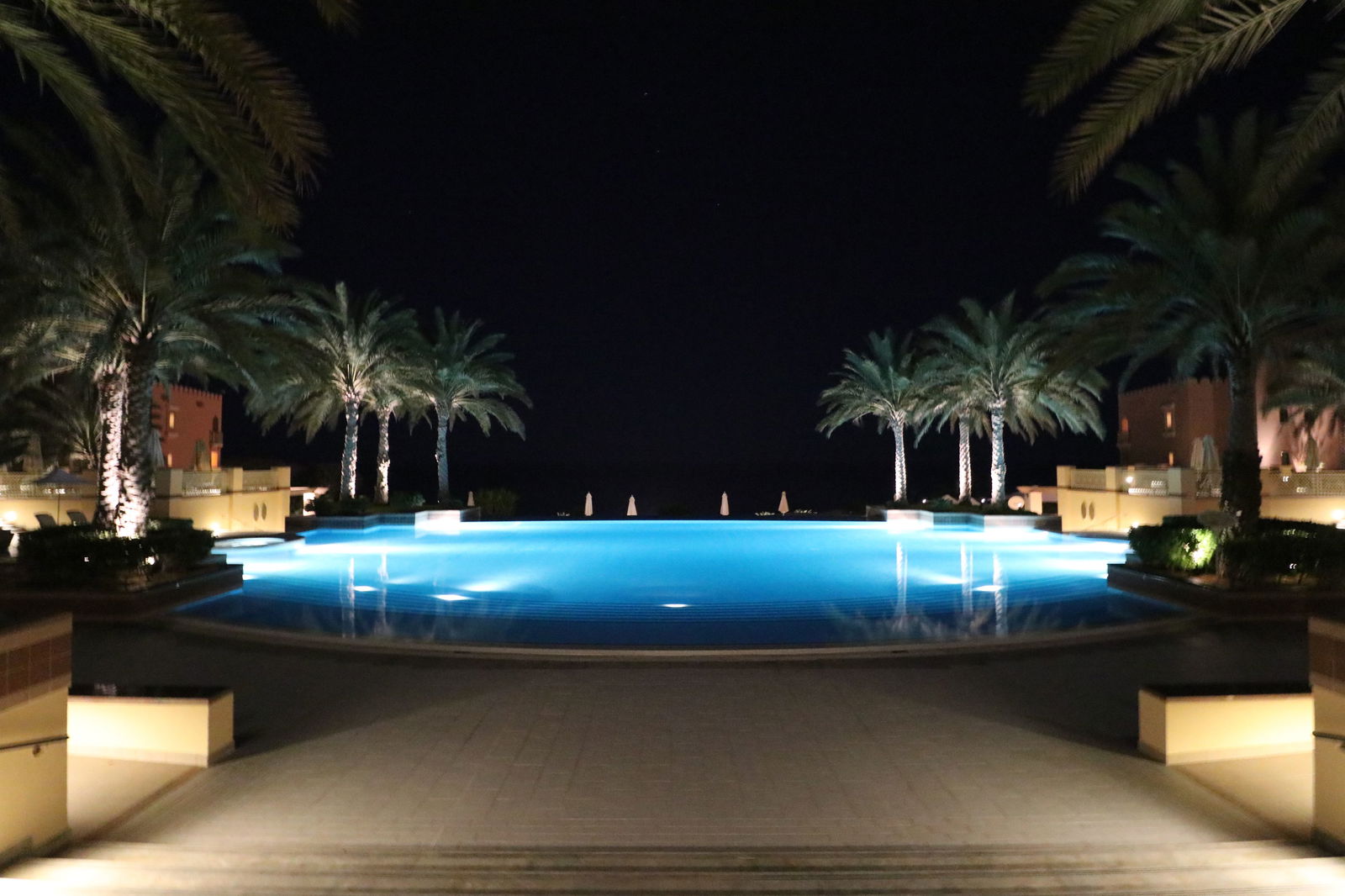 In total, the resort had dozens of restaurants open at various times throughout the day. I had a tasty lunch – more on the food later.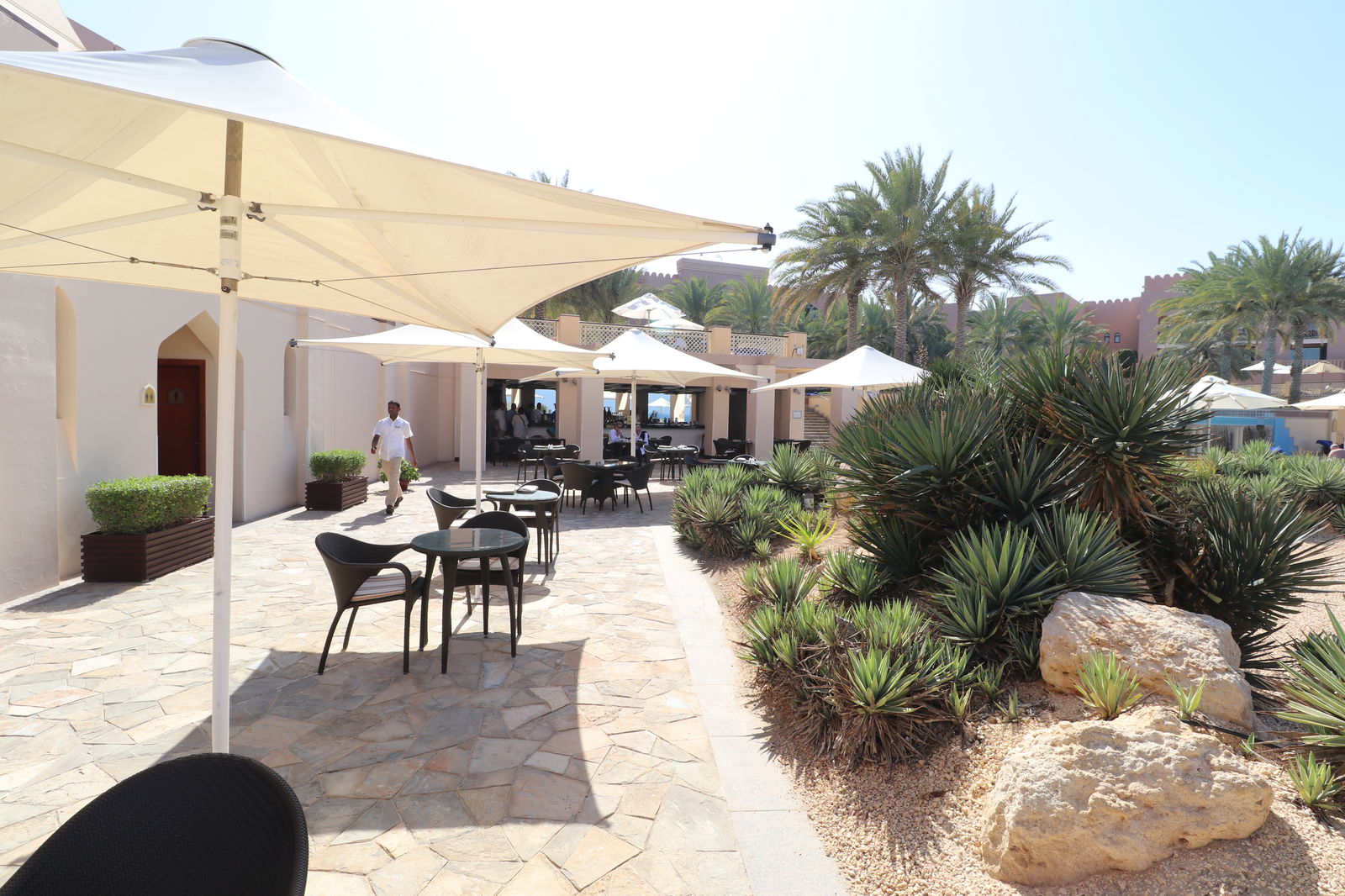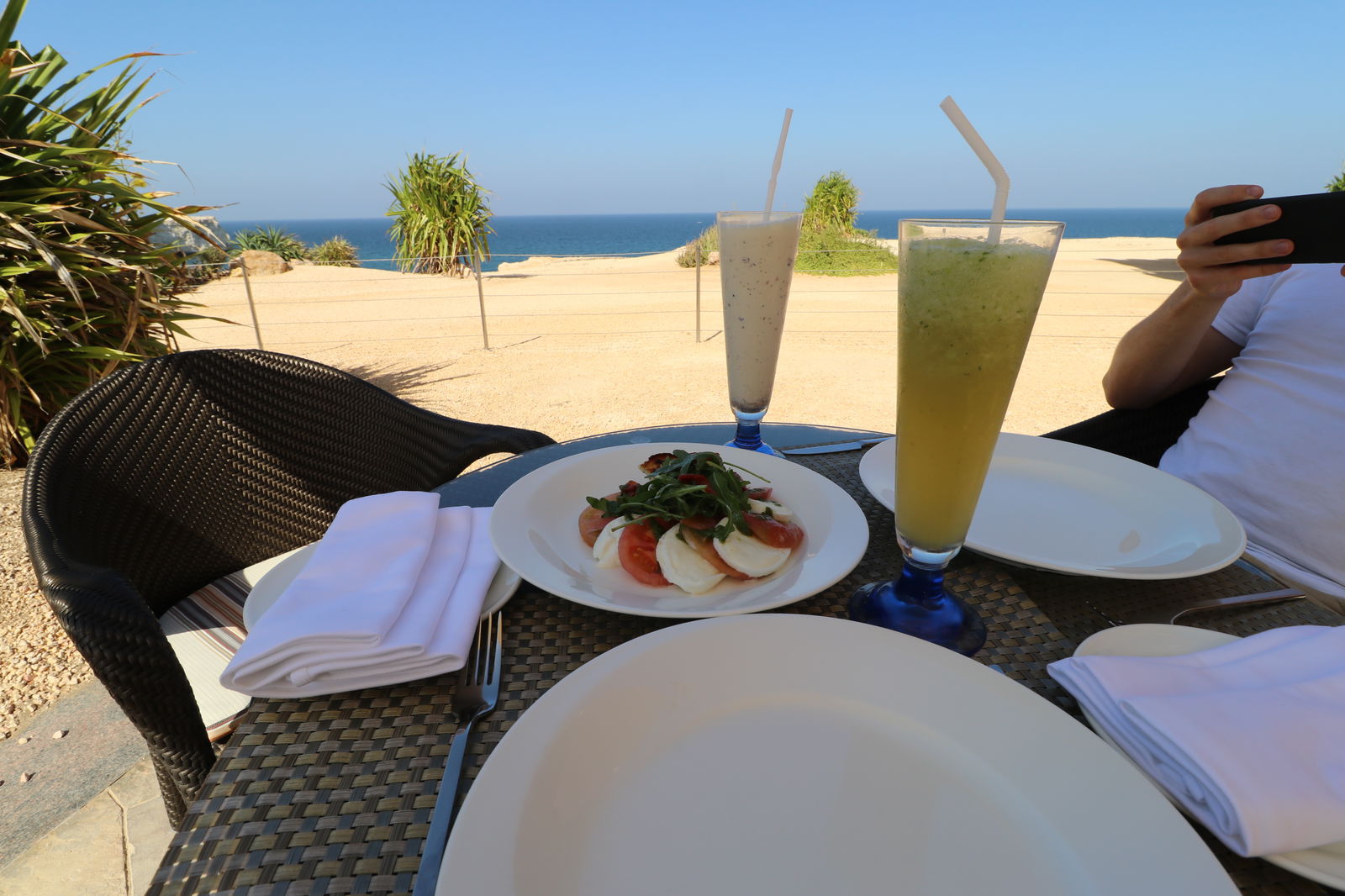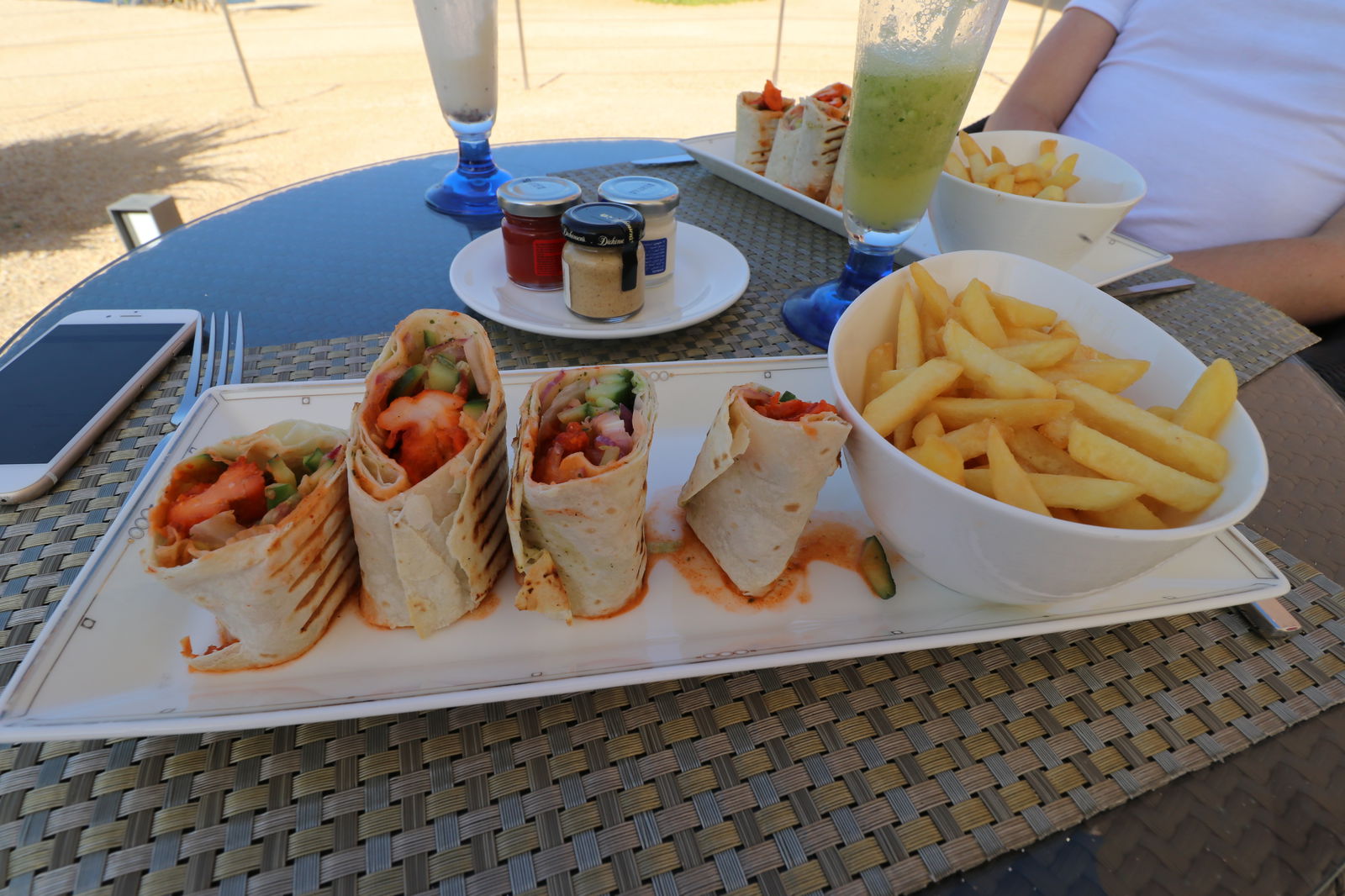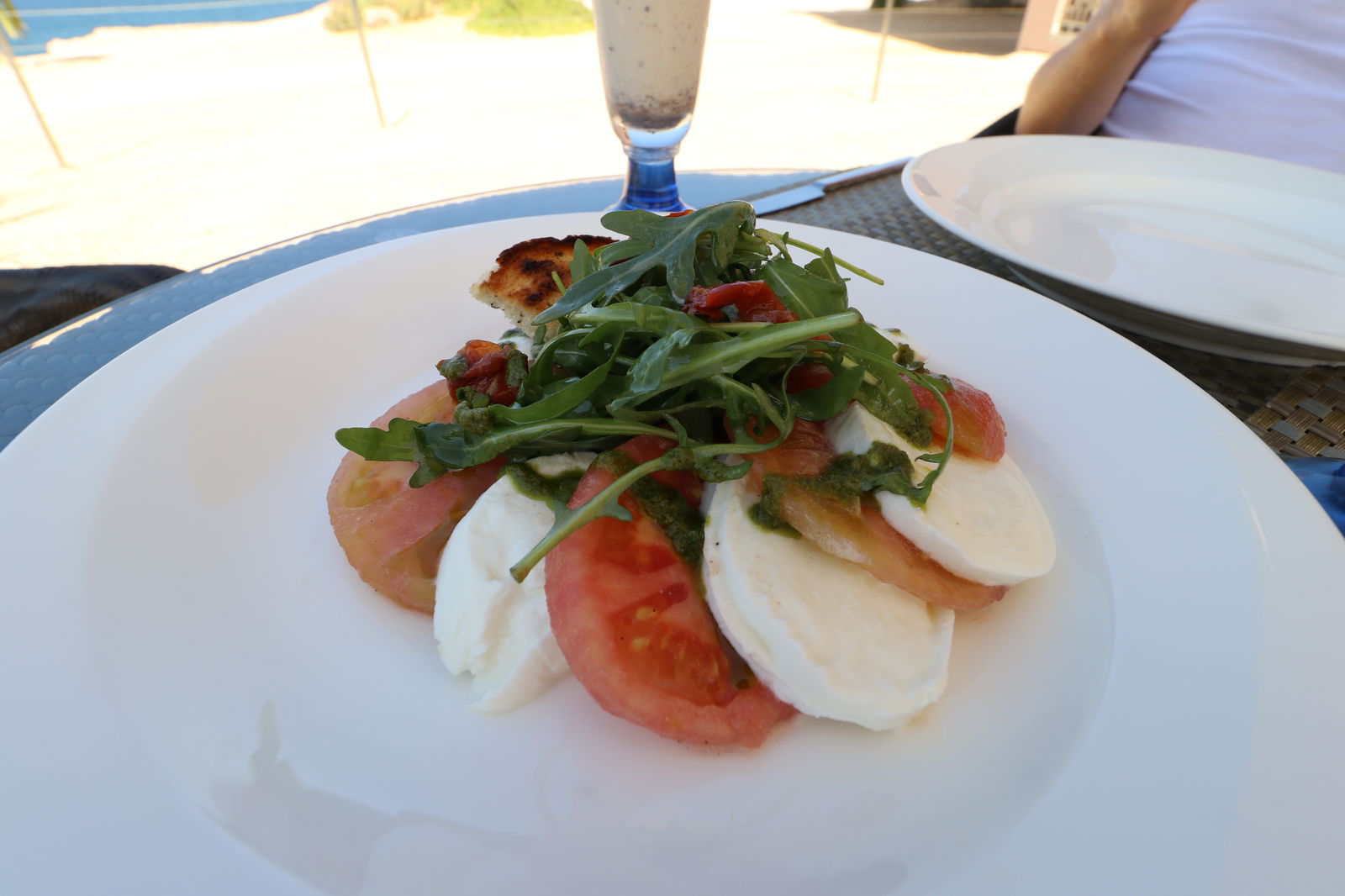 After just 15 minutes my room was ready, so I ate quickly and headed to my not-so-humble three night abode. I was staying in the "Al Husn Deluxe Room", which is the standard room at this hotel. Rates while I stayed were 105 OMR per night, which seem to be standard. How I wish I'd had the Citi Prestige when I booked!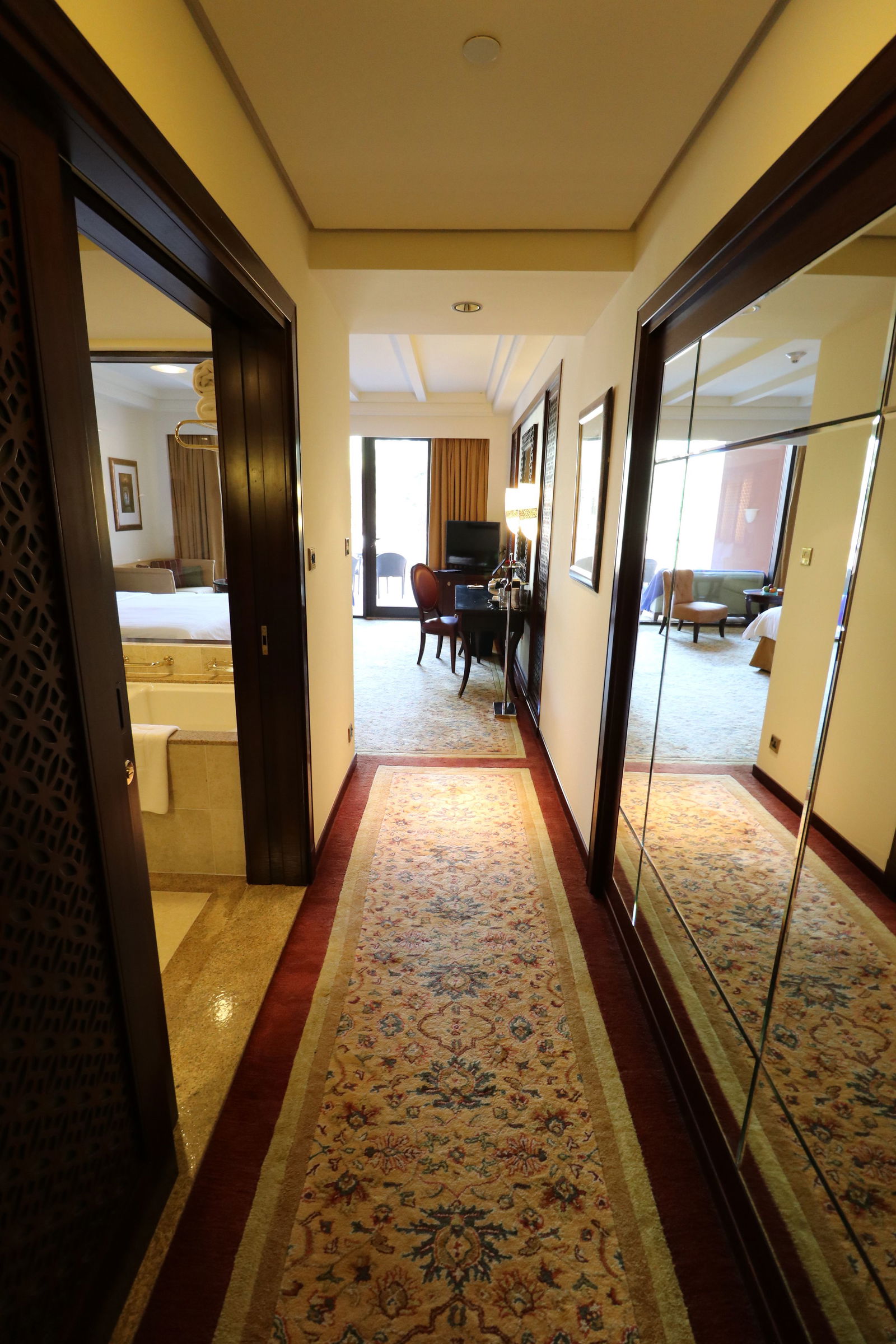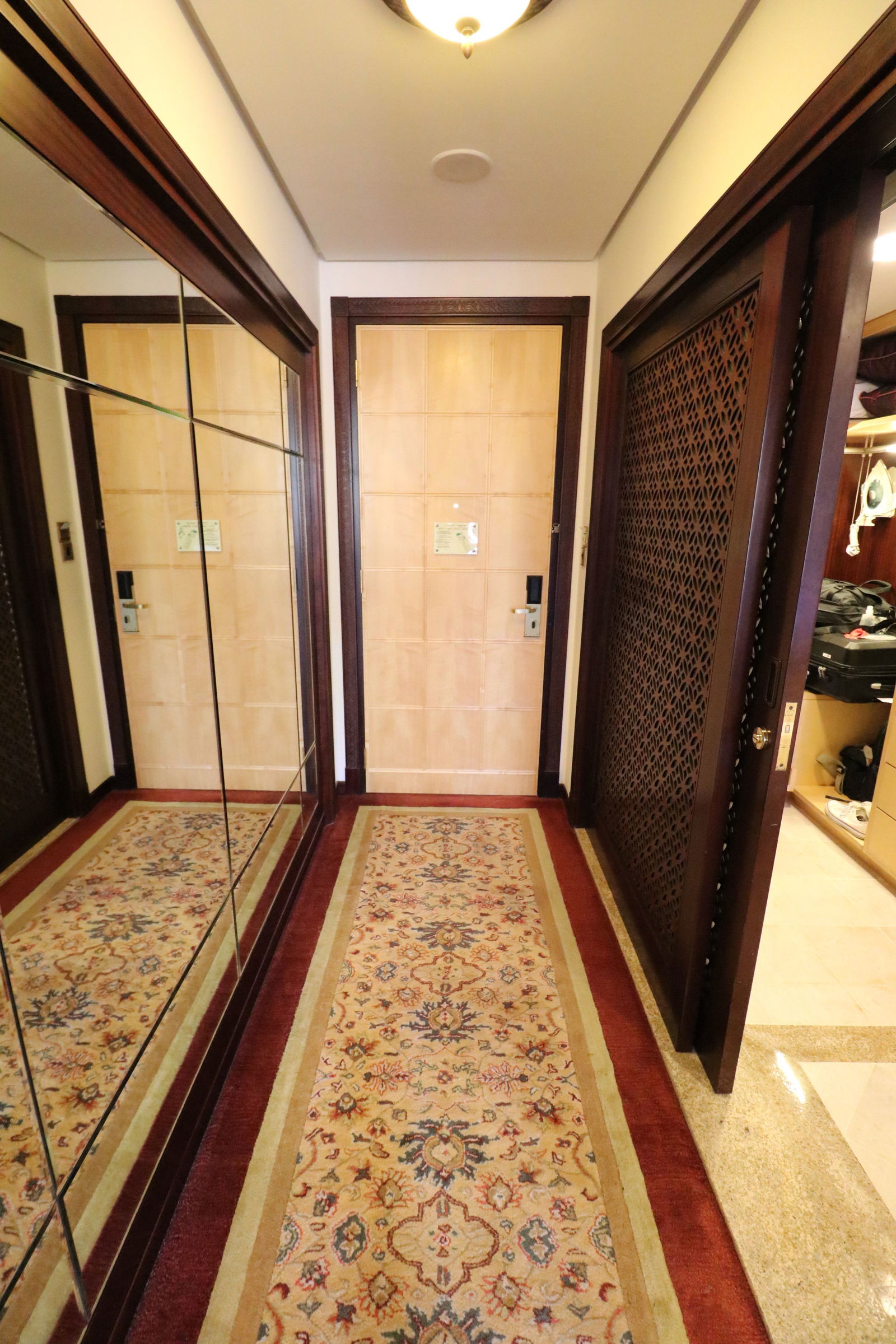 The floor was covered in a soft, Persian carpet. The Omani design of the hotel was upscale, with mostly desert and mountain tones of beige and brown. Maybe someone should tell Emirates it's possible to incorporate these tones in a sleeker way. 😉
To the left in the hallway was the bathroom. It contained a large wardrobe and luggage rack, as well as a bathtub and sink, with the shower and toilet on either side.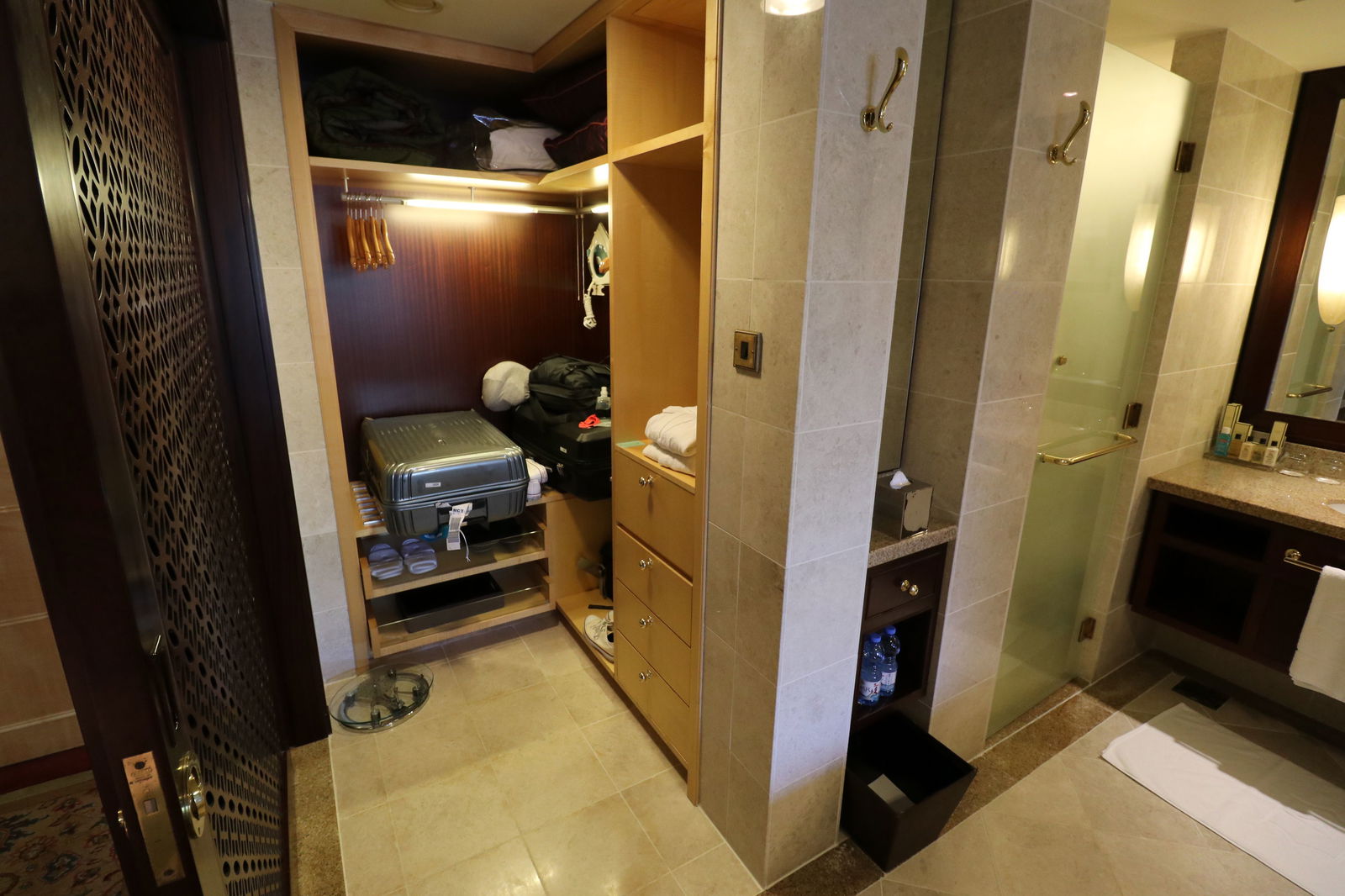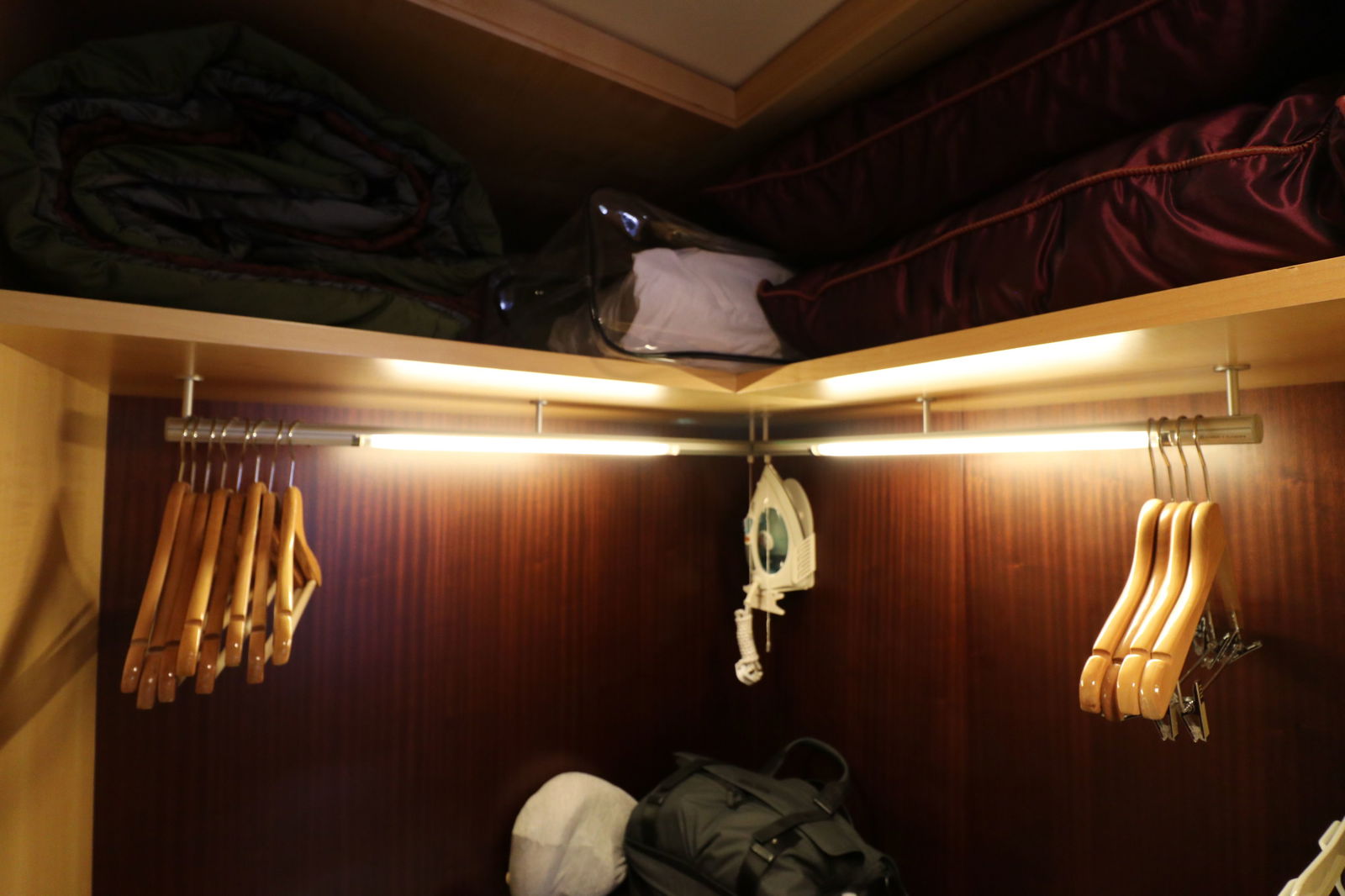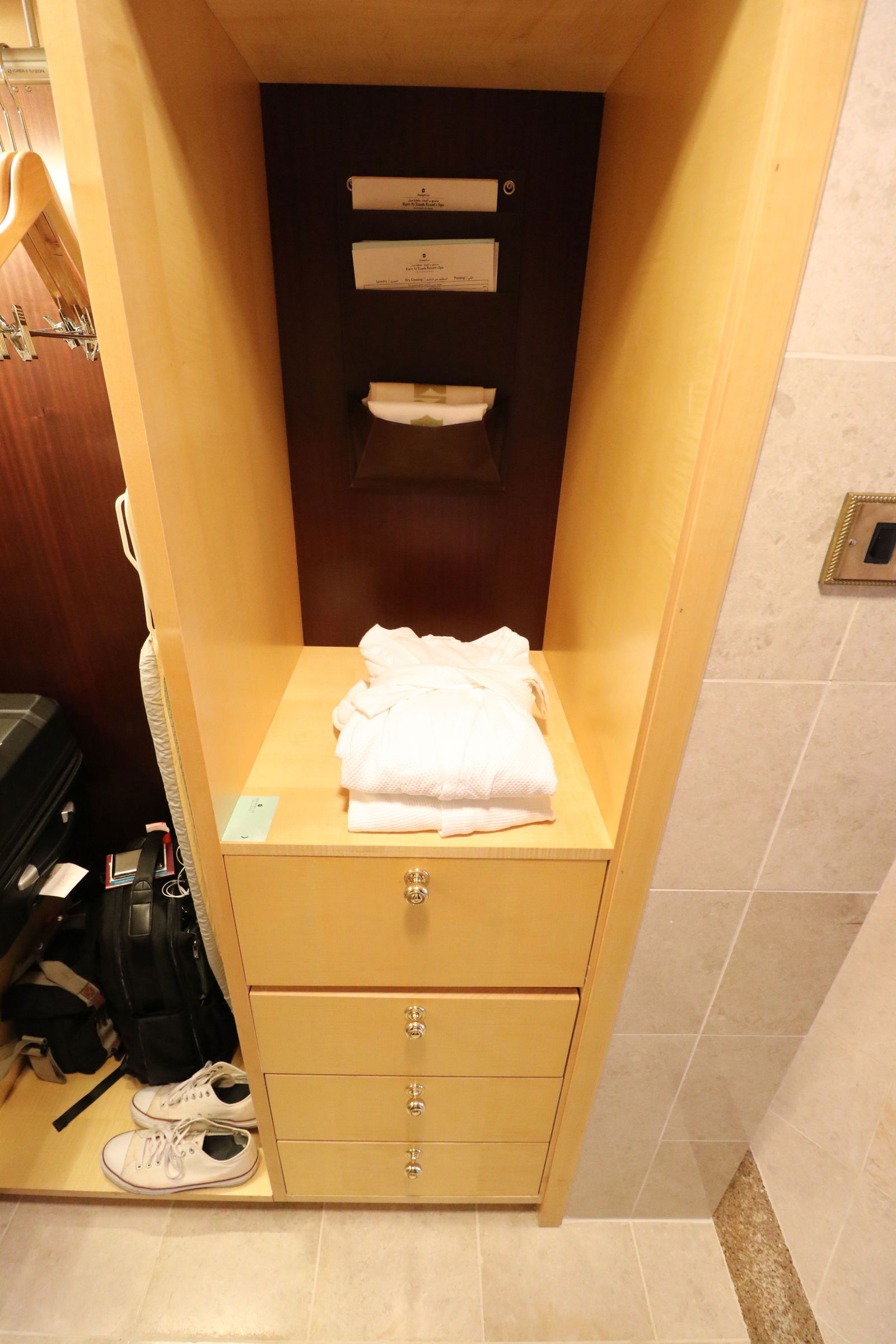 There was beautiful gold detailing on all the faucets and around the bathroom. I especially liked the shower.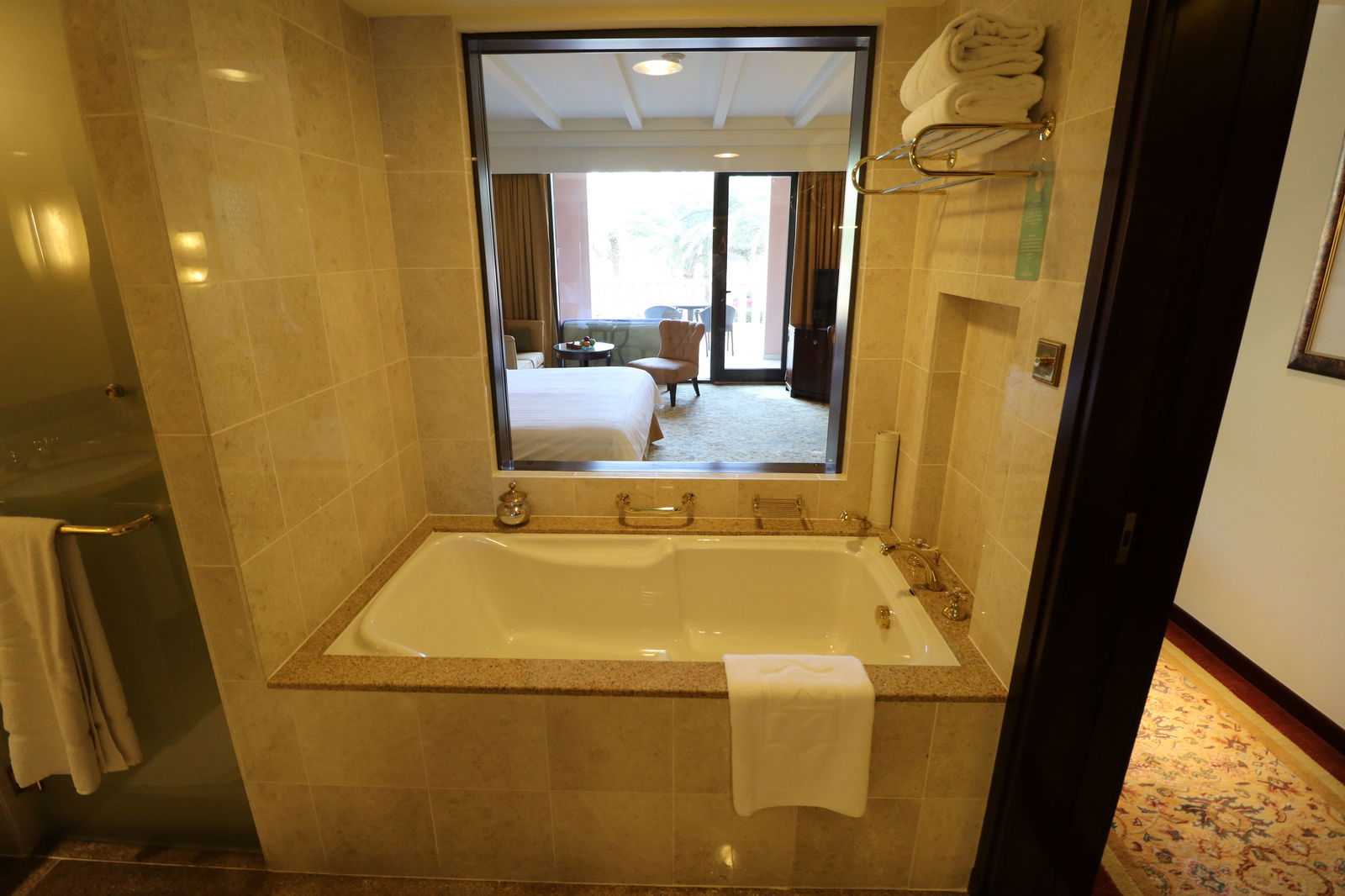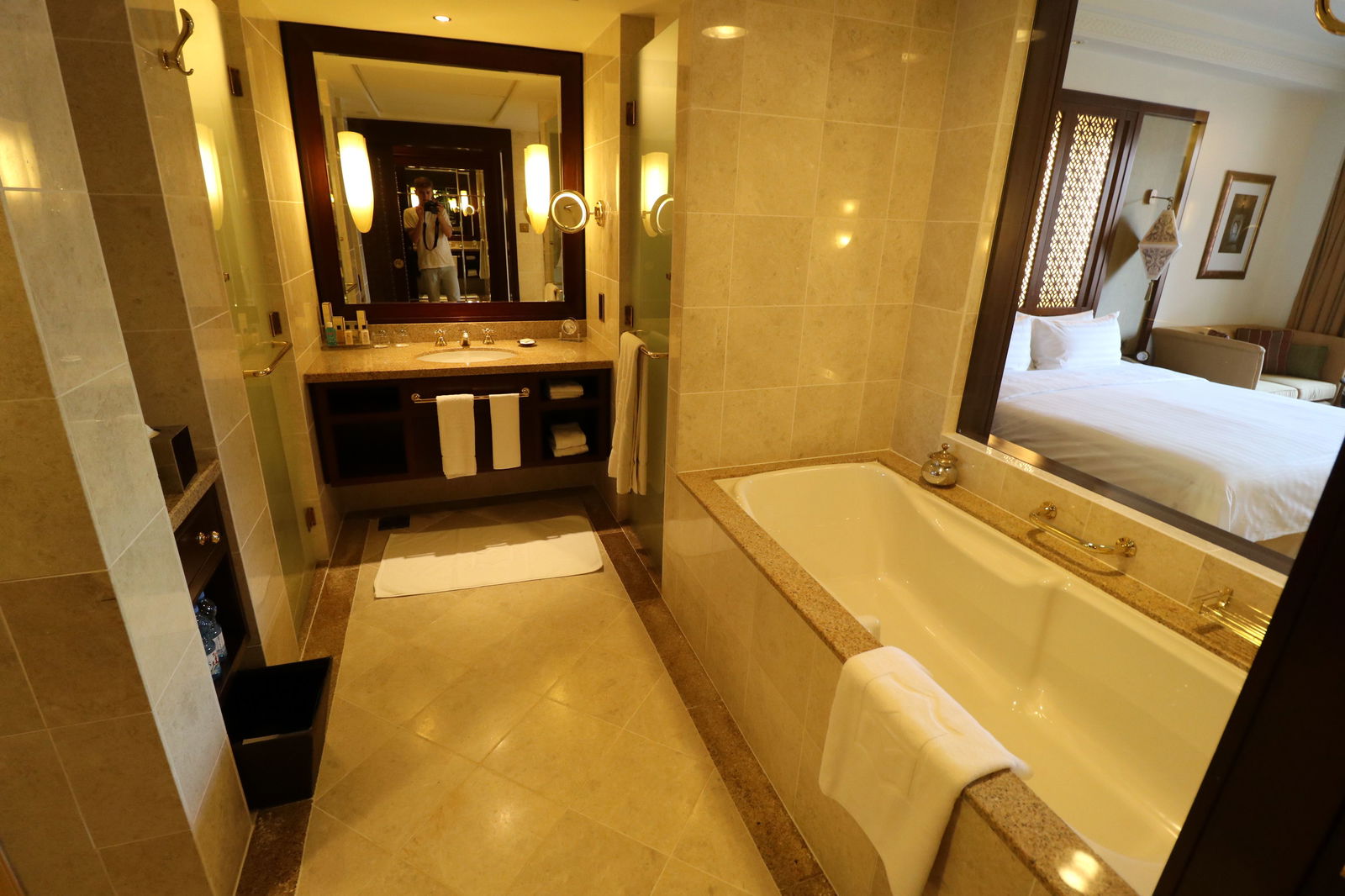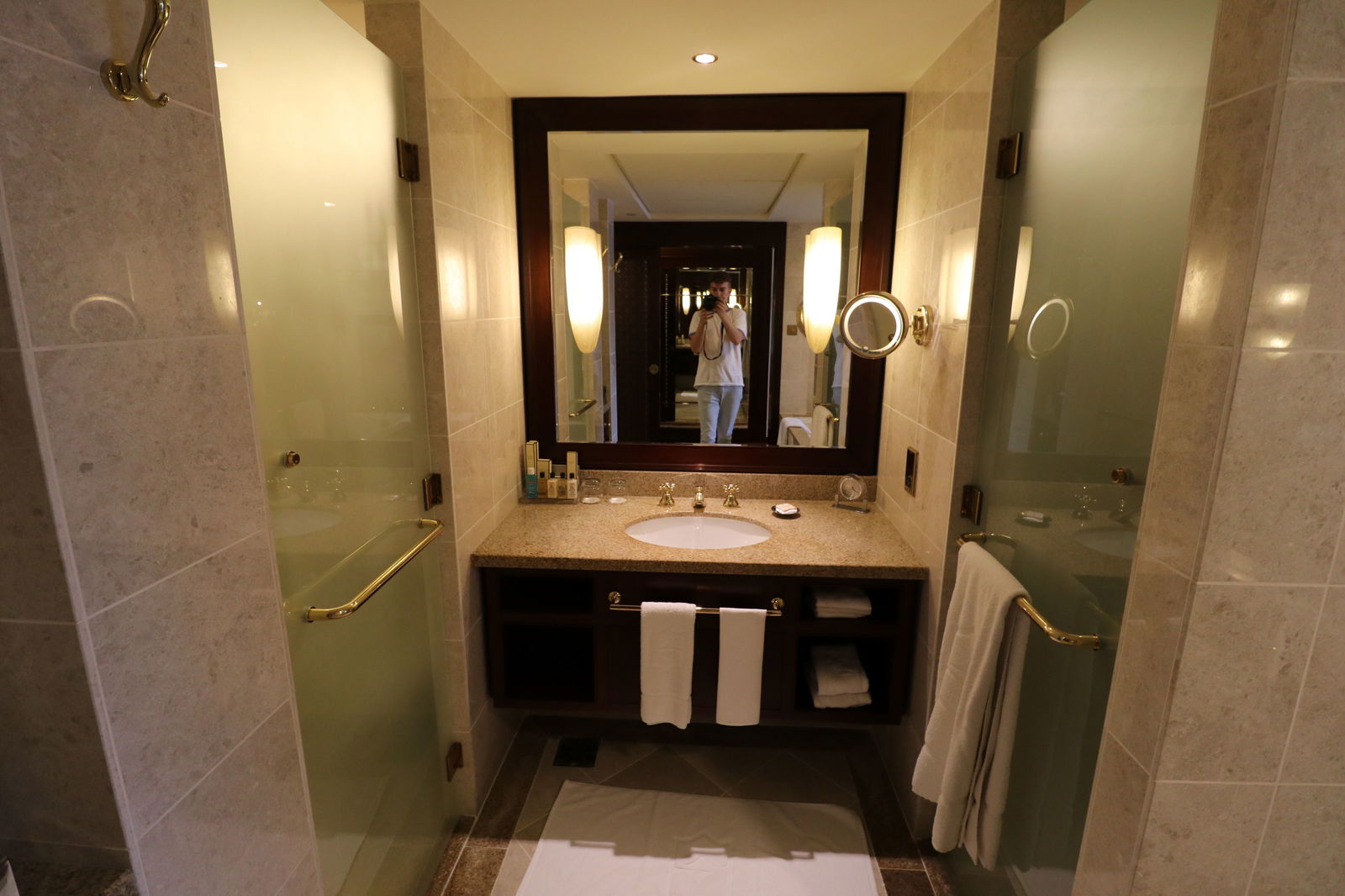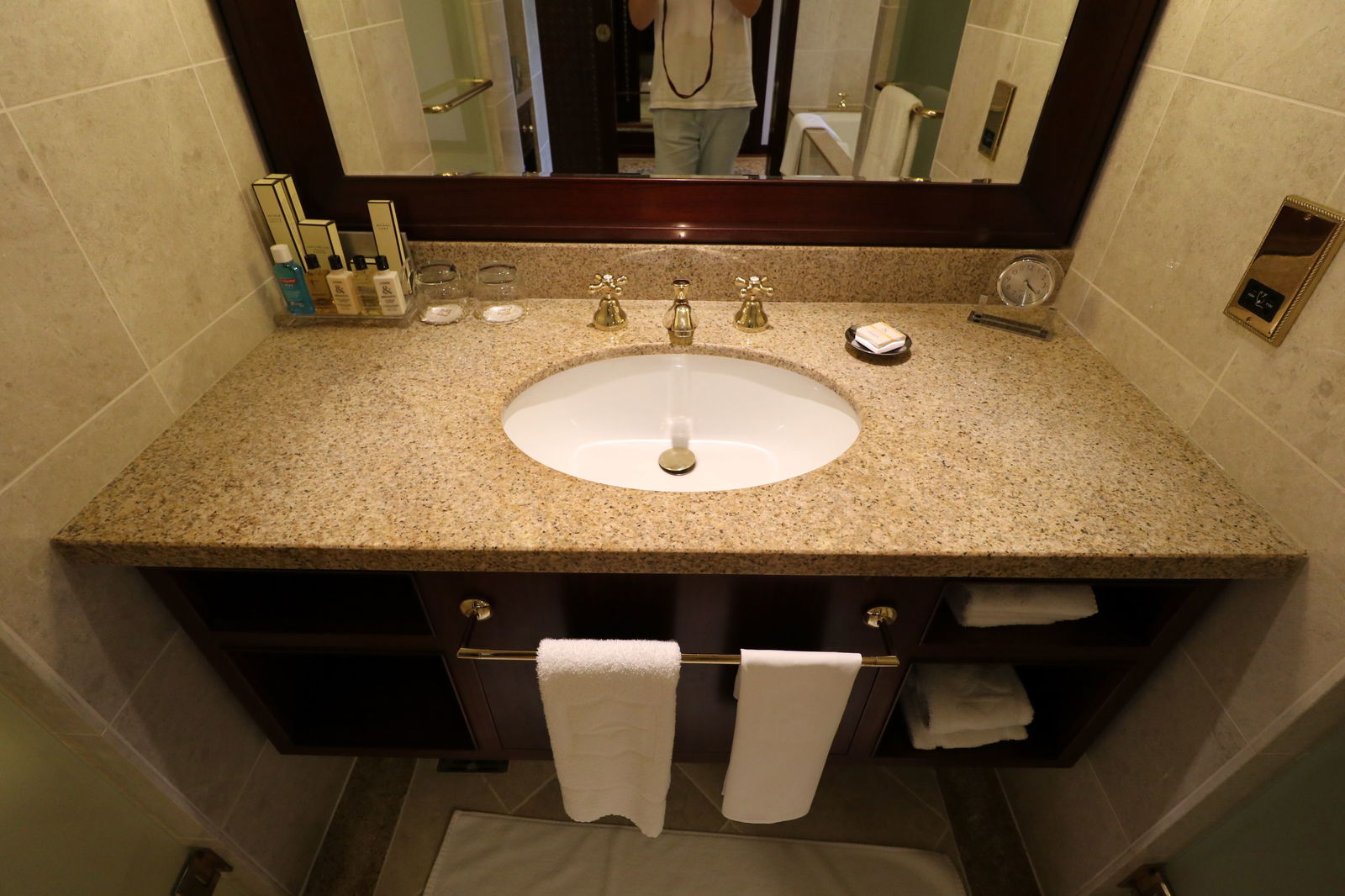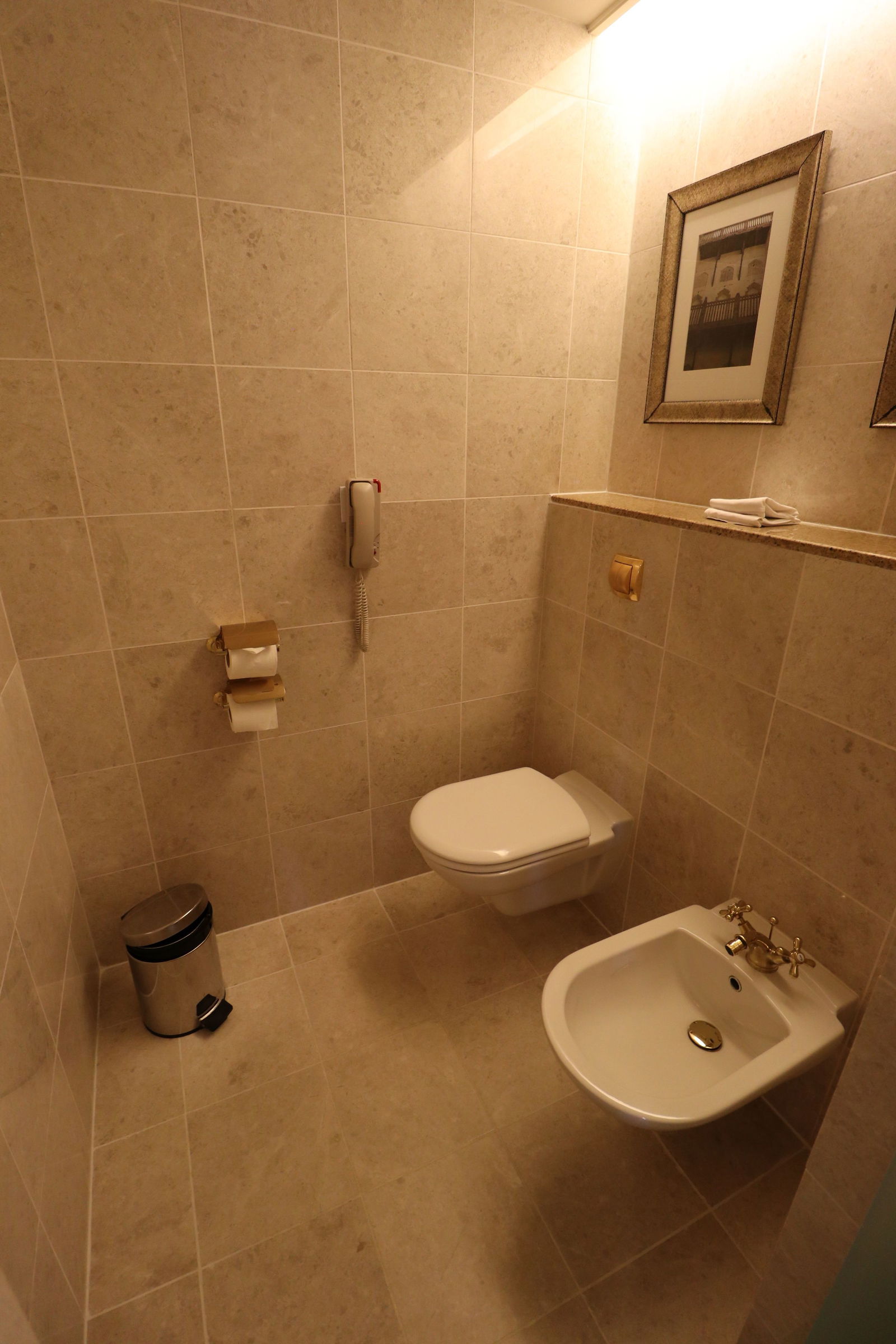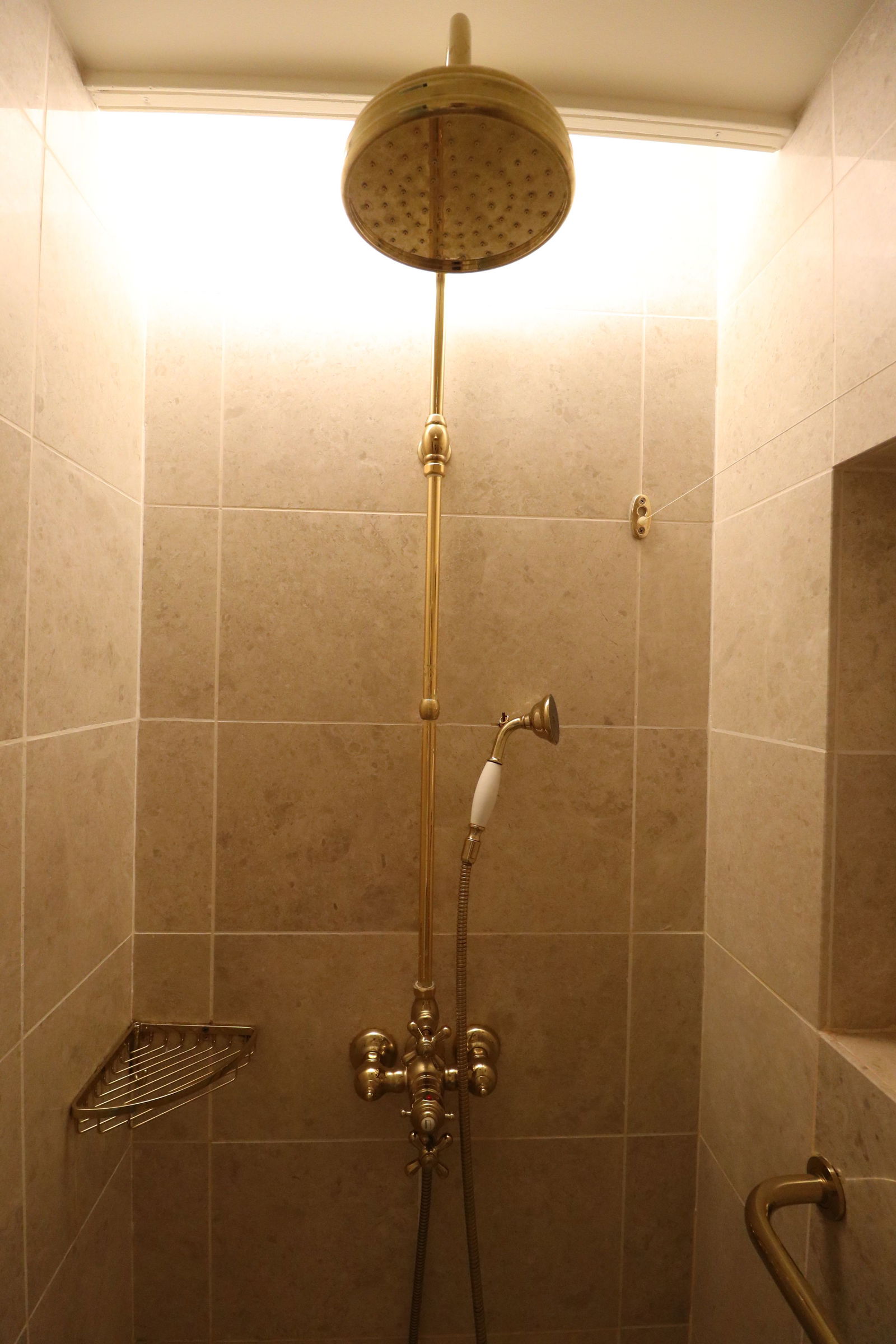 The toiletries were from L'Occitane en Provence.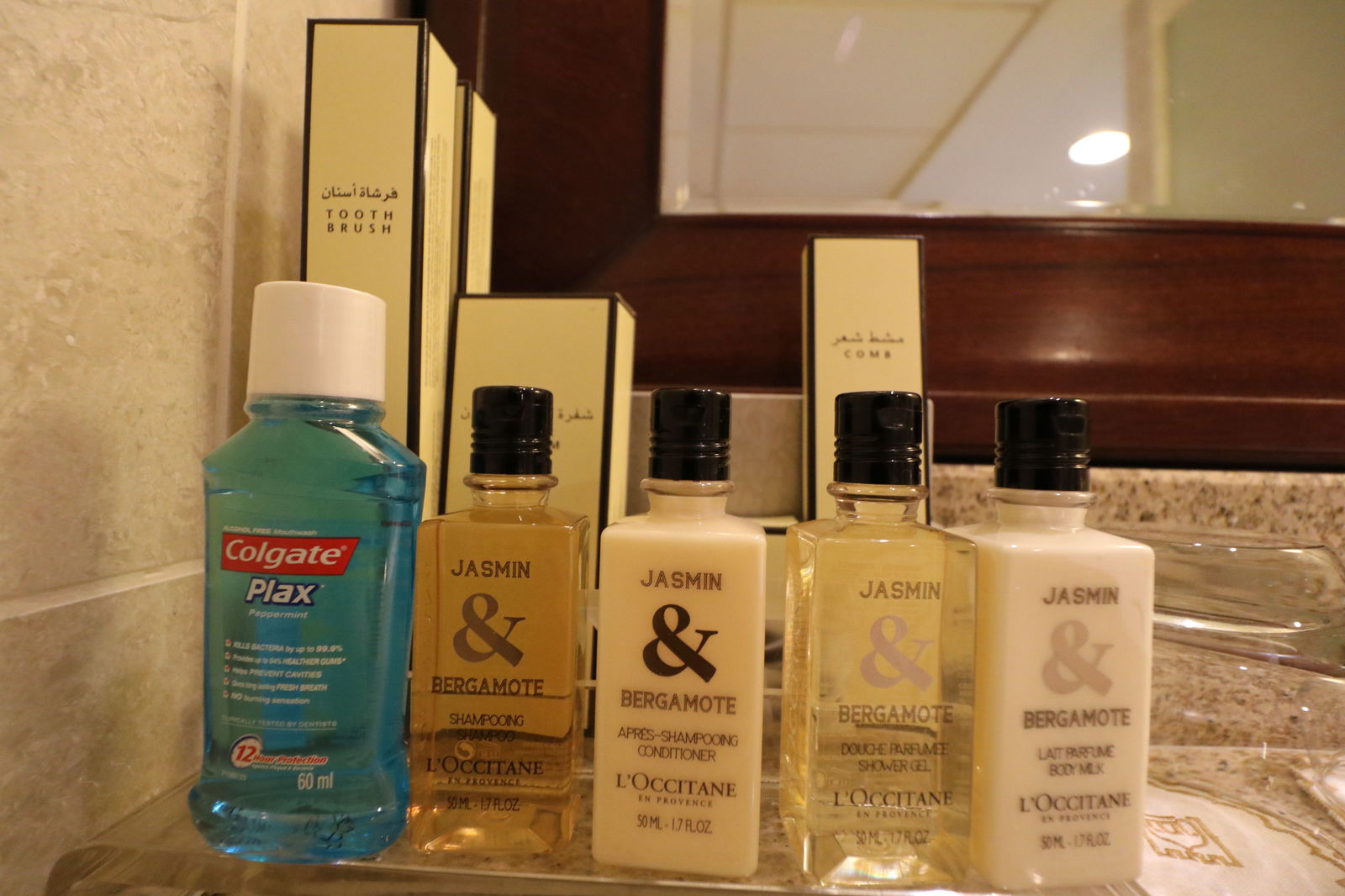 The bedroom was a lot bigger than it looks online so I was quite surprised when I entered. The king size bed was placed under a decorative wall with two lanterns on either side over the bedside table.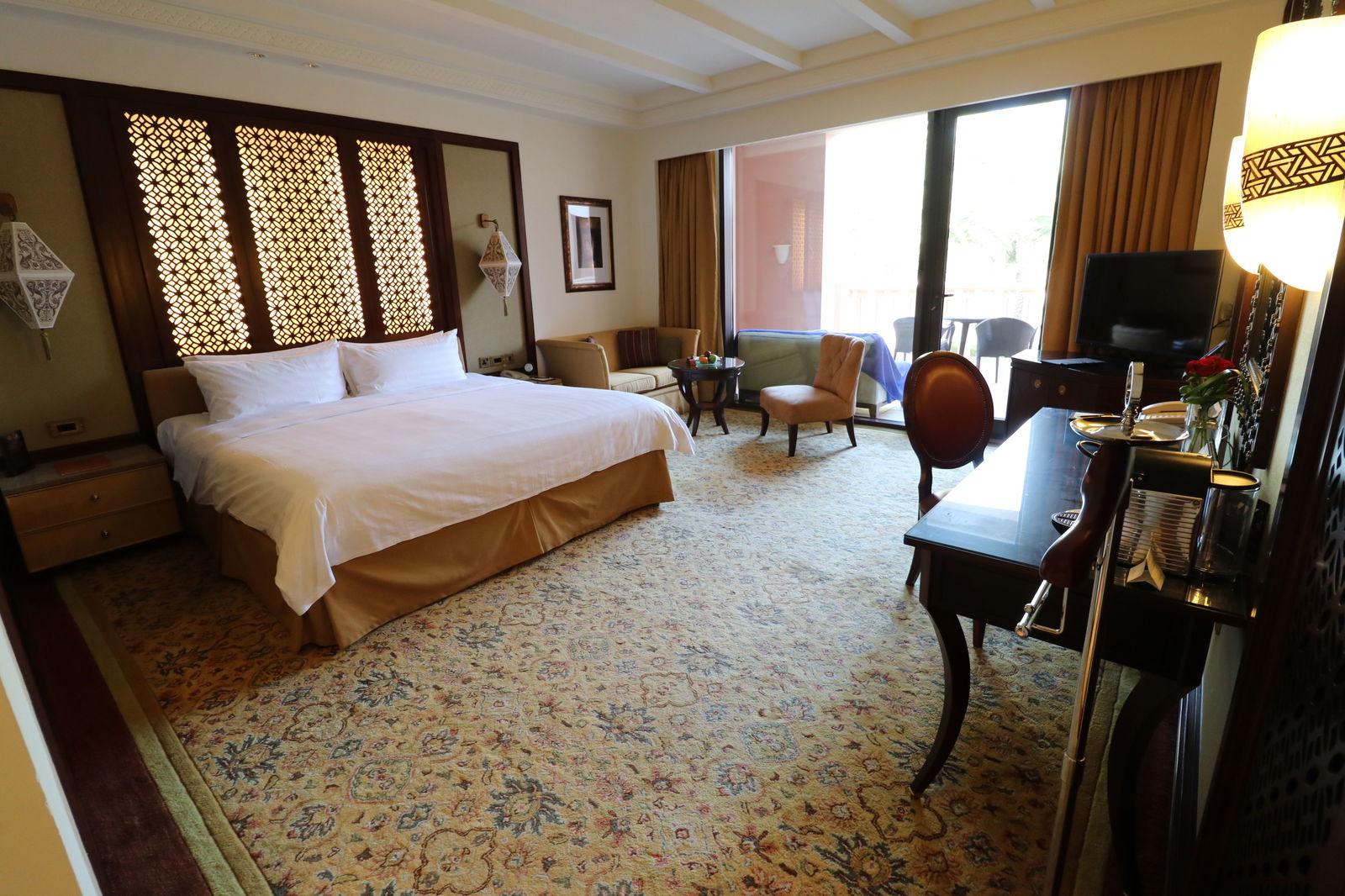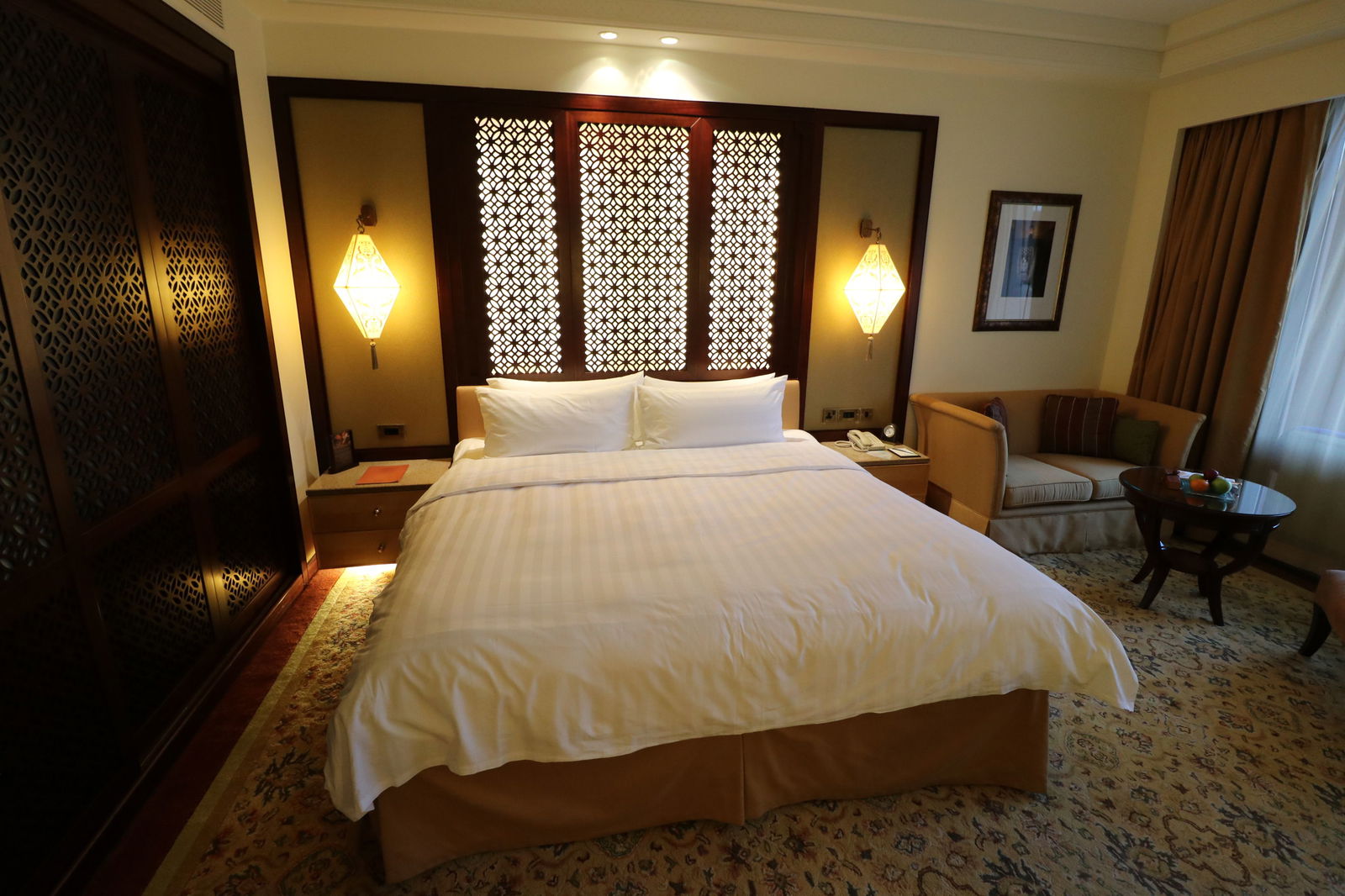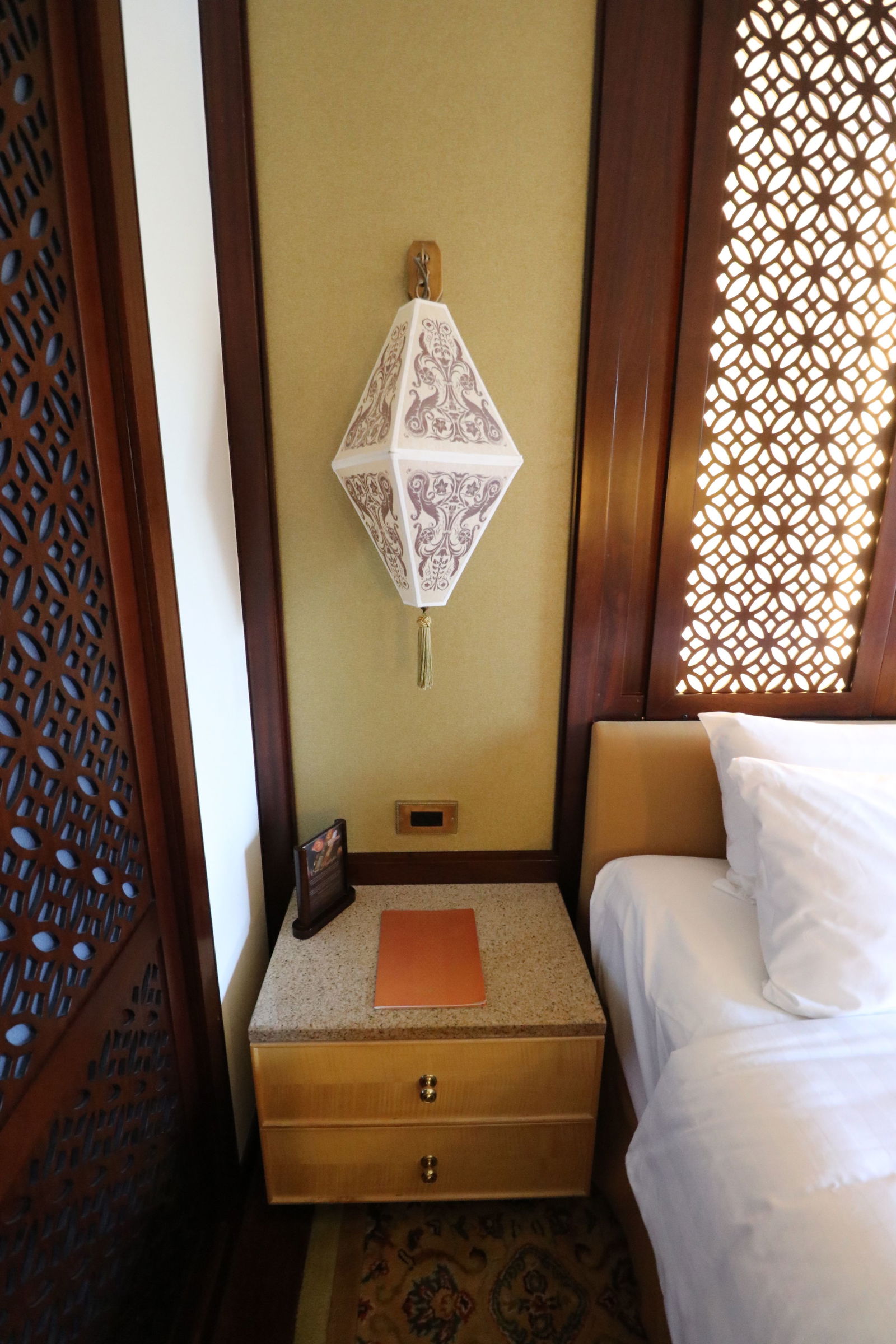 To the right of that was a couch and a chair, along with some treats. These included fruits and some dates.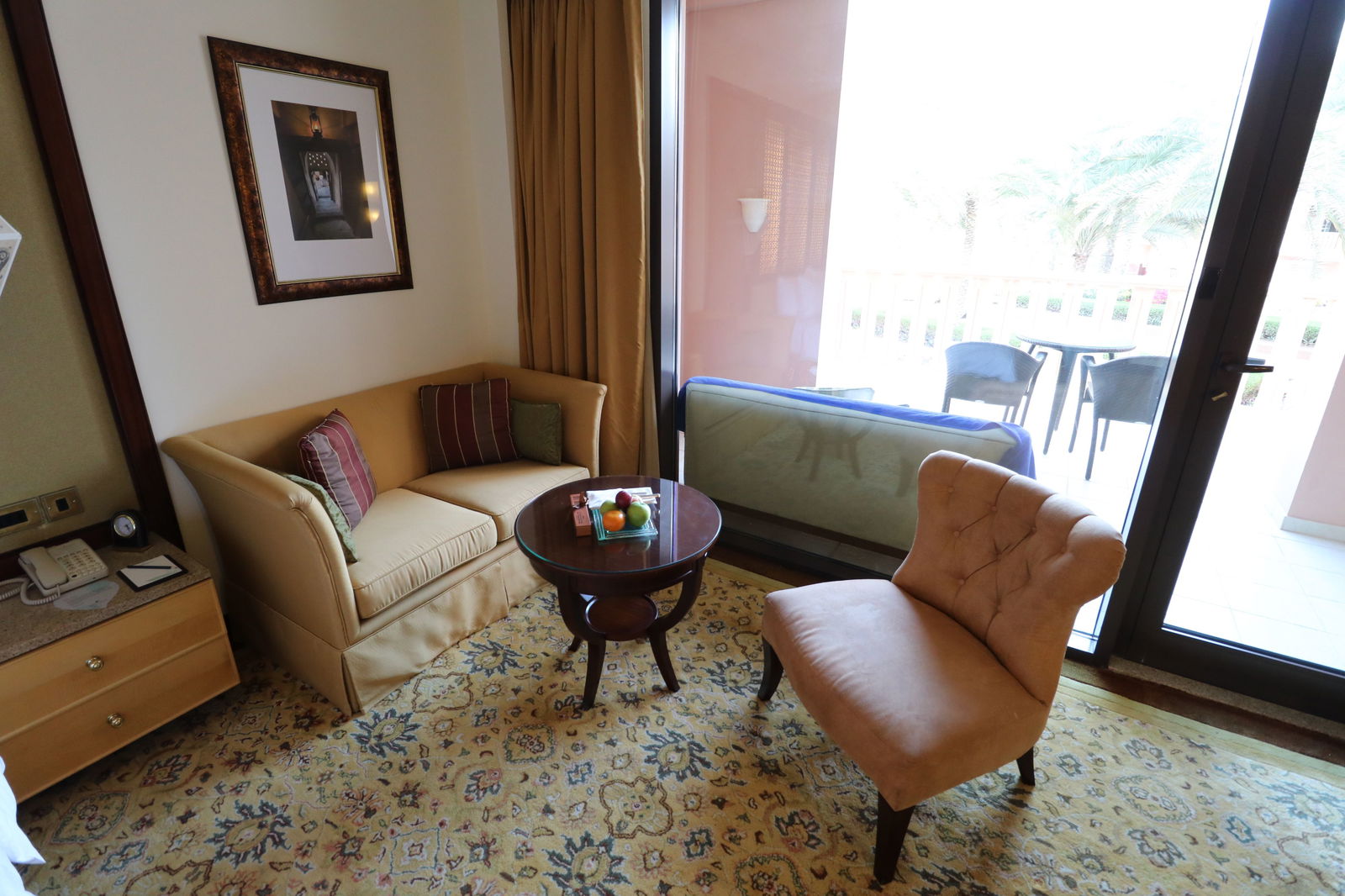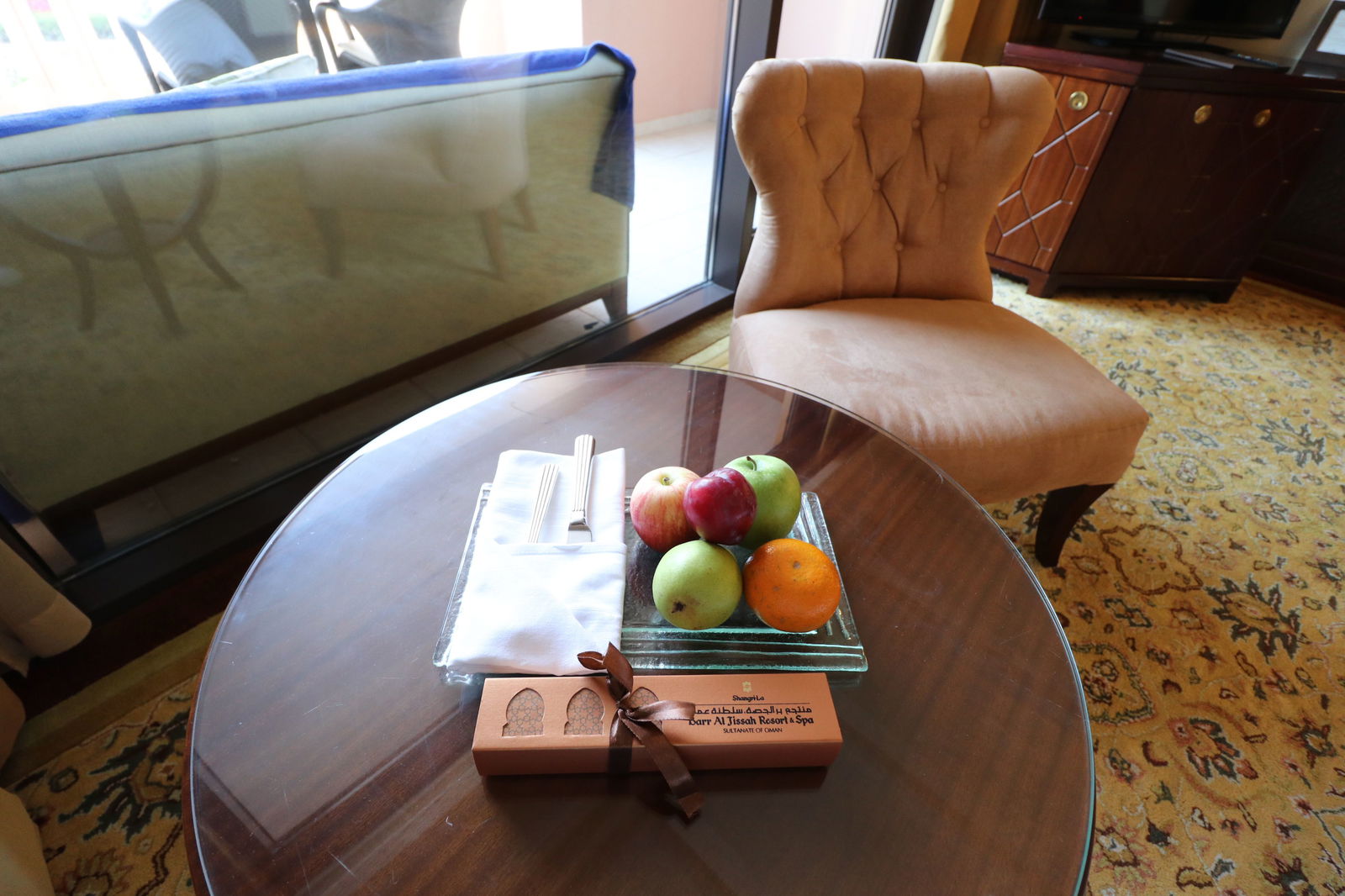 Beyond that was the balcony, which was simple.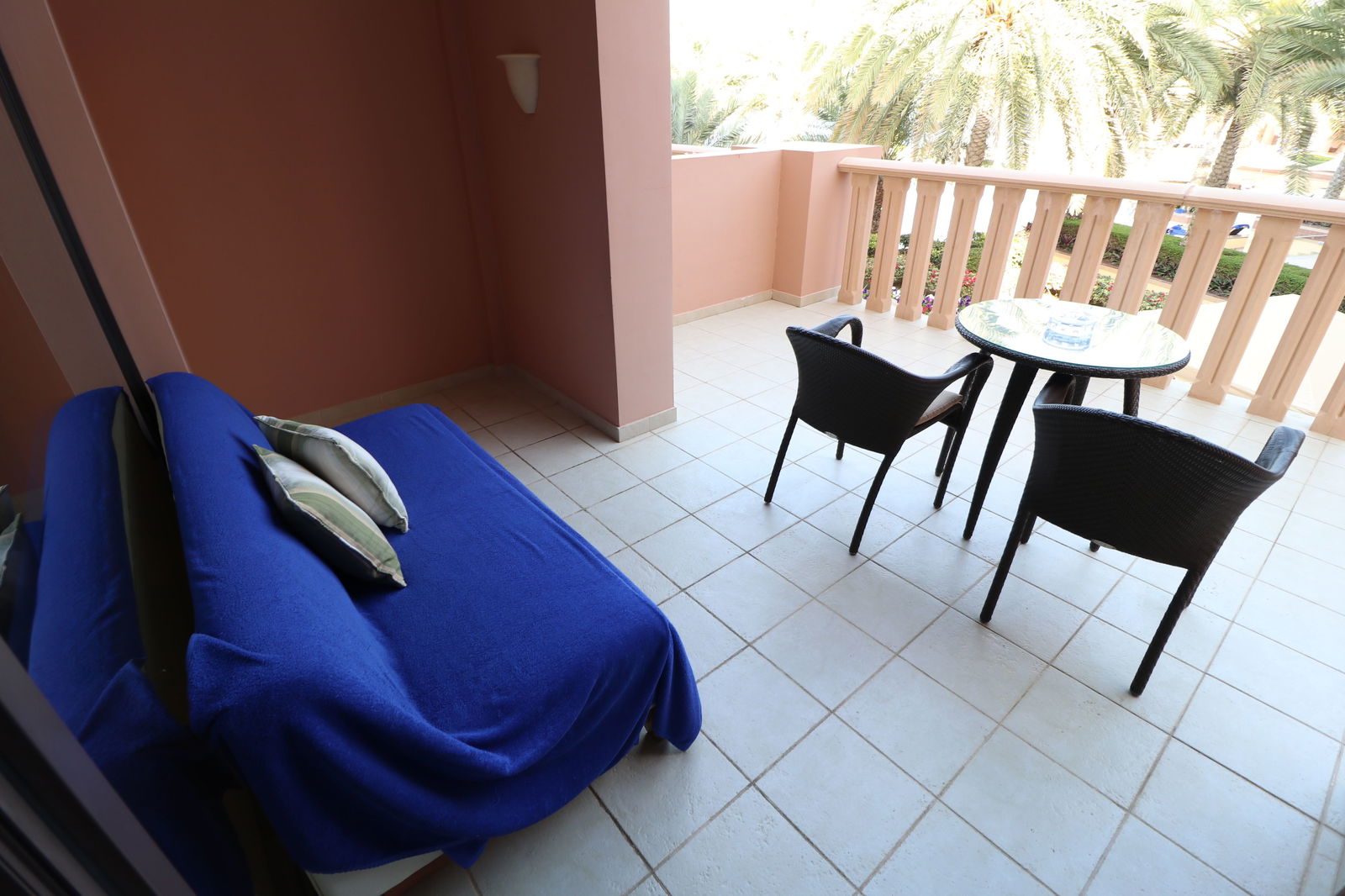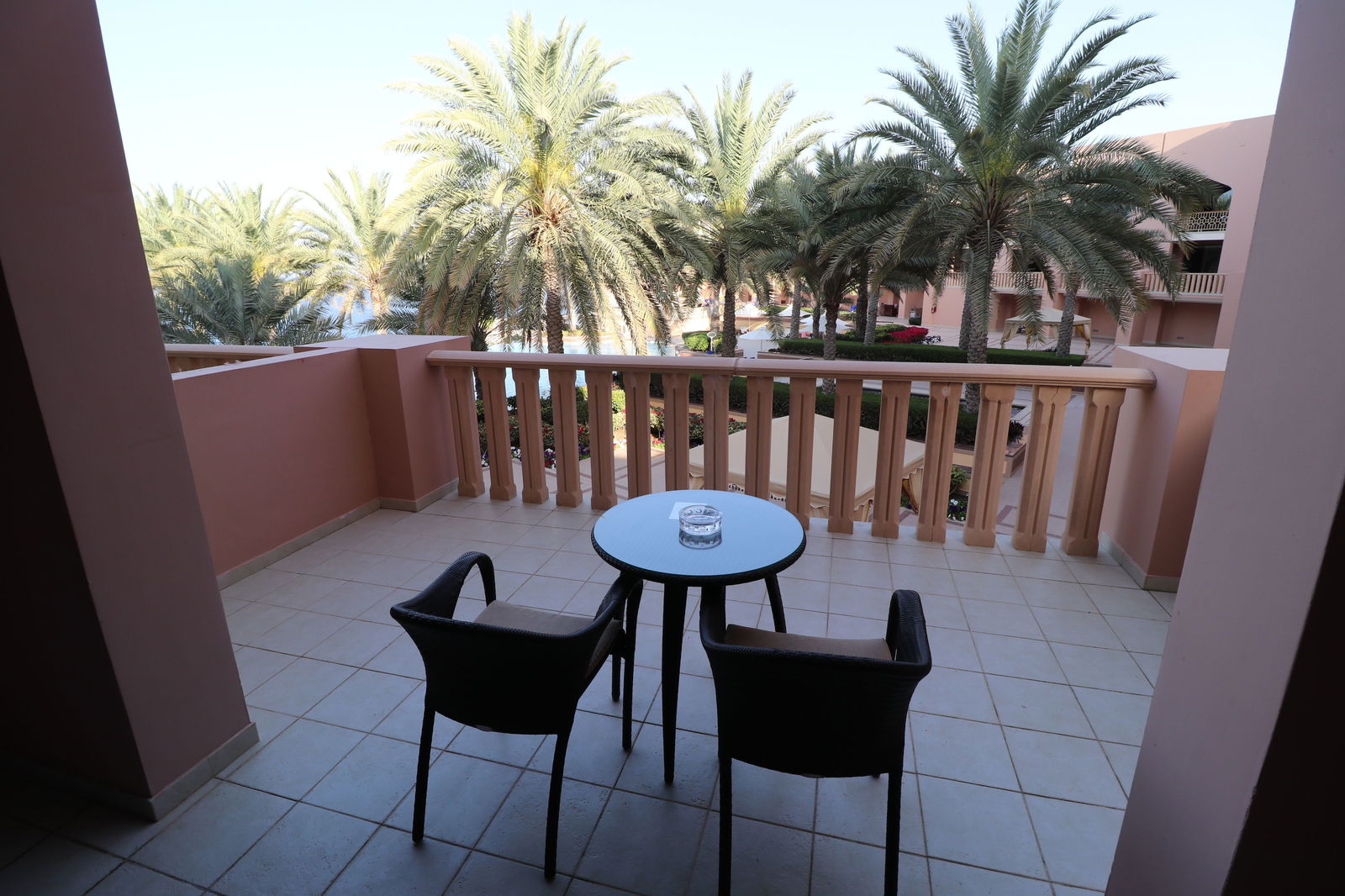 On the opposite side of the room was a desk. It was covered in various items, from a coffee machine to a flower. Above it was a large mirror.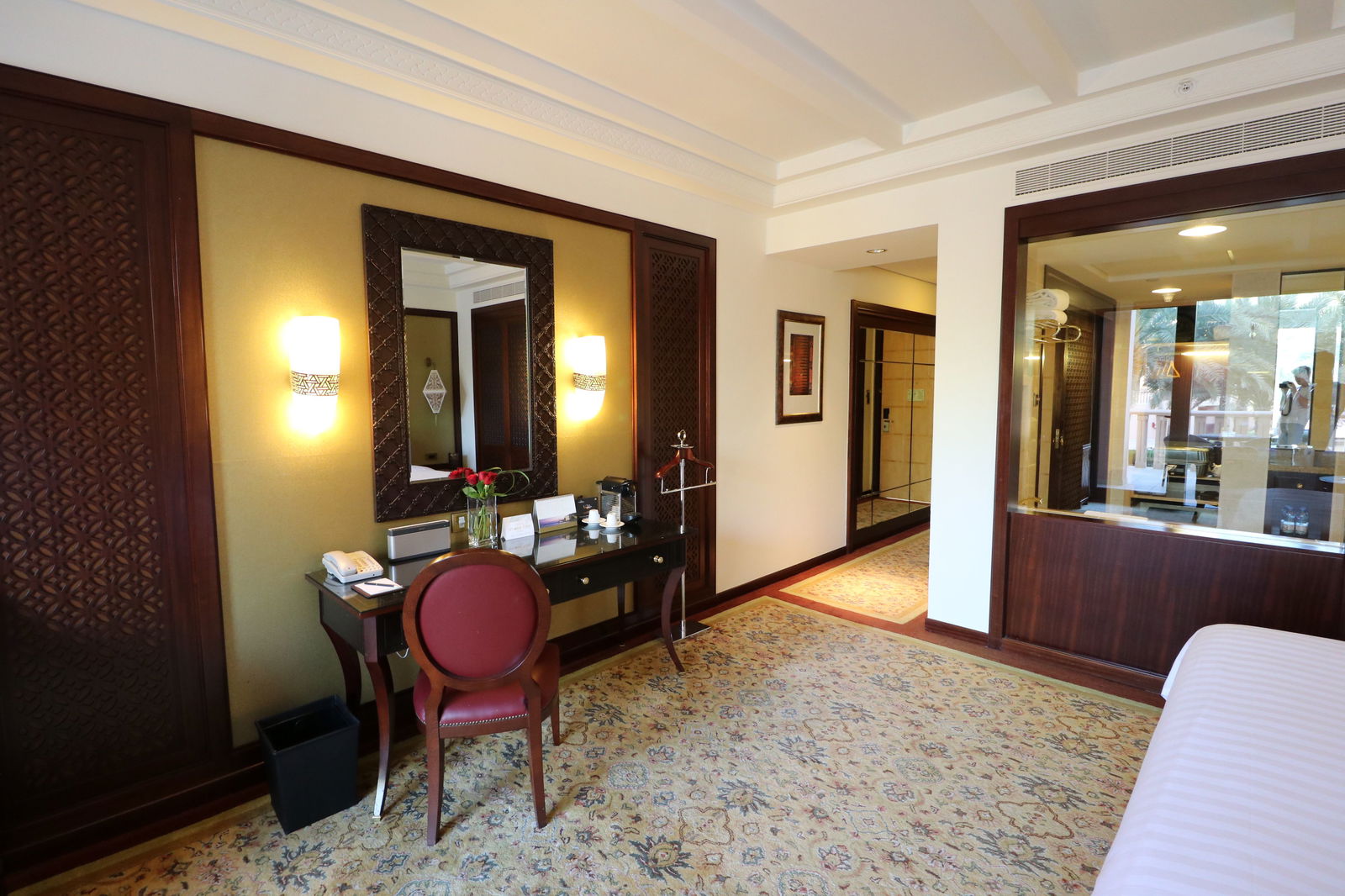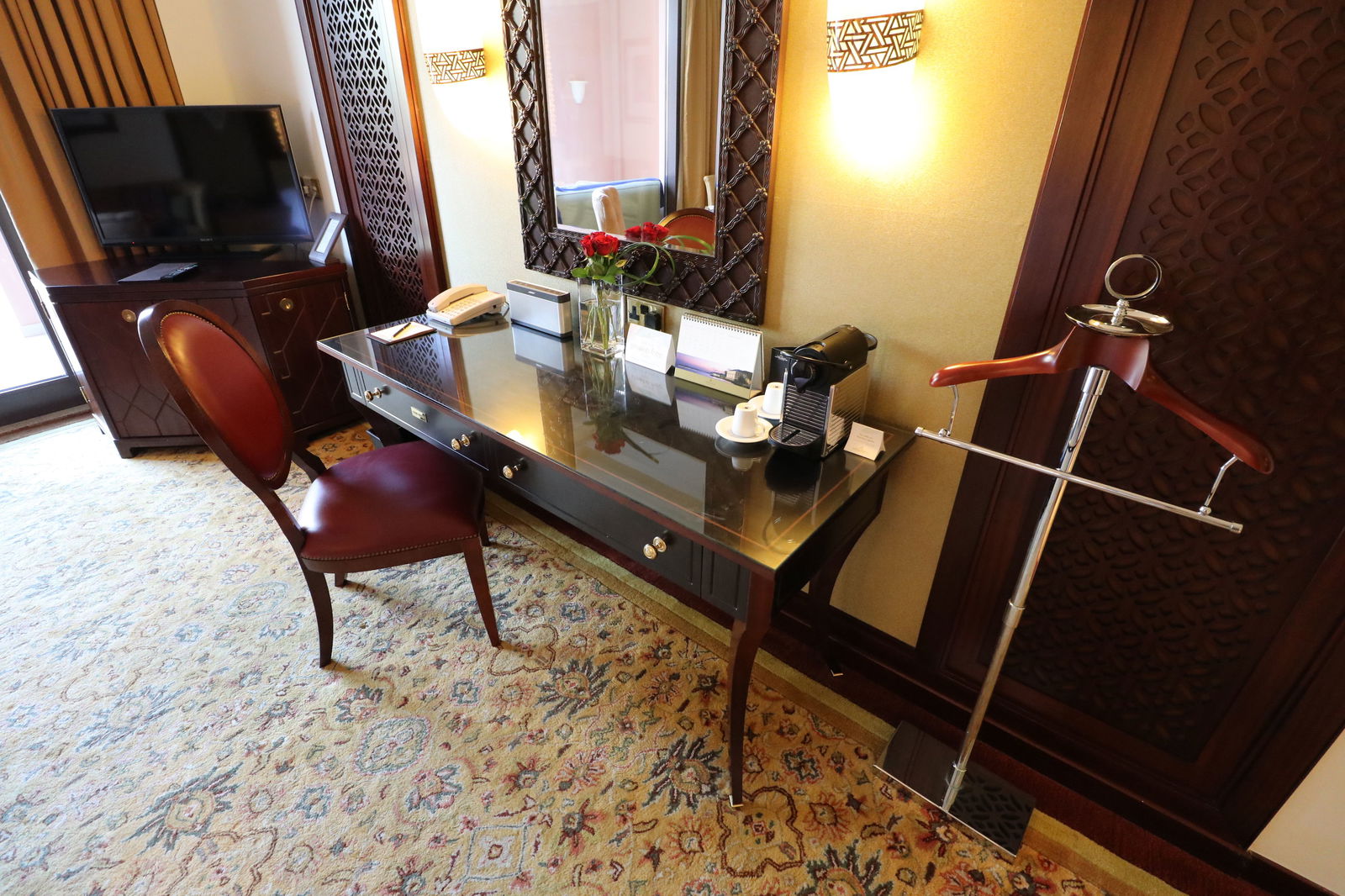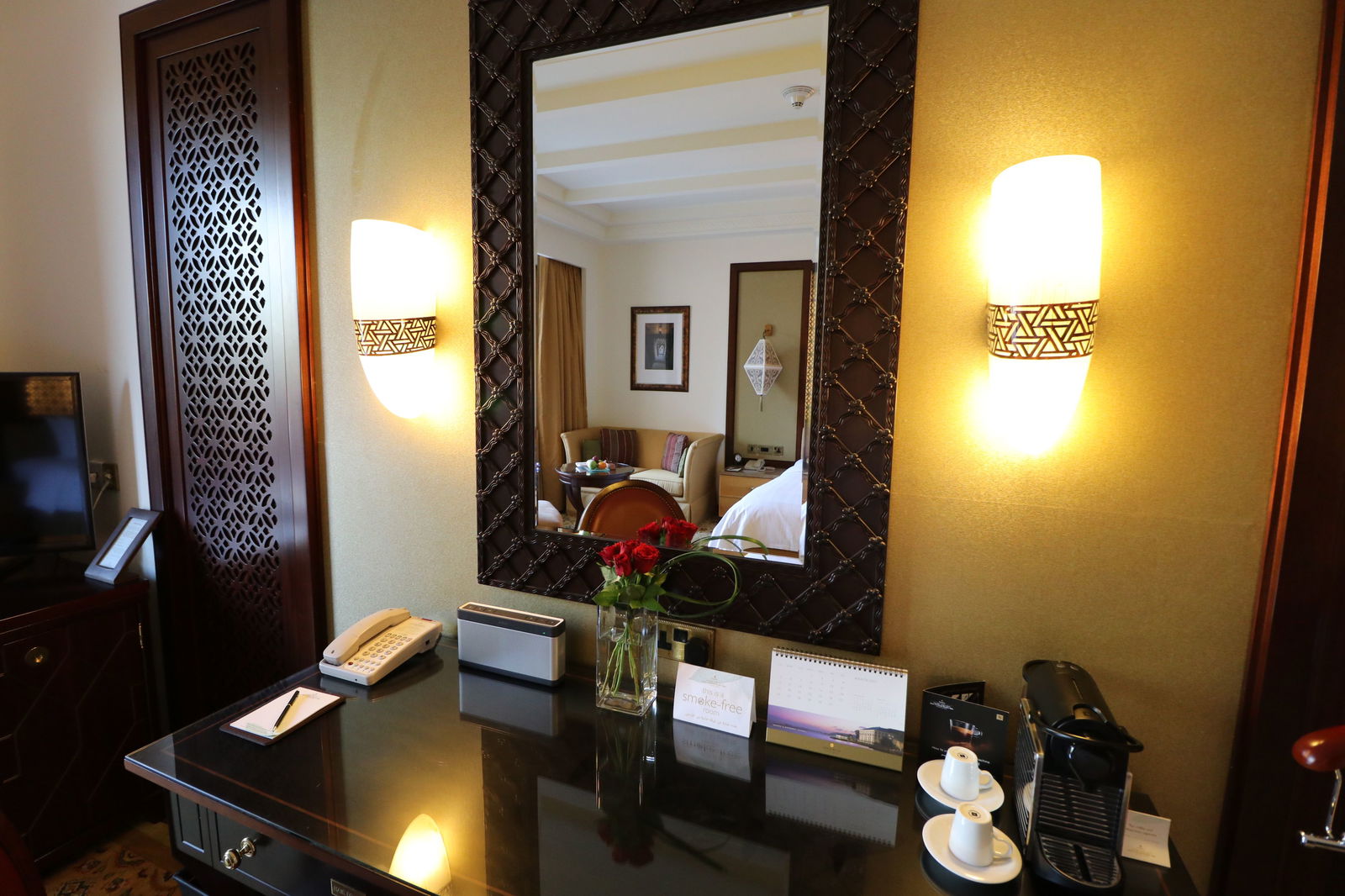 In the corner was the TV along with some drawers and the mini-bar, which was all free of charge apart from the liquor. I really appreciated that it was complimentary, since food and drink isn't exactly cheap at a place like this.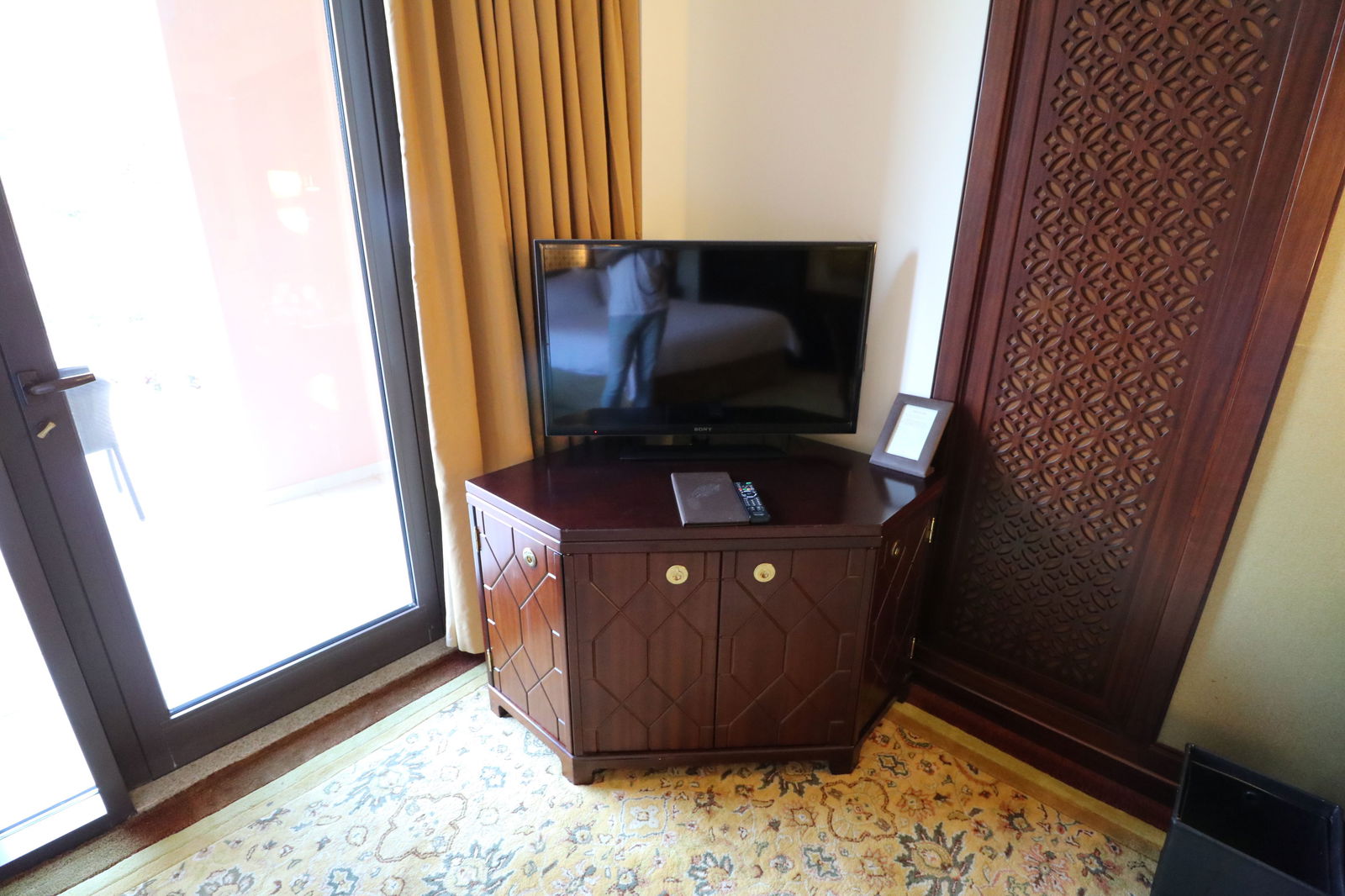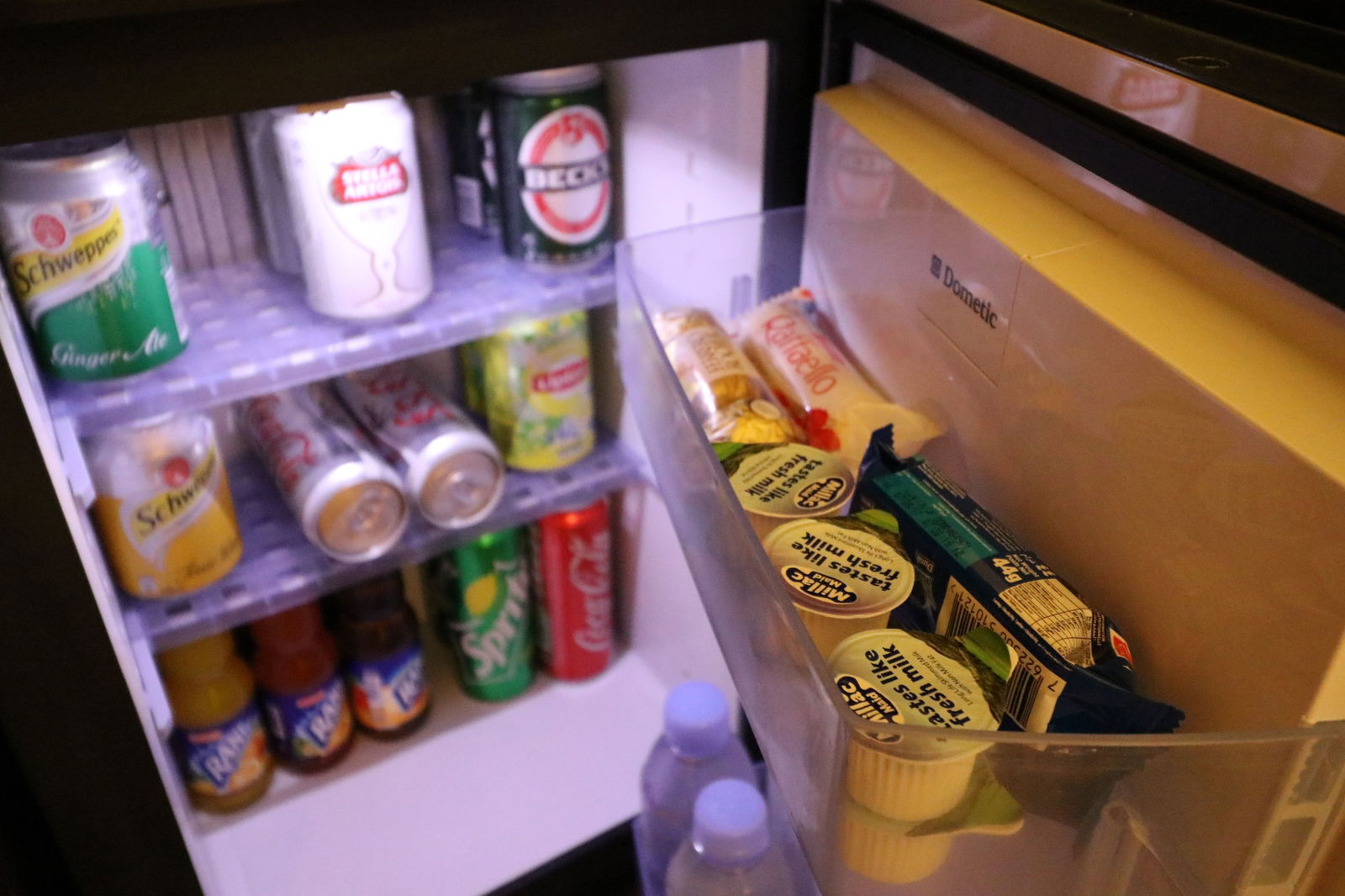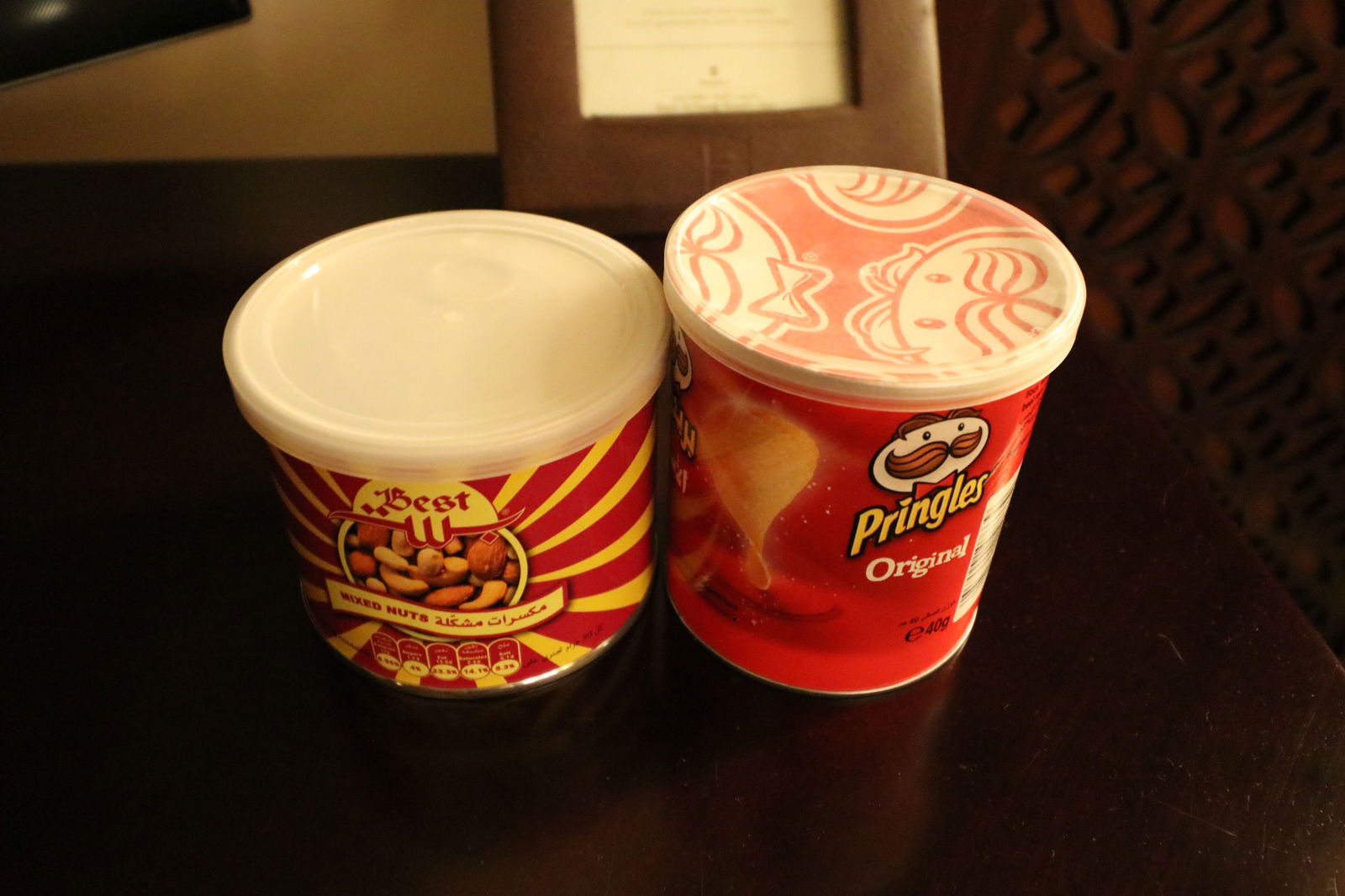 Dining
Complimentary afternoon tea was served everyday between 3:45pm and 4:45pm at Sultanah restaurant. The options were changed daily and they happily catered to dietary requests. There were also complimentary pre-dinner drinks in the courtyard with live music.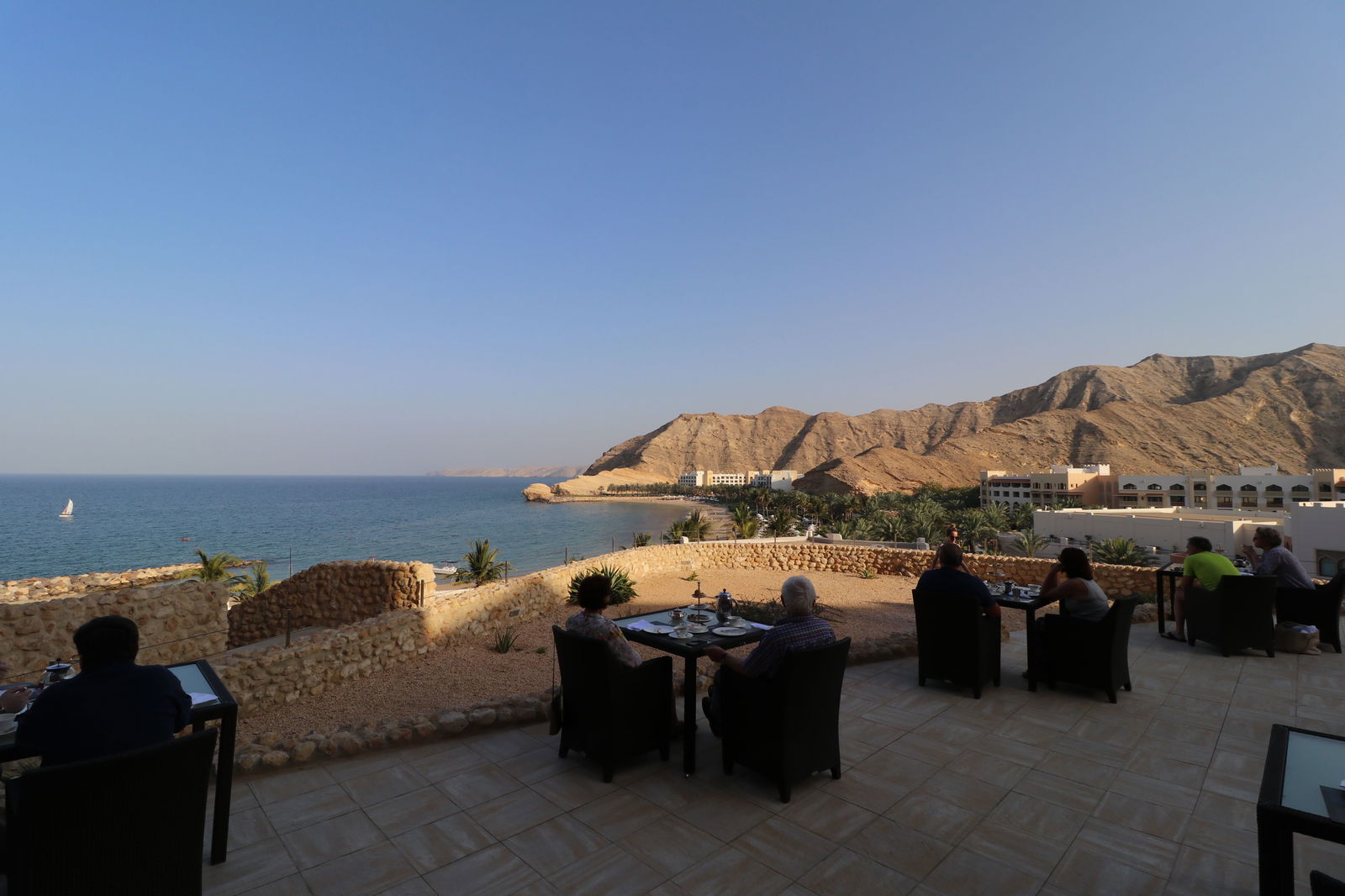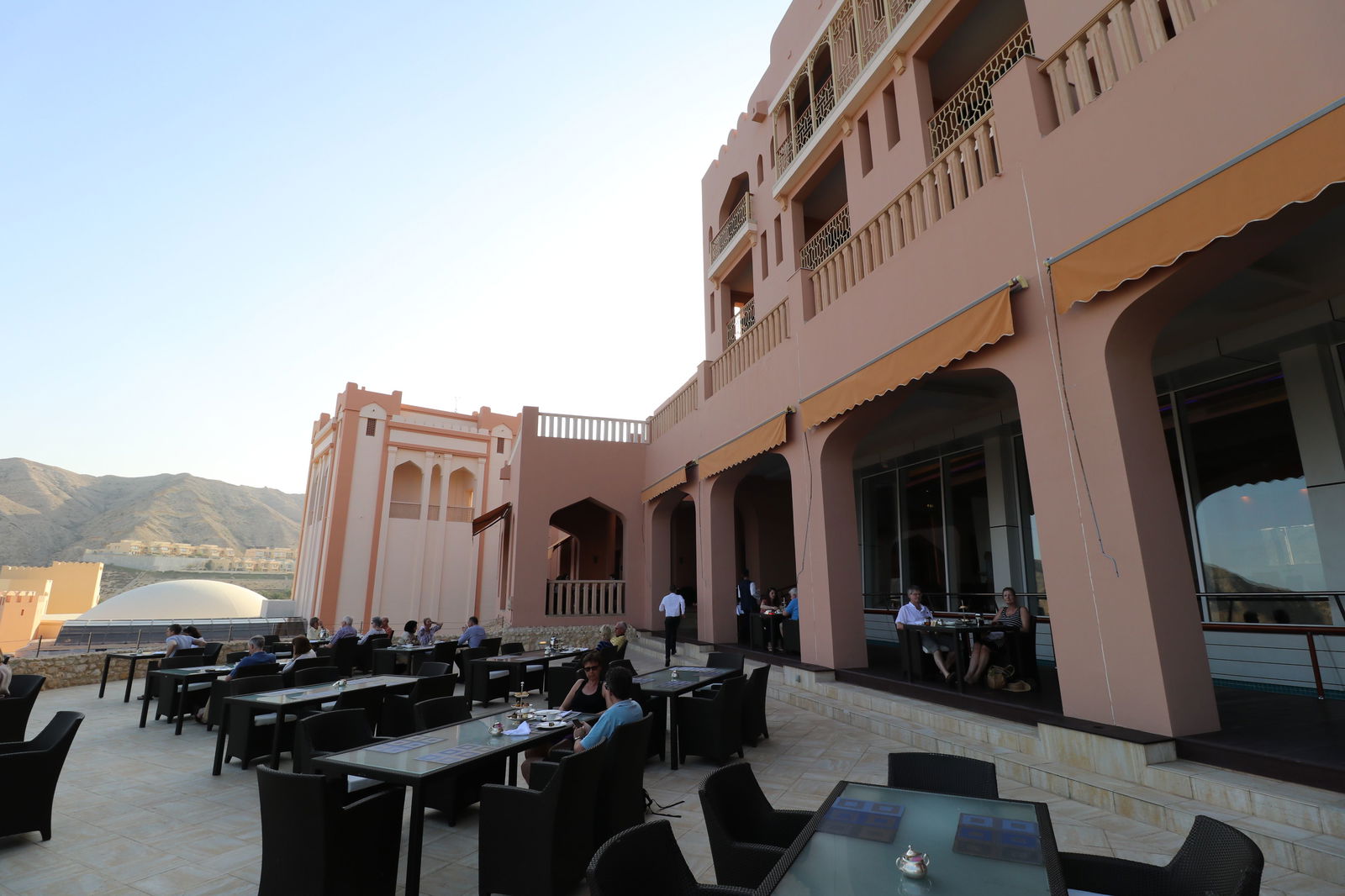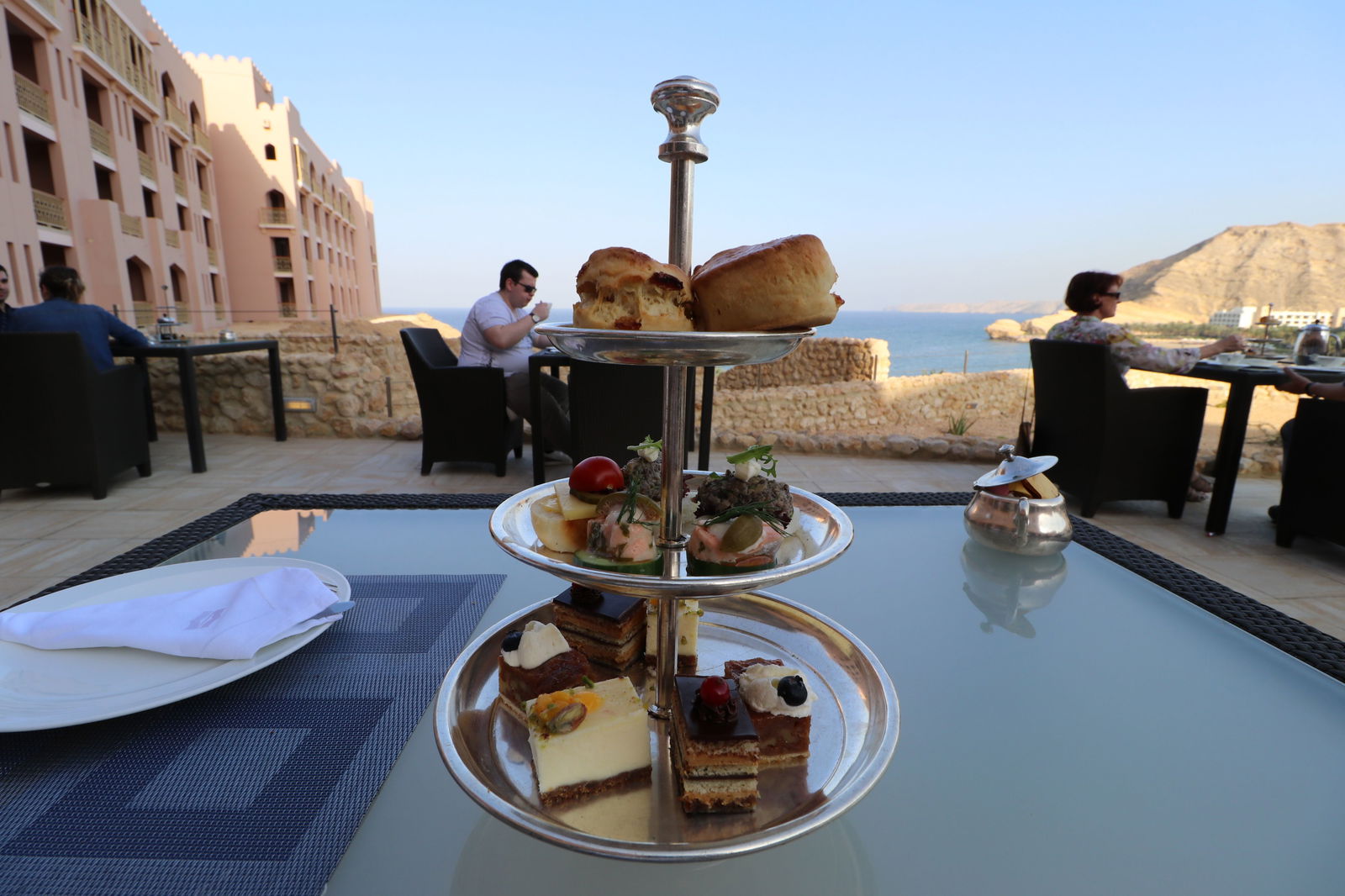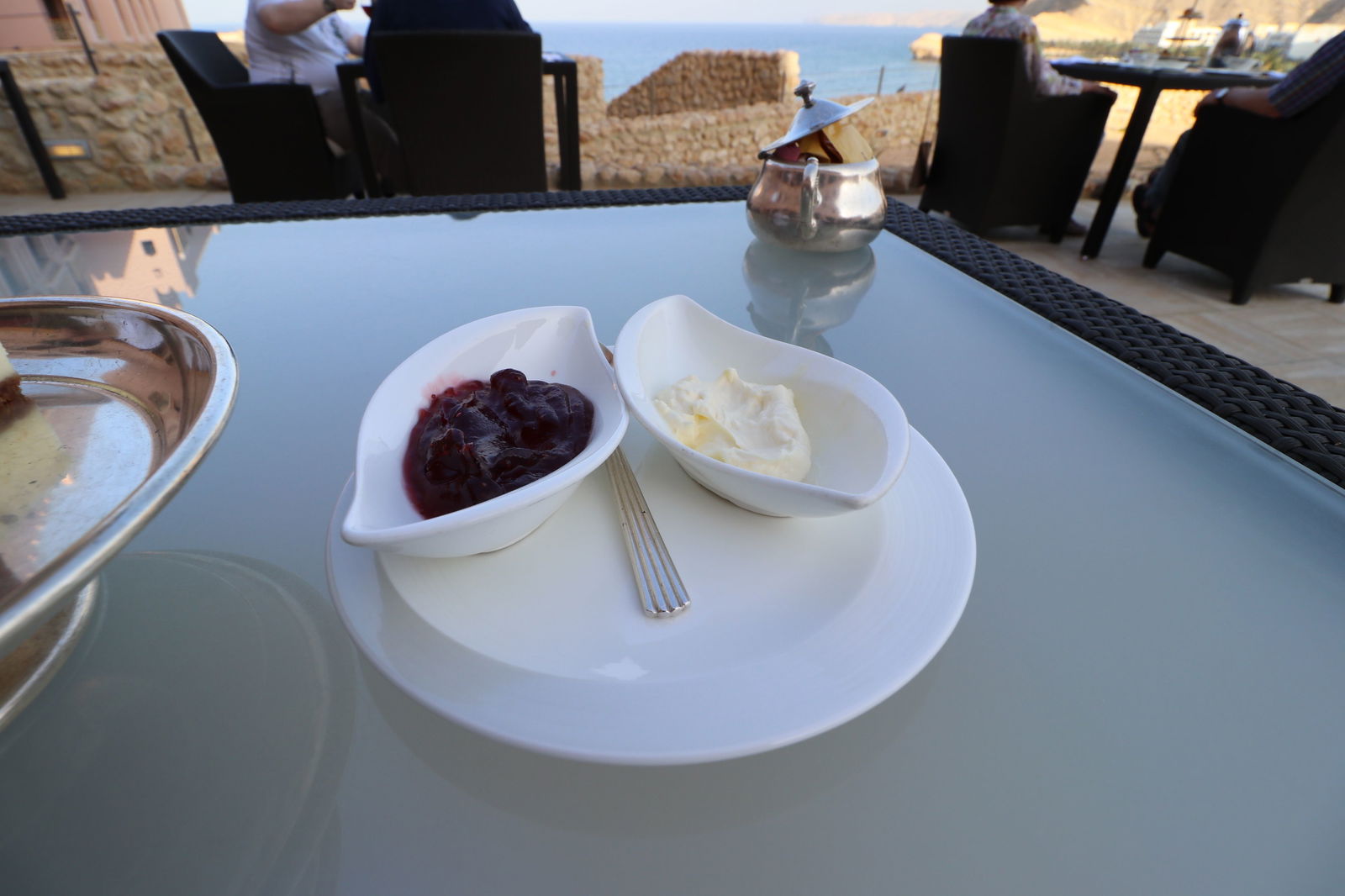 The afternoon tea was served at the same restaurant that served breakfast, which was also included in the room rate. Given that the dinner buffets cost 20+ OMR per person at some of the hotel restaurants, being able to have complimentary breakfast for two on a daily basis seems like a great value.
The buffet spread offered everything from Middle Eastern to Asian to European food.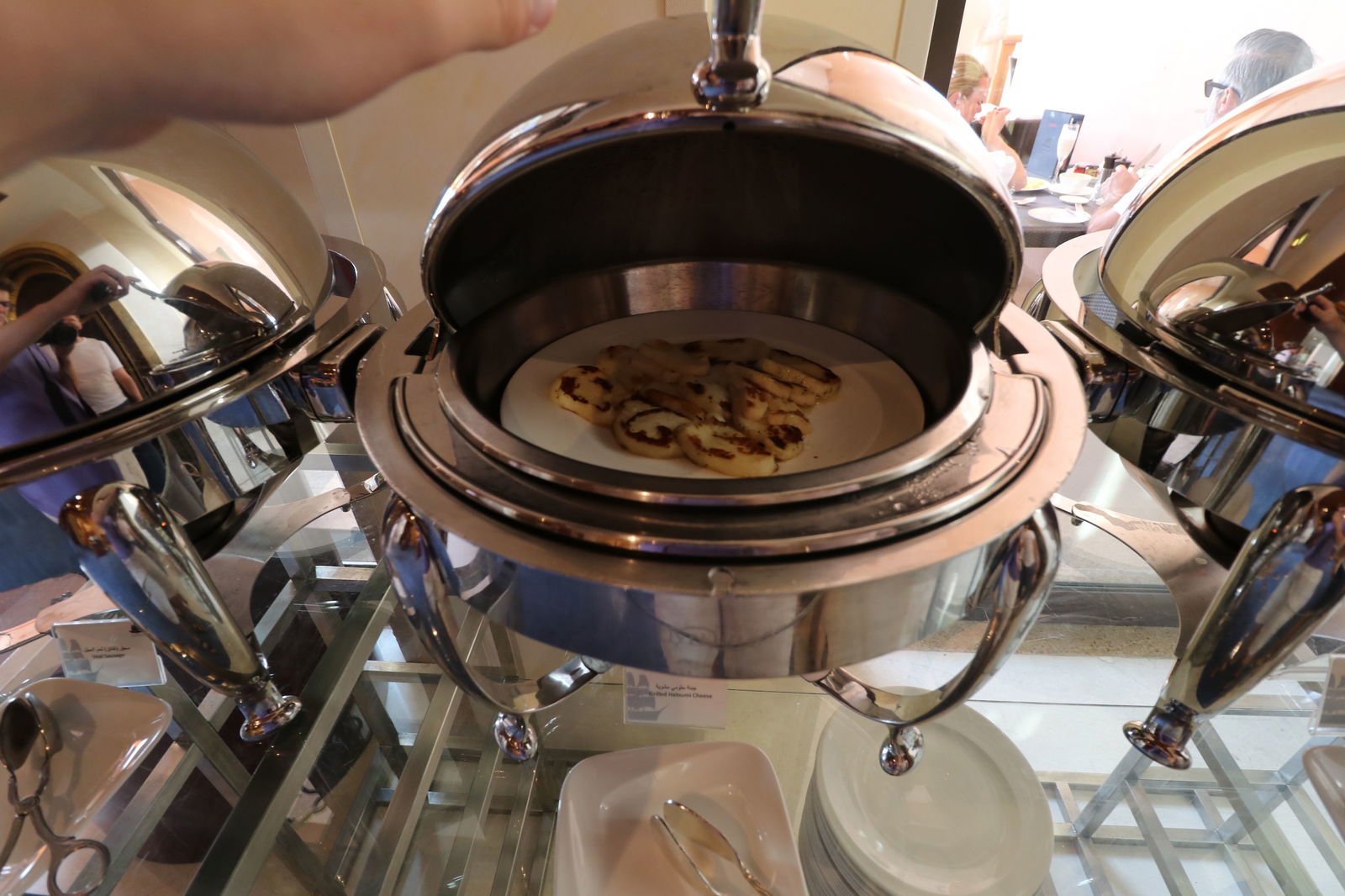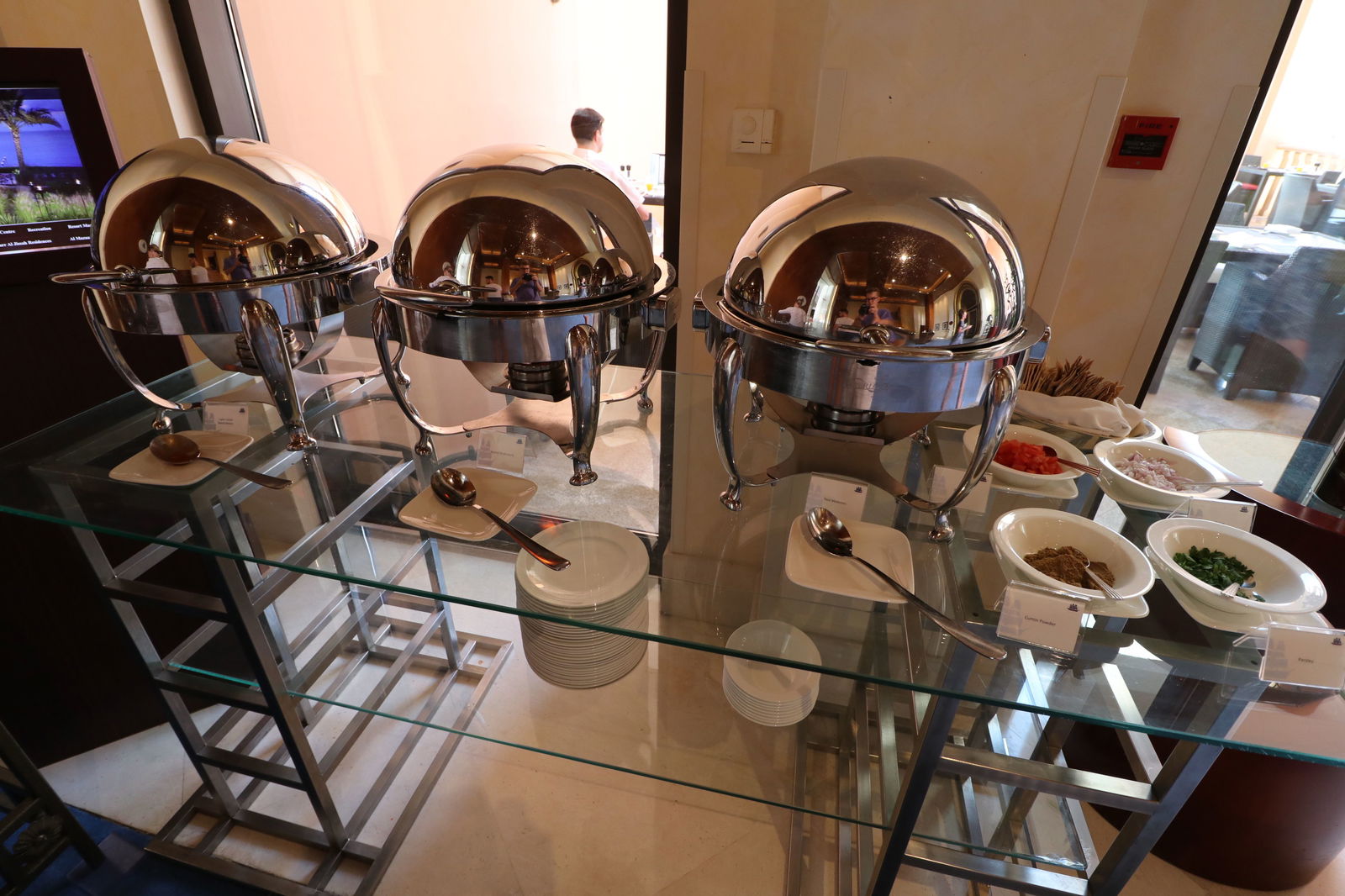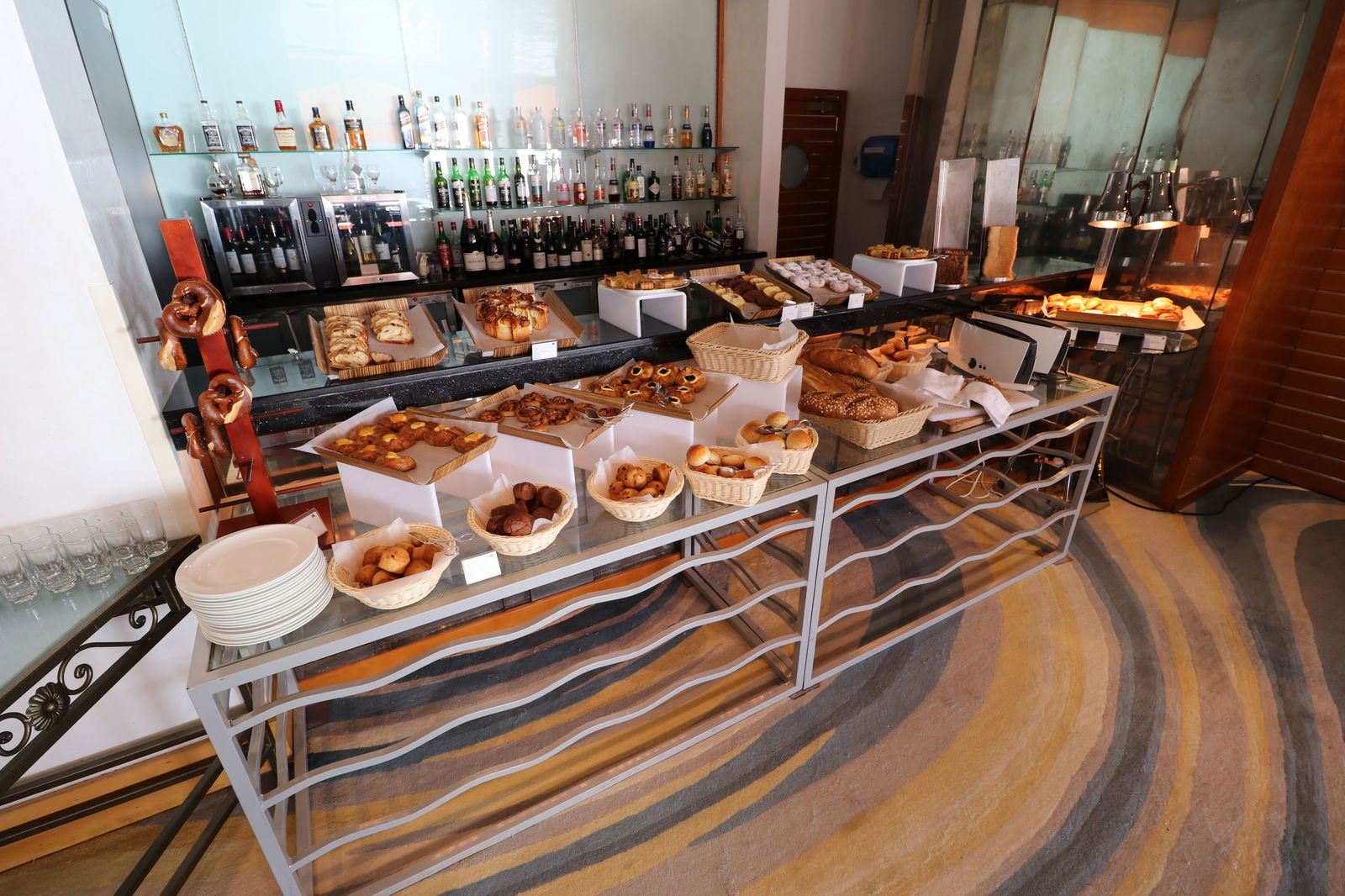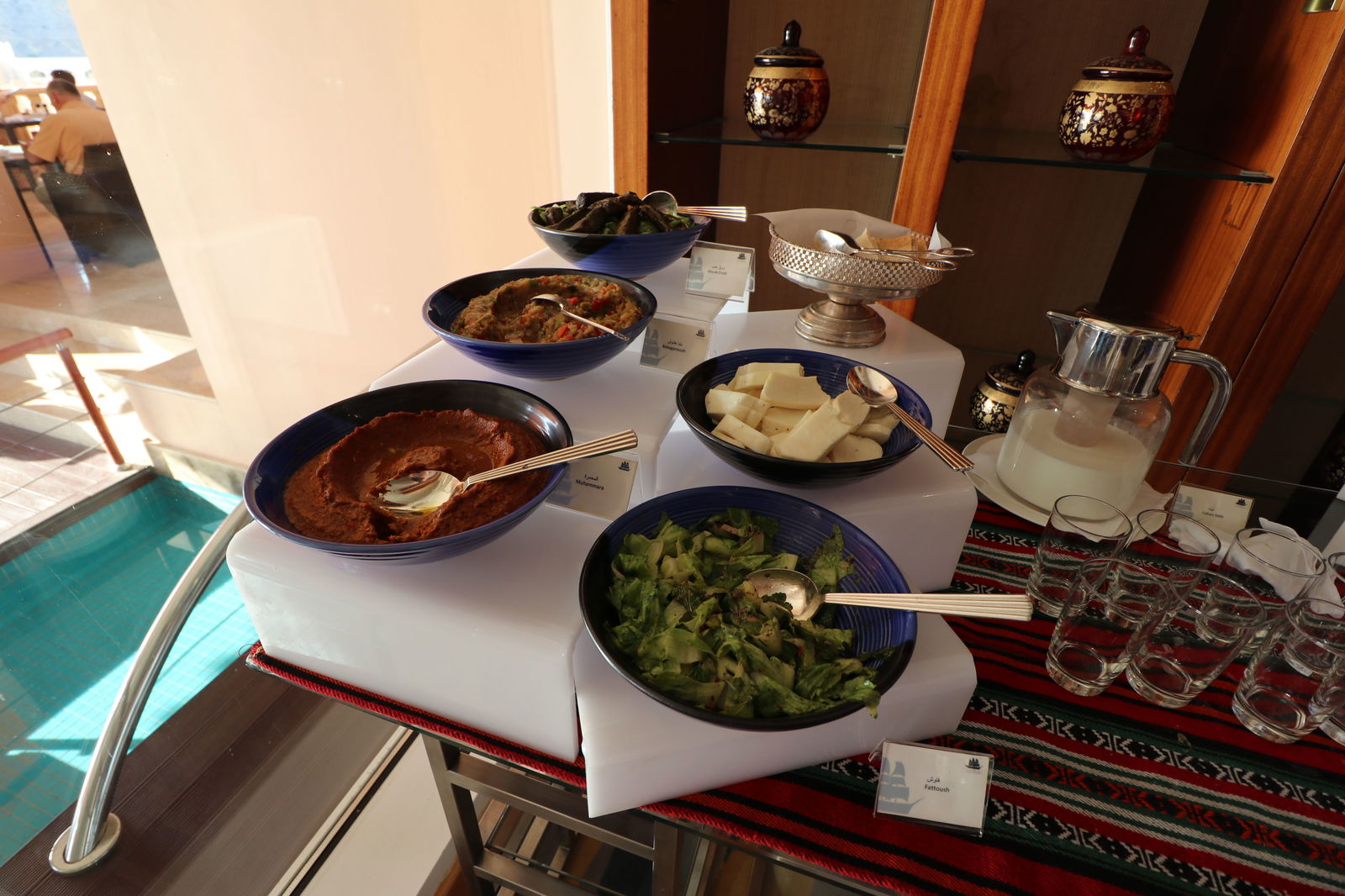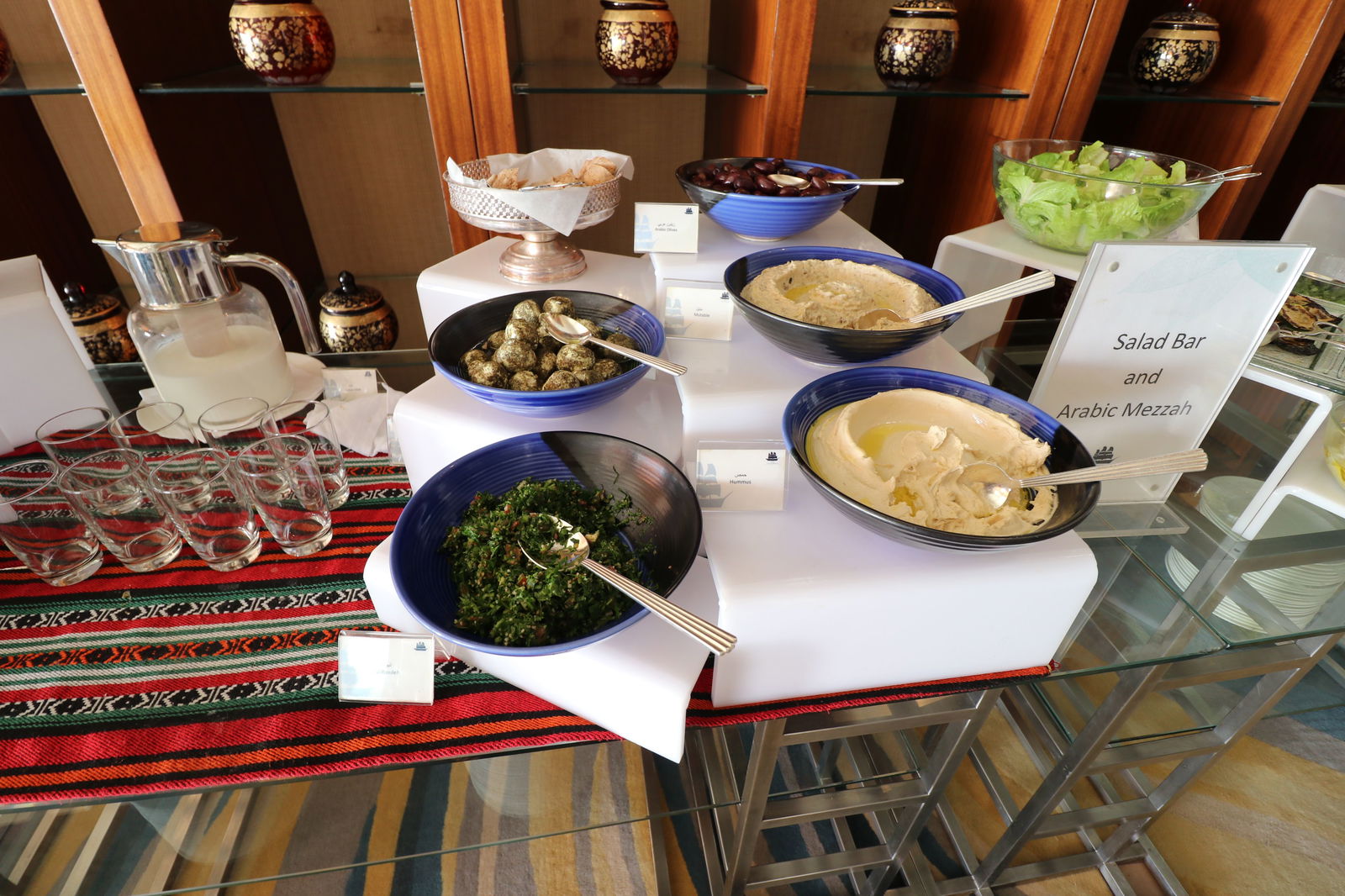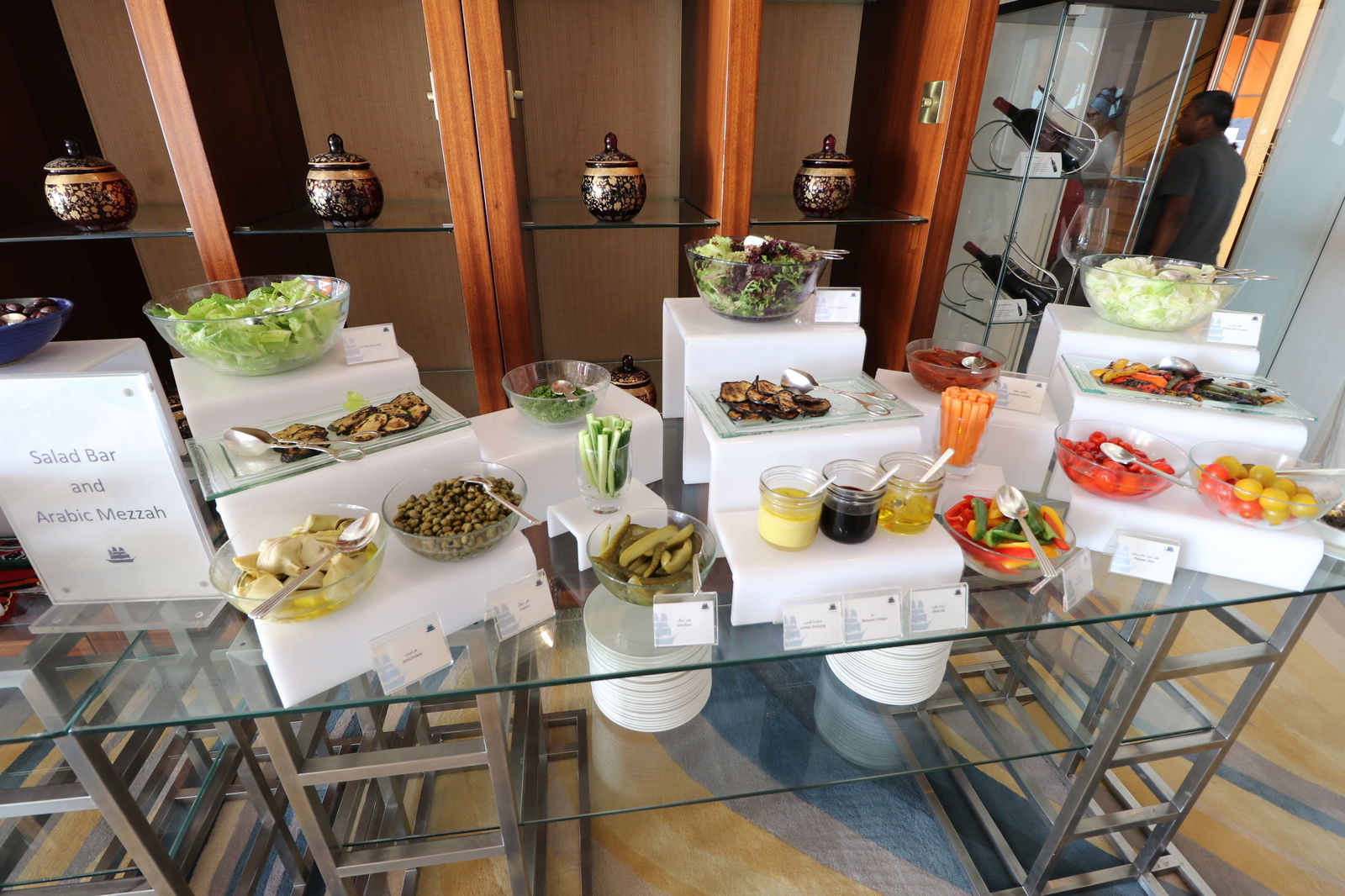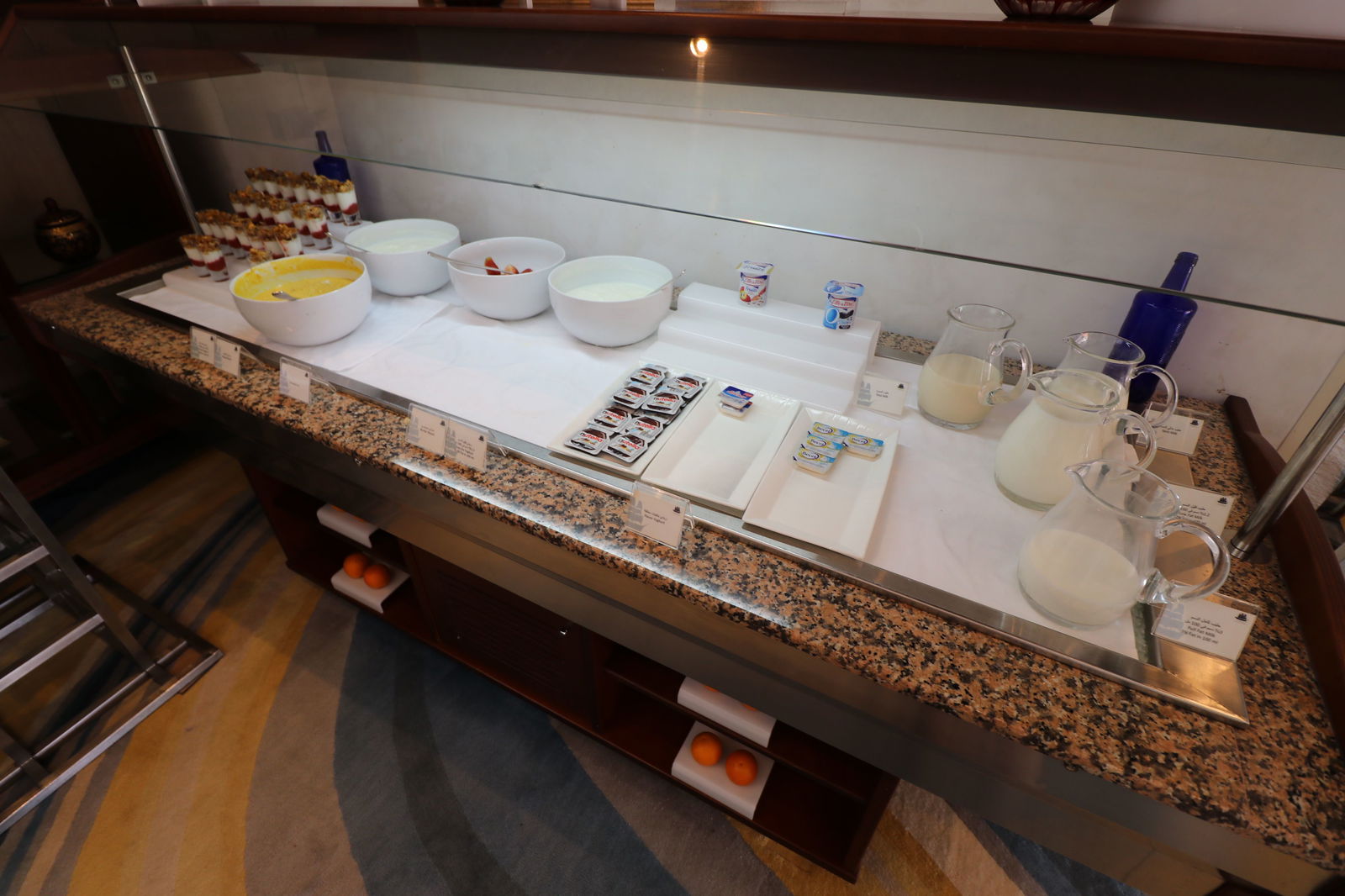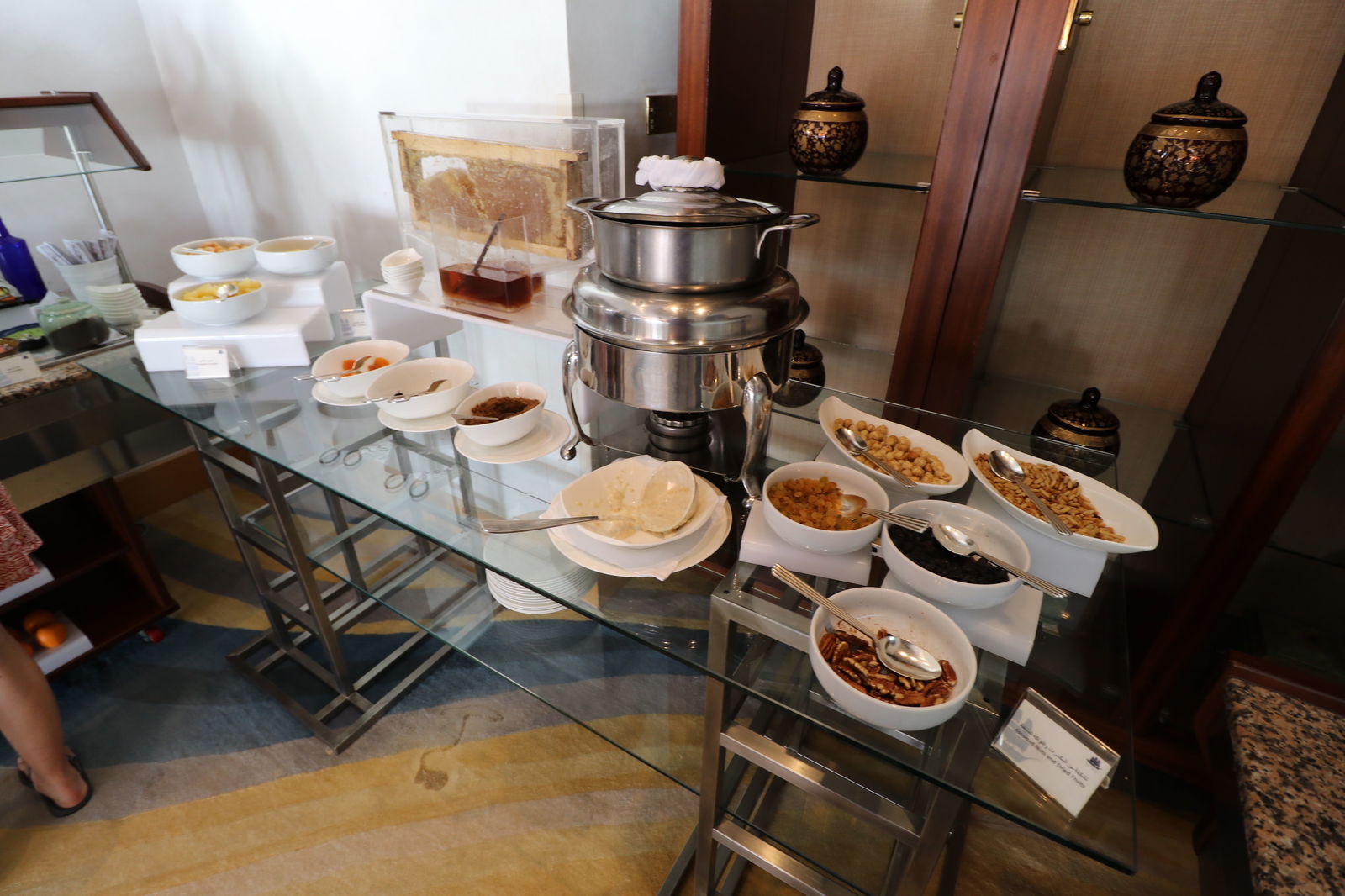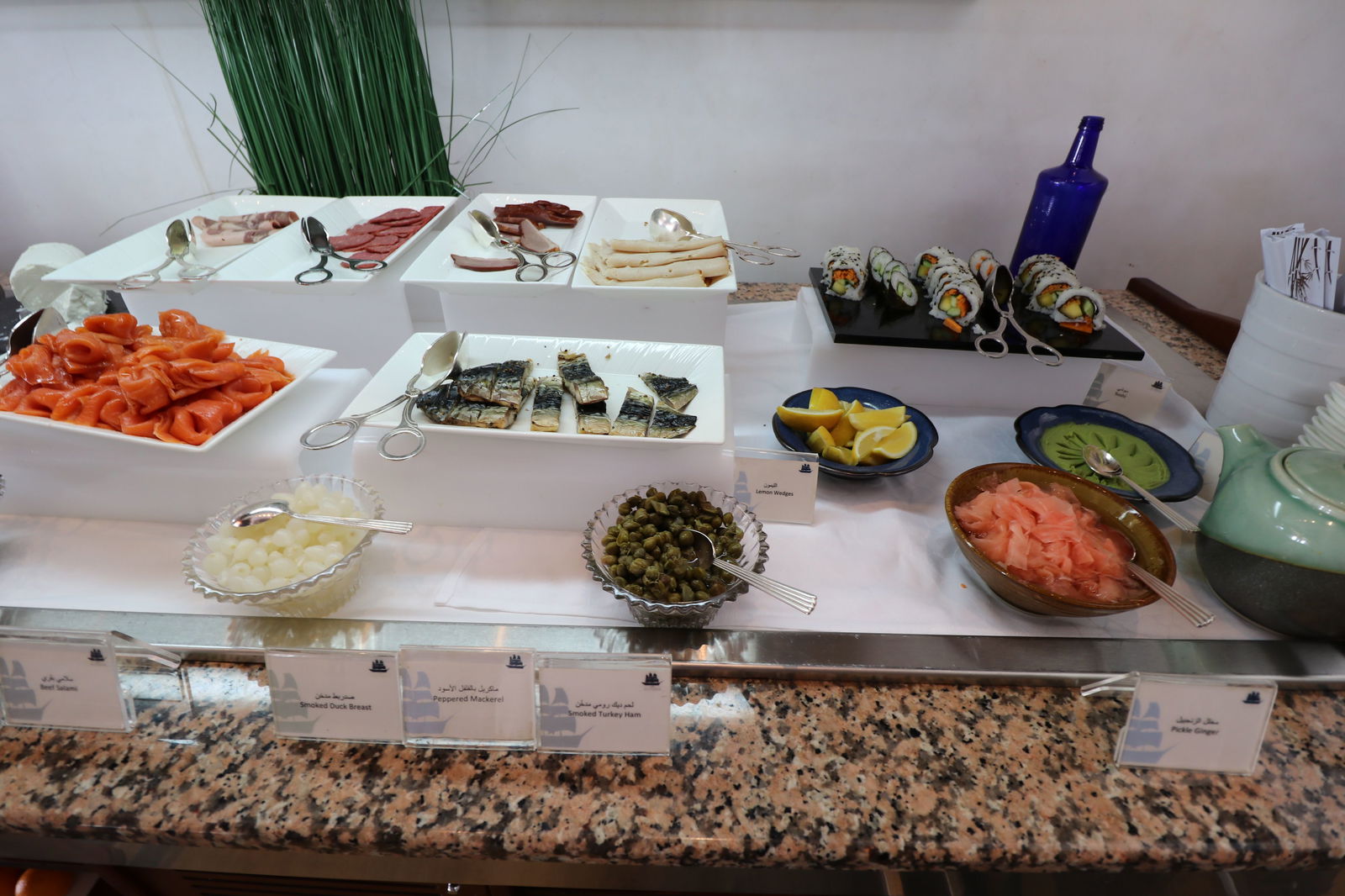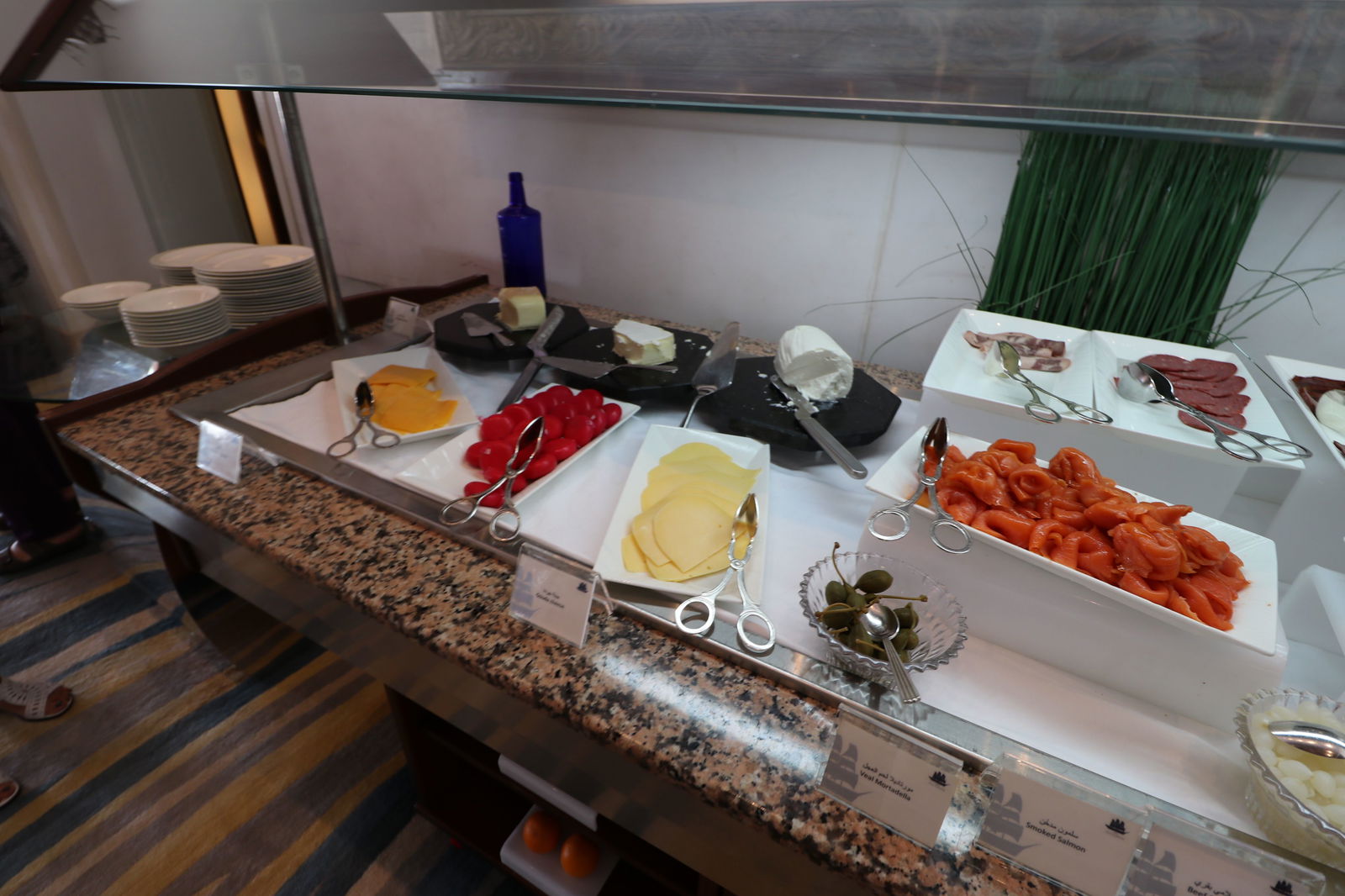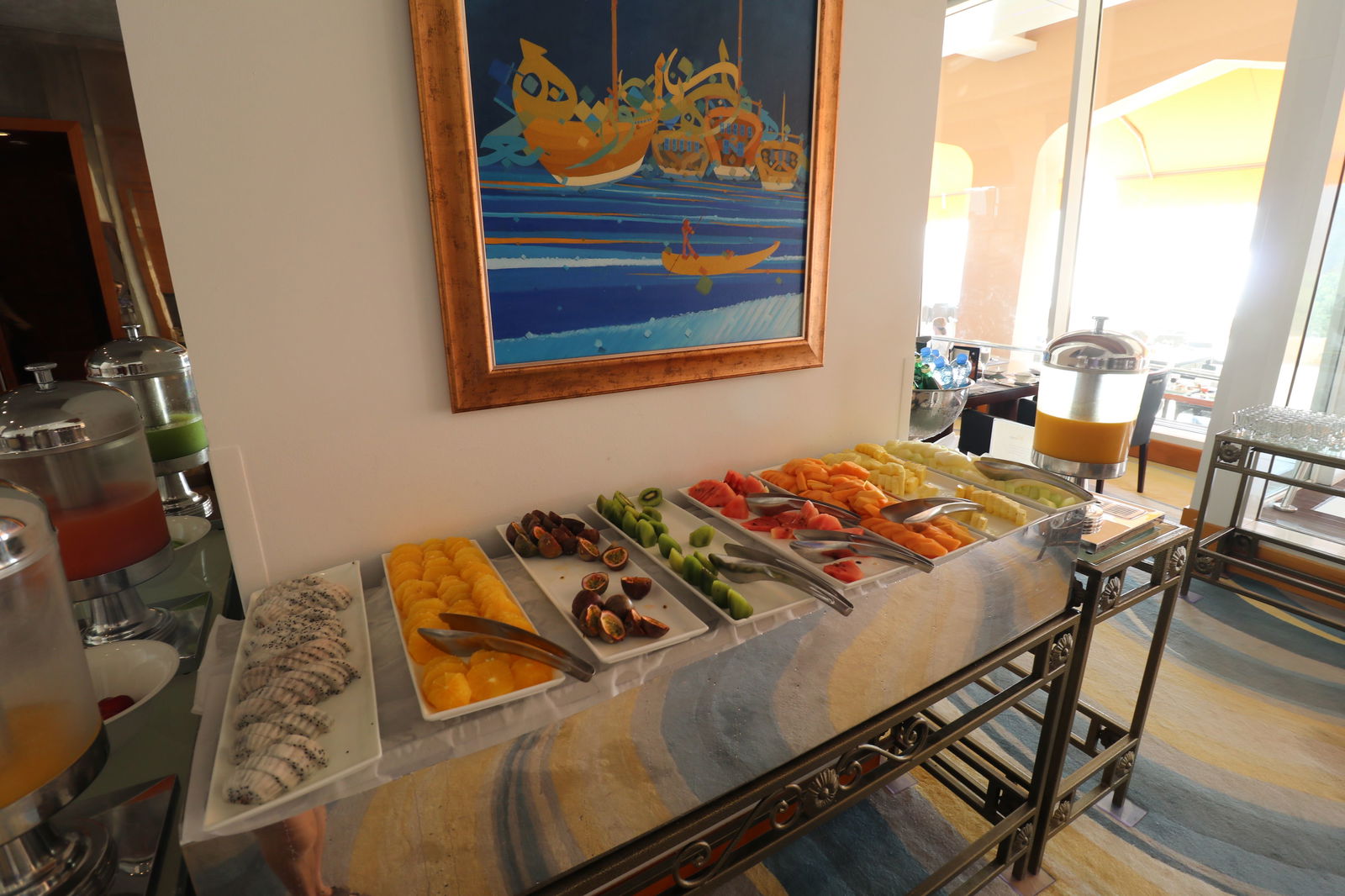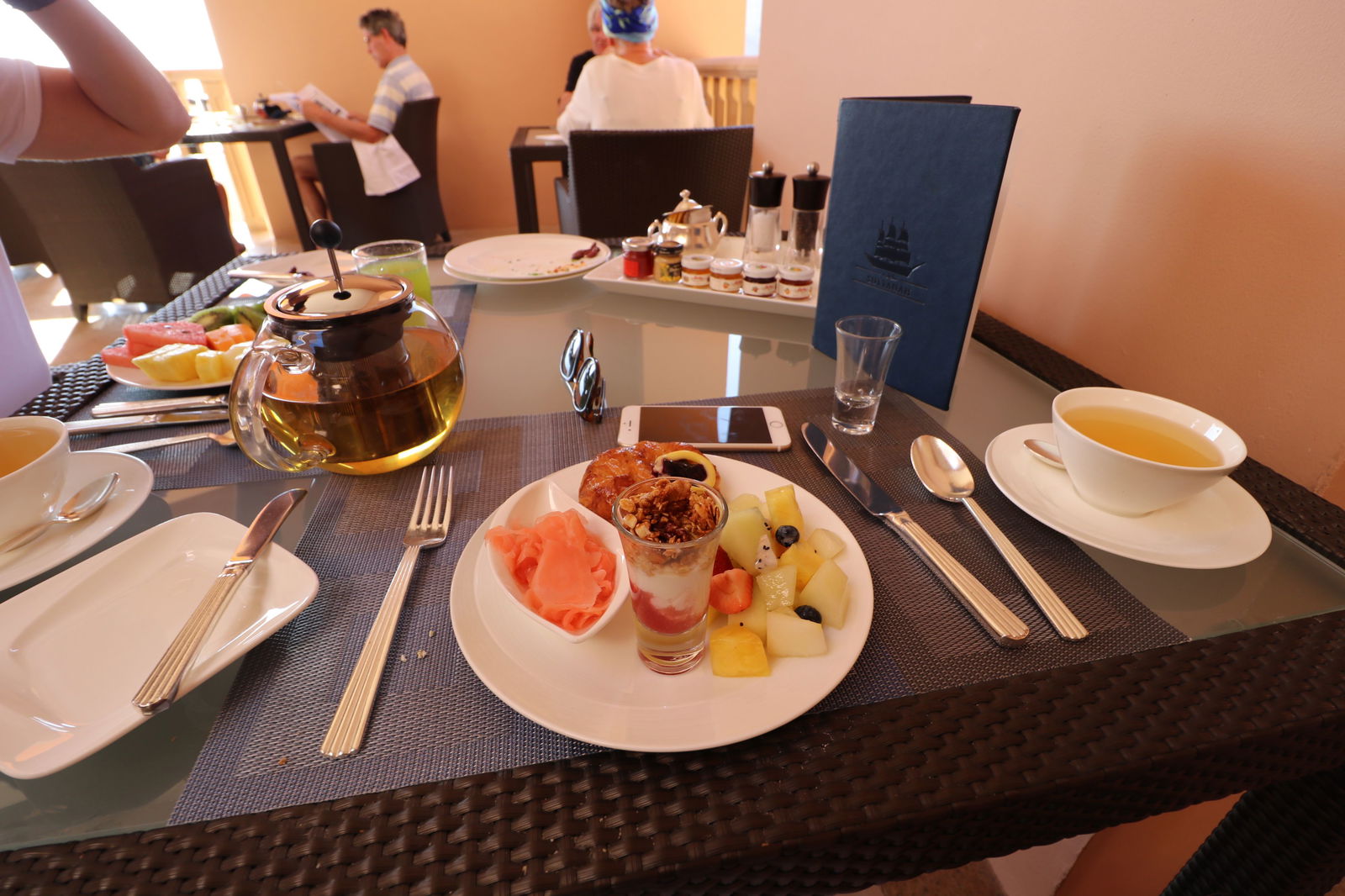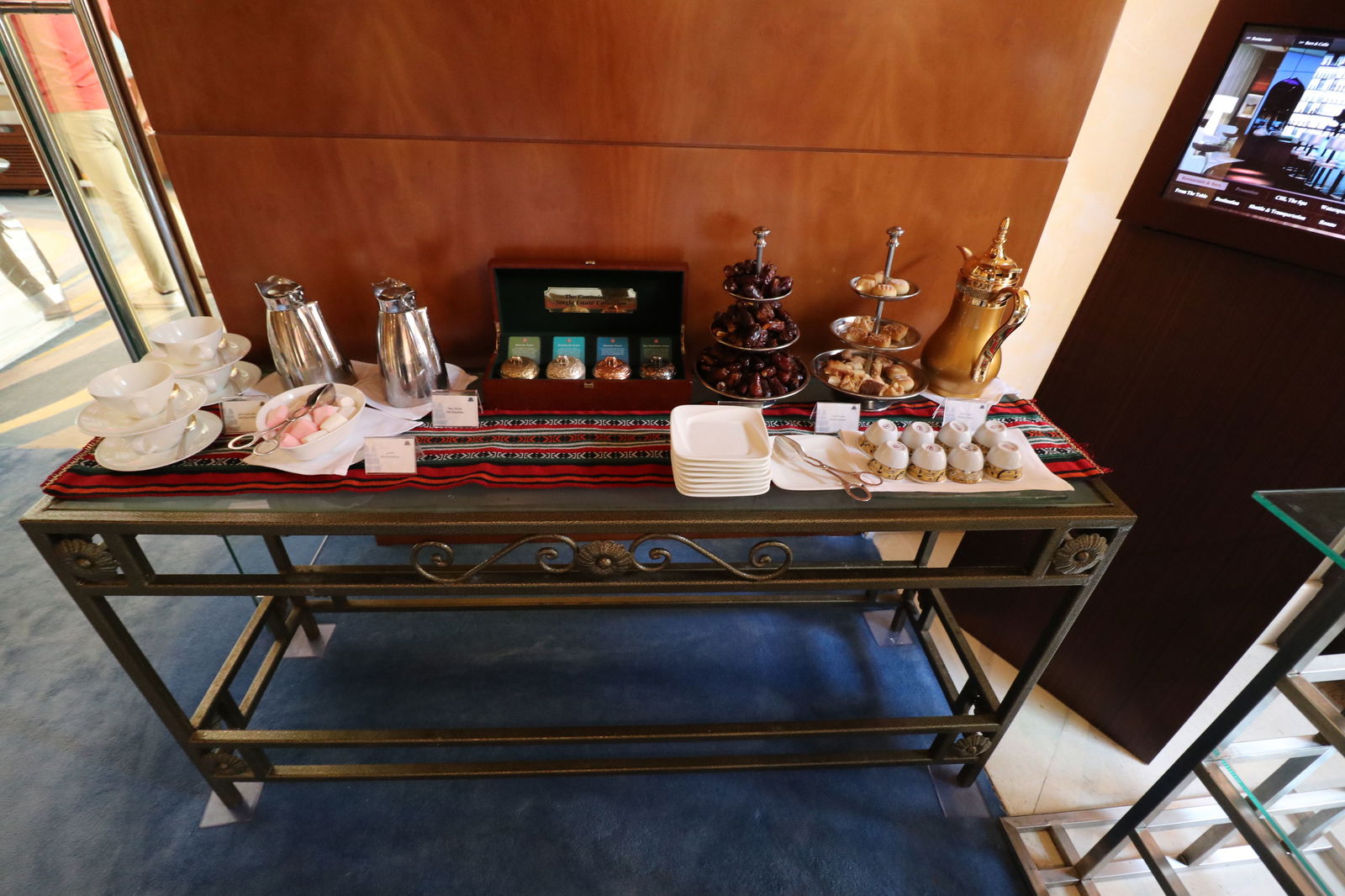 In addition, there was an impressive à la carte menu.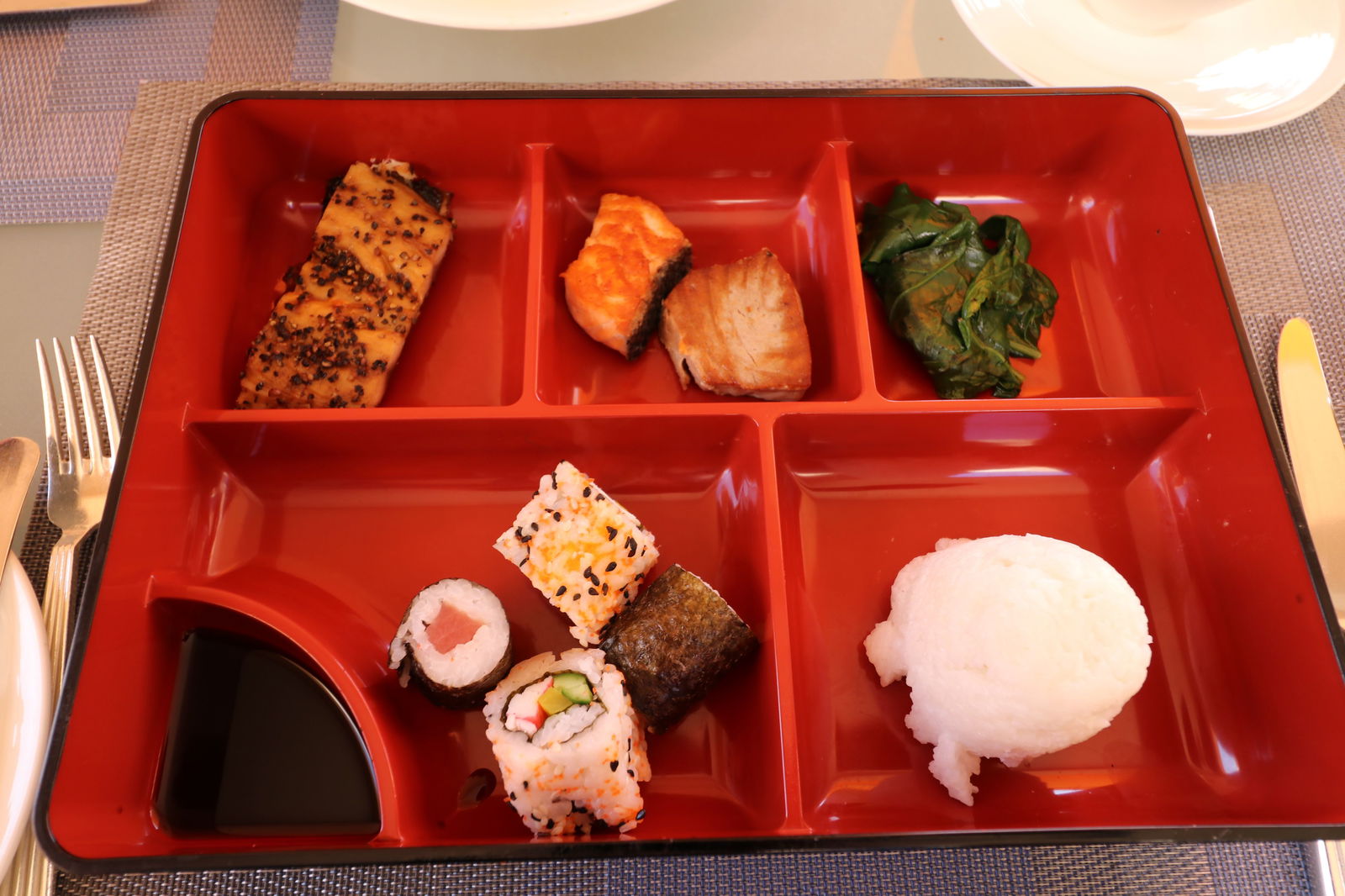 I love that juice is so widely available in this part of the world. There were eight different juice options available at breakfast and as you can see, they weren't your standard apple and orange.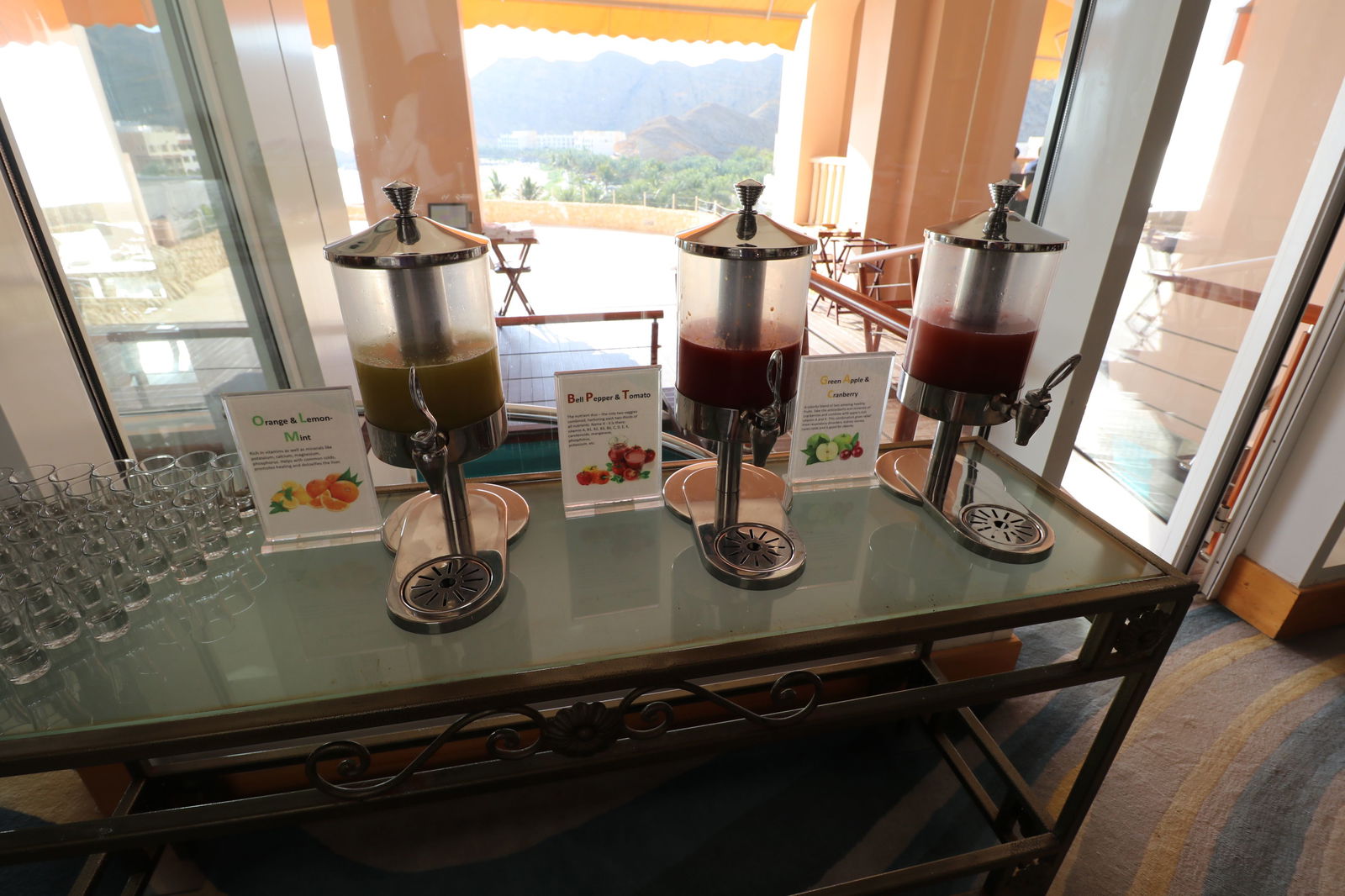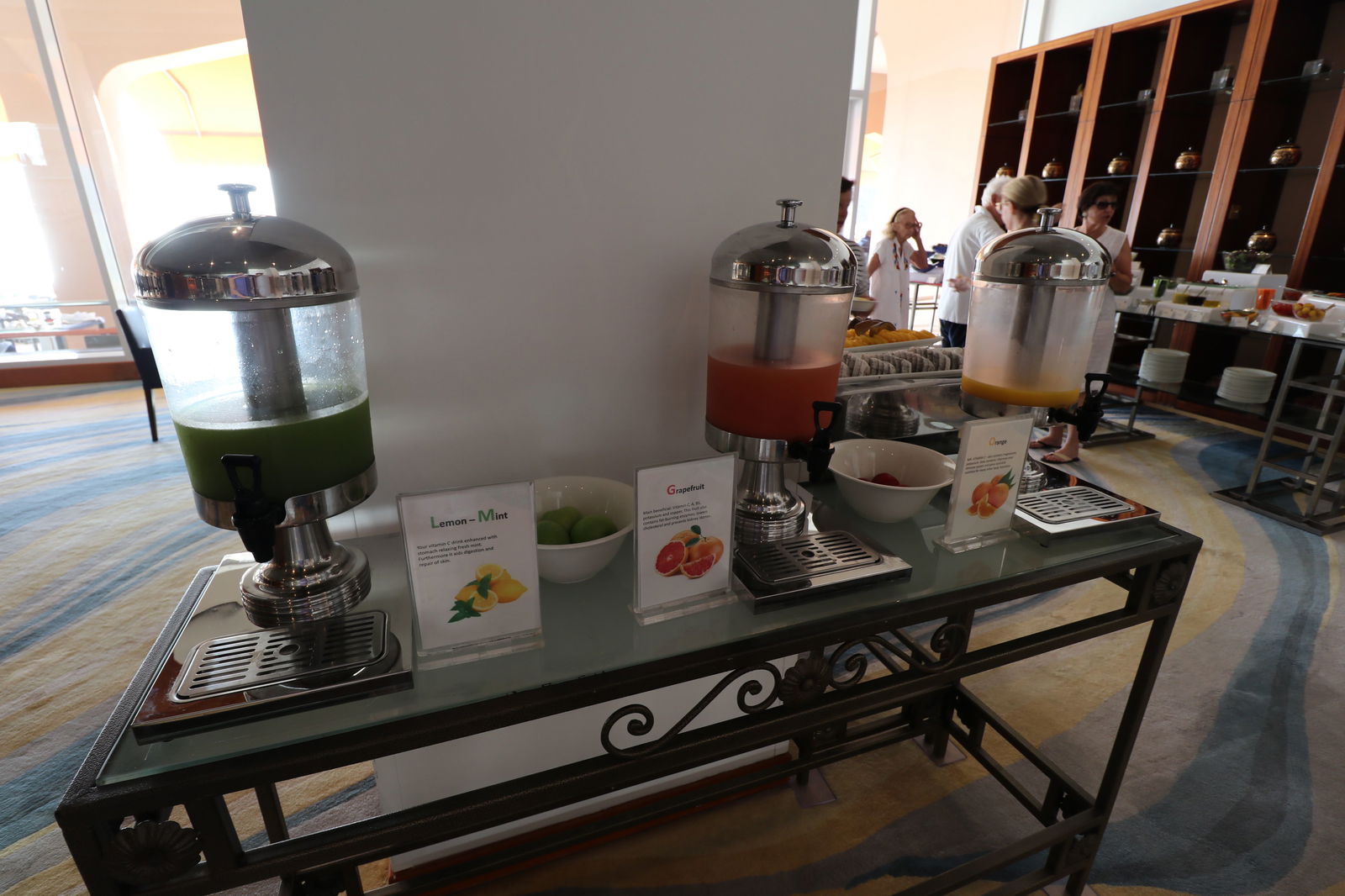 Breakfast was probably the highest quality meal I had during my time at the resort.
As I mentioned, there are many restaurants across the three Shangri-La properties. Some required reservations while others didn't. Personally, food isn't something I tend to splurge on, which obviously limited my restaurant options. One place had Indian food for approximately 5-6 OMR, which is reasonable.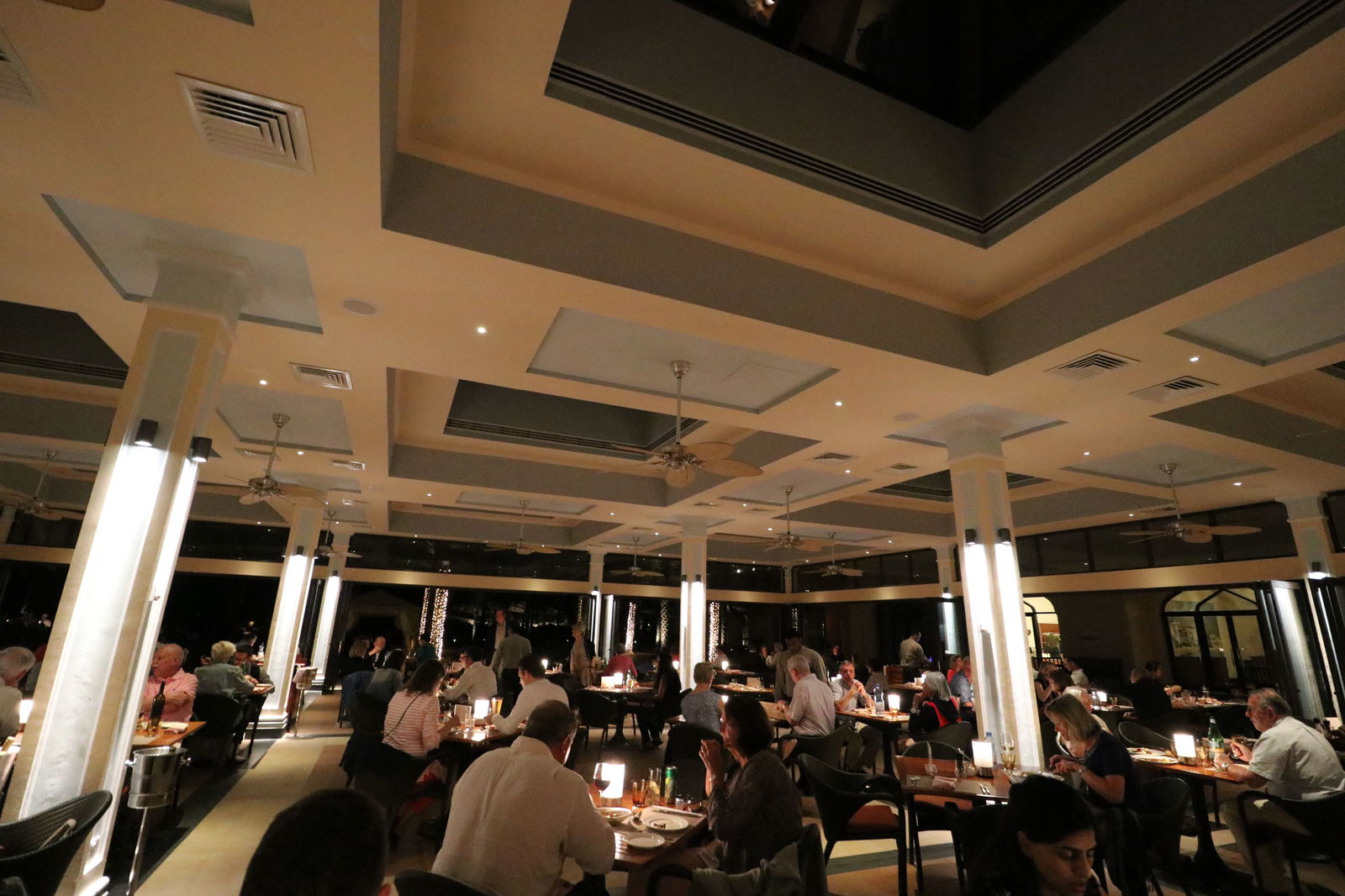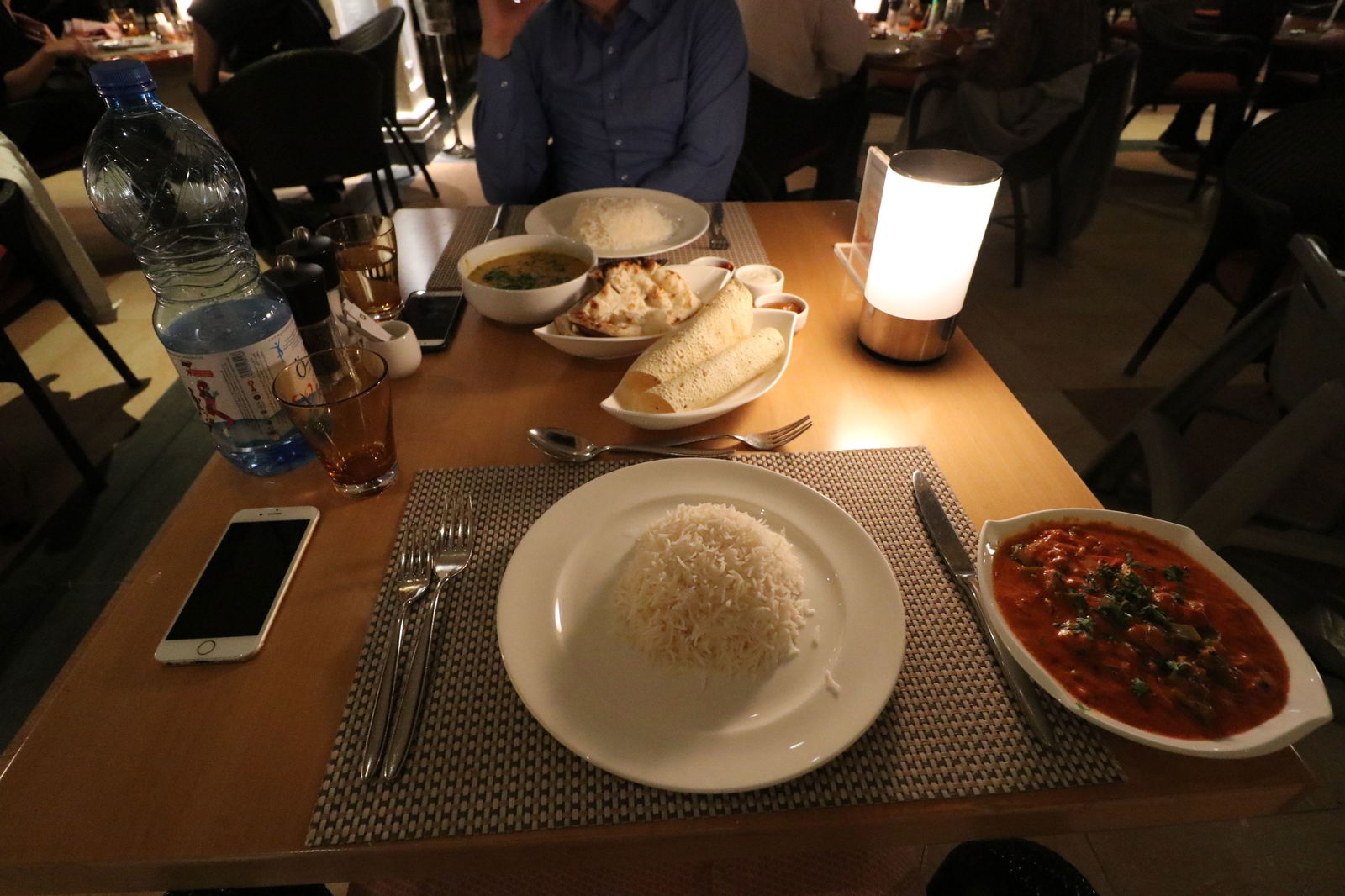 Activities
The great thing about staying at a resort with adult-only and family hotels is that there are activities to suit any mood. They had every water sport imaginable, including free kayaking and snorkeling.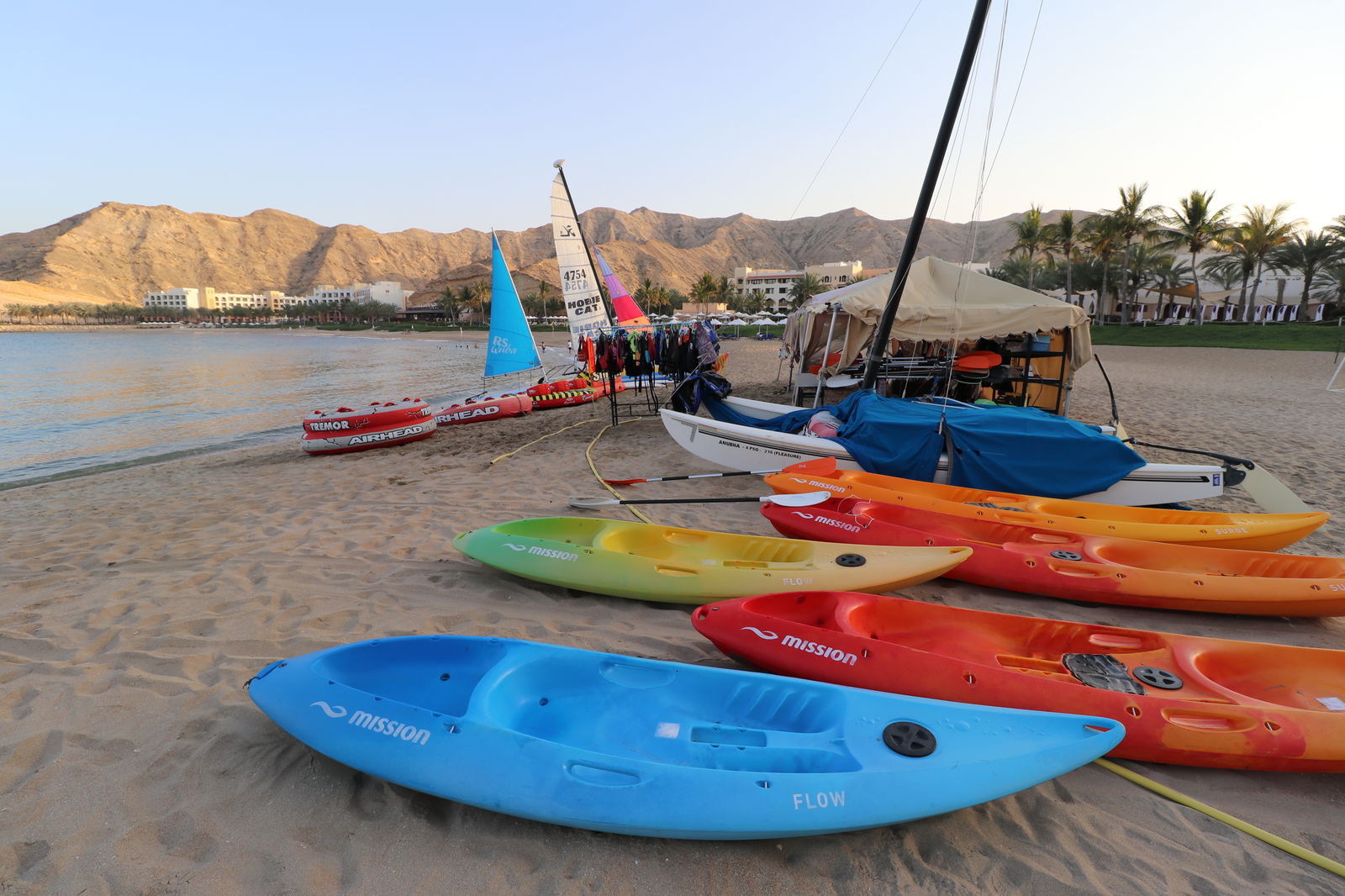 There were also gym classes throughout the day for those who didn't want to work out alone in one of the gyms (they had one for the entire resort and one exclusively for Al Husn guests).
As far as beaches went, I preferred the exclusive one at Al Husn, though the general beach was a lot larger and more lively.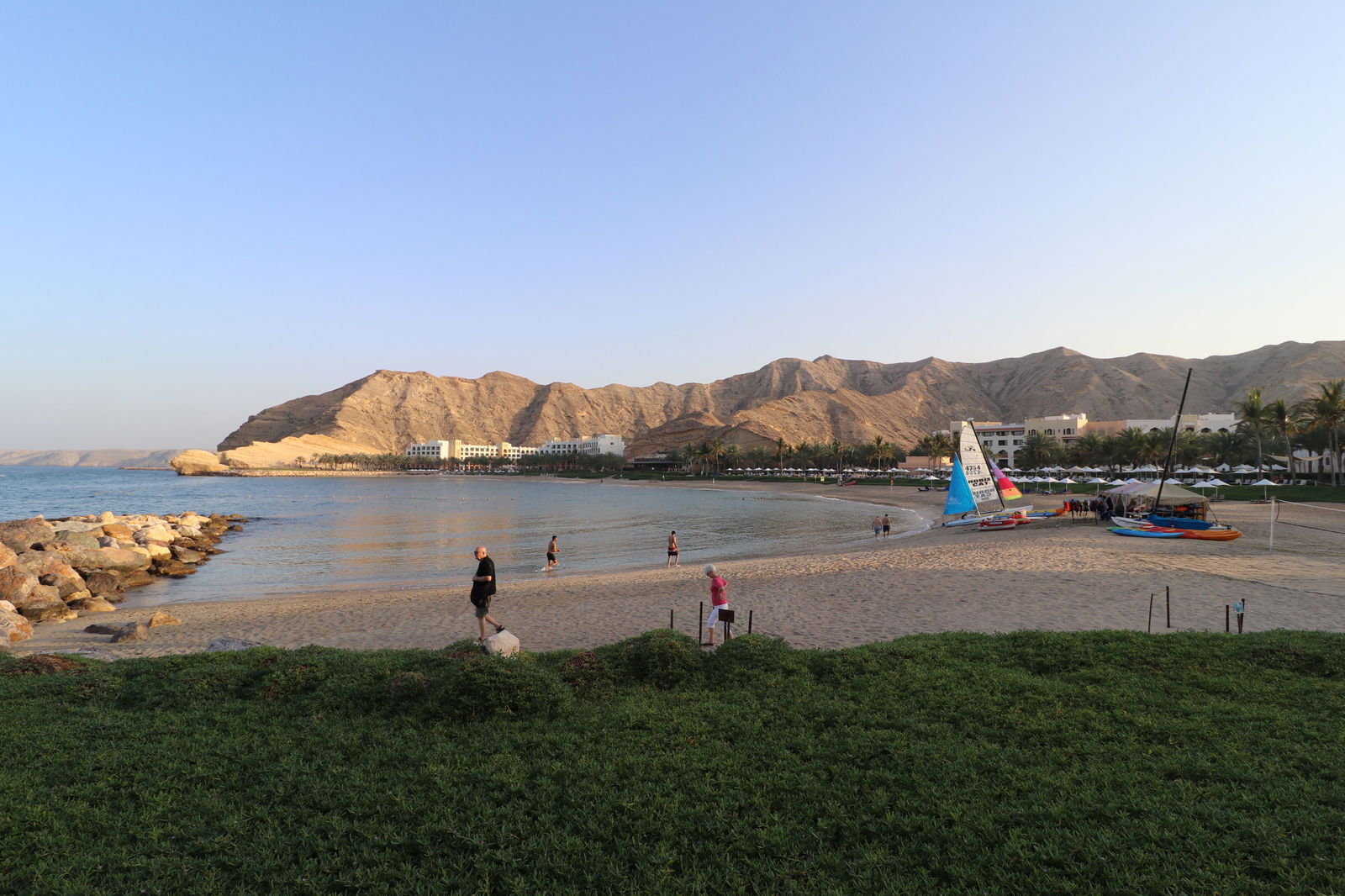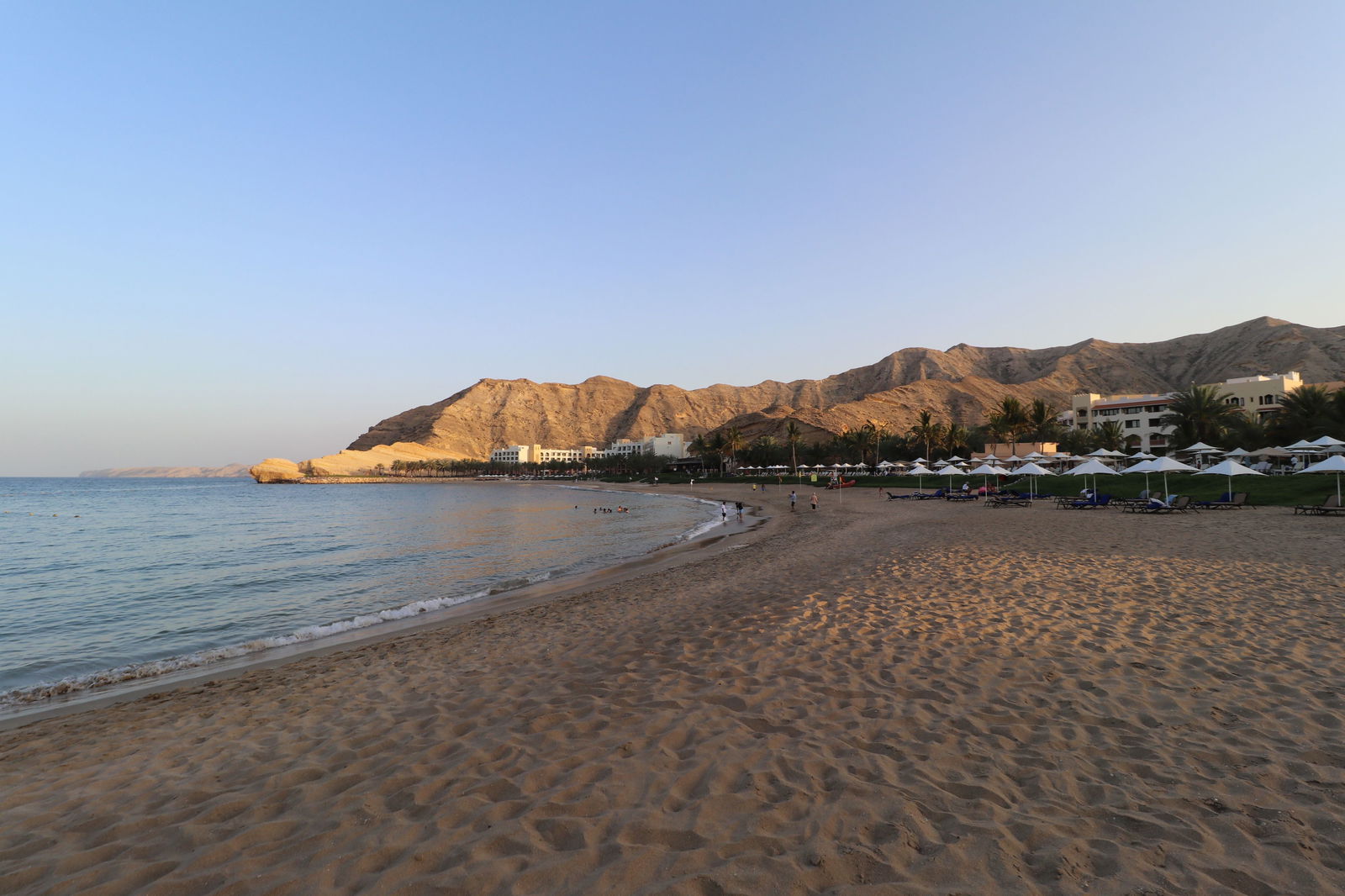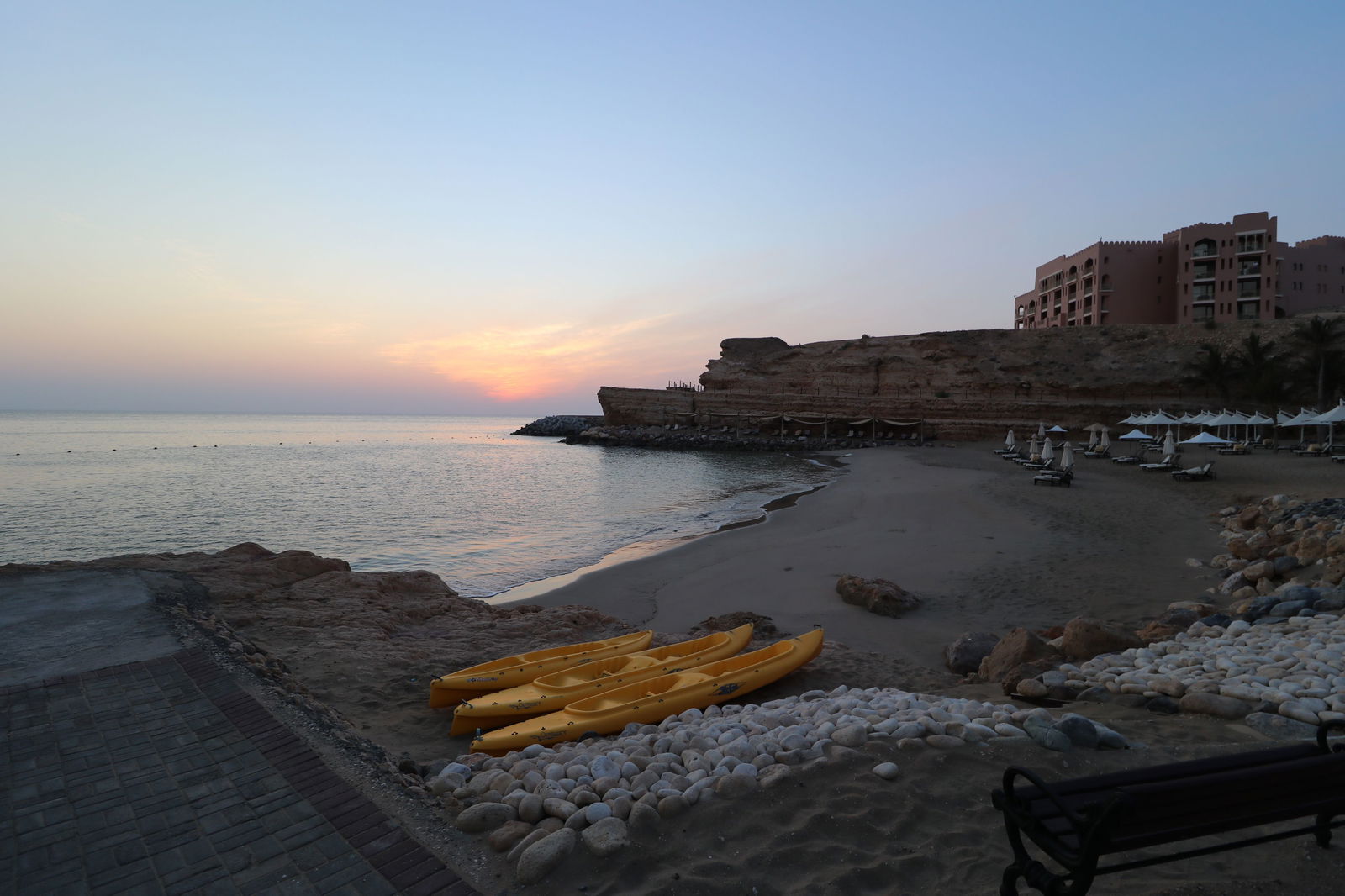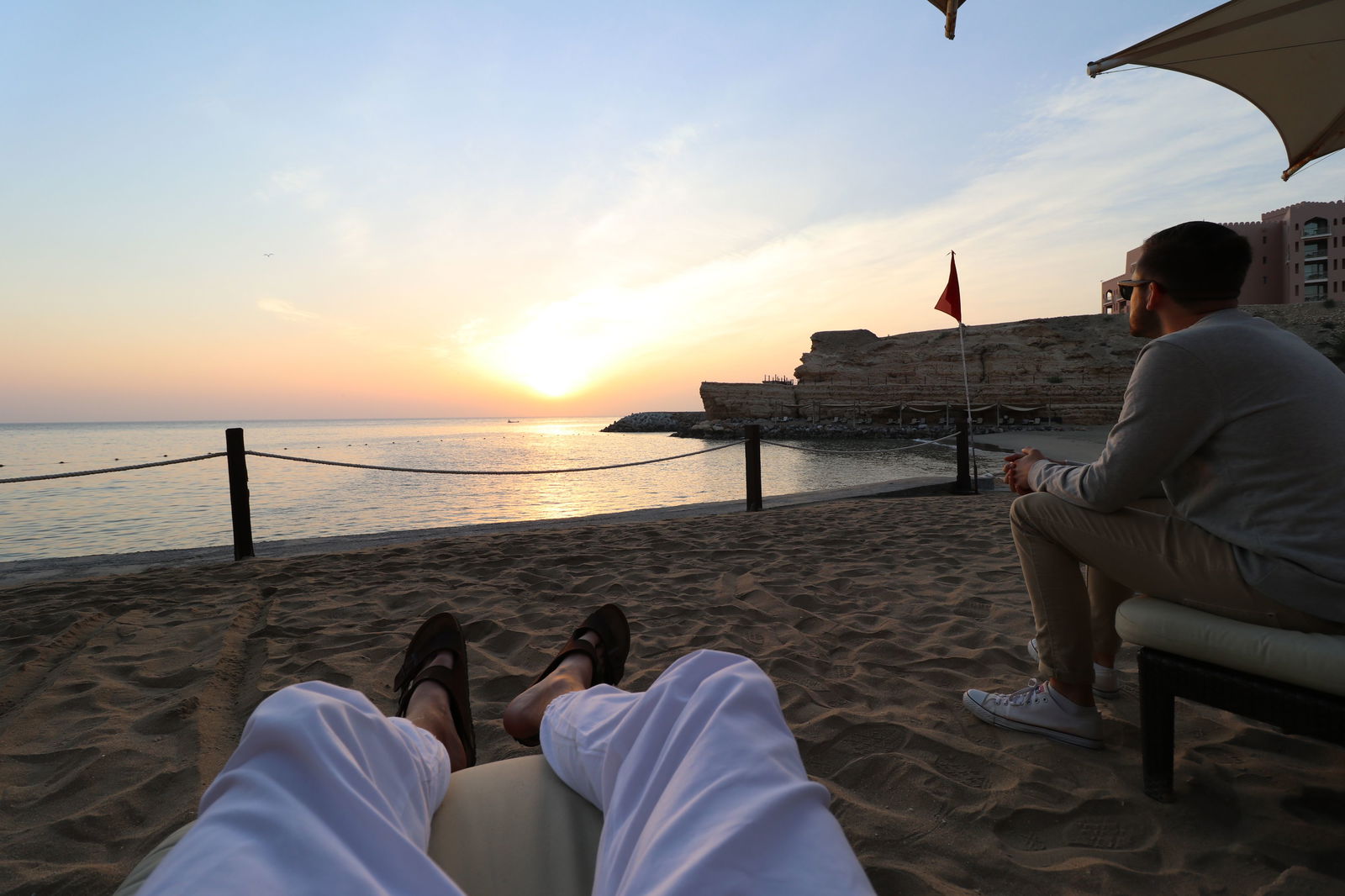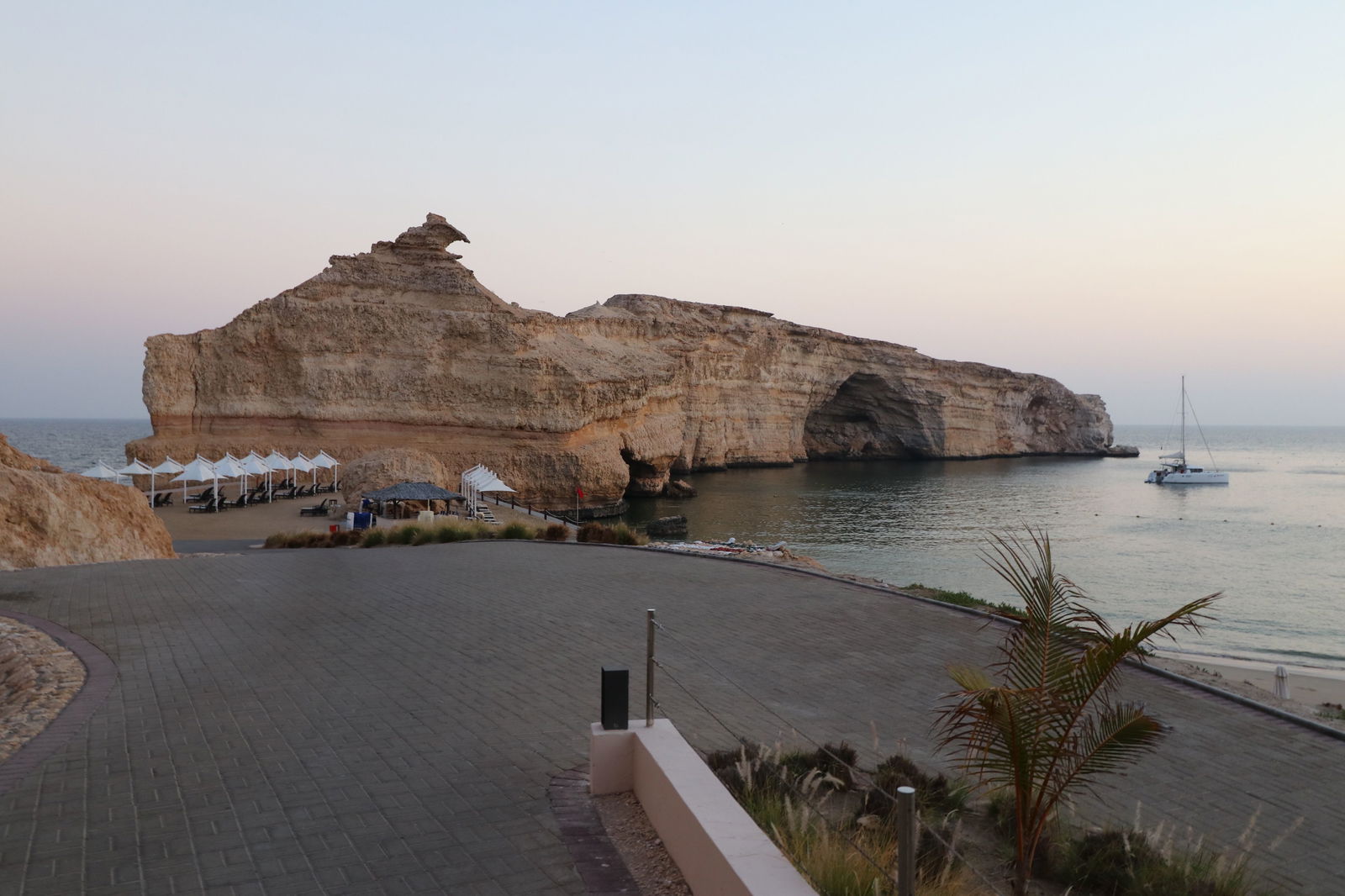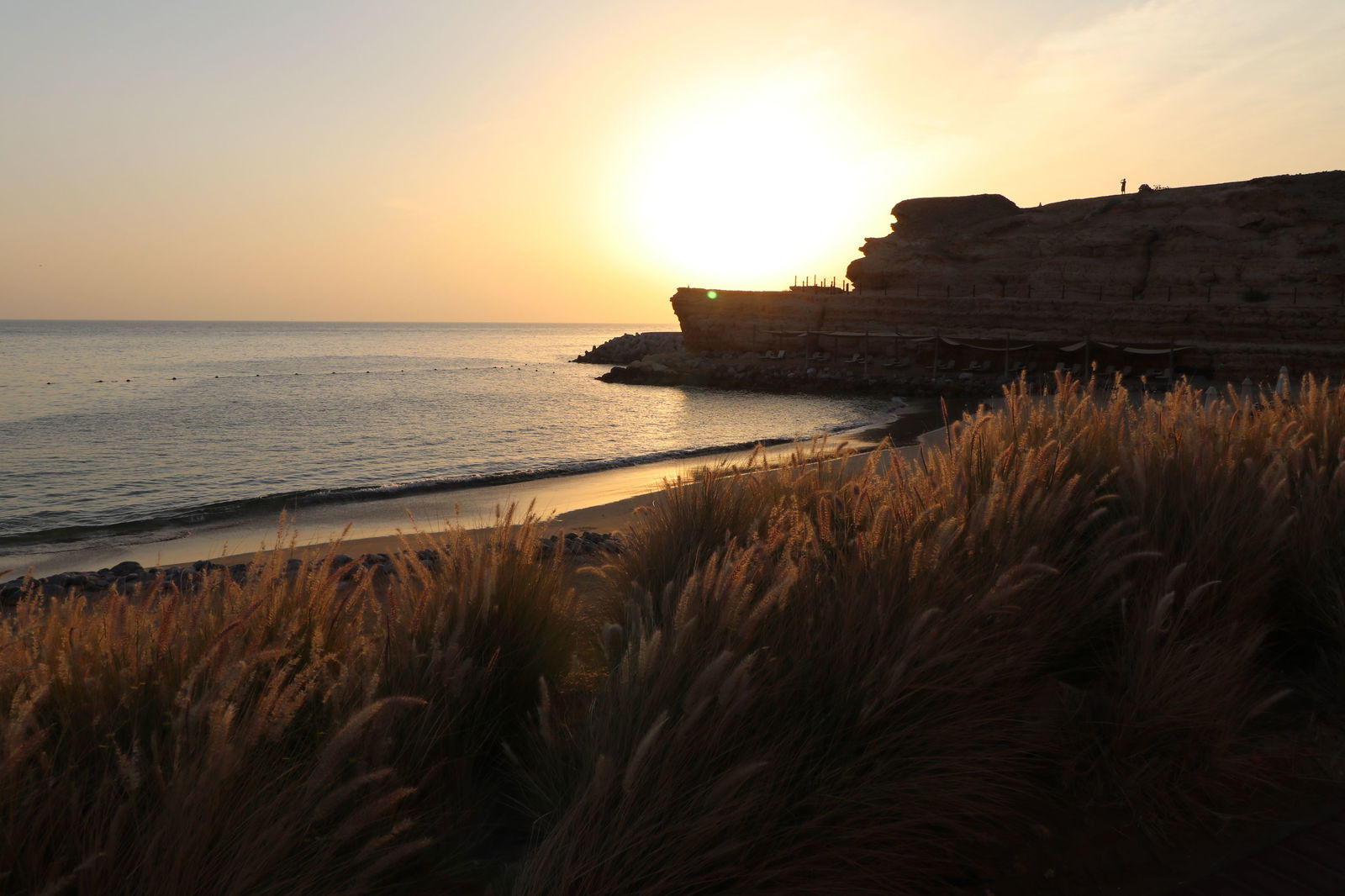 Of all the pools, my favorite was the Al Bandar pool, where I could easily go back and forth to the lazy river as I pleased. 😉 Meanwhile, for those interested in massage and spa treatments, there was a broad selection.
While I can't imagine it gets much use, there was also a library.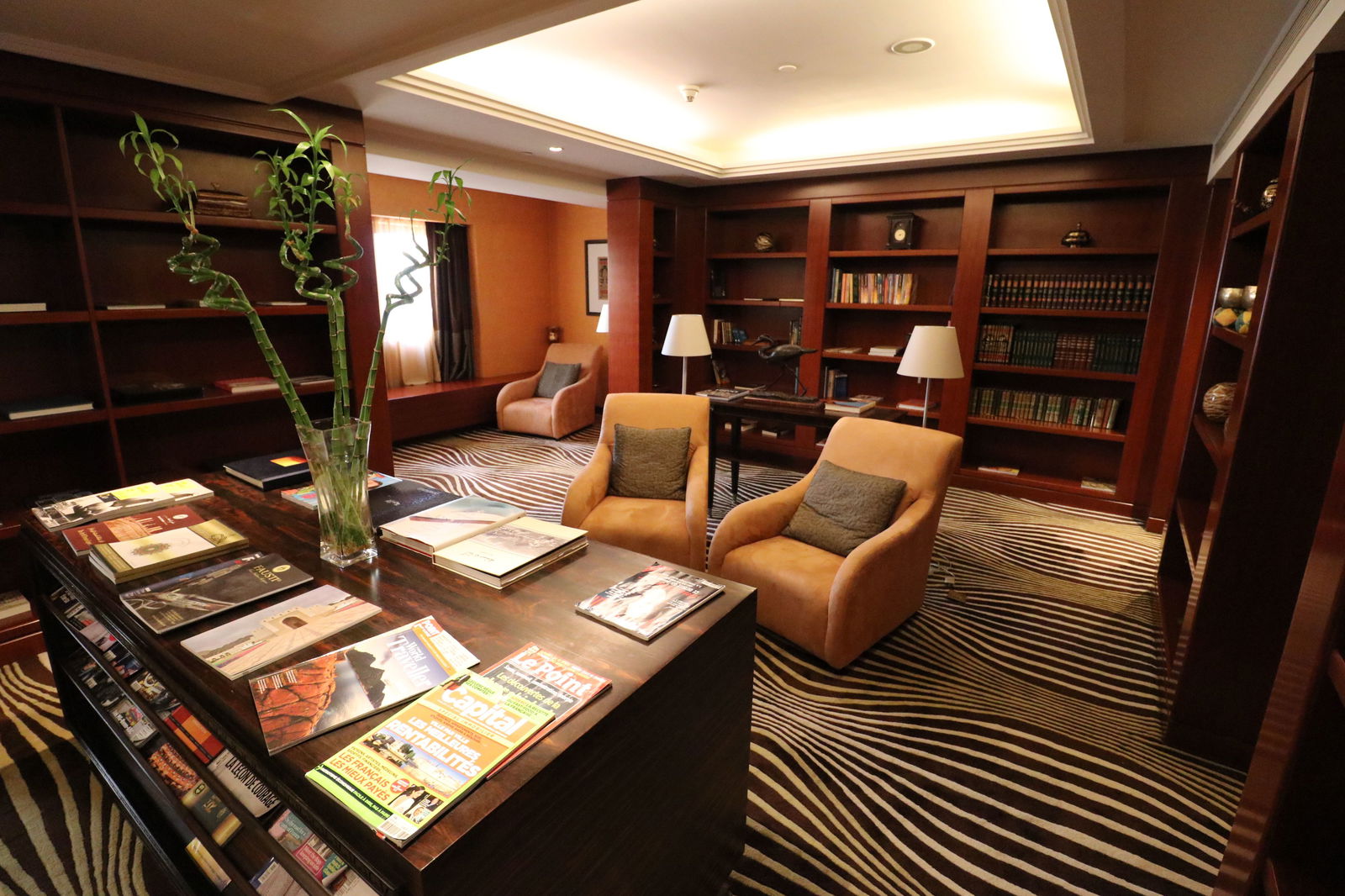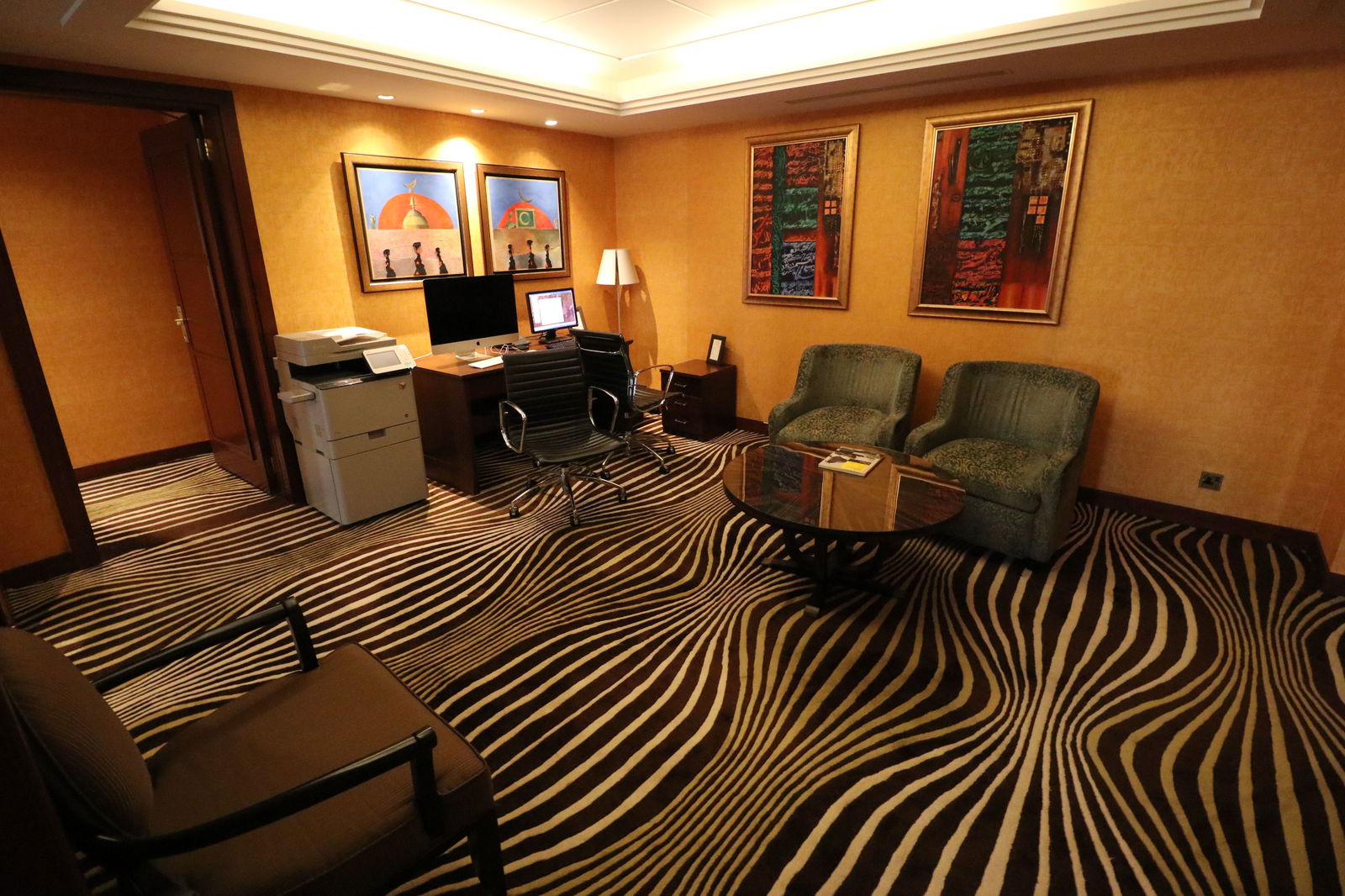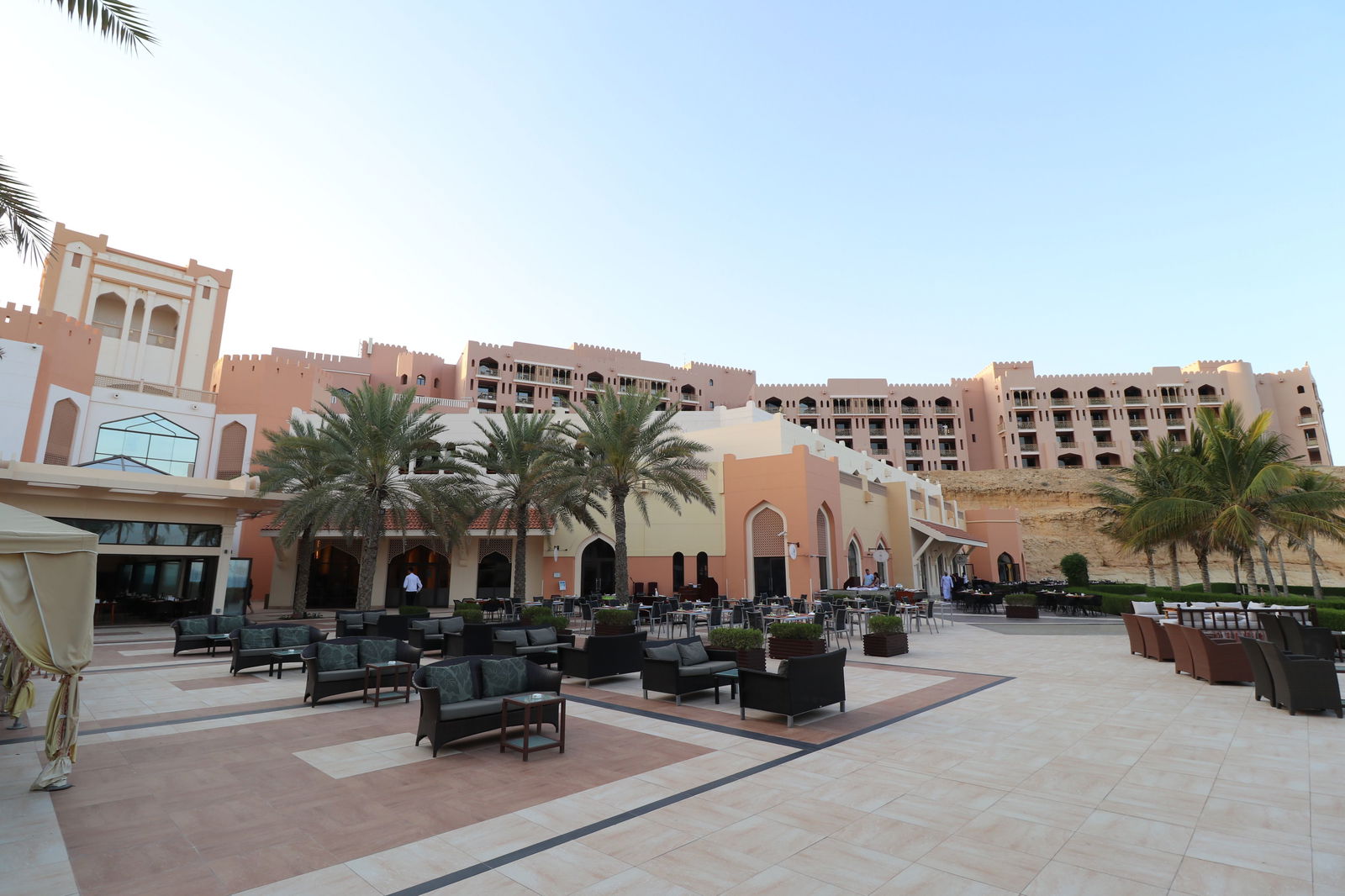 Bottom Line
The Shangri-La Barr Al Jissah Resort was a great place for a relaxing welcome to Oman. I thoroughly enjoyed my three days there. I had plenty of time to try everything and settle in before going off to explore Muscat. While you can sometimes feel disconnected to the local culture at large resorts, I felt that I was genuinely experiencing the luxurious side to Oman during my time here.
If you're planning on visiting Muscat, this is not the place to stay though. The ride was long and cost 30 OMR roundtrip. The Middle East is expensive in general, so the high food prices weren't too shocking, though might also be something to consider. The room rates are quite reasonable when compared to city hotels in Muscat or other resorts around the country though. To quote a posh-sounding British pensioner I overheard at check-in, "Well thank goodness we made this the last stop on our trip Ellinor. Otherwise we would've never wanted to leave."
Have you been to Oman? Where did you stay and how did you like it?